When laptops have become an indispensable assistant for life and work, losing a laptop can be a distressing experience. Good luck! We have some laptop trackers on the market. In this guide, we will explore three methods to find a lost laptop, via the laptop's serial number, using the MAC address, and laptop tracking software specifically designed for computer monitoring.
Table of Contents
Part 1. Track Laptop with Serial Number
One of the most effective ways to find a lost laptop is through its serial number. What's a serial number for a laptop? In short, a serial number is a laptop's distinctive fingerprint that sets it apart from every other laptop for tracking and identification purposes. That means if you can find the serial number printed on your laptop, the chance to track your laptop increases.
Here's a step-by-step process to track a stolen laptop with a serial number:
Step 1. Locate the serial number:
How do you find the serial number? It can usually be found on the bottom of the device, inside the laptop's battery bay, on the lower back of the casing, or in the BIOS settings. Take note of this number and store it in a safe place.
Step 2. File a police report:
As soon as you discover your laptop was stolen, file a police report and provide them with the serial number. This information will be crucial for the authorities to identify your laptop if it's recovered.
Step 3. Notify manufacturers and retailers:
Inform the laptop manufacturer and any retailers involved in the purchase about the theft. Provide them with the serial number, which they can flag in their systems. If someone tries to service or resell the laptop, it may trigger an alert.
Step 4. Monitor online marketplaces:
Regularly check online marketplaces and auction websites for listings matching your laptop's description. Share the serial number with these platforms, and they can help find out if someone tries to sell your stolen laptop online.
Part 2. Utilize Laptop Tracking Software - MoniVisor
In addition to serial numbers, a laptop tracker can significantly enhance the chances of finding a lost laptop. MoniVisor by ClevGuard is a location tracker for Windows which enables you to track and monitor another lost laptop remotely once you finish the installation before the loss. Steps to track a laptop are as follows:
Step 1. Sign up to create an account:
First, you need to sign up with a valid email account by just clicking the Monitor Now button below. Review the available plans and purchase one according to your needs.
Step 2. Install laptop tracking software on your laptop:
Once you successfully place the order, you will be automatically taken to the Member Center. Navigate to My Product where you can check the location of your lost laptop. The next step is to install and configure MoniVisor on the target computer.

Step 3. Install Chrome extension (optional)
Installing the Chrome extension allows you to monitor employees' social media chats and emails. So we strongly recommend you read the full user guide and install the extension for more features.
Step 3. Start monitoring and find your lost laptop
If your laptop is stolen, access the online dashboard and navigate to the location tracker. The tool can help you track laptop activity, capture screenshots, and even discreetly take photos or get the file storage path.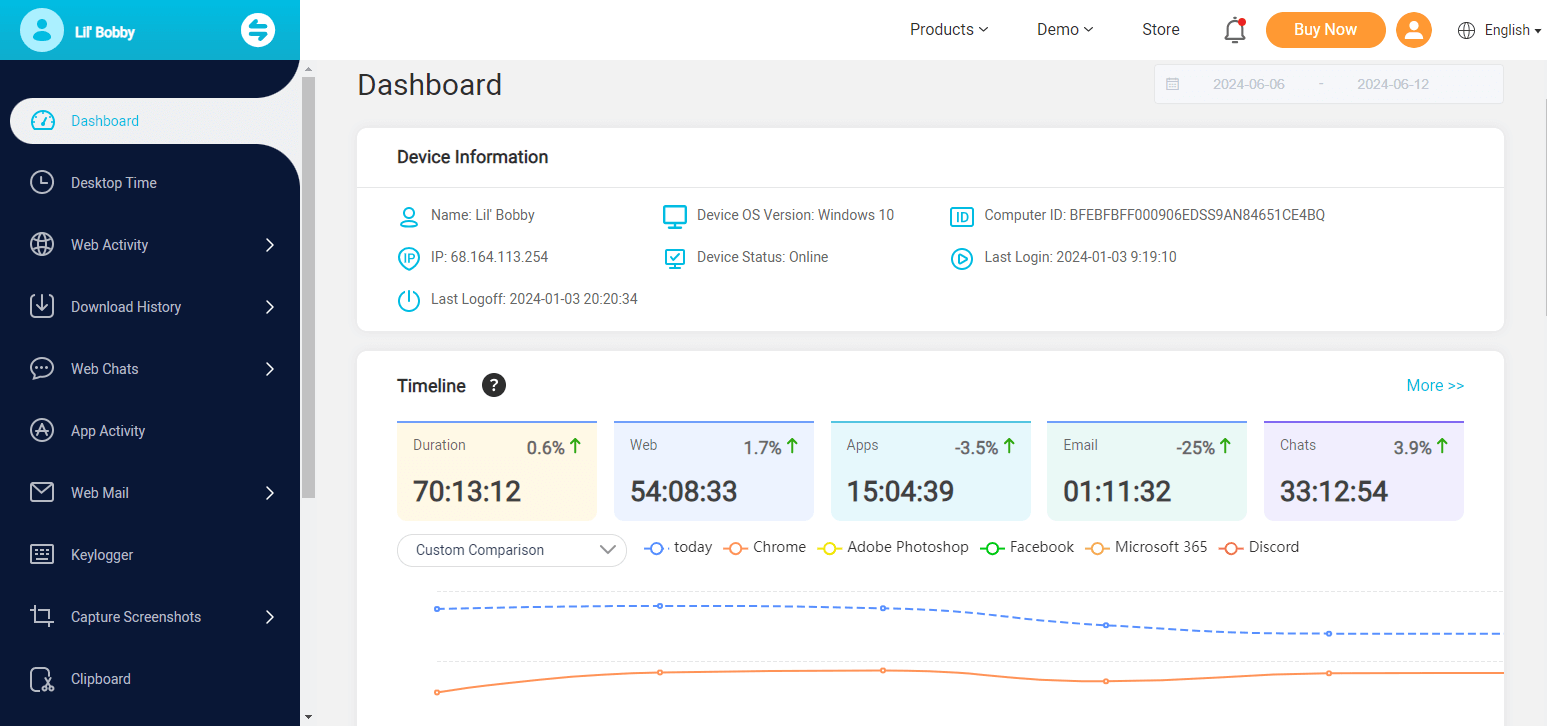 Part 3. Find Lost Laptop Using MAC Address
The Media Access Control (MAC) address is a unique identifier assigned to a network interface. While this method was primarily used for networking purposes, it can also be leveraged to find a lost laptop. Here's the how-to guide:
Step 1. Locate the MAC address:
Find the MAC address of your laptop by accessing the network settings or using the command prompt/terminal with the appropriate command (e.g., "ipconfig" for Windows or "ifconfig" for macOS and Linux).
Step 2. Report to law enforcement:
Notify the police about the theft and provide them with the MAC address. They can collaborate with internet service providers and network administrators to track the laptop's connectivity, potentially leading to its recovery.
Step 3. Contact network administrators:
Reach out to your network administrator or internet service provider and share the MAC address. They can assist in tracking the laptop's connection history or any attempts to access the internet using the stolen device.
Conclusion
Losing a laptop is frustrating; however, we've recommended three different means to track a stolen laptop. For Windows users, if you think that finding a lost laptop with the serial number is too complicated, then MoniVisor proves to be an easier laptop tracker. Otherwise, remember to keep your laptop's serial number and MAC address in a safe place. Stay vigilant and prepared to minimize the impact of laptop theft.