In today's digital age, videos have become an integral part of our online experience. Whether you want to save educational content, entertainment videos, or tutorials, having a reliable video downloader is essential. Firefox, a popular web browser known for its versatility, offers several video downloader options to enhance your browsing experience. In this article, we will explore the best Firefox video downloaders, their features, and how to use them effectively.
Table of Contents
What is a Video Downloader?
A video downloader is a software or browser extension that allows users to download videos from various websites. It enables users to save videos locally on their devices for offline viewing or future reference. With the help of a video downloader, you can easily download videos from platforms like YouTube, Vimeo, Dailymotion, and many others.
Benefits of Using a Video Downloader
Using a video downloader for Firefox offers numerous benefits for users who frequently watch and save online videos. Some of the key advantages include:
Offline Access: With a video downloader, you can download videos and watch them offline, even without an internet connection. This is especially useful when you are traveling or in an area with limited connectivity.
Convenience: Instead of relying on streaming services or repeatedly searching for videos, a video downloader allows you to store videos locally. This saves time and provides convenient access to your favorite content.
Quality Control: Video downloaders often provide options to select video quality and formats. This means you can choose the resolution that suits your preferences and device, ensuring optimal viewing quality.
Archiving and Sharing: Video downloaders enable you to archive videos for future reference or share them with others easily. Whether it's a tutorial, a music video, or a memorable clip, having a local copy gives you more control over your video collection.
Popular Video Downloaders for Firefox
Now, let's dive into the popular video downloaders specifically designed for Firefox.
Firefox Video Downloader Extension
The Firefox Video Downloader Extension is a powerful tool that seamlessly integrates with your Firefox browser, allowing you to download videos with just a few clicks. This extension offers a user-friendly interface and an array of features to enhance your video downloading experience.
1. Features of Firefox Video Downloader Extension
The Firefox Video Downloader Extension comes packed with several impressive features, including:
One-Click Downloads: With this extension, you can download videos with a single click, eliminating the need for complex procedures.
Support for Multiple Websites: It supports downloading videos from popular websites like YouTube, Vimeo, Facebook, and more.
Video Format Selection: You can choose from various video formats, such as MP4, AVI, or MKV, depending on your preferences.
2. How to Install and Use the Firefox Video Downloader Extension
To install and use the Firefox Video Downloader Extension, follow these simple steps:
Open your Firefox browser and navigate to the Firefox Add-ons store.
Search for "Video DownloadHelper" in the search bar.
Click on the extension and select Add to Firefox to begin the installation process.

Once installed, a video download button will appear near the video player when you visit a compatible website.
Click the download button, select the desired video format, and the download will commence.
OnlyFans Video Downloader for Firefox
For those interested in downloading videos from OnlyFans, the OnlyFans Video Downloader for Firefox is the ideal solution. This dedicated downloader ensures you can save your favorite content from the platform for offline access.
1. Features of OnlyFans Video Downloader for Firefox
The OnlyFans Video Downloader for Firefox offers the following features:
Secure Downloads: It enables you to download OnlyFans videos securely and privately, without compromising your personal information.
High-Quality Downloads: This downloader ensures you can download videos from OnlyFans in their original quality, preserving the viewing experience.
2. How to Download Videos from OnlyFans using Firefox
To download videos from OnlyFans using Firefox and the dedicated downloader, follow these steps:
Install the OnlyFans Video Downloader for Firefox from the official Firefox Add-ons store.
Log in to your OnlyFans account and navigate to the video you want to download.
Click on the download button provided by the downloader extension.
Choose the desired video quality and format, then initiate the download.
Bonus: All-in-One Video Downloaders Compatible with Google Chrome
Apart from the Firefox-specific video downloaders, there are also other video downloaders compatible with Google Chrome that offer extensive features and broader website support. MoniVisor designed by ClevGuard will enable you to check all the web activity on Google Chrome, and also check the page and download videos from Chrome.
Features of Video Downloaders Compatible with Google Chrome
Monitor app and web activity on another computer in real-time.
Remotely record screen and take screenshots without others knowing.
Sync data to your dashboard, supports web WhatsApp chats reading, Gmail checking, video downloading, etc.
How to Use MoniVisor Remote Video Downloaders
Step 1. Sign Up and Choose Plan
Sign up and log in with a valid email account from the Monitor Now button below. Choose a purchase plan for computer monitoring.
Step 2. Installation and Configuration
Once you successfully purchased, you will need to install and configure the program on the target computer.

Step 3. Install Chrome Extension
Chrome extension allows monitoring employees' social media chats, emails and other page visiting actions.
Step 4. Start Monitoring from Your Computer
When all setup on the target computer, you need go back to your own computer and visit member center, find My Product where you can check the dashboard.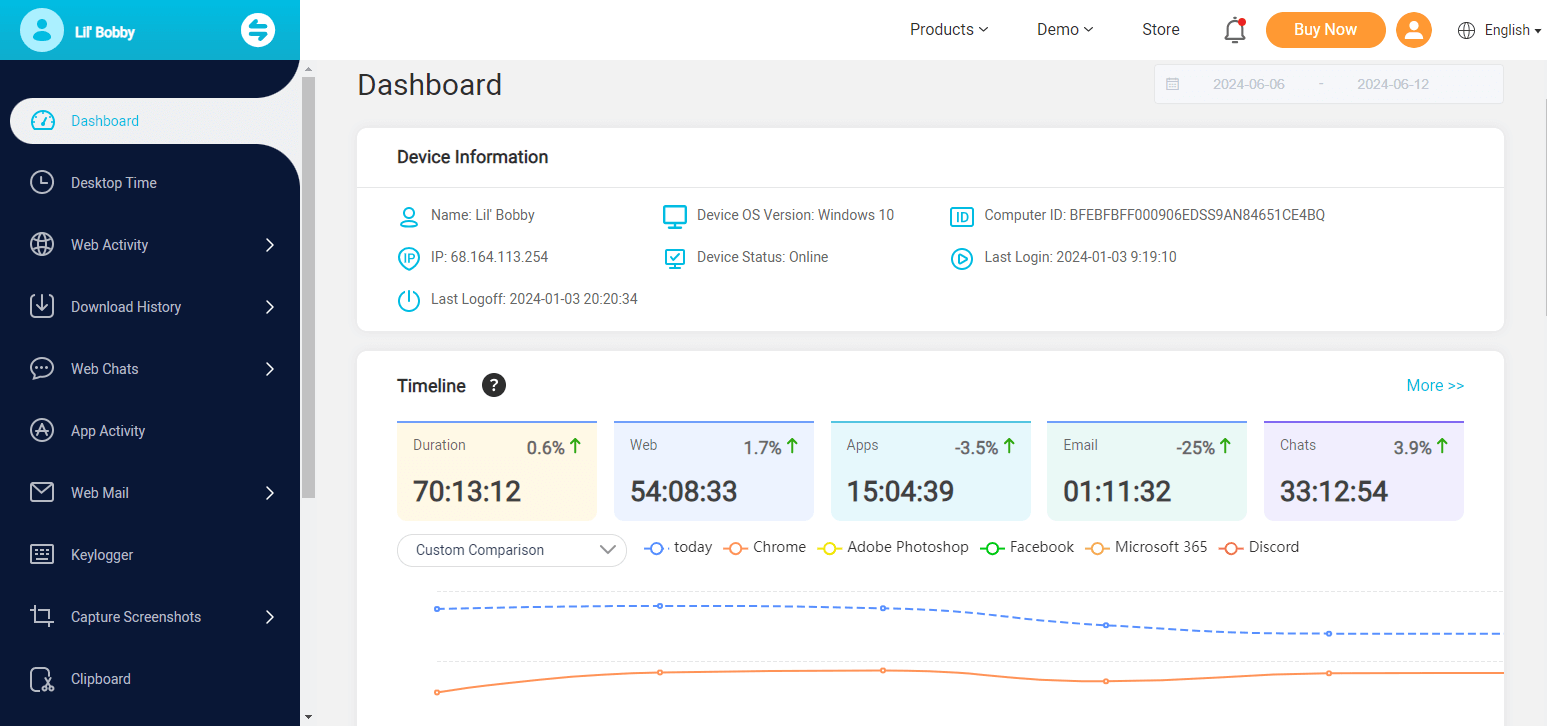 FAQs: More About Video Downloader for Firefox
1. Can I download videos from any website using a Firefox video downloader?
Yes, Firefox video downloaders support various websites, including popular platforms like YouTube, Vimeo, and Facebook. However, certain websites may have restrictions or additional security measures that could limit the functionality of the downloader.
2. Are Firefox video downloaders legal?
Video downloaders themselves are legal tools. However, it's essential to respect copyright laws and terms of service of the websites you are downloading videos from. Ensure you have the necessary rights or permissions before downloading and sharing any video content.
3. How can I ensure the safety of downloaded videos?
It is recommended to download videos from trusted sources and utilize reputable video downloaders from official Firefox Add-ons store. Keep your antivirus software up to date to protect against any potential security threats.
4. Are there any limitations to using video downloaders with Firefox?
Some video downloaders may have limitations depending on the website or platform you are downloading from. It's advisable to check the documentation or user reviews of the specific downloader to understand its capabilities and any potential restrictions.
5. Can I download videos in different formats with these tools?
Yes, most video downloaders for Firefox provide options to select different video formats, resolutions, and sometimes even subtitles. You can choose the format that suits your needs and compatibility with your devices.
Conclusion
With the abundance of online videos, having a reliable video downloader for Firefox is essential. Whether you opt for the Firefox Video Downloader Extension, the OnlyFans Video Downloader, or other compatible tools for Chrome, these solutions enhance your video downloading experience, providing offline access, convenience, and quality control. Start exploring the world of video downloading with Firefox today and enjoy seamless access to your favorite videos anytime, anywhere.