We live in an age and a world that is overly reliant on digital forms of communication. We do 80% of our communication online through social media or through digital means such as text messages or phone calls. While this has made life incredibly easier than the days of writing letters and going on long journeys just to convey a message, it has also made our lives more complex and secretive. The features and options that digital forms of communication provide us to hide and mask our communications have made it easier for people to cheat and not get caught. There are a thousand different ways your boyfriend or husband can cheat on you without you even suspecting it. This is why you should know about hackers. Hackers are experts that can help you get access to the private communications of your partner by hacking into their devices. In this article, we are going to tell you some of the 5 best ways to hire a hacker. Keep reading to find out!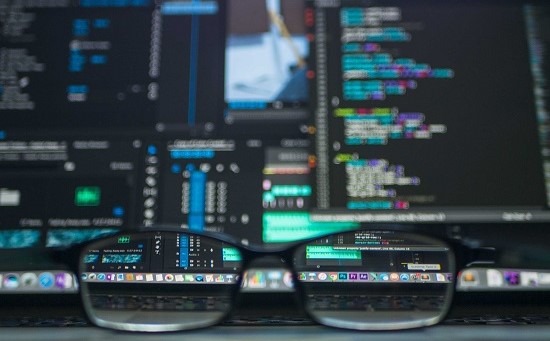 How to Hire a Hacker?
There are plenty of different ways that you can hire a hacker to help you get access to your boyfriend/husband's private conversations if he is cheating on you or know what your friends are saying about you behind your back.
1.

Hire a Hacker on Professional Websites

There are proper agencies online that can link you with a hacker. Websites such as Cyber Cracker can help you hire a hacker who will get you access to someone's devices and their data. You just have to sign up for an account and submit an online requirement to hire a hacker for yourself. Apart from that, you can also post your request on some verified-hacker websites, and have hackers bid for it. Those professional websites offer specialized hacker services, and bring export hackers together.

That being said, however, this is not for everybody. For starters, it can be quite a time consuming and expensive endeavor. You will have to rely on the hacker's discretion not to leak any valuable information. It is a bit risky.

2.

Hire a Private Investigator on the Dark Web

How to hire a hacker on the dark web? First, we need to discuss what is the dark web. The dark web is a part of the internet that most casual internet users are not aware of, and allows users to remain anonymous through encryption. Getting access to the dark web is the first essential thing. After that, you should know the rules of hiring a hacker on the dark web, that is, only paying a hacker with bitcoin.

Now, you can easily find hiring a dark web hacker requires some technical knowledge about how to access it, how to pay with bitcoin, how to get the results you really want, etc. So when you deal with anonymous people who are going to charge you a pretty penny without any guarantees of it they will deliver, it could involve the most risk and money. Therefore, this method is not really recommended.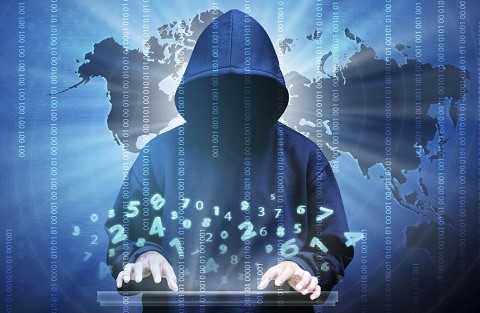 3.

Hire a Freelance Hacker

Another way that you can get access to a hacker is through online freelancing platforms such as Fiverr, Upwork, etc. Here you can choose between a range of hackers that will be able to help you with your task, but the problem is that you will be relying on the skill level of the hacker, and you will have to hire them, again and again, every time you want to know something.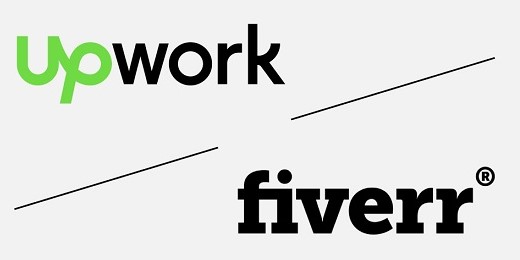 4.

Hire a Background Investigator on Hacking Agency

Where to hire a real hacker? Go to physical agencies for hiring a private investigator. You can walk into an office of such an agency, discuss your task and hire a private investigator for your job. And how much is a private investigator? Really expensive! So, this is by far the worst method to hire a hacker. It is inconvenient, it reveals your identity, and it is the most expensive out of all the methods that we have discussed.

There is no shortage of ways you can hire a hacker. But you must keep in mind that there is a certain risk factor involved with all of these methods and not to mention that they are going to be very expensive as well. Hiring a real hacker might not be the best way to go about it. Maybe you need something better. What if you could "hire" an online private investigator? By that, we mean a third-party app that does all the things a hacker does but without any of the disadvantages.
How to Hire an Online Private Investigator/Hacker?
What if we told you that you don't need a hacker and all the problems that come with hiring one to know what your boyfriend/husband is up to? You can be the hacker with KidsGuard Pro. It is safer and cheaper than hiring a real hacker. It is undetectable and works like a charm.
KidsGuard Pro is an app that gives you access to everything that is on anyone's phone. And by everything, we mean everything. It lets you remotely monitor all of their social media apps. Yes, that means you can see what is in their DMs. It covers everything from Snapchat to Viber. In addition to that, you can know where someone is at all times because KidsGuard Pro also gives you access to their location via GPS tracking. You will have all the data on the target phone, such as text messages, call logs, contacts, and photos. You can even record calls and take screenshots remotely. So, become the hacker yourself with the help of KidsGuard Pro. This app can help to hack both Android and iOS devices, you can read the following detailed guides to choose from the product you need.
It has never been easier to hire a hacker to get access to an Android device. It will take you less than 5 minutes to set up KidsGuard Pro. Here are the simple steps that you need to follow:
Step 1. You will need to create an account using your valid email and purchase a pricing plan to unlock all monitoring features.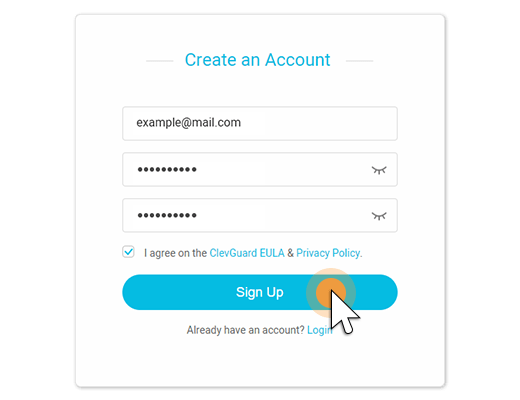 Step 2. Download KidsGuard Pro app using the download link to install it on someone's device – For this, you will need access to the target device for less than 5 minutes. Once it is installed, it will be completely undetectable.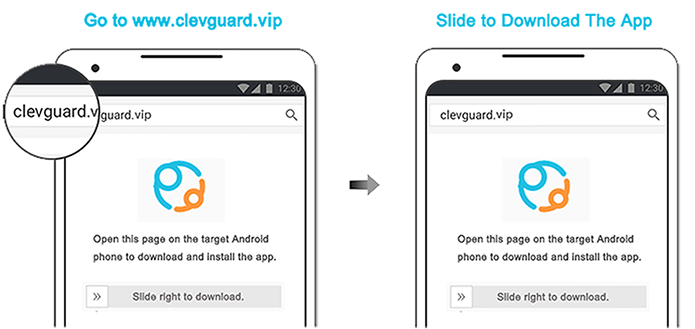 Step 3. And it's done – You are now the hacker. You can just go back to ClevGuard to sign in your account on your own device to see all the activity that takes place in the target phone without the owner knowing.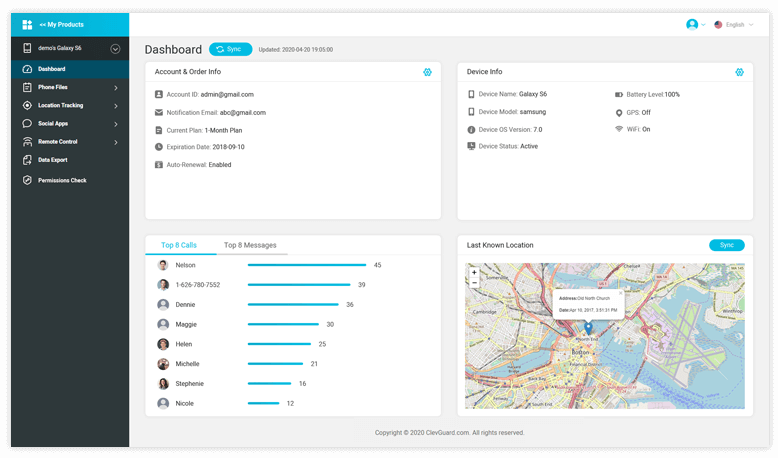 When it comes to iOS, most monitoring softwares will require you to jailbreak the target device. With KidsGuard Pro, you don't have to worry about that at all. You can get started by following these simple and easy steps:
Step 1. Create a valid account for KidsGuard Pro by using an active email address and purchase a plan that is suitable for you.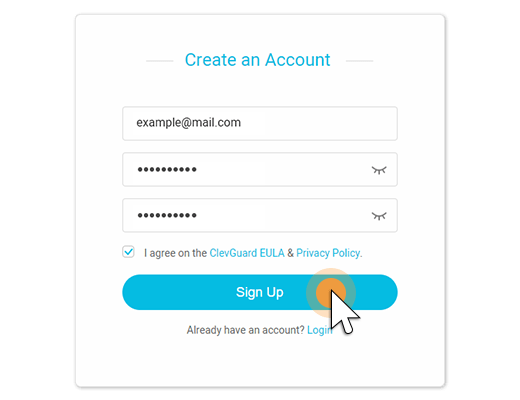 Step 2. Download the software on the target's computer, where data backup might be available. If the backup of the target device is not ready on the target's computer, you may need to get physical access to the target device to connect it to the computer, and allow KidsGuard Pro to scan and access the backup.

Step 3. Once all the backup is scanned successfully, you can start to monitor someone's iPhone data right away on KidsGuard Pro.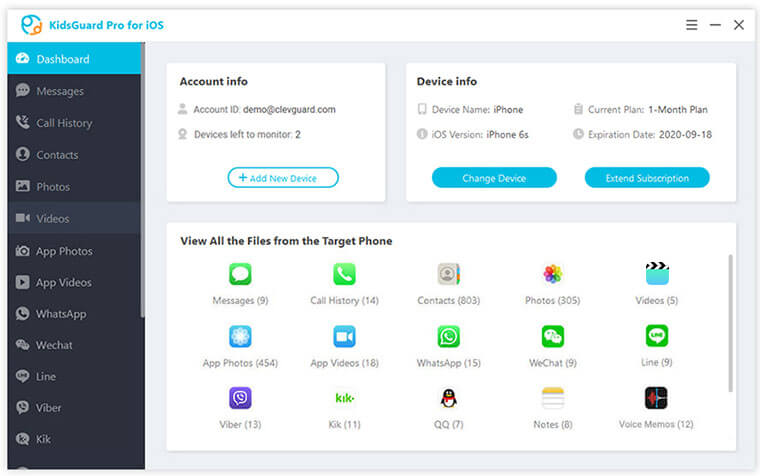 Conclusion
We can take different approaches to hire a hacker for our diverse needs. However, we must keep in mind that hiring a real hacker is a rather risky and expensive issue. With the help of an online private investigator, the whole process could be much easier to copy with. KidsGuard Pro is the best among of those online hackers, and it will never let you down. Try it and be a hacker yourself right now!
1. Is it worth it to hire a private investigator?
Hiring a private investigator can be really expensive to some extent, so you should consider the cost. If you just want to check whether your spouse is cheating on you, a third-party spy app can help you solve the problem without hassle.
2. What exactly does a private investigator do?
A private detective is someone who offer services like investigating people's backgrounds, hacking crimes' computers to find evidence, and working for celebrities.