Hackers are one of the essential parts of the internet. Without them, no website or online business can be secured. However, in most cases, they are hired to hack and steal someone's private online information, for example, hack Facebook account, clone a cell phone text messages, and many other types of online communication. Now, if you want to hire a hacker for one of those reasons, you're in the right place.
In this article, we've written an ultimate guide on everything you need to know about hiring a hacker online.
So let's get started: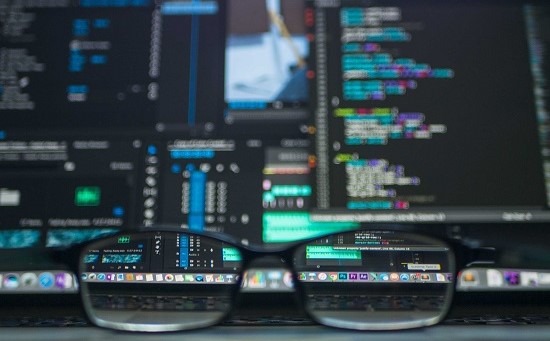 Why Do People Hire Hackers?
We know, usually, hackers are linked with illegal activities such as stealing someone's private information or financial details. However, that's not always the case.
It all depends on the motive behind hiring a hacker. For example, hiring a hacker to know about your kid's activities will not be considered illegal. But overall, there might be several other reasons why someone needs to hire a hacker.
Below, we've mentioned some of the reasons that why do people hire hackers:
1. Track Kids Smarpthone
Most people hire a hacker to track their kids' smartphones and protect them from a bad environment. Today, smartphones are a compulsory gadget for everyone. Especially if your kid is a school-going boy/girl, then you must give them at least one smartphone. However, apart from the smartphone benefits, many disadvantages come along with the smartphone. That's why many parents hire an ethical hacker to keep an eye on child's phone to see what their kids are doing on their smartphones.
2. To Make the System Secure
The biggest reason why people hire hackers is to make their online server or system secure. You might have heard about the idiom "metal breaks the metal." The same saying applies here.
To make your online system secure from hackers, you need to hire hackers to make it safe. Because only a hacker can tell how reliable your system is, that's why the majority of ethical hackers are being used to make the system secure and better.
3. Revenge
Many people pay hackers to hack someone's online profile to take revenge from the target. This type of hacking is prevalent among ex's and those who betray others. So if you got any ex or you've betrayed someone else, you might be the next target of a black hat hacker.
4. Illegal Activities
Now here comes the most awaited reason for most of the people. Of course, if talking about hackers, how can we forget illegal and criminal activities?
A large number of hackers in the world are hired to perform illicit activities. Some of them include hacking someone's bank accounts, credit cards, social media accounts, smartphone media, online financial accounts, etc.
They hack all these things with bad intentions. Even more, many people are running this business on the Dark Web. They hire blackhat hackers, pay them for hacking, and sell those hacked accounts on the dark web.
Is It Legal or Illegal to Hire A Hacker?
It all depends on why and how you are going to use the hacker. To clear the myth, hacking a system isn't an illegal task in any way.
In 95% of countries, becoming a hacker or hacking a system doesn't violate any law. A hacking attack or hackers break the law when they hack into someone's system or steal confidential information without the owner's approval. It's not legal! Many other activities, such as stealing someone's personal information with wrong intentions, hacking to do blackmailing, and many other unethical things, make hacking attacks illegal.
On the other hand, hacking and breaking into someone's account with full authority isn't an illegal act in any way. Moreover, hacking into your kid's smartphones to make them secure and to protect them from wrong activities will not be considered an illegal hacking attack. So basically, it all depends on the hacker's intention and why they need to hack someone's system. Today, almost every industry uses ethical hackers if they have any online strategy. Instead, hackers are an essential part of the internet. Without them, you can never make your online business secure.
How to Hire a Hacker?
Here comes the main body of the article for which you have been waiting. First of all, note that hacking isn't that simple as you visit Fiverr or Upwork and hire a hacker for your job (especially if your need is black hat hacking). Still, if you want to hire a hacker, the below section is for you:
Method 1. Hire an Online Private Hacker - KidsGuard Pro
What if we told you that you don't need a real hacker(a person) and all the problems that come with hiring one to know what your boyfriend/husband/wife/girlfriend is up to? You can be the hacker with KidsGuard Pro. It is safer and cheaper than hiring a real hacker. It is undetectable and works like a charm.
KidsGuard Pro is an app that gives you access to everything that is on anyone's phone. And by everything, we mean everything. It lets you remotely monitor all of their social media apps. Yes, that means you can see what is in their DMs. It covers everything from Snapchat to Viber.
In addition to that, you can know where someone is at all times because KidsGuard Pro also gives you access to their location via GPS tracking. You will have all the data on the target phone, such as text messages, call logs, contacts, and photos. You can even record calls and take screenshots remotely. So, become the hacker yourself with the help of KidsGuard Pro. This app can help to hack both Android and iOS devices, you can read the following detailed guides to choose from the product you need.
It has never been easier to hire a hacker to get access to an Android device. It will take you less than 5 minutes to set up KidsGuard Pro. Here are the simple steps that you need to follow:
Step 1. You will need to create an account using your valid email and purchase a pricing plan to unlock all monitoring features.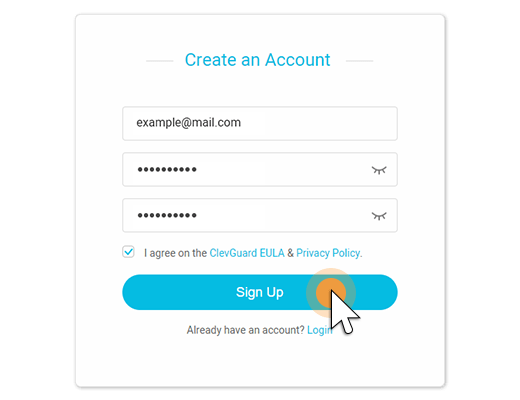 Step 2. Download KidsGuard Pro app using the download link to install it on someone's device – For this, you will need access to the target device for less than 5 minutes. Once it is installed, it will be completely undetectable.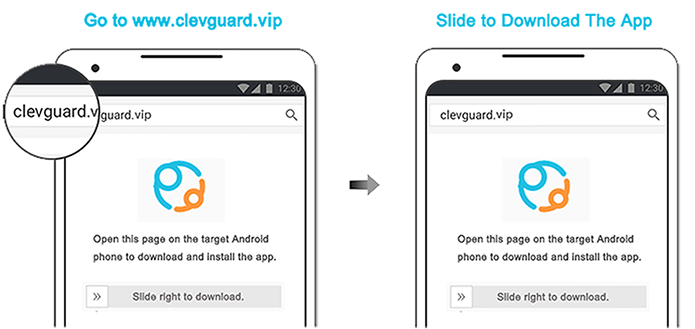 Step 3. And it's done – You are now the hacker. You can just go back to ClevGuard to sign in your account on your own device to see all the activity that takes place in the target phone without the owner knowing.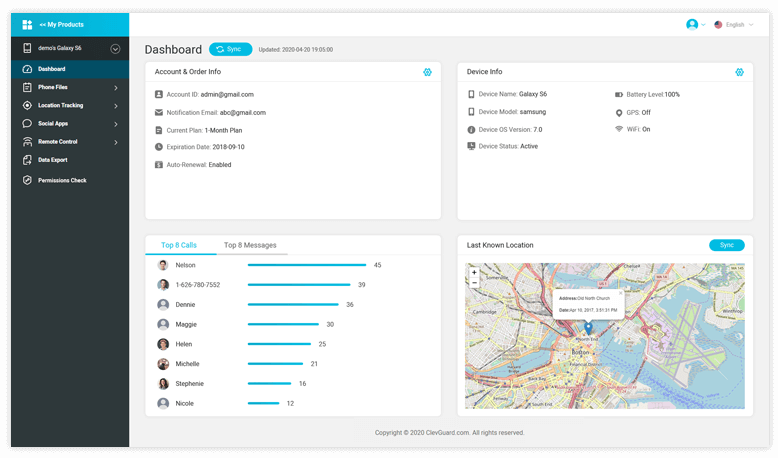 When it comes to iOS, most monitoring softwares will require you to jailbreak the target device. With KidsGuard Pro, you don't have to worry about that at all. You can get started by following these simple and easy steps:
Step 1. Create a valid account for KidsGuard Pro by using an active email address and purchase a plan that is suitable for you.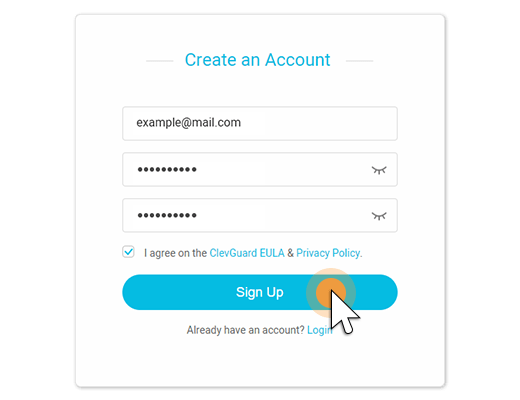 Step 2. Download the software on the target's computer, where data backup might be available. If the backup of the target device is not ready on the target's computer, you may need to get physical access to the target device to connect it to the computer, and allow KidsGuard Pro to scan and access the backup.

Step 3. Once all the backup is scanned successfully, you can start to monitor someone's iPhone data right away on KidsGuard Pro.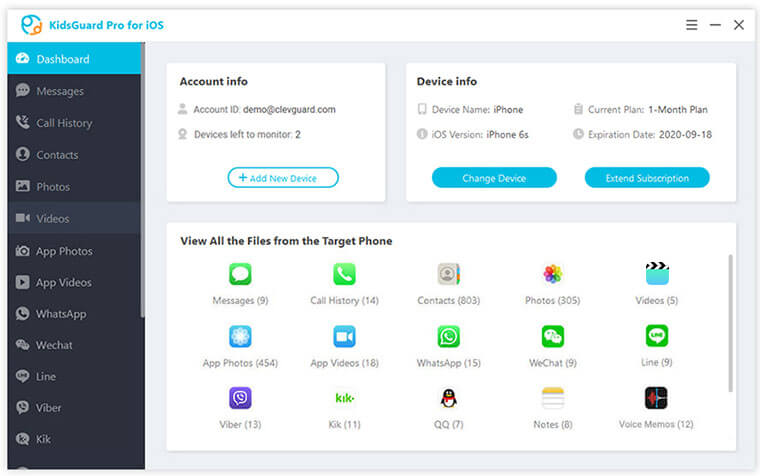 Method 2. Hire a Hacker on Professional Websites
Due to their respective country's TOS, many multinational platforms don't allow anything related to hacking. You can't even upload blackhat hacking tutorials for educational purposes on many authentic websites. Website's such as Amazon, YouTube, Fiverr, Upwork, People Per Hour, Freelancer.com, Facebook, Instagram, and many other platforms don't allow anything related to blackhat hacking. The majority of authentic and high DA websites are continuously registered in the USA and Europe. And if you are aware of the hacking policy of these two states. No website can share anything related to blackhat hacking, even if it's for educational purposes. Nor are they allowed to sell such services.
However, according to USA and Europe policies, a website can involve hacking only if it's intended for educational purposes or its ethical purposes (white hat). This policy allows all those registered companies in the USA and Europe to involve only white hat hacking in their online platforms. Therefore, if you need any ethical hacking service, you can hire them from those popular platforms. But only WHITE HAT HACKING! This policy allows all those companies registered in the United States and Europe to involve white hat hacking into their online platform only for ethical and legal purposes. So, if you need an honest hacking service, you can get them from these popular platforms.

Method 3. Hire a Blackhat Hacker on the Dark Web
We know most of the people reading this section might not have visited the dark web ever before. We're pretty sure some of our readers have not even heard of the dark web before this article. This section isn't on the dark web, of course. But to explain to you in simple language, the dark web is that part of the deep web. In the dark web, illegal activities and unethical actions are performed typically. For example, you are hiring a blackhat hacker, drugs, guns, etc. The primary purpose of the dark web is to keep all your internet activities anonymous and secure, so no one in the world can track or monitor what you're doing on the internet. If you want to hire a blackhat hacker online, nothing can be better than the dark. Web.
However, before going and hiring a blackhat hacker from the dark web, it seems an easy task, but it's not. I don't think it's like purchasing from Amazon, where you find the product and order it right away. First of all, you need to use a TOR router to access the dark web. Secondly, you need to find a trusted seller TOR link, which isn't a scam. Because, believe us, 80% of hackers are only a scam to steal your money. Since on the dark web, no one can guarantee what is original and what is fake.
Note: In the dark web, the only way you can pay them is through cryptocurrency (bitcoin usually). Because it's not trackable!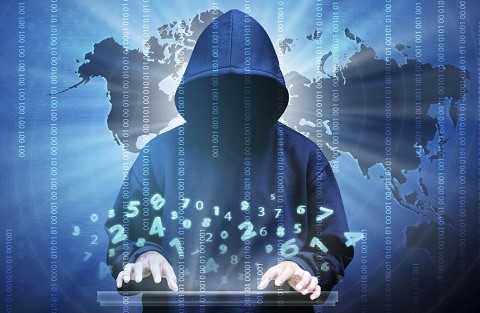 Method 4. Hire a Freelance Hacker
The safest way you can hire a hacker is through a freelancing website. We've already told you most of the popular freelancing websites are registered in the USA and Europe. So, according to their policies, you can involve hacking services only if it's a white hack. That's why some of the biggest freelancing platforms, such as Fiverr, Upwork, People Per Hour, Freelancer.com, etc., allow you to hire a professional hacker, but only for ethical, legal, and white hat purposes.
Suppose you're thinking of hiring a hacker for hacking into someone else's account, stealing someone's information or blackmailing purposes, or for any blackhat hacking. In that case, it's not possible on any authentic freelancing platform. Even you can't use them to hack into your kid's or spouse's device; no freelancing platform allows this kind of activity. All you can do is hire an ethical hacker to find the flaws and loopholes in the security and secure your online system. This is called ethical hacking, and every freelancing platform is limited to this hacking only.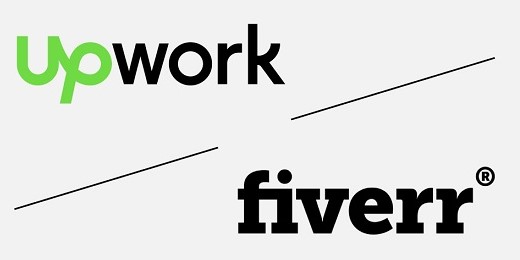 Method 5. Hire a Background Investigator on Hacking Agency
A background investigator will be helpful if you're running a business and searching for new employees. A background investigator is a person whose main task is to conduct a background check of the targeted person. They investigate and keep an eye on their every activity to expose false statements and misreported information to the company.
However, in the case of hacking, the concept is quite different. A background investor in hacking agencies doesn't monitor and investigate physically. Instead, they hack into the target's gadgets such as smartphones and PCs to investigate their background. Usually, this type of hacking is considered a white hat or ethical hacking. However, because you're not harming them, this act is ethical and legal as long as you're not breaking the victim.
Such as changing their account credentials, leaking their personal information, stealing their money from online banking, etc. All of these activities will be considered illegal and black hat hacking. Moreover, to use background investigating hackers, you and the hacking agency must have a government-issued license; without a permit, you're doing an illegal activity!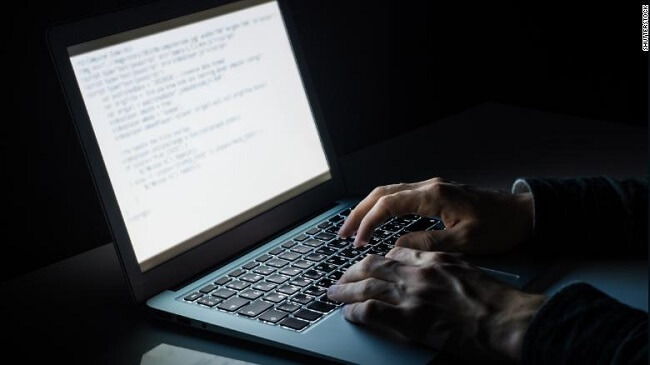 What You May Concern About Hiring a Harker?
While hiring a hacker, there are a few things that you might be concerned about. For your ease, we've written a small FAQ on the most prevalent concerns people do while hacking a hacker:
Q1. Is It Safe to Hire A Hacker?
To be precise, it all depends on your country's law. If your state law allows you to hire a hacker for white hat hacking then it might be safe and secure. But in some countries (asian countries usually) the law doesn't allow even hiring an ethical hacker for white hat hacking. But, of course, if you're hiring a hacker to break into someone's privacy, stealing personal information, blackmailing the victim, stealing their multimedia, and all that is illegal and unsafe. On the other hand, hiring a hacker for your business purposes, such as to make your online system secure and find the loopholes, is safe and 100% legal and safe (depends on your country's law).
Q2. Can a Cell Phone Be Hacked Remotely?
Besides hiring a hacker, there are some spyware services out there on the internet. They work the same as a hacker, even better than a human hacker. A spyware service such as KidsGuard Pro only needs to be installed on the target's phone, and that's it.
You'll have complete control over that smartphone, and the service works 24/7 in the background. Especially if we compare any spyware service such as KidsGuard Pro with a human hacker, it's way more efficient, low in cost. It provides many hacking features that an individual hacker can't.
Q3. How Much Does it Cost to Hire a Hacker?
Depending on your needs, the skills of a hacker, and the package you've selected, the hacker may cost you about 150$-15000$+. But again, it entirely depends on what you want, skills, etc. But more than that, a black hat hacking will always cost you much higher than a white hat hacking. Moreover, finding a genuine black hat hacker is way more complicated than finding a white hat hacker.
Conclusion
A hacker might be a good choice if you want to hack into someone else's device and see what the victim does on their smartphone. However, technology is evolving now. The same case applies to hacking activities as well. Instead of hiring hackers and paying them a lot of money, you can use spyware services like KidsGuard Pro to monitor the detailed activities of someone else's smartphone. First of all, they provide a lot more features than an individual hacker, work 24/7, provide better efficiency, and lastly, a spyware services such as KidsGuard Pro will cost you at least 20x less than an individual hacker.