Sometimes we would need to remote access Android, like, we are busy at work and the phone is not nearby, or we would like to view a specific content from smartphone to a bigger screen of your PC. Or we may want to gain remote access to someone's Andorid phone without permission, just to know what is happening with them.
Basically, whatever the reasons, the most effective way is by third-party apps. So in the following part, we have listed some great apps in all cases for your reference.
How to Remotely Access Android Phone
Way 1: How to Remotely Access Android Phone without Knowing
There are certain situations when you may want to remote access android without permission. These could be monitor the phone of your children or partners and you would not want them to get involved in inappropriate activities online. In any case, the most foolproof way to access someone's phone secretly is by using the monitor app.
1.1 What is the Monitor App?
Monitor app can be used to give you remote access to all the information you need on the target phone. Once installed, it can work in a stealthy mode and start to upload the data in real time. Then you can remotely access an online control panel on your PC or any other phone without touching target phone again.
KidsGuard Pro for Android is the best monitor app to remotely access Android phone without knowing. Equipped with dedicated monitoring features, it quickly takes over the market and gets recommendations from tech sites like AlternativeTo, NewsBeezer and more.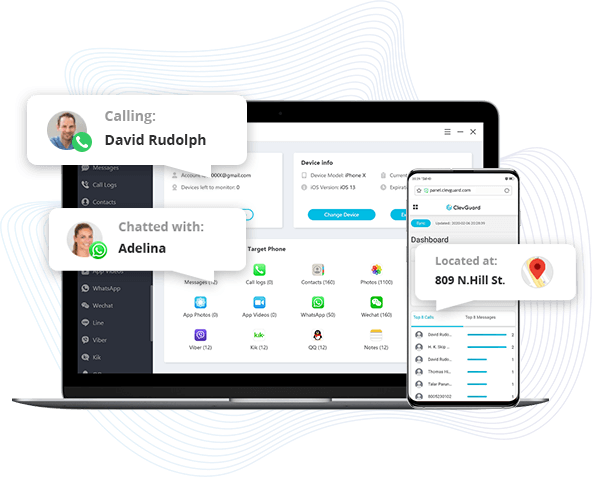 1.2 Steps to Remotely Access Someone's Android Phone
It is very user-friendly and only takes 3 steps to remote acces Android of others. Here's how to access Android phone from another Android phone or any other device without knowing:
Step 1. Click Monitor Now button below and skip to KidsGuard Pro's website. Register for KidsGuard Pro with your email address and pick a suitable plan which fits your needs.
Step 2. Then, download KidsGuard Pro Assistant on the target device by visiting www.clevguard.net via any browser. You can follow the easy on-screen prompts to complete the installation. This step only needs to take 5 minutes.

To better understand how to install KidsGuard Pro for Android, we also offer a 2-minute video. Just check it out below!
Step 3. After finishing the installation, the app will become invisible on home screen automatically and you can go to the web control panel of KidsGuard Pro and wait for the syncing of the Android device. Then you will have access to all the following data of target device.
Call logs

Text messages

Browser history

Photos

Videos
Capture screenshot

Record calls

Keylogger

Take photos

Real-time location
Social media applications like WhatsApp, Viber, LINE, WeChat, Kik and more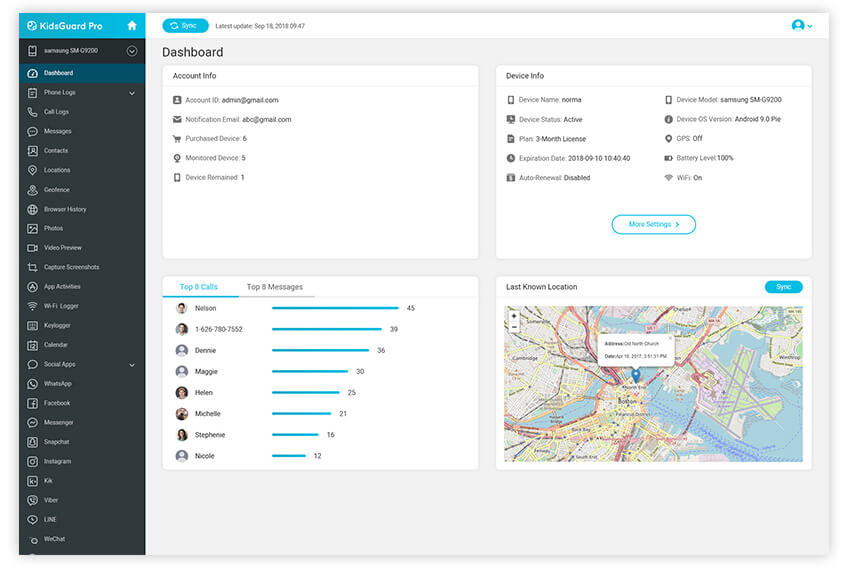 1.3 Why You Should Choose KidsGuard Pro Remote Control App
As the best app to remote access phone files, KidsGuard Pro has several key features worth noting:
Completely invisible: The app icon will disappear from the home screen and rename. It works in incognito mode without any notification. So, you can remote access Android phone without knowing.

Cheaper price: It costs only $8.32/month which is less than a lunch. While its competitors are three or four times higher.

Ease of use: As you see, the installation can be done within 3 minutes. After that, you can check all the files you want in the left menu bar by a few clicks.

Real-time tracking: It can upload data on the target phone in real-time, so you can rest assured that you won't miss any detail.
How to access other's Android phone? KidsGuard Pro is one of the best ways for remote phone access. If you are still not convinced about the app, feel free to contact their technical support team who works 24*7 to make the user experience even more satisfactory.
Way 2: How to Remotely Access My Android Phone from PC
If you are just trying to access your own Android phone from PC remotely, like, control your cell phone via keyboard and mouse, or view a mobile phone file on a bigger screen of PC, then you can look into some screen mirroring apps.
2.1 What is Screen Mirroring App?
Just think that you are viewing a specific content on your smartphone and that exact screen is visible on the bigger screen of your PC. So, with the help of screen mirroring, you will get access to your own Android phone from PC remotely. The principle of screen mirroring is very simple. It uses USB cable or Wi-Fi connection to transfer the information to the connected screen.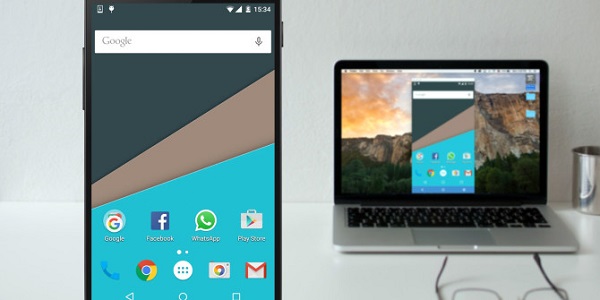 2.2 Steps to Remotely Control Android Phone from PC with Teamviewer
There is a long list of amazing screen options that you can opt to remote control your own Android phone from PC. Teamviewer is one of them. What makes it great is that it is very easy for someone without previous tech knowledge. And here's how Teamviewer work:
Step 1. Download Teamviewer latest software for Windows on your computer. Now open the app afer the installation is complete and you need to enter a unique code of your Android.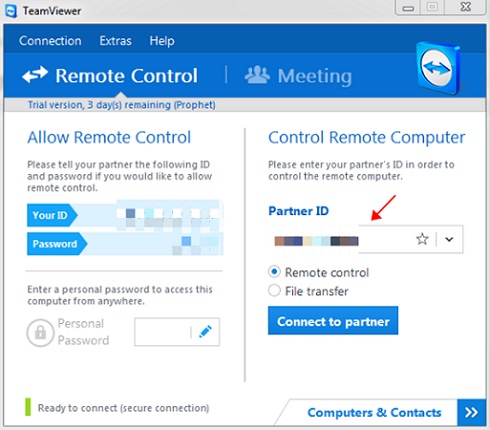 Step 2. Next, download TeamViewer QuickSupport app on your Android phone from the Google Play Store. You will be required to enable some permissions on the device. Now you get to the screen where you can find your unique ID and enter this code into Teamviewer App on your computer and start the Connection.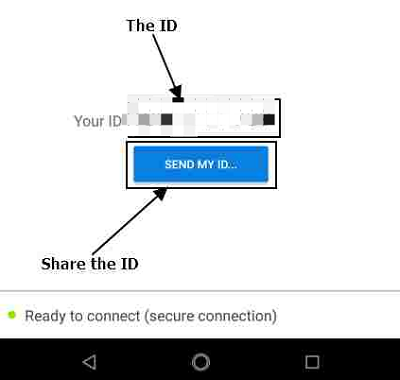 Step 3. In Android, there is a pop-up click and you have to give permission to allow the remote support feature.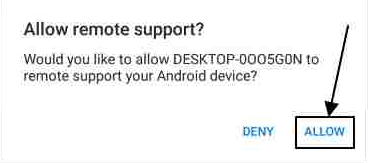 Step 4. Once the connection is successfully made you can see your Android in PC. In the upper menu bar, you can click "Remote Control" button to access your Android from PC.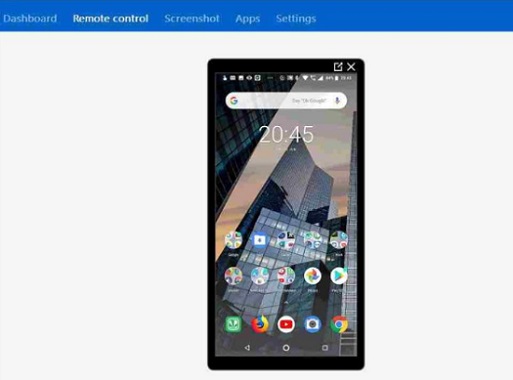 So, the actual procedure of how to remotely access Android phone from PC is very simple, you just need to tweak the settings properly. In the following part, we have prepared some great apps that are popular among the market.
Comparison of the 2 Ways to Remotely Access Android Phone
| | KidsGuard Pro | Screen Mirroring App |
| --- | --- | --- |
| Technical Difficulty | Easy | Medium |
| Usage Scenario | Remotely access someone's Android phone without knowing | Remotely access your own Android phone from PC |
| Connection Mode | 3/4/5G or Wi-Fi | USB cable or Wi-Fi |
| Suitable Users | For users who aren't tech-navvy but want to remotely access the files on Android of their families or friends without knowing for a long time. | For users who want to control mobile phone nearby for a short time |
| Supported Functions | Contacts, calls, messages, photos, videos, locations, geofence, social apps activities, browing history, keylogger, screenshot. | Files projection, control phone from computer with keyboard and mouse, online meetings, remote printing. |
| Advantage | Invisible, availability at any time anywhere by any devices, ease of use, versatility. You can access files when target phone is not nearby. | It helps your workflow and collaborate with multiple devices when it comes to presenting. Better viewing experience while watching movies and playing game. |
| Disadvantages | Some features may be misused by someone who has undesirable intentions. | These apps fail to remote access Android that is not nearby or without permission. The efficiency depends on USB or Wi-Fi stability. |
Conclusion
Android remote access is quite difficult due to the presence of all the security measures taken by the developer. But the feat can be achieved easily with the help of remote access and control apps. We have compiled a list of highly capable and efficient apps and detailed them above.
These apps will be very effective if you are trying to remotely access Android phone without knowing or access your own Android phone from PC. Although, for the former case, KidsGuard Pro is the most suitable choice! What's more, it is available for Android and iPhone. Highly recommended!