Question:
Is there an app that allows you to view private Instagram account?
Instagram is a social networking service that lets you share images and videos with your friends and family. Also, it offers a toggle private account option for the user to set whether others can view your account's contents such as images and videos. At that time, you may begin to think about how to see private Instagram.
With the development of technology, it is possible to view private Instagram. Therefore, in this article, we've listed the top 5 Instagram private profile viewers for your reference.
1: Best Private Instagram Viewer: Simple & with 90% Success Rate
Suitable for: Users who want to view private instagram account without following or an Instagram account.
Requirement: Get the target device for 5 minutes to install this app.
What you can view: This powerful software contains a private Instagram profile viewer, Instagram picture viewer, and many other functions. You can view Instagram profile pictures in full size, direct message history along with exchanged media files, likes, and comments, Instagram screen activity, etc.
How to see a private Instagram? I believe that's the question that many people would ask. Well, let's reveal this powerful Instagram profile viewer tools for you! It's KidsGuard Pro for Android.

KidsGuard Pro for Android
The Best Private Instagram Viewer for You
For years, KidsGuard Pro for Android has ruled the market because of its discreet and secure nature. This is the reason why it is the best Instagram online activity tracker reviewed by popular media outlets like NewsBeezer.
What's more, KidsGuard Pro for Android can bypass Instagram default settings of displaying its posts, meaning that you're able to view and download all full-sized private profile pictures through a remote control panel. Including access to chat conversation updates in real-time. So you will know who and what your target is talking about.
Notice:
There is offer a 30% off discount to enjoy this powerful software. Quickly to enjoy the best price for your need.
Now let's understand how to view private Instagram profile with KidsGuard Pro for Android app.
In order to see someone's private Instagram, you must follow the steps below:
Step 1: First, Click the button below to choose a suitable plan and get a valid license on the KidsGuard Pro from your email. Then you will get the download link from My Product page > Setup Guide.
Step 2: Now get your hand on the target device, open www.clevguard.net with any browser and download the app. Tap on the downloaded APK file and finish the installation.
Then configure the target device following on-screen guide on the app. The complete process only takes less than 5 minutes and you don't need to be tech-savvy.

Step 3: Leave the target device alone and log into your KidsGuard Pro online dashboard. Then select "Social Apps > Instagram" option in the selection menu on the left, you can now check the target's Instagram activity.
If you want to view private Instagram profile photos, select "Phone Files > Photos" and look for the album called "Instagram".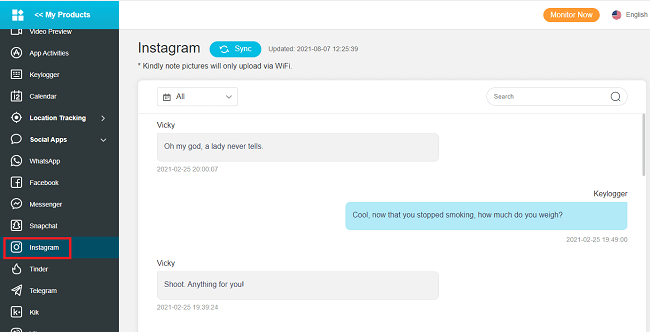 This is how this private Instagram viewer works. Another incredible thing is that you can remotely check someone's Instagram account without getting the target device anymore. All you need to do is just use one click whenever you want from your control panel.
KidsGuard Pro for Android also provides a free live demo before purchasing, which works exactly like the real product.
Some notable features of KidsGuard Pro private Instagram viewer app
Check and download full-sized Instagram private profile images and videos with good quality. Now the question "how to view someone's private Instagram photos?" is perfectly answered.

Monitor sent, received and deleted private Instagram chats. Every message will have a timestamp and contact name tacked on to it.

See other's activity on Instagram like who was following, who liked, commented, or shared their posts, etc.

Capture automatic screenshot in real-time to know what the target user is up to on Instagram. It is basically you are browsing their Instagram live interface.

This Insta looker works 100% discreetly, never putting you at risk of discovery.

Apart from monitoring someone's Instagram, it offers a full feature set to help you hack someone's Snapchat, read WhatsApp messages, browser history, call logs, etc.
People also ask about private Instagram profile viewer
Q1. Do Private Instagram Viewers Work?
Currently, there are many private Instagram viewers on the market. But KidsGuard Pro stands out. With a fast and easy setup in 3 minutes, KidsGuard Pro runs in the background secretly and constantly upload all the Instagram private profile on the target phone.
All you have to do is to log in to your online control panel, where you can check detailed information.
Q2. Can I See Private Instagram without Following?
Yes, you can view an Instagram account without human verification and following. Once installed, KidsGuard Pro for Android is capable of helping you have full control of someone's private Instagram without following, knowing the target's username, or having an Instagram account of your own.
Q3. Is It Legal to Use KidsGuard Pro to View Private Profile Picture on Instagram?
Yes, it is absolutely legal to use KidsGuard Pro to watch or download someone's profile photos on Instagram. It is noted that you should not use the photos for commercial purposes without their consent.
Q4. Is KidsGuard Pro for Android Compatible with the Device I Want to Monitor?
KidsGuard Pro for Android is compatible with all major phones and tablets running Android 11 to Android 4.0, including Huawei, Samsung Galaxy, Google, LG, OPPO, Xiaomi, and more.
NOTE:
KidsGuard Pro app also supports for iOS devices. If your target person is an iOS user, you can click the "View Demo" button to know more features about KidsGuard Pro for iOS.
2: Other Online Instagram Private Profile Viewers: Complicated & with 40% Success Rate
Suitable for: Users who only know the username of others' Instagram accounts.
Requirement: You need to complete some online surveys to see the possible result, which is time-consuming.
What you can view: Instagram basic account info, and hopefully the private photos and videos.
Private Insta is a good Instagram private viewer online. This app is well capable of extracting the posts of private accounts on Instagram. All you just need to do is just copy and paste the Username of the profile which you want to view.
When you enter the username, you have to press the Submit icon which will start the searching of the profile and extraction of those posts. Once it is done with the searching process, you need to take part in a general survey and after you are done answering, you will be able to see the posts of that particular private Instagram account.
Pros

Just the profile name is required to extract information from the private Instagram account.
You can check someone else's private Instagram account without downloading an app.
You can also view their shares and what they comment on or like
Cons

The survey can at times consist of a few difficult questions.
Some complain that no result comes out when searching the user name.
This is another very awesome restricted Instagram viewer app where you just need to enter the target's profile username and press continue. After finishing some surveys, you can easily view or download photos and videos of that particular account. The whole process does not involve anything challenging.
Pros

You can download photos and videos to your device.
Does not require you to go through a survey before viewing the account.
Cons

The username can be incorrect at times when copied or typed.
3. Insta Stalker
Our next best Instagram viewer tool is Insta Stalker. You can view any Instagram profile on any device or operating system. Just enter the target's Instagram username in its webpage, it will start scanning.
After that, confirm the user and choose what you would like to view, finish several online surveys, and you may look at the private profiles with a few clicks.
Pros

You can view any Instagram account without following.
You can also export the Instagram private account posts in .zip file.
Cons

The constant surveys might take quite a long time.
This view private Instagram app is having the simplest UI, which will help you to get your task done very easily and hassle-free. All you need is just to copy and paste the username of the targeted Instagram profile and click on the search icon present there.
The next process will be answering some simple questions that will redirect you to the profile of the targeted Instagram profile, where you can now access all the posts.
Pros

You just need to know the correct username of the targeted Instagram profile.
The survey questions are a lot more basic.
Cons

You might not be able to download from the targeted Instagram profile.
Does These Online Private Instagram Viewers Really Work?
We have tested all the above tools for viewing private Instagram (Private Insta/Insta Looker/Insta Stalker/Insta Dp) and found several issues and they seldom work.So we also write down here to prevent people from being cheated.
First, these websites may expose your personal information. Upon completing the online survey you will be asked to enter your email address. By doing so, your inbox may be flooded with junk mail. Secondly, it takes a lot of twists and turns to get the results you want.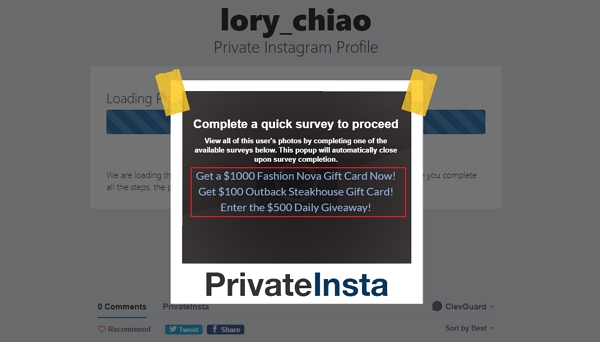 3: Possible Ways to See Private Instagram Photos: Free & with 20% Success Rate
Suitable for: Users who don't want to try any Insta looker apps.
Requirement: You have to get the permission of target Instagram account owner.
What you can view: You can check profile photos posted on the Instagram account.
Ask the person directly
One of the easy ways to view private Instagram profiles is to ask the person directly by sending a follow request. If you wish to follow someone or have the desire to view the private pictures of someone then the best way is to follow him/her.
You can also send a private message to express your feelings. You need to be genuine and real so that the person feels right about you. All these might just impress the person and they might consider talking to you.
Create another Instagram account
If you intend to view someone's private Instagram then you might just create another account that looks real enough so that you can be trusted by the targeted user.
You can also make your account private so the other person, in turn, might be curious as well. Finally, you can send the other person a follow request and leave a special private message which is genuine and wait for the reply.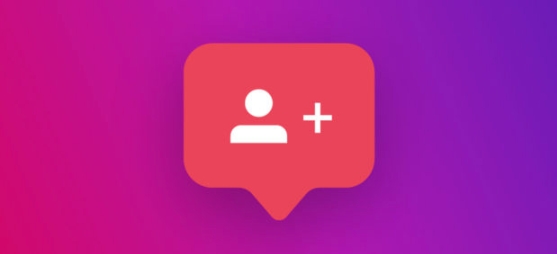 Why Do You Need A Third Party Instagram Viewer?
Most Instagram users access their Instagram account from the default Instagram app. However, there are some who prefer a private Instagram account viewer app. Here are the reasons why you need a private Instagram viewer.
Convenient Viewing
A private Instagram viewer offers a more convenient way to view Instagram content. The default Instagram way shows images and videos in a certain way. A third-party Instagram viewer app shows images and videos in a more soothing, attractive, and convenient way that the users love.
Not just images and videos on the feed, an Instagram private account viewer app also lets the user see the stories on their feeds more beautifully and conveniently than usual.
Customization
A private Instagram account viewer app lets the users customize the viewing window and set it as per your preference. Moreover, you can tweak many settings as per your requirements that you cannot change in the default Instagram app.
Check Private Content
A legitimate Instagram private account viewer app lets users check out the private images and videos of any Instagram profile. No user can see these private images and videos of any Instagram profile using the default Instagram app due to restrictions imposed.
What Is the Best App to View Private Instagram?
KidsGuard Pro for Android is the best private Instagram profile viewer app as it is 100% secure and undetectable. You're able to view and download other people's private Instagram profile pictures in full size without even having to go through the privacy controls.
Plus, you will find a lot of amazing features that are not provided with any other Instagram viewer apps like tracking direct messages, screen activity, app interactions, and more. It is not only our recommendation but also many other tech sites cast their votes to this app.