Instagram is the most versatile social media apps among all and has gained huge popularity in recent years. As it's increasing popularity among people and the large information carried by it, the necessity to monitor Instagram's activity and track its messages becomes a hot issue.
We may already know some ways to keep track of Instagram, such as hiring a hacker and using some online tool. However, none of these methods are reliable. They are time-consuming, inefficient, and carry the risk of privacy leakage.
Thus, in this article, we will introduce the top 6 Instagram online tracker apps, which are professional in Instagram monitoring. Now let's look at the details.
A List of Top 6 Instagram Tracker Apps to Monitor Instagram Activity
1. Best Instagram Online Tracker - KidsGuard Pro
Rate:
Price: Only one edition with all the premium features, and it only costs $8.32 per month for the yearly plan.
KidsGuard Pro is the best app to track activities on Instagram of the current generation. The app has a very attractive design which is appreciated by all its users. The overall performance of the app is exceptional.
It monitors Instagram in every detail effectively. The app works in a 100% stealthy mode because the app icon will disappear automatically after the finish of install. The most excellent is it can track the contents of the target device without rooting it.
Let's have a look at the wonderful features and advantages of using an Instagram tracker like KidsGuard Pro. Also, you can click the buttons below to view the features on the dashboard directly:
What Can You Do:

You can easily see all the Instagram activities, by reading push notifications, like who released Instagram stories, new likes or comments, etc. You can even know the app using frequency.

You can check all the sent and received messages even the deleted ones.

You will be able to view the private profile even the target blocked you.

You can monitor multiple accounts without logging them out.

KidsGuard Pro can capture the screenshots of target's Instagram automatically in real time.
Why We Recommend It:

It can remotely track Instagram with 100% secrecy.

It can track Instagram witout rooting the target device.

It's popular for its simple operation, and all can be done within 3 steps.

It has the best technical support.

You can get the free updates all the time.

It has other powerful phone monitoring features applied for both Android and iOS.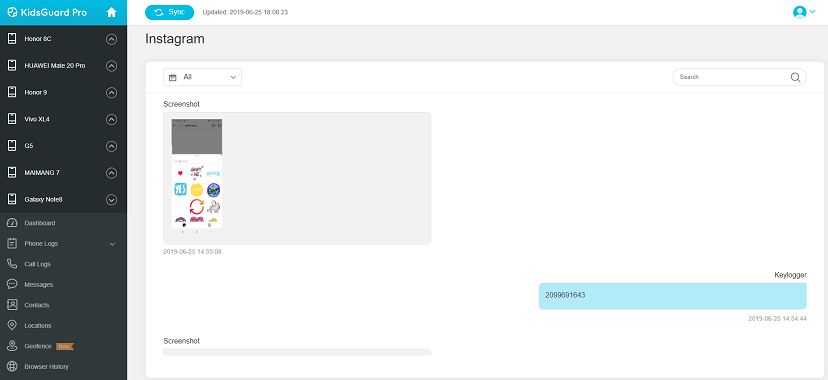 2. FoneMonitor
Rate:
Price: The Premium Edition starts from $29.99 per month and the Ultimate Edition starts at $39.99 per month.
Besides KidsGuard Pro, the next application comes to mind in terms of Instagram activity tracking is FoneMonitor. It is also considered one of the best Instagram tracker apps. The app works on both Android and iOS devices. But the Instagram tracking feature is not equipped on iOS versions. It is also packed with very effective and powerful spy features that let you monitor Instagram activities with ease.
What Can You Do With It:

You can track all the sent and received messages of the target Instagram account. The customer support is just exceptional.

It can also monitor the app activities like KidsGuard Pro.

Third-party messaging apps monitoring can be done with ease.

The data can be synced to the online dashboard.
Limitations of FoneMonitor

You may have to disable Google Play in order to get stable performance.

The installation and operation of the app are very simple.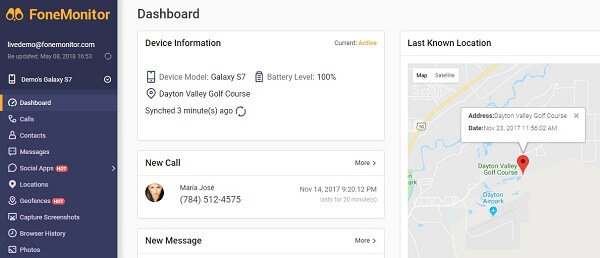 3. Pumpic
Rate:
Price: A free version of the app is available but there are paid version available and the price starts from $30.
Pumpic is also a great app if you are trying to track Instagram. The app is capable of monitoring all the uploaded photos, videos, messages, and even the comments. The app is also easy to use and you might not need any previous technical knowledge to use its features. The control panel helps you to navigate. The app is also able to restrict the usage of the target device. It works on both Android and iOS devices.
What Can You Do With Pumpic:

The app can monitor the uploaded photos, videos and messages.

You can remotely track Instagram with a control panel.

Provides 24-hour monitoring.
Limitations of Pumpic:

If you are using the app on the iOS device then you will be asked for an iCloud password.

In order to enable a few of the features on Android devices, rooting is required.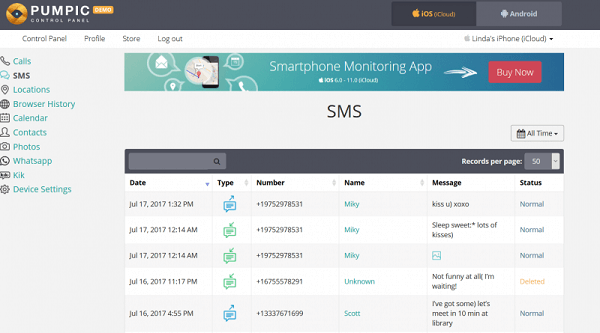 4. iKeyMonitor
Rate:
iKeyMonitor, another very famous name in the tracking app business! It is a great Instagram profile tracker and activity tracker. It has the ability to spy on Instagram photos, videos, Instagram messages, etc. Very effective as it can also take screenshots. The app is compatible with both Android and iOS devices but it also works on BlackBerry OS and macOS.
Price: A free version of the app is available but the Full version will cost you $49.99 each month of use.
What Can You Do With It:

Very discrete and cannot be tampered with.

The monitoring capability is vast.

Provides lots of details for the duration of Instagram monitoring.

The app also supports multiple languages.
Limitations of iKeyMonitor:

Compared to other apps on this list, iKeyMonitor is a bit costly.

Rooting is necessary to track Instagram.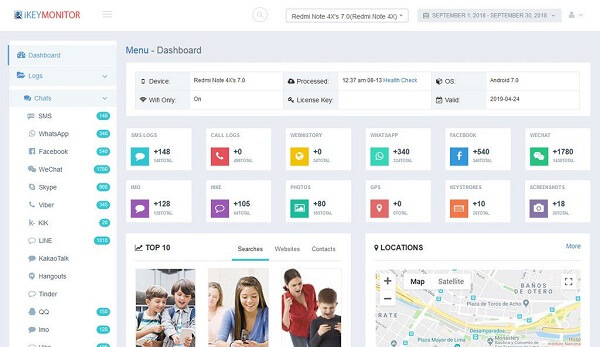 5. Flexispy
Rate:
Price: The Premium version starts at $68 per month and the Extreme Version with various other phone monitoring features comes at $199 for 3 months.
Flexispy is also quite an effective Instagram monitoring app. It is very reliable and provides you access to all the uploaded photos and messages. You can view Instagram messages and chats in real-time. Considered a great Instagram activity tracking app, it is compatible with Android, iPhones/iPads, and even computers.
What Can You Do With Flexispy:

It can track target Instagram without an account password just like KidsGuard Pro.

Real-time Instagram activity tracking which includes messages and chats.

Packed with other monitoring capabilities also.
Limitations of Flexispy:

Rooting is necessary to track Instagram.

Price is a bit higher than the competition.

It requires jailbreaking (for iPhone) or rooting (for Android) the target device, which is time-consuming and requires completing more technical steps.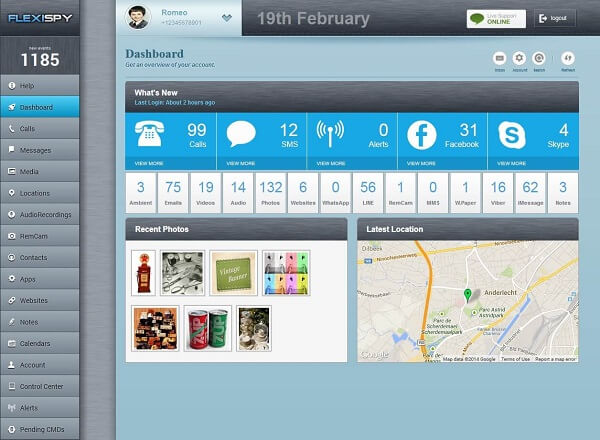 6. XNSPY
Rate:
Price: If you want to enjoy the full features, then you will be billed at $35.99 monthly.
XNSPY is the last but an excellent addition to this list. The app has great working capability and monitors smartphone and social media activities in intricate detail. All the Instagram conversations are recoverable. It even makes you able to turn off internet filters, locate device location and remotely control device usage at will. The app is compatible with both Android and iOS devices.
What Can You Do With XNSPY:

It can effectively monitor Instagram.

Effectively recover conversations.

Helps you to keep track of online activities.
Limitations of XNSPY:

The huge steps need to be manually finished.

Need to jailbreak the iOS device, and the features are very limited.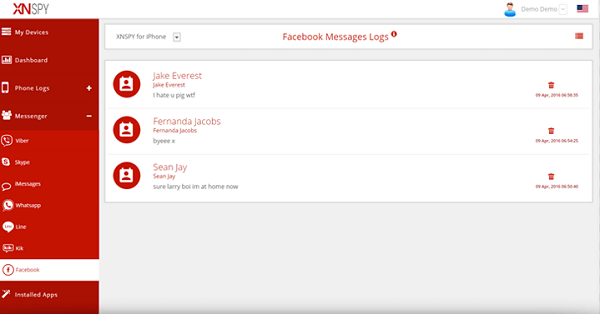 Editor's Words
We have detailed 6 of the most effective Instagram tracker apps. All of them are professional and works very efficiently. But you can put the focus on KidsGuard Pro, it is the best and we have placed it in the first place for a reason. In case you want to know how to use KidsGuard Pro, follow the steps below:
How to track Instagram messages and activity using KidsGuard Pro
Step 1: Sign up and create an account on KidsGuard Pro. Then purchase a plan to enjoy all the features.
Step 2: Download and install KidsGuard Pro from www.clevguard.net on the target device. Then, simply login to your account and complete the configuration with the help of the onscreen instructions.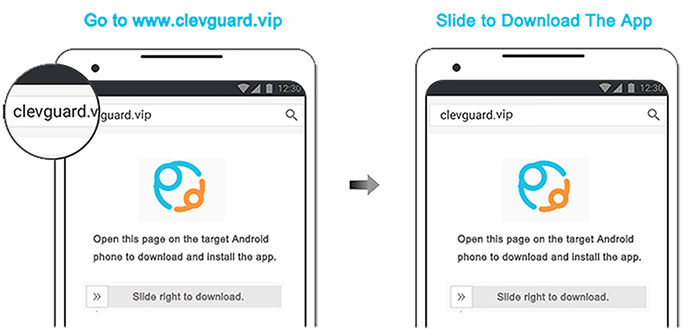 Step 3: Finally, navigate to the KidsGuard Pro web control panel and select Instagram from the left side panel to get all the updates on the Instagram activity of the target device.