Are you worried about your child's whereabouts? Or, you would perhaps like to secretly track a cell phone for free? Whatever the reason is, here we comply a list of best phone tracker apps without permission that can help to determine where the person is at any given moment. Read the recommendations below and you will also find out how you can choose the best location tracking app without permission out of all the available options in the end.
A List of the Best Phone Tracker Apps without Permission
The details regarding best phone tracker app without permission for Android/iPhone are available below.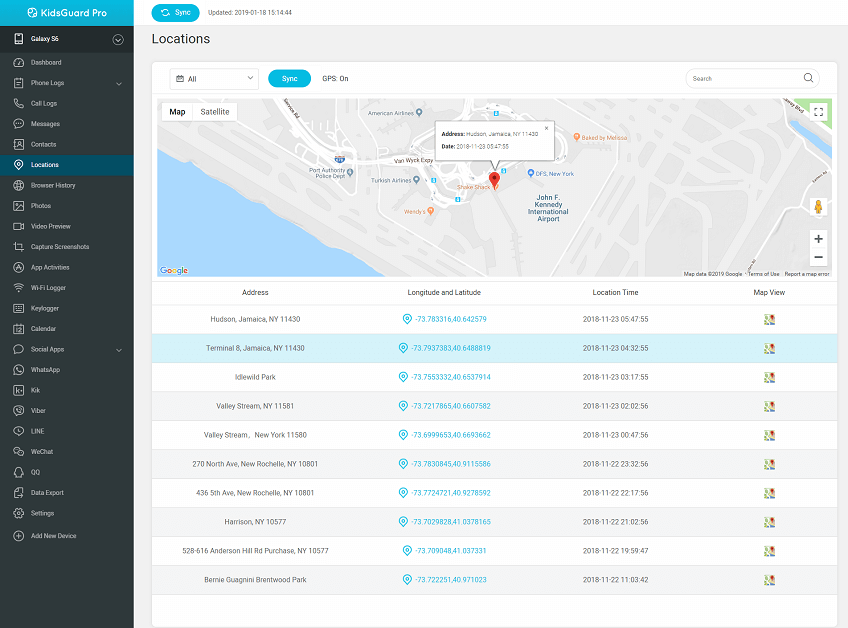 Price: KidsGuard Pro has only one edition, so you can enjoy all advanced features. It will only cost $8.32 for a yearly plan.
KidsGuard Pro is regarded as the best free phone tracker app without permission that is avaliable for Android - KidsGuard Pro for Android and iPhone - KidsGuard Pro for iPhone. It has gained significant popularity among millions of users and media outlets due to its accurate results and ease of use. With built-in GPS, KidsGuard Pro is able to track phone location in real-time and also show the past history wherever they have been. Its iPhone tracking solution is able to track an iPhone location secretly without installing an app. You can simply log into your dashboard through the website from any web browser. To track an Android, you have to install this phone tracker app onto it, which can be done in 5 minutes. Afterward it works in stealth mode in the background without an icon. To sum up, tracking mobile phone's location without permission by KidsGuard Pro is the best choice for you. Now, let's have a look about the both pros and cons below:
Pros

Work in an incognito mode without permission of the target phone user.

Track the current whereabouts along with timestamp and street info on a map of a cell phone 24×7.

Show location history that gives you an insight of target's movements.

Utilize Wi-Fi technology to track accurate indoor location even with GPS turned off in Android version.

Available to the newest versions of Android and iOS devices.

Offers 30+ attractive tracking features like message, social media, calls, browsing history, etc.
Cons

It can't track a phone that is switched off.

It does not offer a free trial.
KidsGuard Pro is not just limited to be the best phone tracker app without permission. There is so much more it can do. Why not head over to its free demo and check them out for yourself?
2. FamiGuard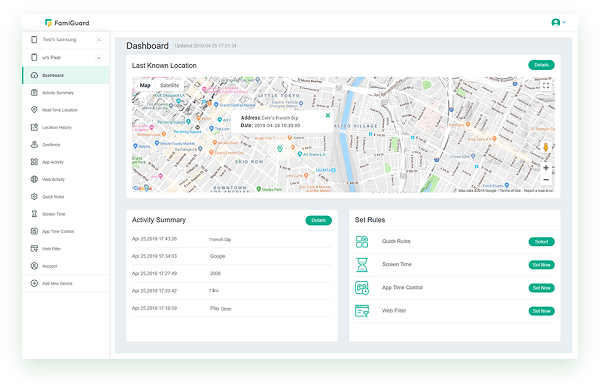 Price: The one month plan of the app will cost you $12.99 per, the 3-month plan will come at $29.99 and the year-long plan will cost $59.99.
FamiGuard is another best phone tracker app without permission free. The App mainly emphasized on parental control. It works through installing the app on the target device and then you can get the GPS location without permission. It is a nice intuitive application with built-in GPS that gets updated every few minutes and gives you real-time location of the target device. And the location history is also provided with this app. If you want to parenting in a simple way, then here is a good choice for you.
Pros

Tracking the GPS location of mobile phone in real-time.

It can ensure the 100% accuracy with the technology of buil-in GPS.

It can view location history with time and date stamps.

The app has the intuitive interface and is easy to operate.

Cons

No iOS support.

The App is visible on target device.
3. mSpy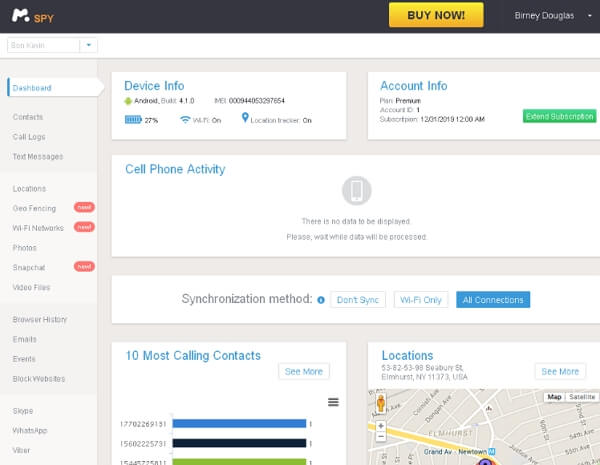 Price: The Basic version of the app will cost $29.99 per month and the Premium version will cost $69.99 for 1 month.
mSpy is also a great GPS location tracking app without permission known for its exceptional performance. Although mainly advertised as a parental control application, the tracking capability of this app is very accurate. Just like the apps mentioned above, mSpy gives a map view of the locations.
Pros

Give the real-time updates of target's locations.

Compatible on multiple platforms.

Provides easy access to the target device without permission.

It has the great balance of features and price.
Cons

The features are very limited for the basic version.

Disastrous customer support.
4. Hoverwatch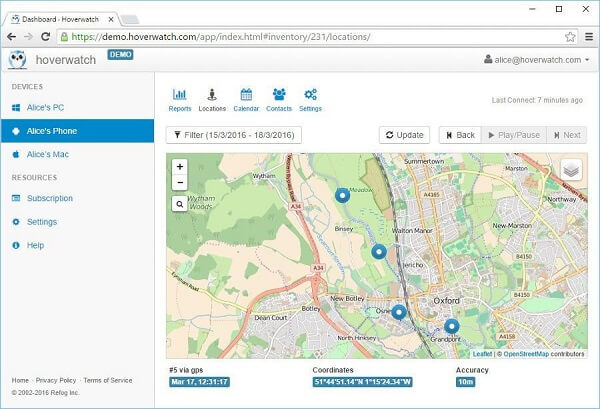 Price: The Personal version of the app starts from $24.95 for a single device, the professional version starts from $49.99 for 5 devices and finally, and the Business version starts from $149.85 for 15 devices.
Hoverwatch is an exceptional app with vast monitoring capabilities. This is not only the best iPhone tracker app without permission to download but works effectively. It keeps a close watch on the target device. This app also have the online dashboard for collecting the data. Here we listed some pros and cons for you to understand the app better.
Pros

The app is easy to install.

The interface is user-friendly.

It provides different editions for different need.

Other monitoring features are also available.

It works in stealth mode.
Cons

Location tracking is not as accurate as other apps on this list.

Designed only for Android devices.

Root for Android devices is necessary.
5. MobileSpy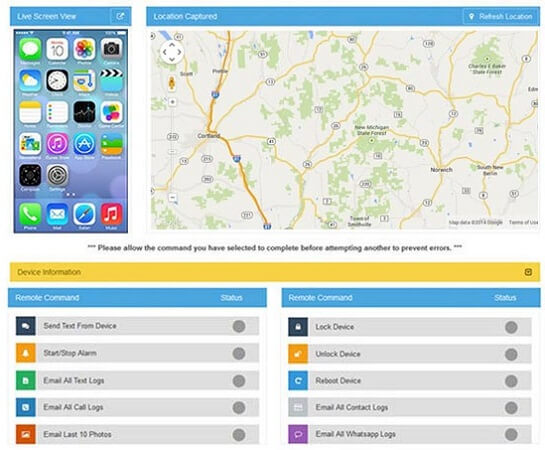 Price: The Basic version of MobileSpy will cost $49.97 for 3 months and the premium version will be available at $64.97 for 3 months.
MobileSpy is one of the best phone tracker app without permission for Android. The performance of the app is stable and it is also very effective. The app is very powerful and it helps you to keep a close eye on the target device's location and activities. There are also other monitoring features available.
Pros

Easy and effective application in tracking mobile phone location.

Real-time location tracking is possible.

It also support map view.
Cons

Not a multi-platform application. It only for Android devices.

Works only based on GPS signals.

It's not very convenient to chek the data.
6. PhoneSheriff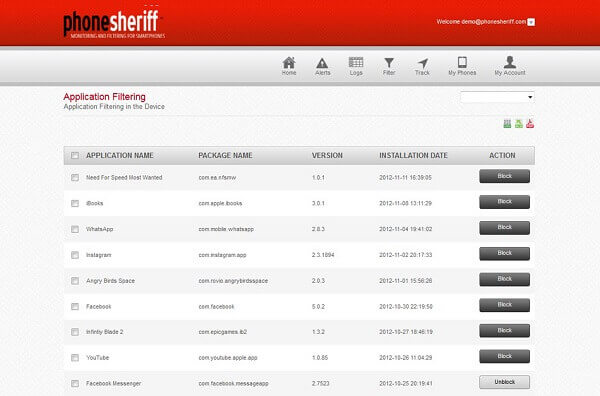 Price: PhoneSheriff costs $89 for a 12-month subscription and $49 for 6 months.
PhoneSheriff is a famous names among the best phone tracker app without permission. The app was designed for the parents so that they are able to monitor the online activities of their kids. But its tracking capabilities are also quite excellent. The app is efficient and location tracking is accurate. It is also packed with other features as well.
Pros

Location history is also available.

The price is affordable.

An installation demo is available.

Provides instant location tracking.
Cons

Installation is a little bit complicated compared with other apps.

The support system is bad.

The website guide is not very clear.
People Are Also Asking...
Here are some common queries that people ask regarding cell phone tracking app without permission:
1. Which is the best phone tracker app without permission?
KidsGuard Pro is the best phone tracker app without permission. It can operates incognito mode to track an Android or iOS device without them knowing. It helps to see real-time location of a phone at any given moment, using not only GPS but also Wi-Fi connections.
2. How to track a phone without an app?
If you want to track an iPhone or iPad without installing an app, go to iCloud.com and track it from there (given Find My iPhone is turned on). If it is an Android and you have a Google account, go to Find My Device.
3. Can I track a cell phone with just a number?
No. There are a lot of free phone number tracking sites online, but they only provide the appoximate position. If you want to get accurate location info displayed on the maps, you should go for phone tracker apps mentioned in this list.
Also read: Best Free Mobile Number Trackers Online with Location
4. Can I track the location of a phone that is switched off?
No. If a phone is switched off, it can't emit any signals. But you can check the last known location of a switched off phone by Google services, location tracker app or network provider so you can determine the approximate area.
What We Recommend
So, if you were wondering; how to track a phone without permission, no need to ask any more. The article has provided all the details regarding the procedure and even discussed the details of 6 of the most effective applications that are capable of such a feat. Go for KidsGuard Pro if you want a better user experience and effectiveness.
So you just need to hit the Track Now button below and sign up your KidsGuard Pro account. Then buy a plan according to your needs.
For Android tracking solution, you can choose KidsGuard Pro for Android and visit www.clevguard.net to download the phone tracker app. The setup wizard are clearly showed on app interface and it will walk your through the whole process easily. When all these are done, you can switch to the KidsGuard Pro control panel, where you will be able to track a cell phone location without permission free.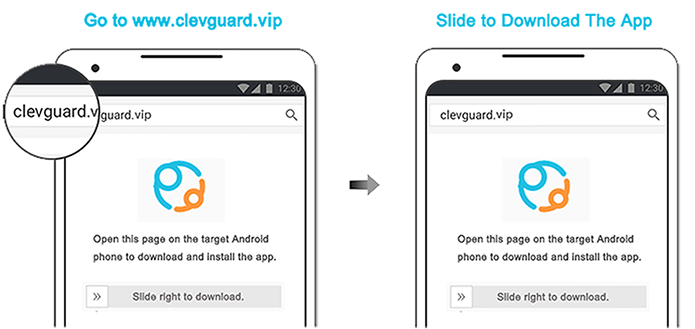 As for iPhone tracking, you can choose KidsGuard Pro for iOS, and there is no need to download an app on target iPhone or iPad. After registering, you have to buy an iCloud license and then enter the target iCloud credentials. Finally, you will be led to the control panel and find phone location without app.
Beyond location tracking, this app also supports to track social media apps like Snapchat, Instagram and WhatsApp, call history, text messages, keystrokes, browser history and more. You can also find the Geofence feature with this great app, which is very helpful if you want to spy someone's phone secretly.