"Is it possible to track a phone with GPS turned off?"
Well, the answer is Yes! There are a lot of online tracking services and apps like phone with GPS tracker available online, claiming that you can watch the live location even the phone has turned off GPS. But be aware that most of them are not capable of such feat. What's worse, some services and programs just lead you to click their ads to make money or use your registered information to commit illegal activities.
So, how to track a phone with GPS turned off? Well, we tested the most popular ways to track the device even without the GPS, and the only effective way is by using a 3rd party app - KidsGuard Pro Tracker. We will explain our reasons and give more related details in the article below. Have a look!
Option 1: Track A Phone With Wi-Fi Logger Instead Of GPS
Recommend Level:
Difficulty: Easy
The only effective and easiest way to locate phone without GPS is via professional 3rd party applications. The app we are going to discuss here is called KidsGuard Pro location tracker. This program can track your target user's whereabouts in real time and location history gets updated every 5 minutes. This helps you to determine the live movement of the target.
How does KidsGuard Pro track a phone with GPS turned off?
KidsGuard Pro offers 2 effective ways for location tracking. The first one is GPS locating and the second one is Wi-Fi location tracking. Even if the GPS is shut off, KidsGuard Pro is capable of using Wi-Fi hotspots to provide the pretty accurate address, which is used where GPS is inadequate due to various causes including multipath and signal blockage indoors.
Why choose KidsGuard Pro to track a phone with GPS turned off?
It is the easiest and simplest way you can imagine to track a cell phone without GPS. And the setup is very friendly for user without any professional knowledge.

This app provides accurate and real-time location. With the help of Wi-Fi logger, you can track a phone even it is indoor while GPS is no use. More details will be shown like address, time, duration and Wi-Fi name.

It is completely undetectable on the target device, so you can track someone without them knowing.

It is a long term solution to keep tracking a cell phone location through your own device at anytime.

KidsGuard Pro is reliable and trusted by many tech sites and millions of users all over the world. So you have no worry about phishing and privacy leaks.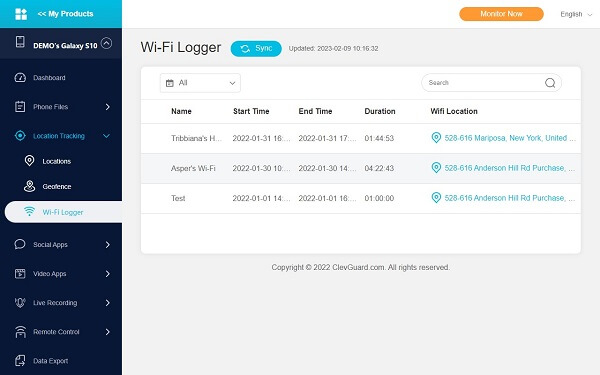 How to track a cell phone with GPS turned off via KidsGuard Pro?
Here' re 3 simple steps to try KidsGuard Pro as it works effectively to track phone location with GPS turned off.
Step 1: Use a valid email ID to create an account by tapping the "Monitor Now" option. You have to buy a premium plan to access its effective location feature.
Step 2: After completing the registration, go get the target device and navigate to www.clevguard.net to download KidsGuard Pro App. Kindly be noted that you should follow the on-screen wizard and allow all permissions on target phone.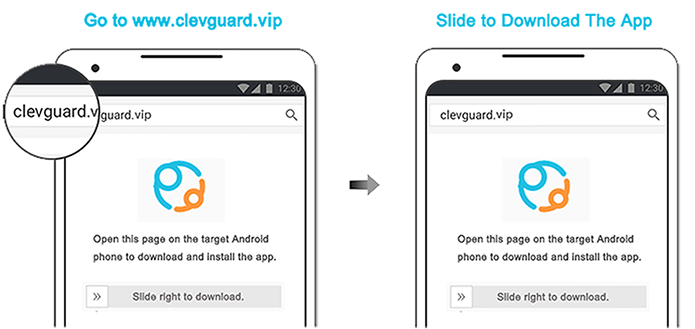 Step 3: Upon completing the installation, go to the web portal of KidsGuard Pro. You can select all options on the left side to get the location of the device and also the location history.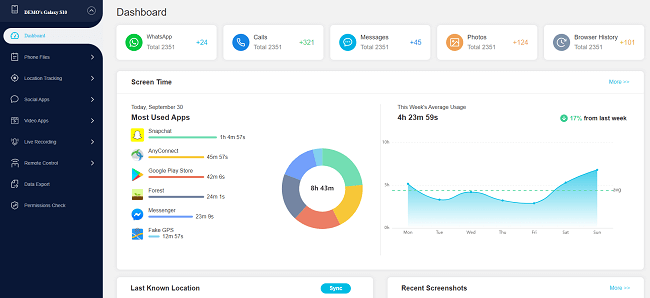 KidsGuard Pro is the best option to how to track a mobile phone location with GPS turned off as you can see, now it's for you to take the preparations beforehand.
More features you can access via KidsGuard Pro:
Although KidsGuard Pro is defined as the best location tracking app, it is an app that is packed with lots of other features as well. Have a look, they could be of use to you.
KidsGuard Pro is equipped with advanced Geofence feature. You can create a virtual fence and will be notified if they are crossed.

Real-time messages spying of the target device is possible using its superior monitoring capability; you can spy on text messages and social messaging apps like Facebook, WhatsApp, Line, Snapchat etc.

You can check various things like browser history, contacts, photos, videos, and call logs etc.

Keystroke reader is also added. Anything typed on the target device will get recorded.

You can take screenshot of the target phone to know what is going on right now on the phone.
Well, there are many ways online to track a phone without GPS. Some are a bit complicated and some are known to be a scam. So, let's analyse other common ways and see if they can really track mobile location without GPS.
Option 2: Track A Phone By Phone Number Tracker- Not Effective
Recommend Level:
Difficulty: Easy
You can find that a lot of users search "How to track a cell phone with GPS turned off using phone number?" Then there will be a lot of online phone number tracking sites, but they may not be as effective as you think.
Firstly, you can simply type the cell phone number along with user's details like name, emails etc. into www.google.com and you may see some results. Because Google company has gathered people's information already and if the phone number has been crawled by it, there may be chances to find its source. Secondly, there are a lot of online phone number trackers like Whitepages or Truecaller. But they are more suitable to know how to track a phone number rather than actual location trackers. To be noted that, these online cell phone number trackers will only show the number itself to see who owns it or the country/city the owner is registered in, which is useless if you want to see real-time movement of target phone.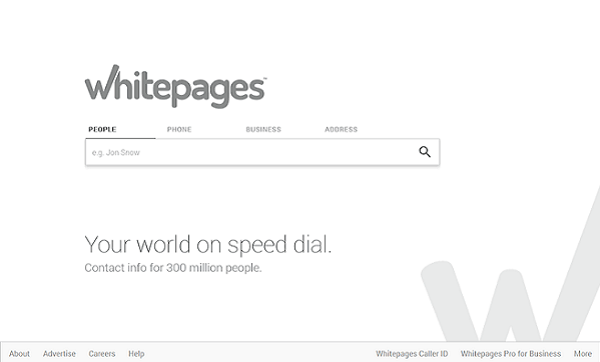 Moreover, most of these online services don't work as they advertised, and they may lead you to click their ads or push you to share their sites to gain query right. In order to prevent readers from being cheated, we would not provide these online mobile phone number tracking sites in this article.
Option 3: Track A Phone By Find My Device/Find My iPhone - Not Working At All
Recommend Level:
Difficulty: Medium
When it comes to track cell phone location for free, everyone will come up with Find My Device or Find My iPhone first. To give a simple introduction, Find My Device is the application developed by Google for Android devices while Find My iPhone is from Apple for iOS devices.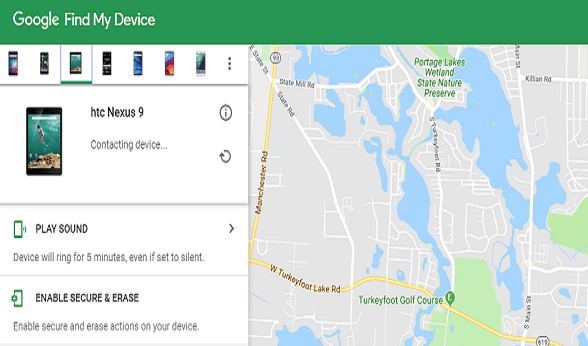 These 2 apps are mainly designed to locate the lost or stolen device. You can also use them as a location tracking apps. But wait! By these apps, can you track a phone if the location is off? Do they still work as you expected? Unfortunately, the answer is no! When we tested these inbuilt apps, we found that target phone have to keep turning on GPS, otherwise location service can not work at all.
From we've discussed, that's why we call KidsGuard Pro the best solution to track a cell phone without GPS. This app not only provides accurate GPS tracking, but also Wi-Fi logger tracking, which ensures you know every details of target phone's location. If you already have the app installed, you can simply go to the web portal and tap on Locations option to find the device location there on the map. For those who haven't installed KidsGuard Pro yet, we also suggest to try it as it works effectively to track someone's cell phone location.
Conclusion
Basically, we have tested the most popular and well-known ways to track a phone with GPS turned off and have found that the best way is by using a 3rd party location tracker application, and out of all available options online, KidsGuard Pro is a breath taking app and the most reliable one. This app can track not only via GPS but is can also track the target device via its Wi-Fi logger. Online phone number tracker fails to meet your needs, because they can only know the owner and country/city of the owner, not the real-time movement on a map. Another common methods, using Find My Device or Find My iPhone don't work without GPS and some settings need to be enabled in advance. Finally, make your choice and don't miss our first option if you are interested.