Is it possible to track a cell phone that is off? Honestly, it is close to impossible. Most of the apps and services available on the internet are designed to track the GPS or the Wi-Fi of the smartphone. So, when the device is turned off all those features gets shut down, making it impossible to track the said device.
But there is a silver lining if you can get the last known location of your turned off phone or get help from the mobile network provider using IMEI. In this article, we will cover all the options to track a switched off phone as well as introduce the best tracking app to prevent future losses.
How to Track a Switched Off Phone with Last Known Location
If you google "how to locate a lost cell phone that is turned off", there are multiple ways provided. Google services (Find My Phone, timeline and Google photo) are the most common ones. Unfortunately, these three methods only work when the phone can access the internet. Nevertheless, they may help to track the last known location of a switched off phone so you can determine the approximate area. Let's check them out one by one.
Way 1: Google Find My Device
So, if you ask can you track a phone if it's off using Google Account? The answer is yes. If Find My Phone service was activated on your mobile that is now switched off, you will be able to check its last known location via the internet. But there are some requirements before using this way. They are listed below.
Conditions: Your turned off phone has been connected with your Google account and the Find My Device feature on your phone is turned on.
Steps to Locate a Lost Cell Phone with Find My Device:
Open Find My Device app from another computer, tablet of a smartphone.

Now, sign in with your credentials.

The lost device gets a notification. On the map you will be able to view its current location. Unfortunately, as your device is turned off, only the last known location of the device will be visible.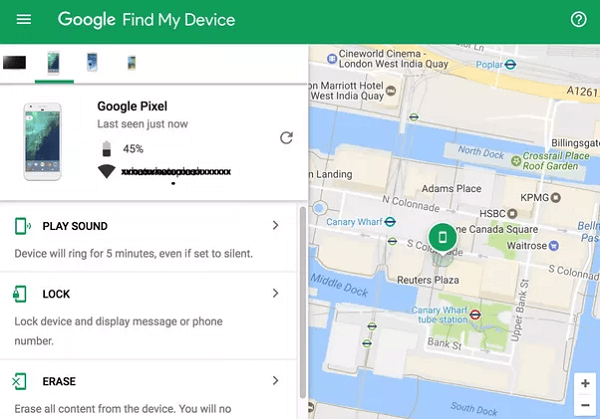 The way we mentioned above can only be integrated on Android devices. You may ask how to find a lost iPhone that is turned off? Well, Apple also provides an intergrated Find My feature that works to track the cell phone location.You can log into the iCloud official website and get the last known location if the phone is turned off. Overall, the procedure is same as that of its Android counterpart.
Way 2: Google Timeline
The Google Timeline was formerly known as Google Maps Location History. The name was recently changed by Google but this service is capable of showing the last known location of a turned off device, too. Like Google Find My Phone, using this way also has some conditions.
Conditions: Your phone has been connected with your Google account before it was turned off and the Location Reporting and Location History feature on your phone is turned on.
Steps to Track a Phone That is Turned Off with Google Timeline:
Go to Your Timeline and make sure that the date is properly selected.

On the left side you will see your complete timeline which contains all the names of the stored locations.

At the right hand side you will see all the locations visited pointed out on a map.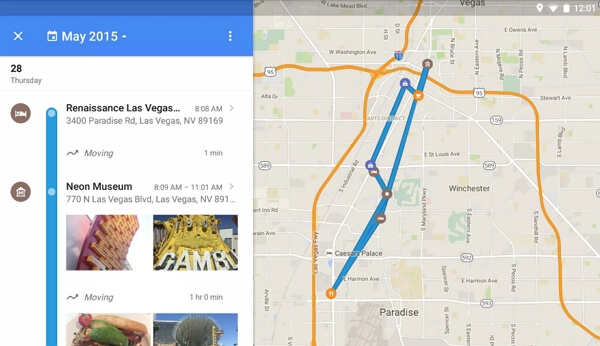 The Timeline uses cell tower IDs and Wi-Fi logger to record the location data. So, the accuracy of the results will vary but you will at least be able to get an approximate zone of the last location of the device.
3. Using Google Photo
Google Photos app is automatically pre-installed on Android phone, and your pictures will be uploaded to your Google account if sync feature is activated, then all of them are still available to you. So it is possible to identify the location of the new images even if someone stoles your phone.
Conditions: Someone has to take a photo using your lost phone and the sync feature on Google Photo app is turned on.
Steps to Find a Lost Phone Location with Google Photo:
Go to photos.google.com and log in with your Google Account.

Scroll up and down to find whether there is new image taken.

If yes, click on the info icon on the top right corner, then you will see the location when it is captured.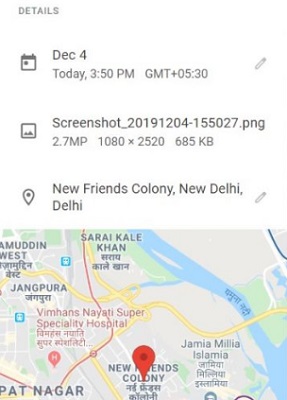 How to Find a Lost Phone That is Turned Off with IMEI Number
But what if you didn't have Google services installed or didn't connect with your Google account on your switched off phone, you can also try to contact your network provider or to the police for help. Carriers uses IMEI numbers to identify devices registered on their network. Based on this data the exact location of your phone can be accurate to a meter. In the event of a lost or stolen phone, they'll be able to blacklist the IMEI to prevent a particular device from being used on their network.
Conditions: You should know the IMEI number of the phone and the SIM card is plugged into the phone.
Steps to Track a Lost Phone Location with IMEI:
Find your cell phone's IMEI number when you first purchase it or dial *#06# to get this information.

Contact your cell phone carriers and provide the necessary details.

Wait until they are able to detect the signal of the your phone.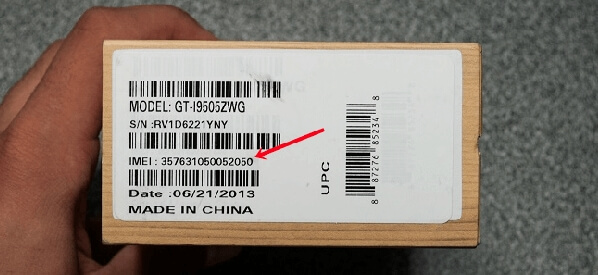 This option is inefficient because thousands of phones are lost everyday, making it an impossible task for network provider or police to locate your phone in time. What's more, the Google services discussed above are not helpful if your device is lost and switched off at the same time. At such circumstances, the only effective way to prevent future losses is to install a tracking app previously. If you agree with me, please read on.
Extra Advice: Prepare A Tracking App on Your Phone in Advance Will be Helpful
It's important to take some preliminary preparations if you need to locate a cell phone that is turned off or lost. And using 3rd party tracking apps can be an effective preparation. Among a lot of available apps online, our choice is KidsGuard Pro. It is designed with the great dedication for Android and iOS devices. With this tool, you can find plenty of features that help you in tracking real-time location of the target phone. Another good thing is that it can be hidden from the screen, so the thief won't find out the phone is being tracked.
Why KidsGuard Pro is Good at Location Tracking?
It can track the real-time GPS location of your phone once it is turned on.

It can track accurate indoor location by WiFi even the GPS is turned off.

You can get instant alerts whenever your phone leaves the specified geofences you set up.

It is able to get the last known location of turned off device to determine the movement.

It is fully compatible with all latest Android and iOS devices.
The location clearly shows on the map view along with date and time. The address can be down to the street, longitude and latitude are also provided. You can check its demo by selecting "Locations" and see how it looks like. Apart from location, you can also track SMS, calls, social apps and a lot more on target phone.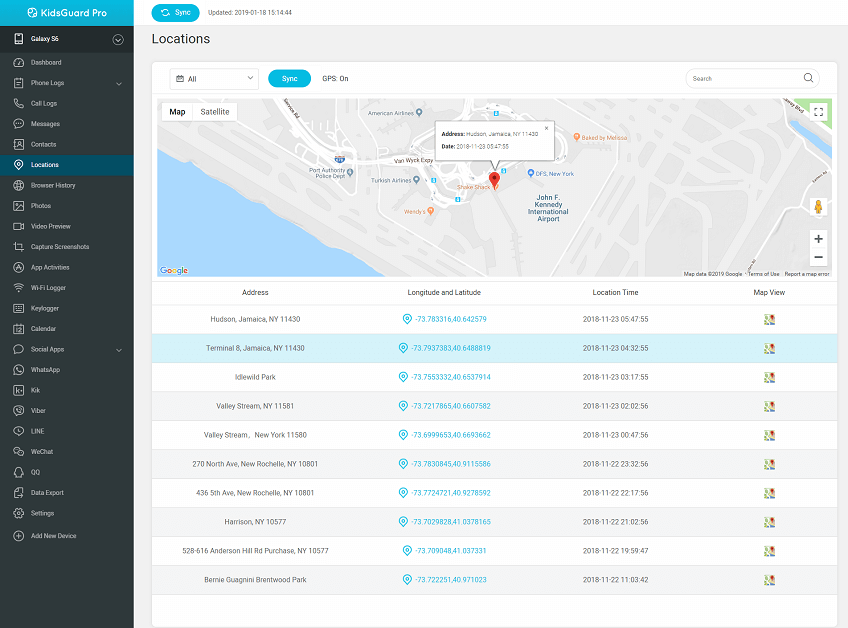 How to Track Android Location with KidsGuard Pro
It is quite easy to get started with KidsGuard Pro. You can set it up quickly within 5 minutes without any tech knowledge. Here's how to know the last known location and the location history of the switched off mobile with this tool.
Sign up and buy an Android license.

Install KidsGuard Pro assistant on target phone.

Login KidsGuard Pro web portal with your account. Go to the Location tab and you will get all the desired information.
How to Track iOS Location with KidsGuard Pro
Surprisingly, you can track an iOS device without installing the software. Because it is completely web-based. You just simply enter the iCloud credentials then KidsGuard Pro will show the location history details of the mobile.
Create a valid account and purchase an iCloud plan.

Enter your iCloud account and password.

You will have access to the dashboard. Then tap on the Location where you will get the updated information.
Even if someone changes the SIM card of the target phone, it can still track the location constantly. Always remember, KidsGuard Pro app is a preliminary preparation on your smartphone. Whenever you lose your mobile, the app will be there to help you find it. Still, in case you need to know where your kid is up to for the purpose of parental protection, we highly recommend KidsGuard Pro.
Write in the End
Can a mobile phone be tracked when switched off? We have discussed the most popular ways when you need to trace switch off mobile current location. These are very easy ways like Google services or mobile network provider. But all of them is not 100% effevtive and need to turn on the target phone.
So, the best way is to get prepared before bad thing happen. Our recommendation is using a tracking app like KidsGuard Pro. It can accurately track the real-time locations of Android or iOS device. Although, the chances of finding a turned off device is pretty low, you can view the location history and get an approximate route.