"Is it possible to hack into someone's Instagram?"
Everyday, we receive lots of questions like this from many users. The answer is absolutely YES.
There may be several reasons why you may want to hack into someone's Instagram. Your child may be too young to be on it and you want to keep an eye on your child's phone. Your partner may be behaving suspiciously, and you want to clear wild suspicions, etc.
In this article, we discuss the most effective ways in which you can hack Instagram easily and put your thoughts to rest. Even a novice user can handle it and successfully hack Instagram online in the quickest way.
3 Ways to Get into Someone's Instagram
Way 1. Hack Instagram Account Online with 3rd-Party Tool
The most recommended way to hack Instagram online would be using a spy tool. Yes, you heard that right, although this method is regarded as unethical in some countries, due to its effectiveness and high success rate, it is still favored by many people
Here we would introduce a handy tool called KidsGuard Pro to you. it is originally designed for parents and couples who want to protect their loved ones or discover the truth, for this reason, the operations are very easy to follow. Read on to know more about this app in detail.

KidsGuard Pro
The Ultimate Instagram Monitoring App for You.
Try It Now
KidsGuard Pro - The Best Spy Tool Hack Instagram Online
Safety: 100% risk-free
Success rate: 95%
Time needed: 3-5 mins
If you are on the lookout for the best tool to hack Instagram account online, you should definitely turn to KidsGuard Pro. It gives you a deep insight into the online interactions of your loved ones.
With KidsGuard Pro, you can check everything on their cell phone. For example, monitoring their Instagram activity, checking their text messages, and photos, etc. If you want to check the current ongoing activity on Instagram, you can easily check that by taking an instant screenshot on the target device.
More importantly, it stays hidden on it and allows you to monitor the activities on Instagram without being discovered by the target device user.
Steps to use KidsGuard Pro for Instagram Hacking
It is very simple to install and use KidsGuard Pro. Follow the steps given below to know how to hack Instagram online using KidsGuard Pro.
Step 1: Make sure you have a valid KidsGuard Pro account. To do this, you need to sign up first by clicking Try it Now button.
Step 2: After that log into your account and go to My Product page and tap on Setup Guide. Follow the instruction to finish download and installation on the target phone. This step only needs to take 5 minutes.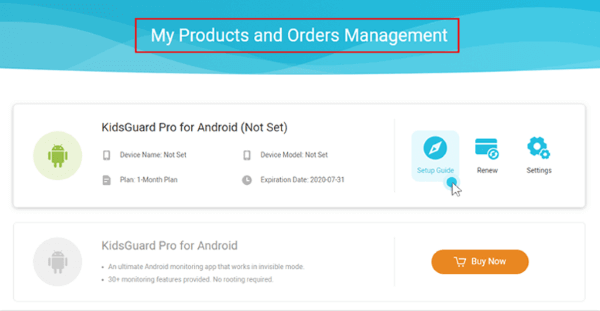 Step 3: Once done, go back to KidsGuard Pro website and access its online dashboard from any device. To remotely track the activities on Instagram, you can click on the "Instagram" tab.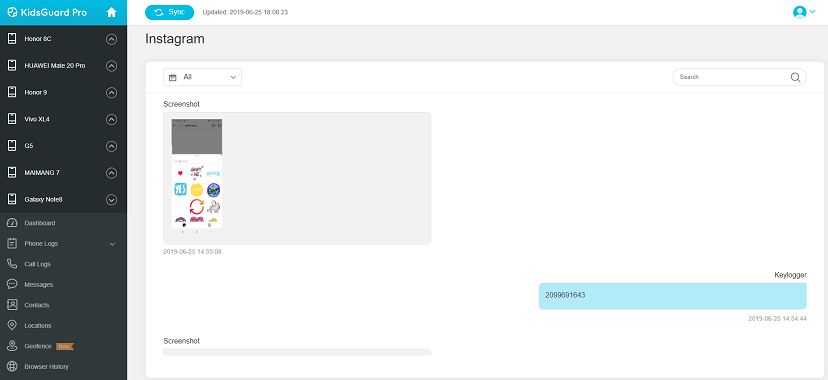 So there you go, with just three simple steps, you can easily hack Instagram without knowing. Using KidsGuard Pro is a long-term solution. As long as your account is valid, it means you can have unlimited access to the data on the target device. Everything will be kept uploading via Wi-Fi or network. All you have to do is to log into the online website to check it.
Why KidsGuard Pro is the Ideal Choice for Instagram Monitoring
The simple operations and intuitive online dashboard make it suitable for those who are not tech-savvy.
You can use this Instagram hack tool online without frequently checking the target device.
It is reliable and has 100% accurate results. The data also gets synced in real-time.
It also has multiple phone activity monitoring features, like tracking WhatsApp, Facebook, Snapchat, locations, call history and more.
It is the best phone recorder to record phone surrounding lives, phone calls, and phone screen.
You can setup sensitive name or content and get its alerts when it matches.
Take photos through target's phone camera is easily with it spy cam feature.
Check YouTube and TikTok watch and search history to know what someone is interested in.
In case you are not satisfied with this product, an Live Demo is provided for free trial before your purchase, and a 30-day money back guarantee is provided after sale.
Way 2. Hack Instagram Account by Forgot Password Feature
Safety: Safe
Success rate: 85% Depending on whether you can get the target phone and unlock it or not.
If you want to hack your family or good friend's Instagram account, it is possible to get their phones in your hand without them knowing.
It is an easy way to hack into their Instagram system that comes with the features of Forgot Password. It's worth noting that they will definitely get to know the change of password and then take some secure actions.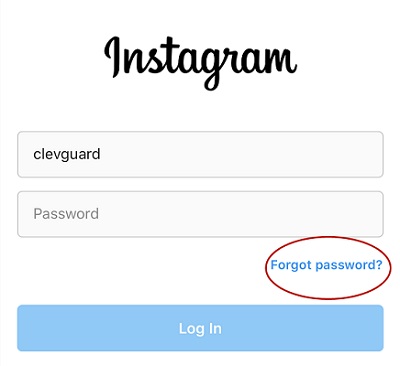 Steps to hack Instagram account by Forgot Password feature
Open the login page of Instagram app on your phone and enter the username of the account you want to hack into.
Tap Get help signing in (Android) or Forgot password (iOS) below Log In. Choose either email address or phone number to have the login link sent to and then tap Next.
Unlock the target phone and get the link to reset the password. Then you can hack into that Instagram account on your phone.
Way 3: Some Famous Online Instagram Hacking Websites Free
Another way in which many people try to crack Instagram password online is by making use of the free Instagram hacking site which claim to offer relevant services of how to hack Instagram account free. Let us have a look at this in detail.
How These Online Instagram Hack Websites Advertise to Work
Safety: Highly risky
Success rate: 10%
Time needed: 10-60 mins
A simple search hack Instagram online free on Google, will give you many results of websites advertising to be able to hack Instagram password, but 95% of these sites don't work at all.
They ask you for your email address and then make you wait for several minutes but do not give any successful results in the end.
Some websites even show some fake data and then tell you that you can see all of it as long as you pay. Most users will end up getting nothing but ripped off.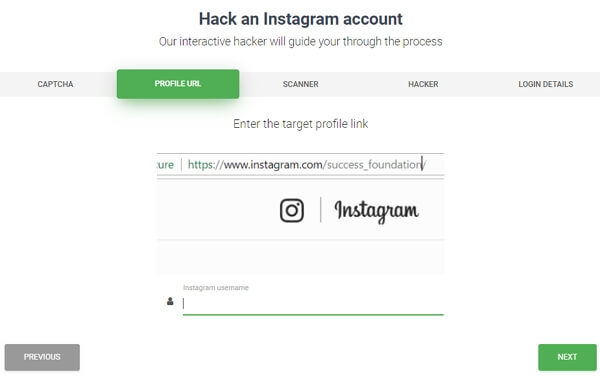 Why These Free Hack Instagram Online Websites Rarely Work
If you are someone who blindly clicks on such websites claiming to offer solutions to hack Instagram, you may be scammed royally. First of all, if Instagram can be hacked so easily, then what is the point of the work of Instagram Security Center members?
The security of user data is a top priority for all the apps, not to mention Instagram which has billions of users. Secondly, there is no way to hack someone's Instagram with their account name or phone number, if it is possible, it means you can get hacked by others simply, too.
All these websites take your email ID to feed into their database and send you multiple spam messages on your email ID.
Also, some of these sites often open pop-ups when you click on certain links which may lead to some virus getting installed on your computer or PC. This can be pretty dangerous as this will put all the data on your system at risk.
Some Famous Online Instagram Hacking Websites Free
Due to the disadvantages mentioned before, these free online Instagram Hacking websites can't beat KidsGuard Pro. Nevertheless, we will cover some of the famous ones which offer Instagram password hacking services and you can easily verify that yourself.
https://instahacking.com/
Instahacking.com is designed to hack anyone's Instagram password-free without any hacking experience. All you need to do is enter the Instagram username of the account you want to hack into. Then it will take up to 2 minutes to retrieve the password. From instahacking.com reviews, users have to do a survey for 10-20 minutes.
https://instahacker.org/
InstaHacker is an Instagram hacker website for free that aims to provide users with complete flexibility and simplicity of use. Although it is safe, you must not consider using this for criminal advantages which may put you to legal action. Just like other sites, a survey or a verification is needed to download the password.
https://www.instapass.zone/
If you are looking to hack Instagram account (either yours or your friend's), Instapass is another tool that utilizes its algorithm to crack the password for you. Besides, it is free to use. Just find out the username of the Instagram account and you are good to go.
https://instahack.me/
The main feature of the instahack.me is to make a secure connection to the Instagram servers and try to figure out the password for the account you want to monitor. However, Instagram official does not authorize or license its technology for this use yet.
Why You Should Hack an Instagram Account?
The foremost reason is a suspicious partner. If your partner is active all the time and chatting with someone on Instagram, there is an urge to hack their Instagram account.
Only by hacking their account, you can get to the bottom of the matter as they will allow you to use see their posts or chatbox.
Another common reason is if your kids are overusing Instagram. To get to know what they are posting and to whom they are chatting, you will need to check out their Instagram account.
Weaknesses of Instagram
Some of Instagram's weaknesses include privacy and user data leaks issues which is a concern for its users. More than half of Instagram users have a complaint about their account hacking and data leakage.
Another weakness of Instagram is the fake accounts, fake likes, and fake followers. Third-party websites generate these fake accounts by using special software. They sell them to users wishing to have more followers on their accounts.
It is a weakness because it creates a false scene of popularity for individuals and businesses which can be leveraged to promote false or fraudulent services and products.
It comes under pressure from investors and businesses for follow-up that gives a false sense of popularity.
Security Tips on Instagram Account
Tip 1. How do you know your account has been hacked?
You received a login link sent to your email address or phone number which is not generated by yourself, and your password was also changed.
Your email address was changed without knowing.
Your Instagram is posting unauthorized content or leaving other interactions.
You received a notice of suspicious login attempts on other devices.
Tip 2. How to keep your Instagram account safe?
Use a professional third-party app, like ClevGuard AntiSpy, to keep your Instagram and protect your phone privacy 24/7.
Change your Instagram password regularly. You must do this if Instagram detects some suspicious changes on your account.
Select a password that really hard to crack. It should combine at least six numbers, letters, and punctuation marks. You'd better not associate it with your phone number, date of birth, and other personal info.
Enable two-factor authentication for account security. Then a special login code is needed whenever someone tries to login your Instagram account from a new device.
Don't associate your Instagram password with other social media apps' passwords. If one of those apps has been hacked, the other apps are exposed as well.
Don't click any suspicious link sent to your email or text messages, it may contain virus.
Never choose Remember Me when you log in your Instagram account on pubic computer or on someone's phone. Otherwise, they can easily log in even you log out of the account.
Conclusion
You may want to hack into someone's Instagram due to several reasons. Although there are several online websites for those who wonder how to hack Instagram passwords in 2 mins, most of them are a form of scam and you must be careful before making a choice.
The safest way to hack Instagram would be to use an online hacking tool like KidsGuard Pro which is not just reliable but affordable and efficient as well. It has been trusted by many tech sites like AlternativeTo, NewsBeezer, etc so you can rest assured of choosing it.