How to clone a phone without touching it for free?
Everyone wants to get the data on the target device and view it on another device. This whole process is not as complicated as you think it is. There are plenty of ways to get it done. Using a professional cell phone cloning app, it's going to be much easier.
The article below will give you a better insight in how to clone a phone without touching it. Take a look.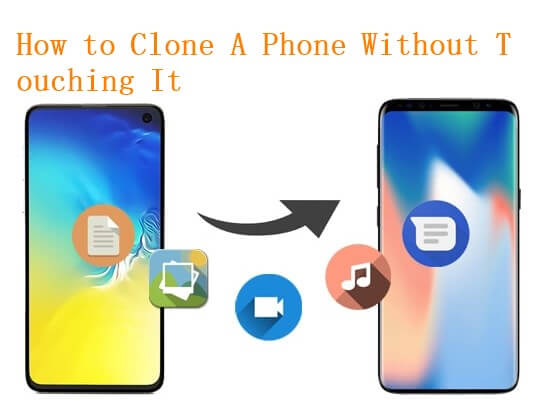 Part 1: Can You Clone a Phone?
The answer is definitely yes! It's quite easy to clone a phone using 3rd party spy tools or data transfer tools or you can even do it via backup and restore of the device.
Assuming that it is an iPhone, you can make an exact copy of an iPhone or iPad from an iTunes or iCloud backup. If it is an Android and you want to view updated data without touching the phone each time, it is mandatory to install a clone app onto it.
Now let's see all the available options and follow the simple instructions below in order to have an exact copy (clone) of another device.
Related read: 6 Ways to Clone Android Phone.
Part 2: Best Way to Clone a Phone Without Touching It - KidsGuard Pro for Android
So, you are curious about, how to remotely clone a cell phone in the easiest way?
The answer is using 3rd party apps. There are numerous professional remote monitoring apps available and Android Parental Control Tool is one such app. It is a professional monitoring app that helps you remotely track someone's cell phone.
Files that can be cloned and monitored by KidsGuard Pro for Android:
Now that you have acquired the idea of how to clone someone's phone without them knowing; of course using KidsGuard Pro. Let us come to the number and variations of files that can be cloned and monitored by the said application.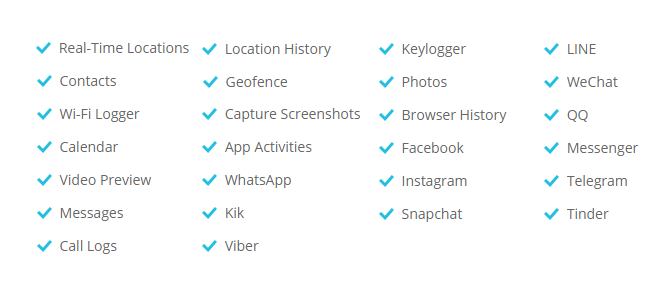 How about checking out all the useful features from its free online demo right now?
Why Choose KidsGuard Pro for Android:
So, how to clone someone's phone without them knowing? Well, the answer is to use KidsGuard Pro for Android. There are several advantages of using KidsGuard Pro for Android to clone a cell phone. Let's look at the details:
The app can be easily installed about 5 mins. Then you can start to clone a phone and control it remotely.
After installation, the app stays completely hidden from the prying eyes of the user.
The data from the target device upload continuously as long as there is a network connection.
You can clone 30+ files on a phone, which are basically all activities conducted on the device.
Procedures like rooting are not required in order to install this app.
You can access all the data on your own phone or computer.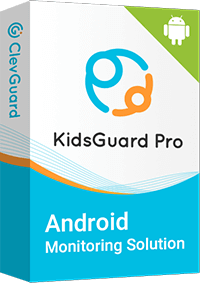 Steps by Step to Use KidsGuard Pro for Android:
And, here's how to clone someone's phone without them knowing with KidsGuard Pro:
Step 1. Choose a suitable plan from the button below to get your KidsGuard Pro account and other required details.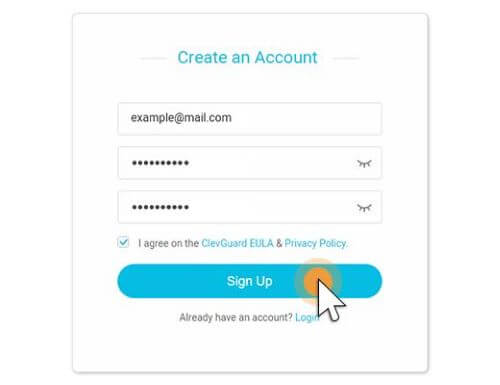 Step 2. After completing the registration, get hold of the target device. Unlock it and download KidsGuard Pro for Android from www.clevguard.net.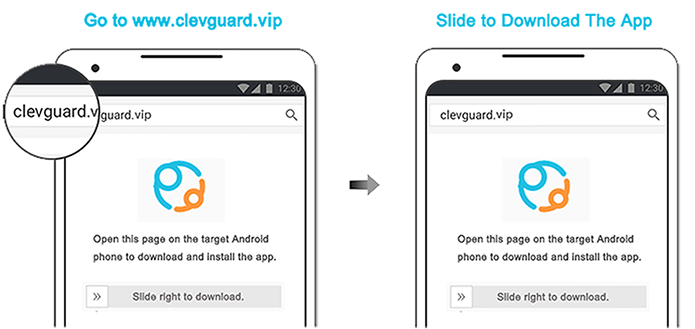 Step 3. Then, tap on the downloaded APK file in order to start the installation. On-screen prompts will be available, follow them to complete the setup.

Step 4. Now, visit the app's web control panel. Upon completing the sync, you will be able to gather all sort of data from the target device via the dashboard.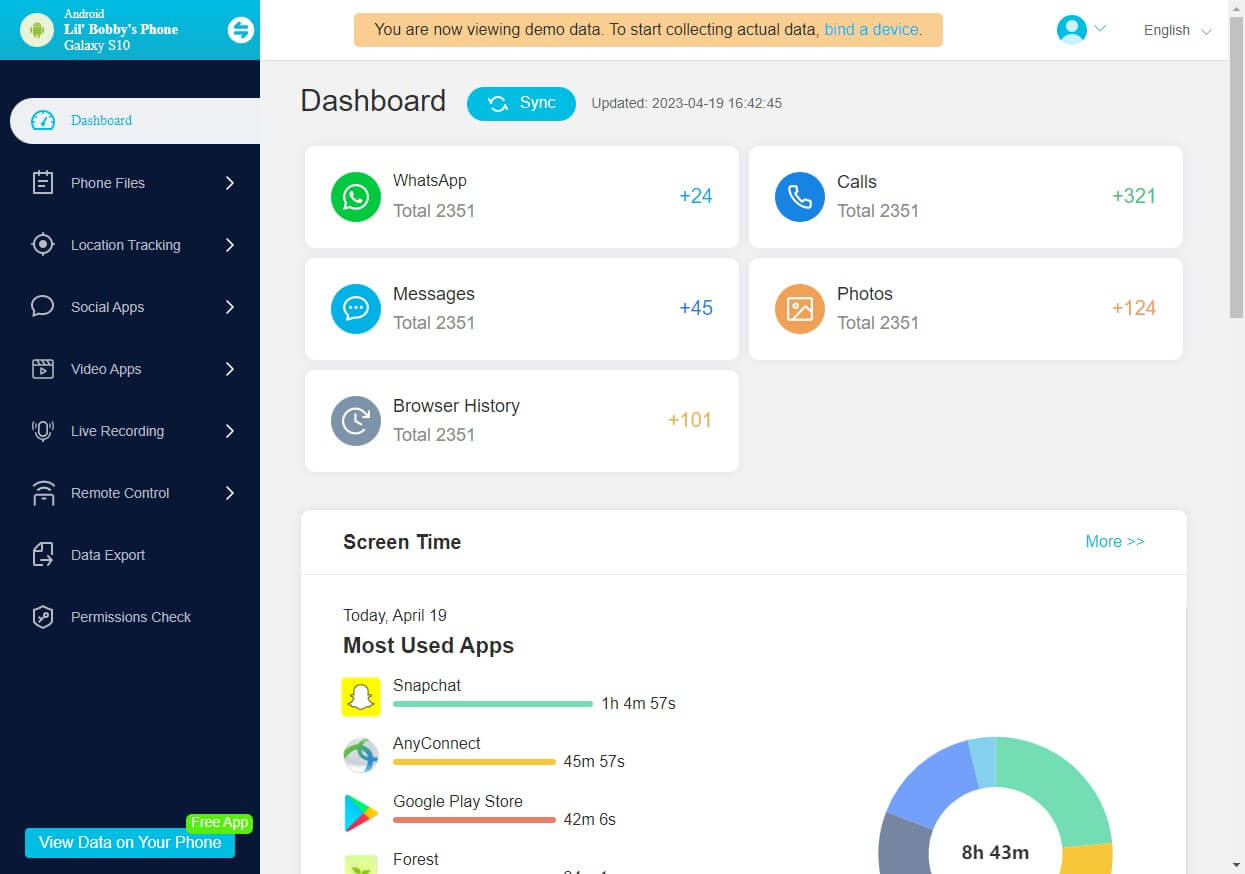 Also Know: How to clone an iPhone without someone knowing
NOTE:
KidsGuard Pro is a useful parental control app to protect children from sexual abuse. It supports Android and iOS devices. Next, we introduce KidsGuard Pro for Android in detail including its features and installation steps.
If your target one is an iOS user. You can click the "View Demo" button to know more features about KidsGuard Pro for iOS.
Part 3: Is There Any Other Way to Clone A Phone?
So, if you are not sure you can successfully install a 3rd party app on the target mobile, then how to clone someone's phone? There are other ways available to clone the device and we will introduce two of them in the next part.
Way 1: Restore The Backup File to Another Device
In terms of successfully pulling off this method, a few requirements are needed. Such as;
Getting a backup file of the target device. If it's iPhone, you have an alternative solution which includes having the Apple ID and password of the target device.

You also have to get another phone in order to restore backup files and clone data.

You have to take advantage of a 3rd party restore tool.

Shortcomings:
This procedure has a few shortcomings. Like restoring the backup you will get access to files to a certain point, after that, you have to go through the same procedure again in order to view the recent files. Also, live tracking won't be possible.
Way 2: Use Some Data Transferring Apps
Some data transferring apps are available like "Cloneit" which can be used to clone the device effectively. Some cell phone manufacturers have also provided their users with data cloning services, like the Move to iOS app. It will help you to transfer and clone data even from Android to iOS devices.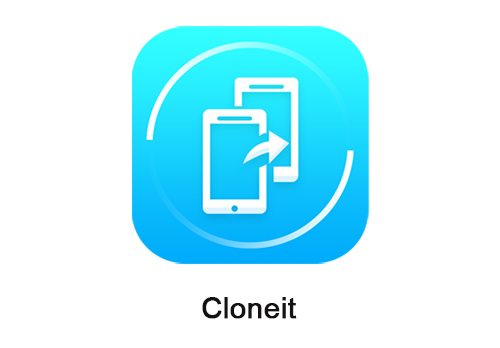 Shortcomings:
However, the problem is how to clone a phone remotely without even touching it. This way it becomes almost impossible, for continuous physical access to the target phone is required when using such an app. And since the data on the target device is being updated all the time.
Way 3: Use Bluetooth
This method also can help to clone the target phone without touching it. Here's how to do it: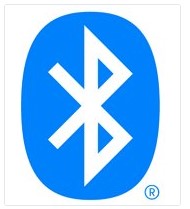 The cloner should download and install a phone cloneing tool on their own device.
Then set the both device in discoverable mode and turn on the Bluetooth feature.
Make sure both devices are close to each other.
After pairing the both device, the cloner can access the target phone data, such as text messages, call history, videos and so on.
Part 4: Comparison of All The Ways: Why KidsGuard Pro is The Best
Two ways have been introduced in part 3 on how to clone phones, but obviously using a cell phone monitoring app will be more effective. Below is the comparison between KidsGuard Pro and the other 3 ways.
| | KidsGuard Pro for Android | Other 3 Ways |
| --- | --- | --- |
| Real-time Data Syncing | | |
| Effectiveness | Begin cloning phone with just 5 minutes. | The whole process may take long time. |
| Requirement of Physical Access | Just one time | Always need to have the target device in your hands. |
| Applicability | Can be used for cloning any other phone. | Only suitable for cloning your own phone. |
| Data Export | | |
FAQs about Cloning Phone Remotely
Here're some common questions and answers about how to clone a phone. Hope they can be helpful to you.
Q1. Can you clone someone's phone without them knowing?
It is possible to clone a Phone without someone knowing only if you have a backup file of the Phone. To make the work easier and simpler, you can use a professional backup tool to create an exact copy of that Phone to yours.
Q2. Is cell phone cloning software safe?
You should be really careful when using cell phone cloning software as choosing the wrong app can wreak havoc on the data. Apps like KidsGuard Pro are trusted by millions of users which speak volumes of their capabilities.
Q3. Can you clone a phone with the IMEI number?
There is no tool at present for cloning a phone with only an IMEI number. But if you know the IMEI number and have the SIM card, you can resort to a mobile operator and make them believe that you're the owner of that phone, then you can clone a phone.
Extra Tips: How to Prevent Your Phone be Cloned?
I'm pretty sure that now you have a clear mind in how to clone a phone remotely without touching it. However, you might also wonder how to prevent your phone be cloned, especially in this digital era, phone security contains lots of our private information.
Here, we list some tips for you to prevent your phone is cloned: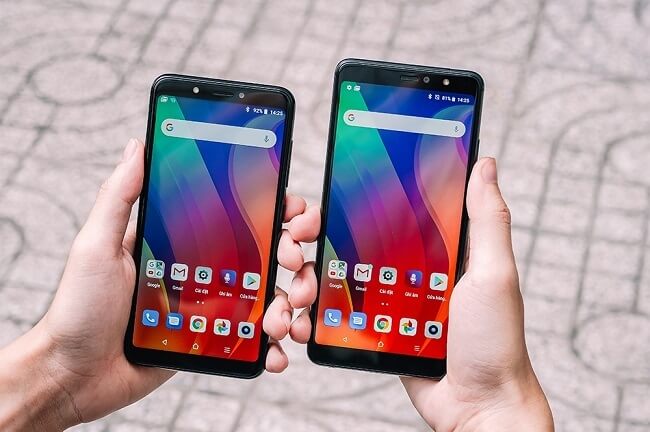 Check that the carrier texts are coming from valid numbers – do they appear in the same message thread as earlier carrier texts? And avoid clicking unknown links and advertisements.
Treat your phone's IMEI number as you would any other password: never give it out to strangers or to websites you don't know.
Make sure your phone software is up to date and don't ignore the message on your phone telling you that you need to update your software; it keeps you safe.
Finally, professional anti-spyware software such as ClevGuard anti-spyware should be used. It can search for malware, identify it quickly, and remove it completely. Also, it can secure your phone at any time and from any location, and it will alert you if there are any potential threats.
Cloning isn't the only way your phone can be compromised. If you have concerns about the security of your device, we strongly recommend using anti-spyware such as ClevGuard, which can provide you a 24/7 protection for your phone.
Conclusion
Well, now you have known top 4 methods on how to clone a phone without touch it. The procedure became easier and close to regular users due to the launch of several monitoring apps like KidsGuard Pro in recent years. Although you will find other modes of cloning like backup and restore of cloud services, they can never be as effective as the services provided by the said app.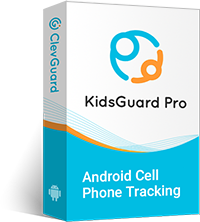 Features
Track the real-time location and view location history

Check all incoming and outgoing calls & SMS

Monitor app activities and know which app is frequently used

Remotely access the files on the target phone, like contacts, photos, call logs, keylogger, etc

Monitor social media apps like WhatsApp, Instagram, Snapchat, Facebook, Viber, WeChat, and more