Trust is the backbone of every relationship, but sometimes blind trust leads to the worst situation. Are you trying to find some apps to dispel your doubts or rebuild the relationship? Actually, many apps are helpful to find out a cheater or make up broken-heart feelings. When you have a compelling idea, you will quickly determine how to spy on your partner before crossing their limits, or eagerly try to use a lovely app to enhance the trust between you and your partner. Eight apps designed for couples with trust issues are discussed in the article. Probably, if you love to know these apps, keep reading to learn more.
8 Best Apps for Couples with Trust Issues
1. KidsGuard Pro
KidsGuard Pro is considered a feature-rich phone tracker that easily tracks your loved one data. It's an ultimate monitoring app both for monitoring both android and iOS users. With this spy app, you can remotely track your partner's activity with 100% undetectable; also, it can monitor 30+ types of phone data, like messages, phone logs, photos, social apps, location, and more. Therefore, if you are suspecting your partner of cheating on you, KidsGuard Pro can help you figure it out.
Basically, KidsGuard Pro collects data from the target smartphone and uploads the data to your account. When a user log-in through the online control panel, where you can access all the data. You will must love its fantastic feature of remote control function and operating stealth-mode.
In short, KidsGuard Pro comes with a unique monitoring option to check all of your partner's phone activities through a remote tracking option. All of you need to install the app and start monitoring within five minutes.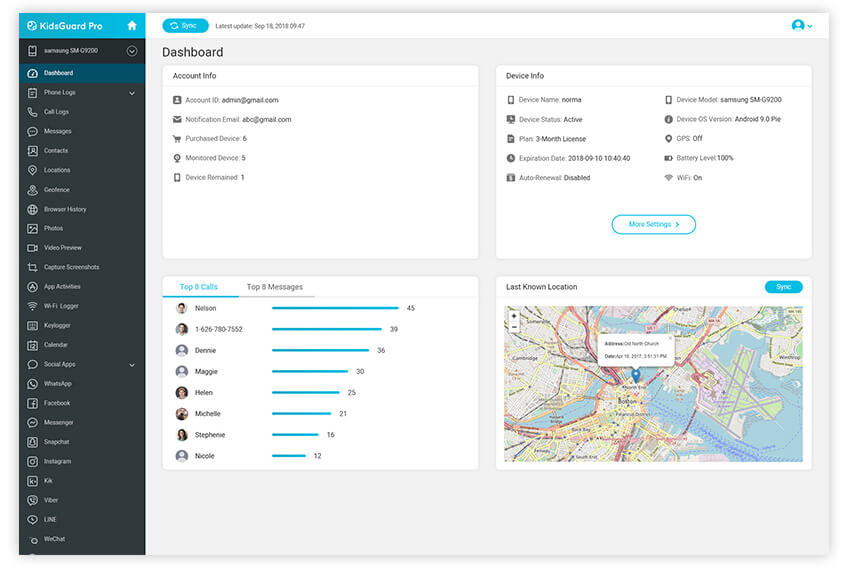 Monitor sent, received, or even deleted text messages and phone logs along with contact details and timestamp, which could make it clear whether your partner has been unfaithful.

Track your partner's current location or where they have been to, and to make sure if your partner is going somewhere you don't expect it.

Check who your partner is chatting with on the popular social media apps, like Facebook, Snapchat, Instagram, WhatsApp, Viber, and more.

Access to their phone files, include photos, videos, contacts, calendars, and more, so if they did leave some traces, when you have the chance to check all these files, the truth will come out.

It runs in the stealth mode, and no one can find its secret location except you, which means you can collect evidence in a undetectable and safe way.

It is super easy to start because of the intuitive user interface, and the phone doesn't need to root or jailbreak because it starts instantly.

Check what happen on your partner's phone in real-time and without touching their phone.
2. Couple Tracker
The app is specifically designed to develop transparency in the relationship. Once you install the Couple Tracker app, you will check everything, for instance, Facebook messages, SMS, and call history on your smartphone. It also tracks your partner's location and provides the exact result, and shows the current location.
The app works accurately when you and your partner install it and connect each other's account. Through this way, the couple eliminates any doubt possibilities and develops transparency; thus, there is less chance of cheating in your relationship.
However, if your partner deletes any messages or calls history, you will still check it on your phone through "Couple Tracker". Keep in mind and it is not a spy app, as it needs the permission and consent of another person to work correctly. The standard version of Couple Tracker is available online, and it is free of cost.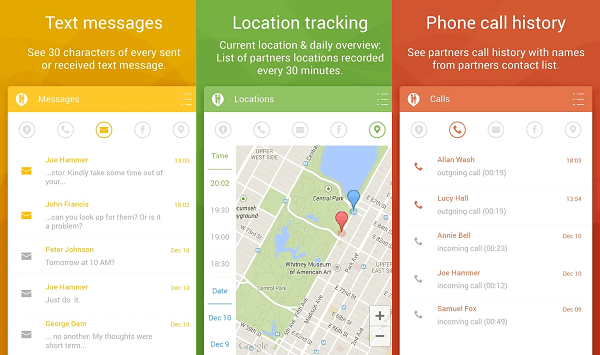 Maintain transparency and eliminate suspicious doubts among couples

Connect with your partner device, you can know where they are exactly

Offer accurate result within less time

Easy to install the app
3. PathShare
The app helps to enhance your relationship's trust level when your partner agrees to install the PathShare. In case your loved one didn't agree to install; thus, it can be an invasion of privacy.
Meanwhile, it monitors your partner's honesty level and provides updates on the safety level of your partner. This app also empowers you and your loved ones to spill up each other's location. Keep in mind, PathShare works when your partner allows for tracking their location.
PathShare allows you to communicate with your partner to communicate with each other throughout the day, but in this manner, you need a strong internet connection.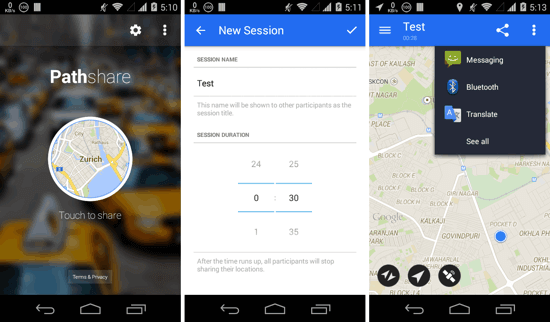 Help to communicate with your partner and deal with the consequences

Empower to spilled your loved one's location

Provide updates about the safety level of your partner
4. Avocado
The app helps to keep your partner close and build trust, whether you are married or still dating. It's a fun-loving, secure, as well as private app for couples. You can also send your location to your partner so he/she knows your current location. Even the Avocado notify you when your loved one battery is low.
If you want to show your love, you can instantly send a kiss or hugs; merely holding your phone to your chest and sending a hug isn't a fantastic feature for you? Furthermore, the Avocado app helps recall your date or create documents on a dating adventure.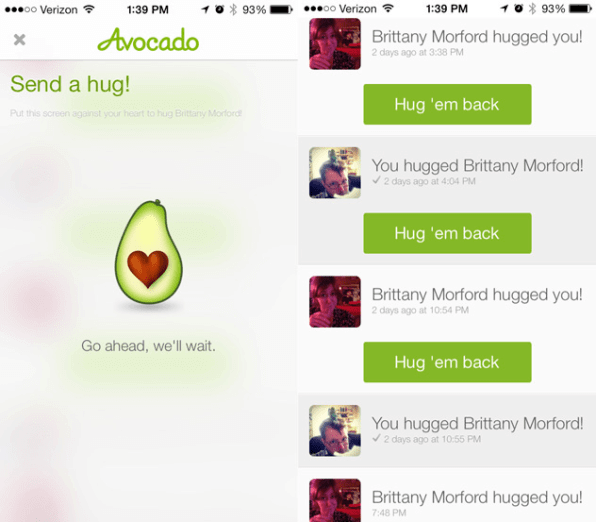 Get instant notification if your partner's mobile battery is down

Keep track of your partner's location, and you can also send location to your partner

Share Photos and Videos privately
5. Cozi
The app is considered as an ultimate family organizer because of different features, such as Google calendar, creating a grocery list, and updating your things-to-do list. Well, it is the most widely used app because of high star rating records.
In case you sync the google colander and forget to add or share the events; thus, don't worry about installing the Cozi app and enjoy its features. This app also offers to create your grocery list and up-to-date information for your partner.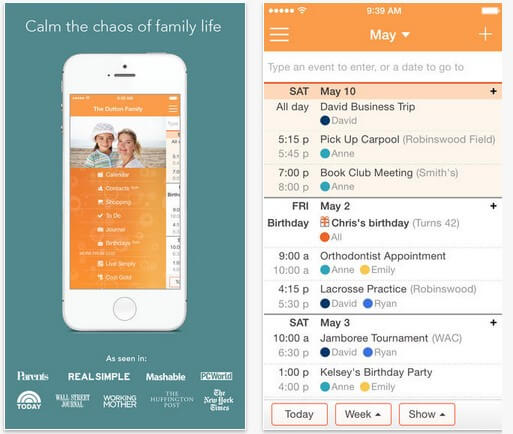 Add notes for the house chores task, help you and your partner to organize things faster

Simple and straightforward calendar view

Up-to-date the grocery list

Keep track of your partner
6. LoveByte
As the name indicates, it shows that this app is specifically designed for lovers. It provides the private chat option with your partner, in which you can add notes, share personal photos, and get surprise scratch cards. Keep in mind; only a couple will see and share information.
Furthermore, LoveByte reminds of essential dates and a useful private chat facility just. If partners can make full use of this app, they must gain trust and build relationship from lost feelings. Well, the app also suggests romantic dating ideas.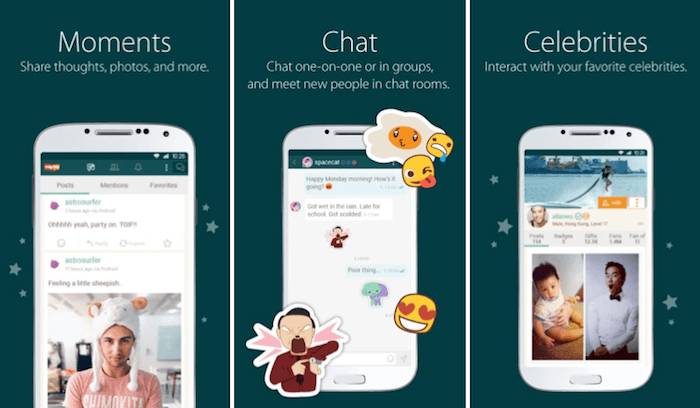 Specifically design for couples

Surprise scratch cards feature

Share sweet notes, and private chat with emotions
7. Between
If you're looking for an app that is only for you and your loved ones, then consider Between app. However, it is a suitable app for IOS and Android to communicate romantically as well as privately. Between app also offers the opportunity to store important notes, videos, and photos. Additionally, the app properly collects the location and timestamps of the photo.
A user can save the schedule because of built-in calendar features that help review your partner's plan. Furthermore, romantic emotions and romantic GIFs are the latest features that weren't found in the above-listed app. Keep in mind, the Between app is not only to catch your partner's activity, but it also suggests what a person can do to be a perfect couple.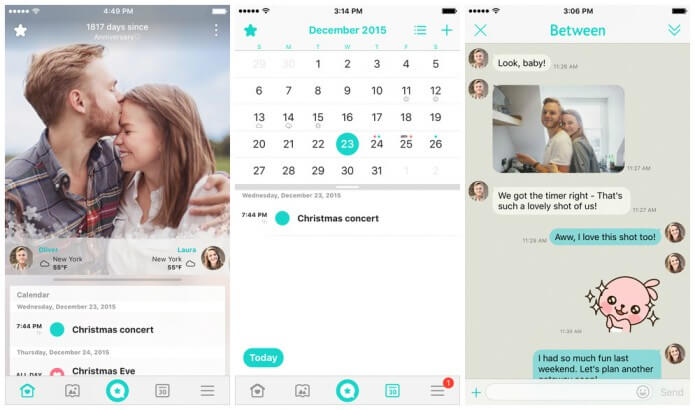 Manage notes, videos, and photos

Schedule your special day
8. Couple Game
It offers the chance to take part in a quiz and guess your partner's answer to these questions. Meanwhile, the Couple Game app has a free three-day trial option; it means you have free access for three days. Different apps are available, but Couple Game is quite different from all of them.
The card decks include kids, politics, home, ethics, and philosophy in this game. It's like an aggressive way to review your partner's views about you and deeply drive your relationship role.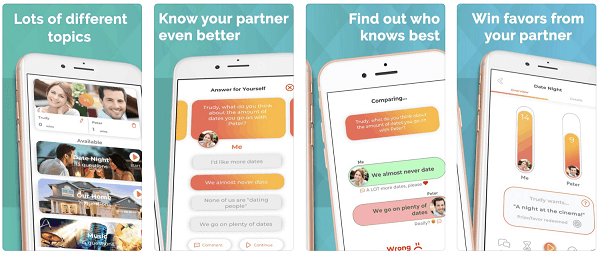 Quiz to check your relationship

A more automated app that needs proper attention

Beneficial for married couples

Card decks for every situation

Specifically, for couples and enhance the trust level
Conclusion & FAQs
The above are the eight apps for couples with trust issues. Previously, it is hard to recognize that our partner is sincere with us or not, but today we have a solution for that. With the growing world, where everything is summed up with innovative tools, we can easily use these tools to solve our problems. In above all apps, KidsGuard Pro is the most useful app that has extensive features for those who have trust issues.
1. Can couples overcome trust issues?
Yes, only if you find some proper ways to rebuild trust. For example, both sides can ask for what they really need but not expect too much.
2. How do you gain trust with someone who has trust issues?
You can do best in your own part, like be a careful listener, be trustworthy for family members, and be patient in a relationship, etc.
3. Why does my partner have trust issues?
Trust issues often come from bad experiences in past relationships, childhood trauma, or painful memories in the life.
4. What are the signs of trust issues?
The misunderstanding between you and your partner is getting more and more, and you always feel some negative feelings, like irritable, impatient, depressed, and disappointed, etc.