It is true that a transition to mobile device or tables is already here and, probably very soon our computer and laptop will become obsolete. But a complete switch is yet to be made and for the moment we have to work with both types of devices simultaneously.
A few of the tasks can be performed via computer but a few of them are better suited for smartphones. So, it will be very convenient if you got an app capable of remote control Android phone. It will be easier for you to maintain both of the devices at the same time. Two types of apps are available, one that is capable of controlling Android from and Android and the other one can access Android from a computer. These can also be used in a different way, like parents can use them to view the activity of their kids while they are on their phones. The name and details of such apps are described below. So, let's take a look!
Part 1: Apps to Remotely Control Android Phone from Another Phone
There are several apps capable of remotely control Android phone from another phone but we have handpicked the top 3 apps that are really effective and will get the job done for you. All of them are detailed below.
1. TeamViewer
One of the most popular and effective apps for remote phone access is TeamViewer. It is a great app, and quite famous as well. It is easy to install and the user-interface is just excellent. You can say, it's a dedicated fix for Android devices but it also works with PCs. There is a free version of the app available but if you want to use all its features then you must get the premium version.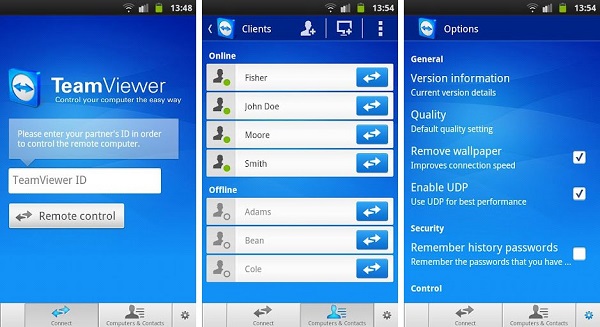 The app is compatible with screen sharing.

You will be able to control any Android device simply by bypassing the security access.

UI is really smooth.

It is really safe to use.

The file transfer is superfast.
Price
The TeamViewer app is available for free. Even the software version of TeamViewer can be downloaded for personal use at free of cost.
Compatibility
TeamViewer works with Android version 4.0 or later.
2. Inkwire Screen Share and Assist
Inkwire Screen Share and Assist is also a widely known and capable app that can be owned by every Android user on this planet. This app is available for free and comes with screen sharing feature. This app is mainly used as a tutorial medium to show others how to use a certain feature of the device.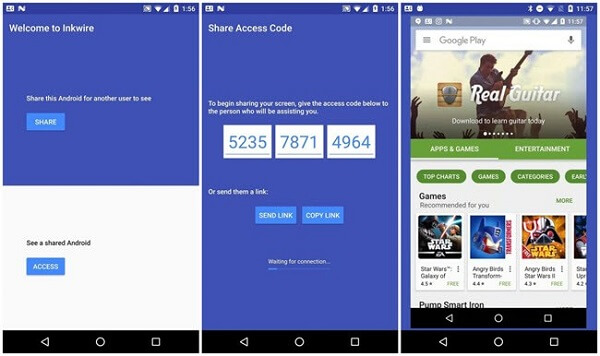 The app is extremely easy to use.

Once you get connected you will be able to draw the screen and will be able to guide the other person.

Voice option can be activated.

Mainly used for customer support.
Price
Available for free.
Compatibility
This app is supported on Android 5.0 or later versions.
3. RemoDroid
RemoDroid, another exceptional addition to the list! It is a small and smart app that is capable of controlling an Android device, remotely. You can also use this app on your TV and other smart devices as well.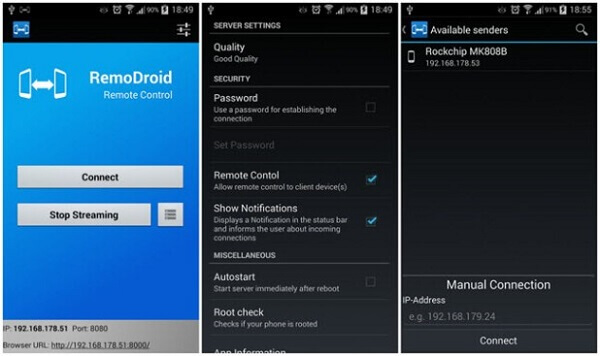 Screen sharing is very easy.

The app can also be used on TVs and other smart devices.

There are also some very advanced features available but you will need root access to use them.
Price
Available for free.
Compatibility
It works on Android version 4.0 or later.
Part 2: Apps to Remote Control Android Phone from PC
Apart from the apps above, there are few selective apps available designed to remote control phone from a PC. These are very useful and are extremely powerful as well. They can assess Android device via USB or Wi-Fi connection. Here are our top 3 picks:
1. DeskDock
The DeskDock app turns your Android phone into a second screen for your Desktop. If you usually work on a desktop, this app will work seamlessly to make the mobile device useful during the time on the computer. You simply have to connect both of the device via USB cable.
You can also use your mouse and keyboard to control the mobile. You can basically use your mouse to call someone via the phone app.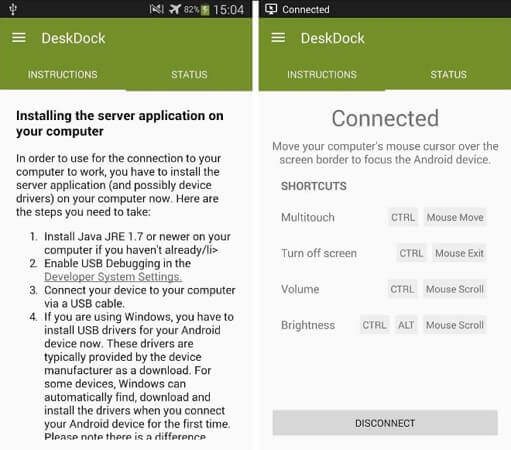 Downside
There are actually two drawbacks of the app. The first one is that, it does not stream any videos or any VNC type apps. And the second one is that, in order to run this app you have to install Java Runtime Environment on your desktop.
Expense
There is a free version available where you can only use the mouse but the paid version, which will cost you $5.49 does come with the Keyboard function.
2. ApowerMirror
ApowerMirror is an app developed by a famous company called ApowerSoft responsible for developing numerous apps for various purposes. The app is very simple; it mirrors the Android screen on your PC remotely.
Both Wi-Fi and USB options are available. Unlike the previous app you won't be needing any additional drivers or programs to install this app, only a scan of QR code. There is a recording feature available too.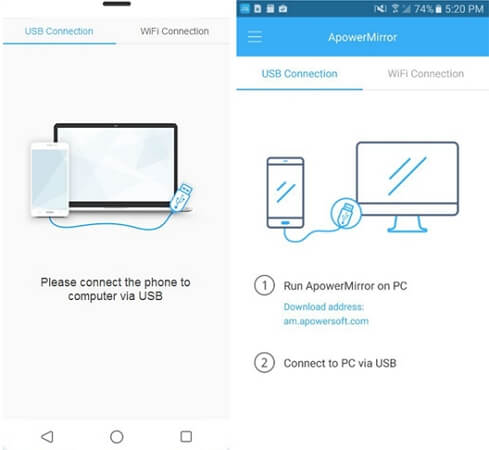 Downside
The only issue is that, at the time of mirroring the phone screen to your computer the sound will be unavailable. The visuals will be clear but there will be no audio.
Expense
The free version offers each and every feature of the app including the keyboard support but there will be a watermark. There is also a personal version and a commercial version. The personal version eliminates the watermark and the commercial version is only available for commercial usage only. The price of ApowerMirror starts at $12.95.
3. VMLite VNC Server
VMLite VNC Server is a powerful app in this list. It is capable of creating a Virtual network your computer that will provide you access to your Android device. You will have the power to access your mobile device from anywhere. Although, this app is not available for free but the app compensates it with its power. Also, you don't need root access as well.
But in order to download this app you need to enable USB debugging on your Android and you also have to change a few settings. Then, you can connect both of the devices with a USB cable and the driver for Windows will be downloaded immediately. You also have to get the VMLite Controller app.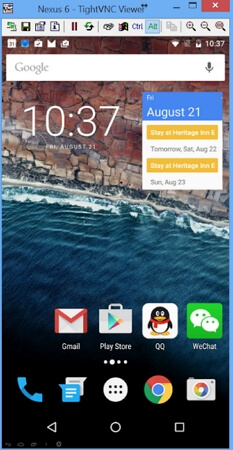 Downside
The app is not available for free and you also have to activate USB debugging and change a few settings on your device to download and run the app.
Expense
This app is available at Google play Store at $9.99.
Part 3: How to Remote Access Android Phone Data
Remotely accessing the data of an Android device is comparatively easier with some parental monitoring apps. This kind of app is primarily designed to protect your kid from any online invasion, inappropriate content and especially cyberbullying. You will also be able to access your kid's smartphone and observe and essentially track his or her movements thoroughly.
KidsGuard Pro app holds the top place among such apps. It is extremely easy to handle and provides accurate and satisfying results. Some of its features include:
Tracking location of the target device with accurate GPS tagging.

Monitoring the calls and messages of the device both incoming and outgoing.

Checking photos, videos, chat, notes, browser history and more.

Tracking social media messages on WhatsApp, Viber, Wechat, and LINE etc.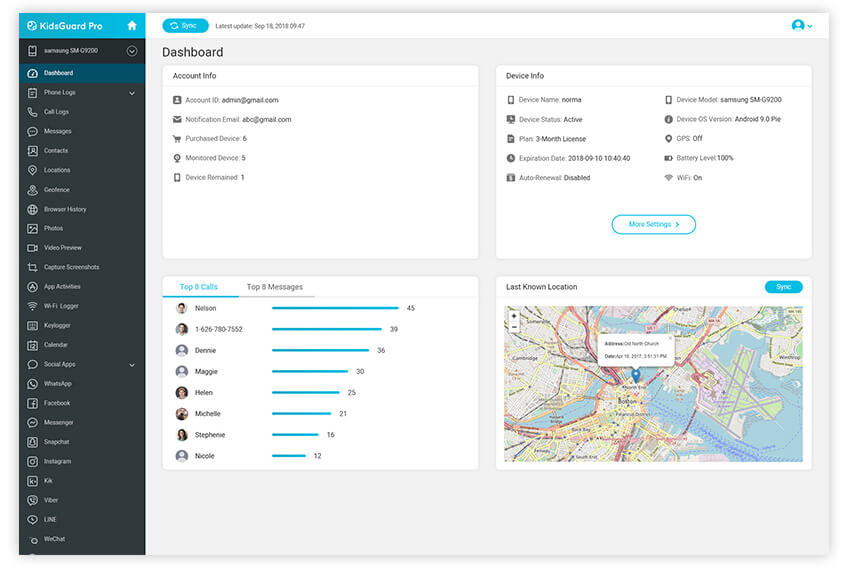 KidsGuard Pro not only provides remote access Android phone from another phone but you can also remote control Android phone from PC as it supports both. It also comes with a 3-day free trial!
Conclusion
All these apps are capable of remote control mobile phone, some of them are designed to provide access from another Android device and some are equipped to do the same from a PC. Nonetheless, they provide uninterrupted access to the device without damaging them. A few apps from both the categories are detailed in the article. All of them come with its advantages and disadvantages. It is up to you choose from them!