Taking a screenshot or recording the screen of an Android device is very simple, but the situation gets severely complicated if you want to do it discreetly. There is no built-in feature that will enable you to secretly screenshot an Android device. So what on earth is the answer to this question - how to screen record someone else's phone?
For this task, you have to depend on spy screen recorder apps. These are professional spy screen recorder applications designed to record the current activities of the target device with ease. The rest of the details on Android screen recording are discussed below.
Why Use Spy Screen Recorder?
For parents, using a hidden screen recorder is a good choice for them to know what their children are doing on their phones. Spy screen recorder can help monitor kids' phones and keep track of what they are texting, chatting, calling, searching, viewing, etc.
For employers, with the spy screen recorder, will always be aware of the online activities of all employees, so make sure their team is always focused on work. Also, if an unscrupulous employee hides a secret from the company, employers can quickly find and take action.
Moreover, if employers have any doubts about partners and wish to clear them up, at this time, they can access the target phone and capture the screenshots of it in real-time. This may assist them in getting to know their partners better.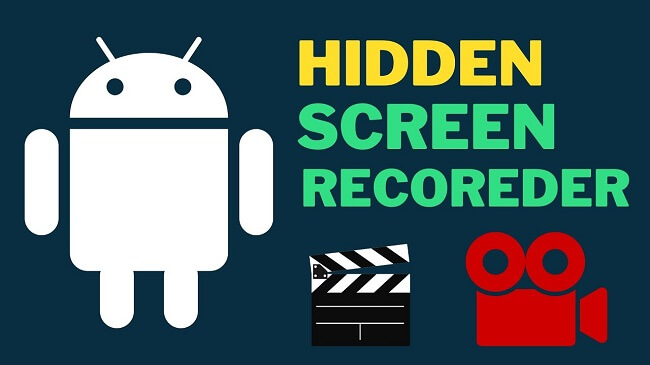 Difficulties in Android Screen Spying
You may want to know "Can someone see if you screen record their instagram story?". It is actually not an easy task to spy on Android screen. Expecially if your goal is to do it without informing the user! Here is the list of difficulties that most users may face with while using spy screen recorder Android app. If you already know the difficulties of it, you can find the only perfect solution below.
There are several screen recorder applications available but most of them are designed to record the screen of your own device. Therefore recording someone else's screen is difficult as it's hard for you to get access to the target phone and install such an app.
Even if you have somehow installed the app successfully, the app will be impossible to trigger remotely. So, you still have to access the device physically and launch it to get started.
The recorded screenshots or the video will be saved locally. That means they will be on the target device, and you won't get to view them.
If the user finds out about the app, you won't be able to stop them from uninstalling the app. So, in order to become a successful screen recorder application, the app needs to stay hidden.
Thankfully, you will not face these sorts of issues if you are using the hidden screen recorder application like KidsGuard Pro for Android. It will work in stealth mode after the activation and it will allow the user to capture the screen effectively.
Introduce the Best Spy Screen Recorder for Android - KidsGuard Pro for Android
Although there is a lack of built-in ways to spy on Android screens, it can be done effectively using a spy screen recorder application. A large number of such applications are available on the internet. But we took the liberty to check out and find the best stealth screen recorder for you. The app is named KidsGuard Pro for Android and it is capable of remotely capturing the screen on the target device.
The screen record capability of KidsGuard Pro for Android has wowed users from all over the globe. Generally speaking, this is a feature that will allow you to record the target device screen remotely and know all the activities running on that device.
For example, if the target is chatting online, you can record screen to see the texts and contacts. You can also screen record someone's Snapchat without knowing. The saved record videos will be automatically deleted after being uploaded to KidsGuard Pro for Android Dashboard.
This makes sure that the target doesn't know you are spying. Most importantly, this app is hidden on the target device so nobody will know its existence. You can also download the record videos to your computer or smartphone.
There are also several advantages of using an effective app like KidsGuard Pro for Android, here they are:
You will be able to remotely capture the screen of the target device without being discovered.
The screenshots are being uploaded automatically and in real-time. Thus you can stay informed on all the activities on the target device.
The app will stay completely hidden on the target device.
The operating procedure of KidsGuard Pro for Android is very simple.
There are also several other advanced monitoring features like location tracking, and social media monitoring available with KidsGuard Pro for Android.
With KidsGuard Pro for Android, you can also record phone conversations, check text messages, view browsing history, listen to phone surroundings and more.
How to Make Use of KidsGuard Pro for Android to Record Screen
As you can see, there are clearly several advantages track the screen of the target device using the KidsGuard Pro for Android. Simple operation is also one of the reasons for the success of this Android screen spy application.
It simplifies the setup wizard, so it only takes 3-5 mins to walk through the whole process. Now let's check how you can use KidsGuard Pro for Android to record the screen.
Step 1: Click the button below to register an account with KidsGuard Pro using your valid email ID. Afterwards, access the target device and visit www.clevguard.net from that device. Download KidsGuard Pro Assistant.
Step 2: Now, start installing the app by tapping on the downloaded APK file. Log in to your account and follow the instructions visible on the screen to allow necessary permissions.

Step 3: After finishing everything, the app icon will disappear from the Home screen. You can put down the target phone and log in to web portal of the app from any other device. Here, you will be able to access all the target device's data.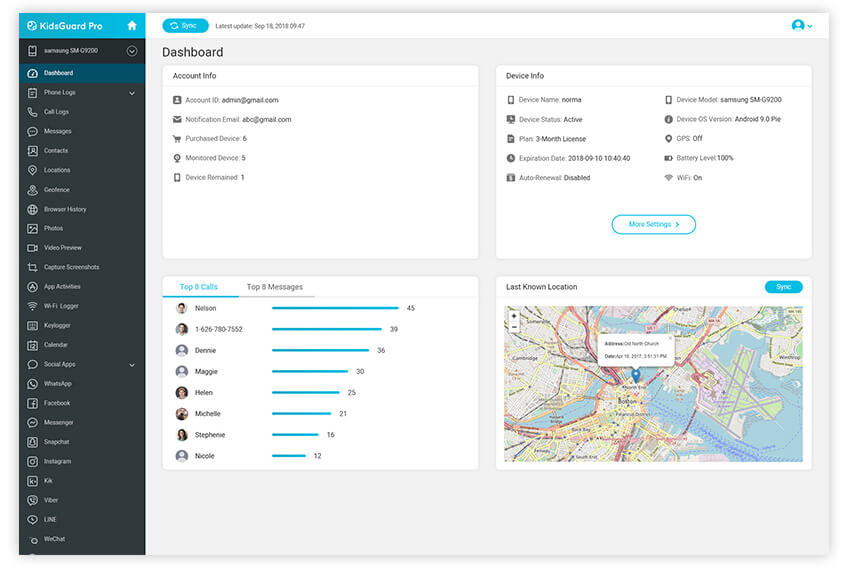 Step 4: To spy on the screen activity, you can click on Capture Screenshot option from the left panel and take screenshots remotely.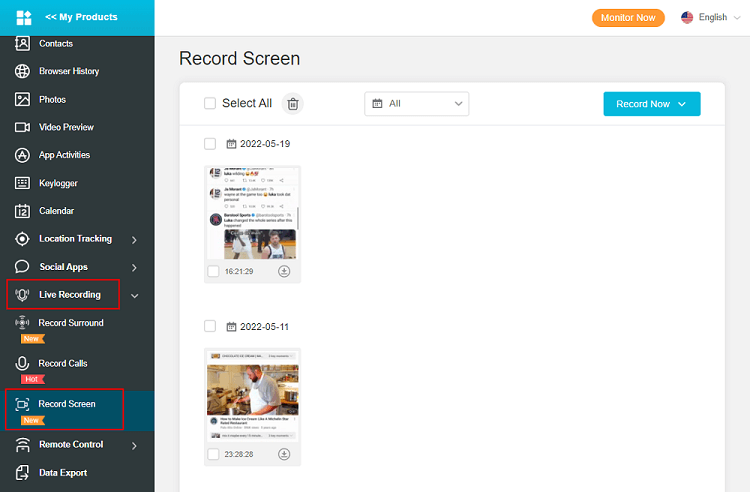 KidsGuard Pro for Android only requires you to access the target device once. After configured successfully, it will start uploading data to its online web portal so you can get the latest information without the target device nearby. Besides, this tool supports you to record someone's video call contents on all social app such as WhatsApp, FaceBook and more.
Since KidsGuard Pro for Android spy screen recorder app is totally invisible, and it will disappear automatically once installed successfully. So there is no chance for the target user to know you are monitoring or uninstall it.
Related Read: How Can I Record My Android Screen Secretly?
[Video] Best Android Secret Video Recorder | Secret Video Recorder
You can also check the video to find the best hidden screen recorder on Android.
Other Spy Screen Recorder Apps for Android to Get
As we've said, KidsGuard Pro for Android is the best screen spy app you can use to record any Android screen. But it is not the only option out there. There are some other screen recorder apps, which may not be as efficient as KidsGuard Pro for Android but they are pretty close, in terms of performance. Although the list is pretty vast we did like the performance of the 6 apps below the most.
1. Hidden Screen recorder
Hidden Screen Recorder app lives up to its name by being one of the best free screen recorder apps. It obviously records the screen and stays completely hidden. The app comes with a simple but attractive interface. It records the screen in full-screen resolution. The video duration is unlimited and there are several sharing options.
Don't expect this app to be as simple and effective as KidsGuard Pro, but anyway it can get the job done for some time. This app is available for free on Google Play.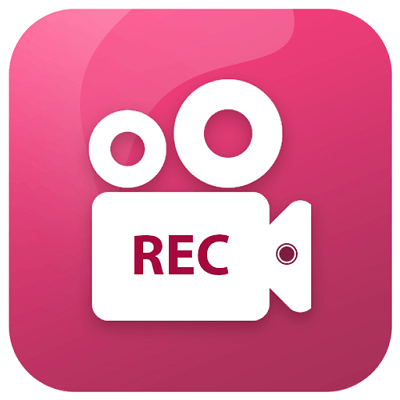 2. BlurSPY
There are a lot of excellent apps available for recording on Android but BlurSPY left a mark among them. BlurSPY is equipped with several advanced features and through them, you will be able to monitor the screen activity of the target device very thoroughly.
This is a significantly well-performing application compared to the other apps available on the market. BlurSPY may not be as effective and feature-packed as KidsGuard Pro for Android, but it works quite well.

3. TheOneSpy
TheOneSpy is an on-demand screen recording application, you just have to send a simple command on the target device and the app will record anything running on the cell phone screen. Although TheOneSpy is an excellent app it lacks a few advanced features, also the app is billed at a high price.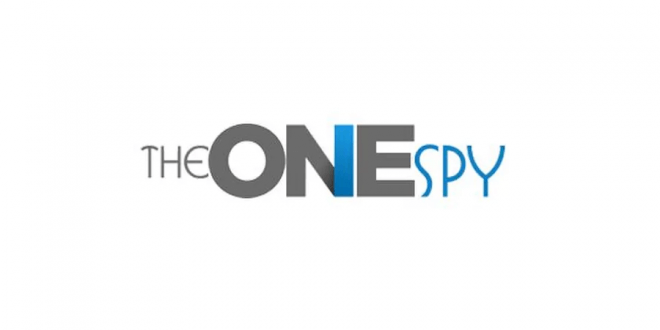 4. Presence
This app allows users to transform their phones into WiFi security cameras. This device also incorporates motion detection, allowing individuals to keep an eye on their belongings while they are gone because they receive real-time data via presence.
It is also possible to upgrade to the pro edition of the software, which includes additional features such as longer video recordings with storage. There are sensors attached to doors and windows that can detect when something is wrong. It's most commonly used on old smartphones to keep an eye on the house while they're away.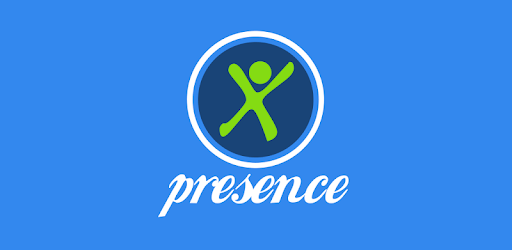 5. MocoSpy
MocoSpy is another Android spy screen recorder. It will allow you to record the target phone's screen in real-time. You can download the hidden recording to your phone as evidence. But it might not work smoothly every time.

6. iKeyMonitor
iKeyMonitor is another screen recorder software that works on Android devices. It is triggered by touch or specific warning words as you type on the keyboard. Screenshots are taken on all apps used on the target device.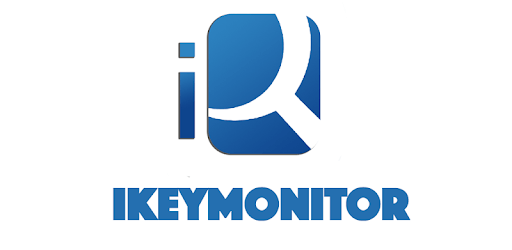 Summary
Finally, you must know how to screen record on Android freely, that is, with the help of a professional screen recording application. Otherwise, the said task cannot be completed. There are several apps available online, but in terms of effectiveness and ease of use, KidsGuard Pro for Android keeps its position at the top.