With tons of online cyberbullying, sexting, identity theft, scams, and false information in the digital world, it's up to us to keep our children safe on their phones — even when they're away from home, making sure that the content they are viewing and activities they're interacting with are appropriate for their age.
Here we tested and evaluated 10 leading parental control apps to monitor kids' phone. Ready to protect your kids while they're online and offline? Let's dive into these apps' functionality and weakness.
Part 1: Top 10 Apps to Monitor Child's Phone
This is a short overview of the 10 best apps to monitor child's iPhone/Android devices which can be effectively used as a parental monitoring app.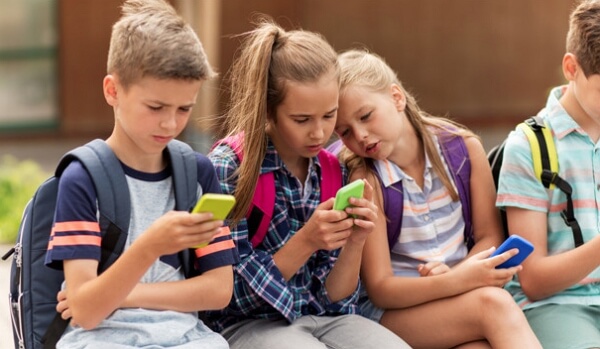 KidsGuard Pro for Android is regarded as the best app to monitor child's phone in a variety of ways. It can monitor by far more than 30 features, from current GPS location, geofence, texts, calls, browsing history, social media apps like Instagram, WhatsApp, Facebook which addresses the main concerns of a parent today.
The app uses artificial intelligence to not only record each keystroke made on your child's phone but also identify where those words are used. And you can keep a tab of every little thing your child does on social media. So you can easily detect the content that suggests a potential problem--e.g. bullying or violence.
You will, however, get an app activity report detailing what apps your child was active on so you get an idea of how much time he is spending online. Whether your child is at home or school, you're able to check his whereabouts in real-time and route history.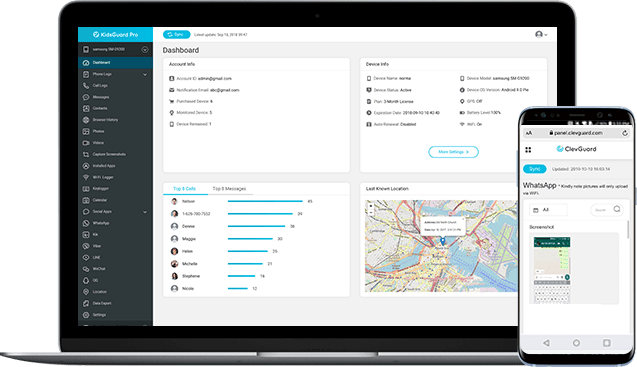 With KidsGuard Pro parental control app at your fingertips, you can protect your child from online harassment at all times. Moreover, its intuitive online dashboard makes it very easy to monitor children's activity and make sure they're using their devices appropriately.
Once you download the app on your child's phone and connect it to your online account, just select the files you want to monitor and you're all set.
Isn't great? If you're interested in it, never hesitate to try this excellent monitoring app! We can offer you a special 30% off discount.
Features
Check every specific browsing history even in incognito mode to prevent inappropriate content.
Monitor incoming, outgoing and even deleted messages.
Track indoor and outdoor location, and get alertd when kids enters or leaves a virtual zone by Geofence capability.
Stay informed of all conversations on social media.
Get the call recordings and check all the incoming and outgoing calls.
View all photos and videos saved on the child's device.
Capture live screenshots and take surrounding picture to know how they are using their smartphones.
Track app activities on the device to make sure that your kids won't get addicted to their phones or any app.
Pros

Simple and easy installation in 5 minutes.
The web control panel lets parents control everything remotely.
Real-time data syncing and 100% privacy & data protection.
Offers 30+ useful phone monitoring features applied for all Android devices.
Work in stealth mode so your kid will not know that he/she is being monitored.
Provide the best technical support 24/7/365.
Cons

Not one-free product.
Blocking feature is not available.
NOTE:
Here we mainly introduce KidsGuard Pro for Android in detail. If your child is an iOS user. You can click the "View Demo" button to know more features about KidsGuard Pro for iOS.
What user says about it
"Have been using KidsGuard Pro for many years, and found it to be the best app to monitor kids. It is easy to use and gives my child all round protection. Can't imagine using anything else." —— By Scott David
2. Norton Family Premier
Besides KidsGuard Pro for Android, the next parental control app that comes to mind is Norton Family Premier. It is one of the best apps for monitoring child's phone, which can help you to protect your child from potential online threats.
It gives a way for them to enjoy the benefits of the internet without having to deal with inappropriate and dangerous scenarios. You can limit the amount of screen time based on your kids' ages or set up a schedule on the target phone so that your kids won't indulge in other day-to-day activities as well.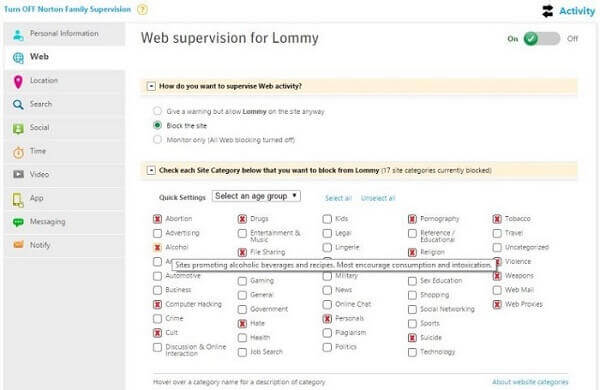 Features
Offer location tracking on your child's device.
Manage existing apps on the target device.
Filter and monitor web usage.
Show how much time your kids spend on their devices.
Pros

Compatible with Windows, Android, and iOS devices.
Offers an easy-to-use web dashboard for parents.
No specific limit on the number of devices that can be monitored.
Cons

Not compatible with macOS.
Not supported to hide the app on the target device.
Can't monitor texts and instant messages.
3. Qustodio
Qustodio is another good choice if you are trying to find free apps to monitor child's phone. Basic protection like website filtering engine, setting time restrictions, and reporting any doubtful activity are all provided by this application.
One of the most useful features could be the SOS feature. It's supposed to be used to alert a trusted contact in case of an emergency. Once your child presses the button, you will get the alert through the dashboard or an email.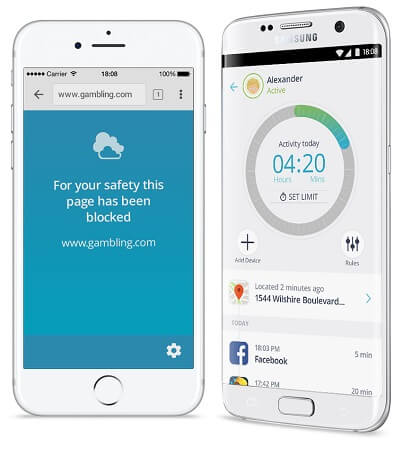 Features
Set time limits for games & apps on your child's phone.
Receive a full 30 day breakdown of your child's activity directly.
See what your child searches for and watches on the YouTube Android app.
Block unwanted apps or inappropriate searching content.
Pros

Simple installation and setup process.
Inappropriate content filtering.
Remotely monitor kids' phone on your own device.
Cons

Some features have certain restrictions on iOS devices.
Can not hide on the target device.
Expensive for the subscription.
4. Net Nanny
Net Nanny is a complete and well-known app to monitor your child's phone calls, messages, and a lot more attractive features built-in. More than 18 types of online content can be blocked according to your requirement.
Any adult content access can be reported and the access would be immediately blocked. Besides, you can also add phrases or keywords to block as well. You can set the time limits for the usage of the internet.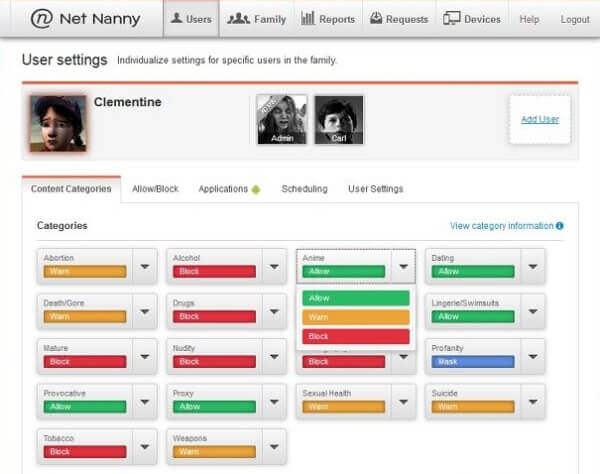 Features
Set specific time limits online for your child's device.
Block access to websites included inappropriate content like hate, violence, and porn.
Stay informed of your child's primary mobile device location.
Pros

Advanced website blocking feature.
Easy and simple user interface.
Support various devices including Windows, Mac and Android phones.
Cons

Free trial is not available before purchasing.
Drain the battery or lag the phone sometimes.
Can not work in hidden mode.
Some important features like text or call tracking are missing.
5. ESET Parental Control App
You can enhance the online security for your kids with the help of the ESET parental control app. It is designed to monitor child's phone e in a friendly way, which means you can send multiple reminders from the app to warn the kids or make relevant settings changes to the device.
Through this, you can set up boundaries as to where your child can do. You can restrict the unsafe regions. As soon as your child reaches the unsafe and restricted region, you will be sent an alert.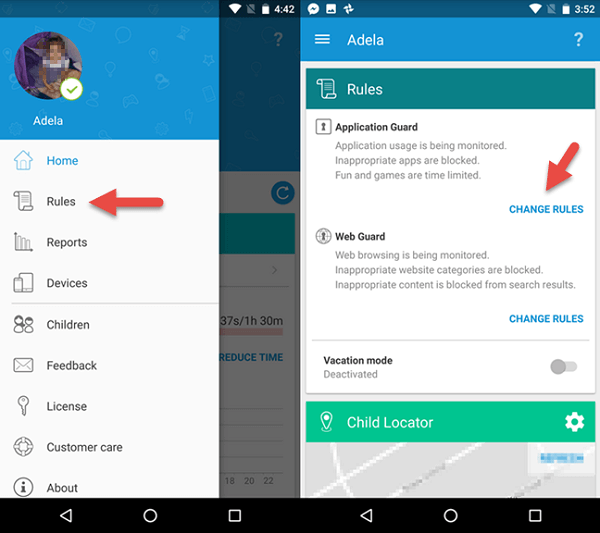 Features
Shows you a list of the top-visited websites on your kid's phone.
Automatically blocks gambling and pornography.
Take control of inappropriate online content and block them on the target device.
Pros

Easy-to-use setup process.
Protect multiple Windows, Mac and Android devices with a single license.
Features child-centered interface.
Cons

Doesn't support iOS devices.
Messages and chats on social media networks cannot be monitored.
Can not hide in monitored phone.
6. Pumpic
If you require free apps to monitor child's phone, then PhoneSheriff is a suitable one for you. With the help of this application, you can block specific websites and certain apps which you do not want your child to access.
This application will send you custom activity alerts and all the text messages on your child's phone can be monitored. This app provides real-time location tracking and geofence, so through this feature every time your child goes out of the restricted area you would be alerted.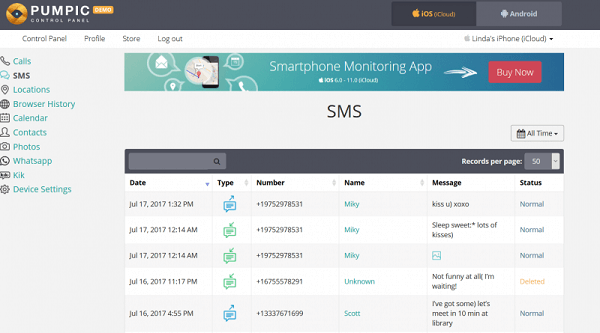 Features
Offers real-time GPS location tracking for your child.
See all SMS logs and call history by the target devices.
Lock and wipe the device remotely.
Pros

Instant alerts and noti?cations about the monitored device.
Excellent GPS locator with geofencing feature.
Allows one to set time limits on phone usage.
Cons

Root or jailbreak is required to run the app.
Expensive for purchasing.
The app is unresponsive quite often.
7. My Mobile Watchdog
My Mobile Watchdog child monitoring app is highly recommended for its web safety-related features intended for smartphone browsing purposes. Based on the age group, you can use filter options to block unwanted websites and allow access to career and education-based sites.
All mobile internet activity on your child's phone is logged and easily accessible. And you will instantly receive alerts when your child attempts to access a blocked site.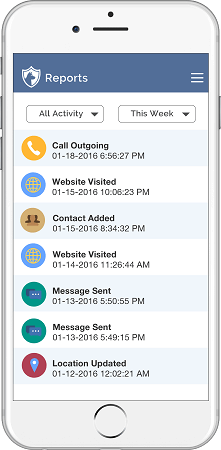 Features
Send you regular reports of the activities on the target device.
View contacts on your child's phone and block unwanted ones.
Offers website blacklisting and software blocking features.
Pros

Updated and sync information with customized reports.
Helps in setting up age-based profiles.
Cons

No free trial is available.
The app can be seen on the target device.
It lacks a clear user guide and customer support is poor.
8. Highster Mobile
Highster Mobile acts as perfect apps to monitor child's phone and also offers a few features which let you control your child's online activity remotely.
Once the app is installed on the target device, it does not require you have it with you. It monitors cell phones remotely and virtually and remains undetected to allow secret spying on your child's phone.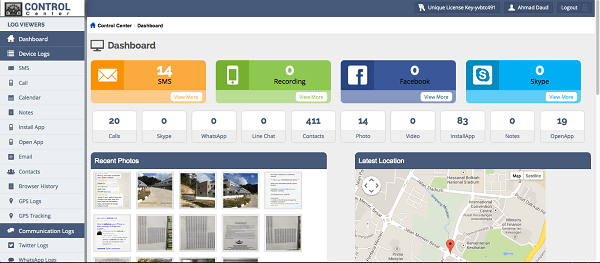 Features
Log every text message even if it is deleted.
It can initiate the camera to click images and take pictures of the surroundings.
Provides detailed route history reports of your child.
Pros

Has a live control panel that can dynamically access all details relating to your child's phone.
Auto stealth mode keeps the App hidden.
Cons

It's not free and carries an expensive charge.
Require technical skills to root or jailbreak the target device.
9. Mobistealth
Mobistealth is a famous child phone monitoring which is available for PC and also mobile phones. Any phone activity can be monitored and controlled using this application.
You can monitor major social media applications like Facebook, Snapchat, WhatsApp and other messengers used for texting. It is intuitive to use for checking every element of phone activity.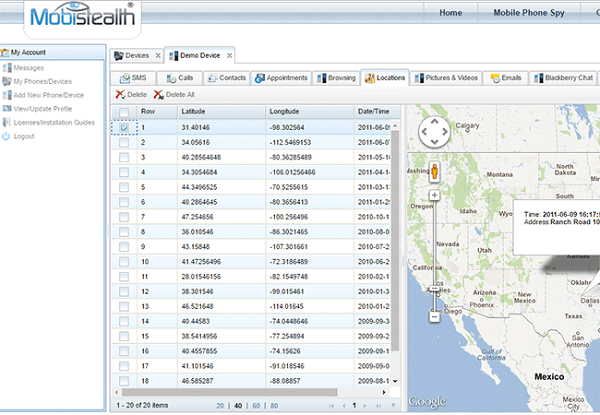 Features
Provides real-time and GPS location tracking.
Monitor email, text messages, and contact details.
Support call logs monitoring.
Pros

It works 24/7 even when the target device is away from you.
Compatible with most smartphone platforms.
Cons

Doesn't offer a free trial.
Lack of some advanced features like app blocking and call recording.
Time-consuming in installing the app.
Expensive for the subscription.
10. Bark
Our last but not least app to monitor child's phone is Bark. It mainly focused on social media and emails monitoring and would send an alert to the parent account when it found anything inappropriate.
There are over 25 social media apps that are tracked by Bark, and once you give access, it can read sent, received, and deleted chats, images, and videos. All the text messages can also be kept a check on.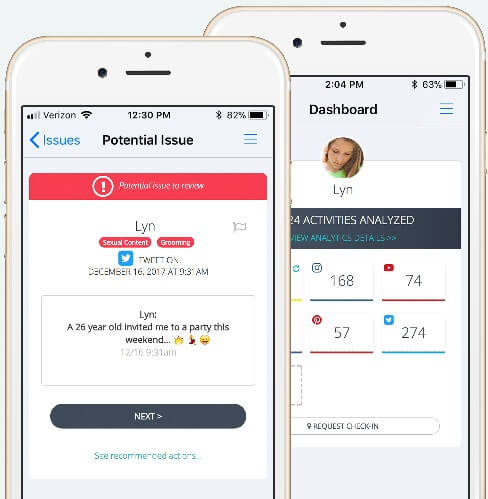 Features
Monitor child's phone calls and messages.
Alert sensitive online issues to parent.
Keep track of every search log from the browser.
Pros

Stealth monitoring mode.
Packed with attracting monitoring capabilities.
Cons

The data updates are delayed very often.
One license only supports tracking one phone at a time.
No live customer service or support is provided.
Part 2: How We Tested the Best Child Monitoring App
In the previous part, we have mainly focused on the best apps to monitor child's iPhone/Android device which can be installed before handing over the phone to your child and not after doing it. The following points were taken into account when we tested the best app for monitoring child's phone in the list.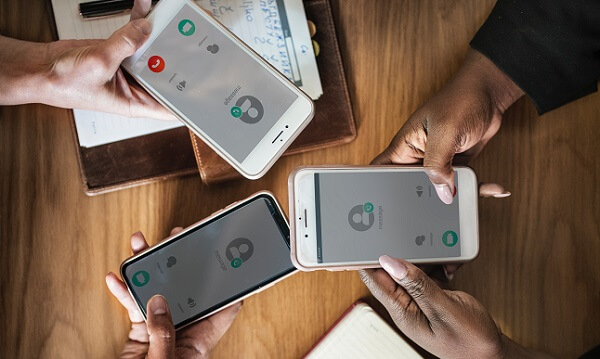 1. How easy an app is to download, install and configure on the target phone.
2. Which program allows you as a parent to control and monitor all the applications on the target phone.
3. Which program offers the content filtering option and other such features which can be used to restrict and limit access to inappropriate content online.
4. Since everybody carries out most of their conversations through messaging, we have also looked at the text message monitoring feature of each program and assessed them based on how well they alert the parent in case a new contact is added.
5. We have also tested the ability of the installed application to alert the parent when their child has entered an unwanted place and if it also provides the real-time location.
6. We even kept into account the price of each of the applications which will be discussed in detail above.
Other features of each of the applications were also tested and their functions and compatibility with iOS, Android, Windows and Mac systems were also taken into account.
FAQs about Apps to Monitor Child's Phones
Q1. What is the best app for monitoring your child's phone?
KidsGuard Pro is the best app to monitor child's phone and highly recommended for efficient activity monitoring. With over 30 features, it can track real-time location, monitor texts, calls, browsing history, social media apps, which addresses the main concerns of a parent today.
Q2. Can I see what my child is doing on their iPhone?
Yes, you can see what your child is doing on their iPhone or Android with the help of the apps listed above. Additionally, We recommend KidsGuard Pro app that you can not only install remotely but also discreetly. It requires no jailbreak and has an intuitive interface.
Q3. How can I monitor my child's phone without them knowing?
Some parental control apps on this list are made in stealth mode, which means you can monitor all activity that happened on your child's phones without being found. The better the app you choose, the more stealth it will offer.
Q4. Can I monitor my child's phone without installing software?
No. It is a must to install the app on your child's phone. Worry not, some advanced apps like KidsGuard Pro can do it in a matter of five minutes. After that, your child's phone can be monitored remotely without touching it even once.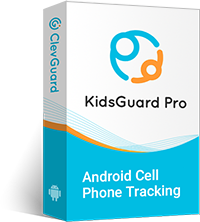 An Array of Amazing Features
Keep track of the whereabouts in real time and view route history

Monitor all incoming, outgoing calls & SMS

Access social media apps like WhatsApp, Instagram, Snapchat, Facebook, LINE, and more

Check specific browsing history even in ingconito mode

Record keystrokes on the target device and also take screenshots without knowing