Question: How to track a current location of mobile number?
Whether you are seeking help to track a caller who is rigorously annoying you with their numerous calls or locate a mobile phone remotely, there are several mobile number tracker apps or online services can solve your problems. All you have to do is to type the number, then you will get to know the country/city the number owner is registered in.
If you want to track a cell phone location accurately on the maps, we have also introduced an effective way even without number. Let's have a look!
1. Track Mobile Number Current Location in Real Time with KidsGuard Pro
Effectiveness:
If in case you want to track a mobile with current location online, then we highly recommend you to go for KidsGuard Pro location tracker! It is an app known for its location tracking functions. With the help of it, you can get the updated information of the location in real time with a map attached.
Needless to say, this app also comes packed with other comprehensive monitoring features, like monitoring web activities, monitoring call and texts, tracking activities on multiple social media platforms, recording phone calls, phone screen, capturing screenshots, listening to phone surroundings and more.
Here are some of the features of KidsGuard Pro location tracker:
This app provides real-time whereabouts of your target device with the help of GPS.

You can also view the location details down to street info accurately and location history to get an insight of the movements.

It offers indoor location tracking based on advanced WiFi logger technology, along with address, time, duration and more.

You are capable of setting a geofence and will be notified once your target crosses that virtual zone.

The app also features call recording to help you listen in each conversation at any time.

It is a long-term solution equipped with a range of monitoring features like instant messaging, call logs and more.

It supports remotely control, you can record phone screen, take photos secretly, caputure screenshots, listen to phone surroundings on the target phone.

This program is 100% invisible on target device as app icon vanishes from main screen.
These are many additional features of KidsGuard Pro app that we can't even list them all, why not go to its free demo to have a try? If you want to know how to access this app, you can go to the official guide for more details.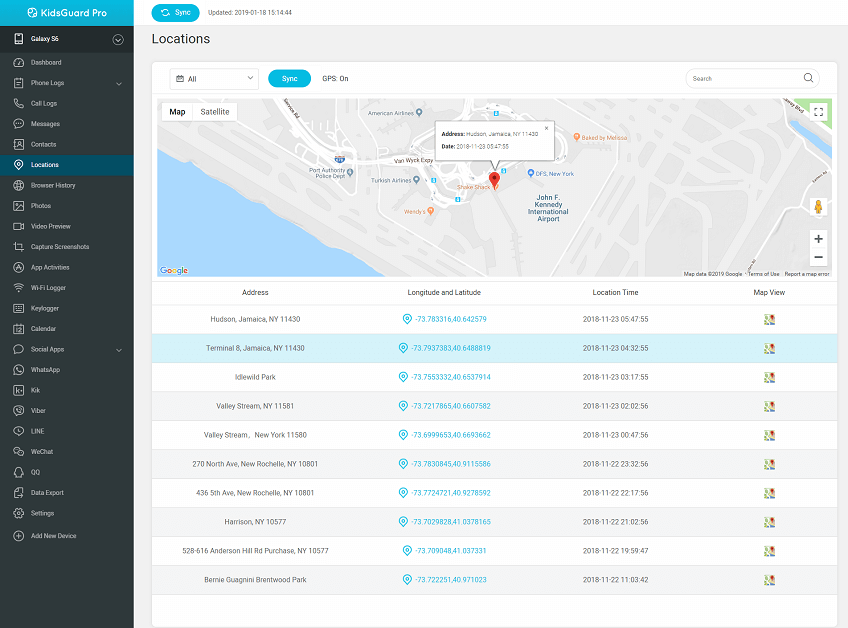 2. Track Mobile Number Approximate Location with Mobile Number Tracker Apps
Effectiveness of this way:
If you search for a mobile number tracker with a current location online, there will be a lot of 3rd party apps available. However, they fail to provide real-time tracking. That means you can only the approximate position. If you want to get accurate location info displayed on the maps, you should go for KidsGuard Pro for Android directly. Anyway, we still list some of the best mobile number trackers with Google Maps for free below.
1. Mobile Number locator
Mobile Number Locator is one of the best mobile number tracker application. This particular app is designed for Android devices only. The app is integrated with Google Maps, it allows the users to visualize the location of the number on the mobile screen. It will maintain a history of your recent searches you performed.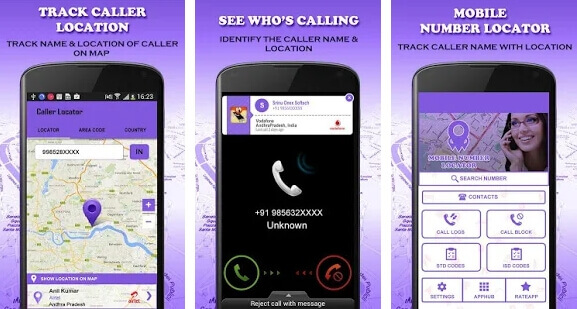 Pros
The app is able to trace mobile number location even if they are not connected to the internet.

You can also view the contacts and call logs of the phone number.
Cons
The service of this app is only limited to countries like United States, India, Canada and Pakistan.

This app contains many ads which is very annoying.
2. Caller ID & Number Locator
Caller ID and Number Locator is another mobile number tracker app. You can search and locate any mobile number from all over the world. The city area, state, country and service operator of the phone number will be displayed on a geographic map. It also allows you to block unwanted calls.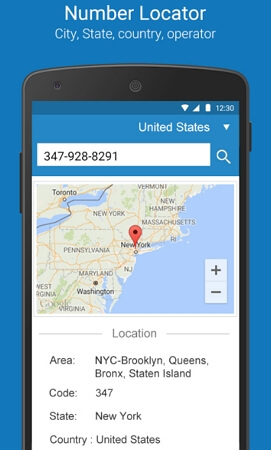 Pros
You will be able to track mobile number location with name and address information.

You will also get the caller ID, STD Code and ISD without internet connection.

It has a vast mobile number database of thousands of areas.
Cons
Sometimes fails to provide the right location as per user reviews.
3. Number Locator
Number Locator is an app that provides mobile number location online, for free. This app is designed only for iOS devices. All you have to do is to type the number of the mobile device inside the text box and the app will start searching for it.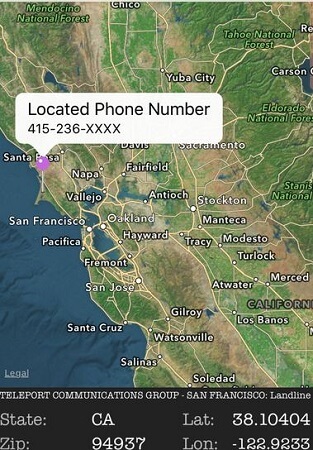 Pros
This app offers both online and offline modes which are pretty convenient.

The app was designed to work on all iOS devices including iPhone, iPad, and iPod Touch.

The user interface is straightforward and concise.
Cons
This app is not available for free. In order to access the premium version, you have to purchase it where all the features are available.

Android device is not available.
4. Mobile Number Location
Mobile Number Location is a free app that can help you trace mobile number's current location online even if the target is without internet. It is basically capable of searching and finding mobile number locations on Google Maps. It will display all caller location details live on the caller screen. It is a famed app that is used by people all over the globe.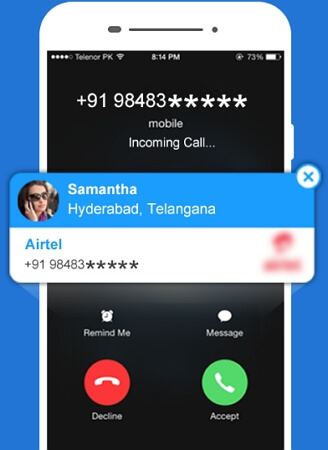 Pros
Live mobile number tracker to find GPS location address details.

Reverse phone lookup will display the area of the country and dialing codes.

You are able to block spam or unwanted calls.
Cons
Some reports suggest it is not very accurate sometimes.

Reports of crashes while tracking location.
5. Phone Number Locator - Caller ID & Call Blocker
Phone Number Locator - Caller ID & Call Blocker is known as a Pakistan mobile number tracker with a current location around the world that runs only on Android devices. If you are using this app then you will be able to get the exact location of the device you are looking for as well as the Caller ID. It comes with a call blocker option for free as well. The database for this app contains several network providers, so the results come pretty fast.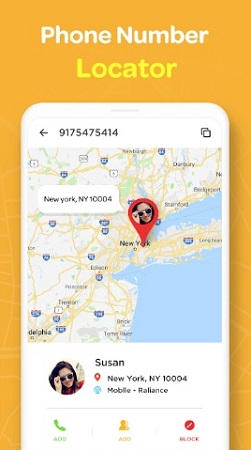 Pros
The app provides several details on every call made from your mobile device, both incoming and outgoing.

It will alert when there is an incoming call so you won't miss it.

Call blocker is available.
Cons
Numerous pop-up ads are available which is very frustrating.

Some reviews report that it fails to work accurately.
3. Track Mobile Number Location with Online Websites
Effectiveness of this way:
If you don't want to download any kind of app to track a number, here are several online websites to get it done instantly. To be honest, these online cell phone number trackers will only show the country/city the number owner is registered in. If you're interested, have a look at the best mobile number tracker online.
1. Whitepages
If you want to find the best mobile location tracker online, Whitepages is a great choice. By entering a number or name through this website, you will get instant details of the owner along with the location of the phone would be showcased.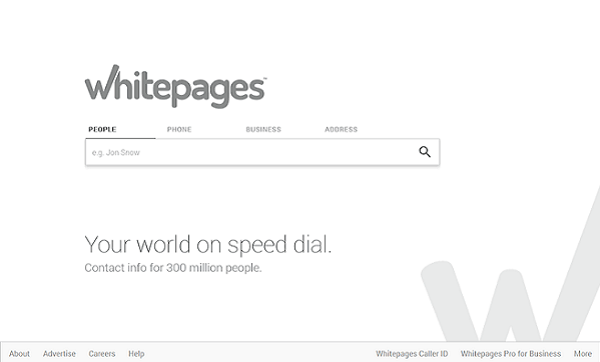 Pros
The website is concise and user-friendly.

You can also view the address and background checks of the phone number's owner.
Cons
It can't locate the real-time location of a caller.

Often the maps fail to load the location of the device.
2. Free Phone Tracer
Free Phone Tracer makes use of a reverse phone search tool to trace any number. Simply input the number you are searching for to find out who is calling or texting, then determine the location of the owner of the phone.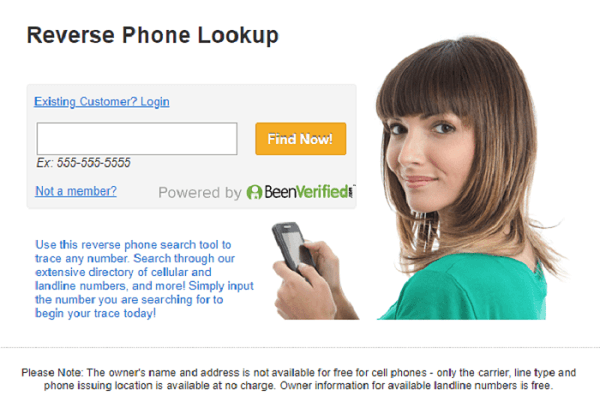 Pros
It is virus-free and powered by McAfee Security.

Both mobile phone numbers and landline numbers are available.
Cons
It is not free to see the owner's name and address.

Not able to track a live location.
3. Online GPS Phone Tracker
Online GPS Phone Tracker is another website to track the phone number for free. All you need to do is choose the country, SIM operator (optional), and phone number, then it will start scanning the database and display name, address, and more details to you.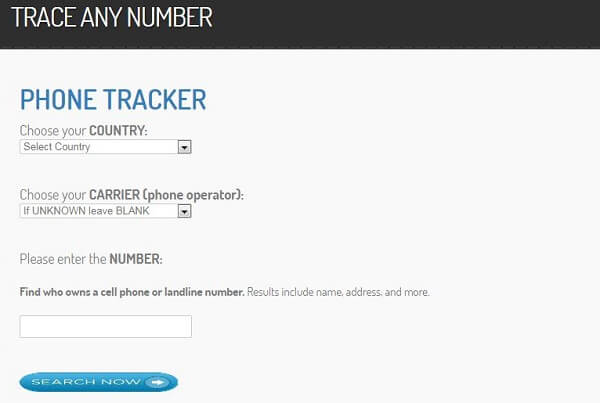 Pros
This site provides you with the location, as well as the name of the owner of the phone number.

It is compatible with iOS, Android, Windows and Blackberry.
Cons
Some reviews claim the location provided is far away from the exact one.

Only shares the general area that the phone originated from.
Conclusion
In today's world, it would be pretty handy to find a mobile number locator on the Internet. The top 5 mobile number tracker apps and 3 location tracking websites are detailed in the article, obviously, they are only able to provide an approximate location of a phone number or see who owns it or the country/city the owner is registered in.
If you want to track live location in real-time on a mobile phone, then KidsGuard Pro location tracker fits your need better. Just make sure you have the chance to set it up on the target device for one time, it will start tracking not only location but also messages, phone files, and more for you.