Question: Why Social Media Monitoring Is Important?
Social media monitoring are becoming so much popular day by day as the marketing trend has been moved toward online platforms. Monitoring your brand's mentions on social media and reacting to any interaction is what social media monitoring implies.
More crucially, social media monitoring isn't limited to direct mentions of your posts or comments on them. It also includes postings that reference your business but do not tag you. Using social media monitoring tools, marketers are enabled to boost their marketing strategies as per the demand and reviews of clients.
Top 5 Social Media Monitoring Tools
Here are some of the top social media monitoring tools used nowadays with some of their features and benefits.
1. Keyhole
Keyhole is a social media monitoring and reporting platform that may be used to analyze campaign effects, manage influencer connections, and keep track of discussions.
Their simple dashboards require little training, so you can begin analyzing consumer sentiment, identifying opportunities within your users, and comparing yourself to competitors right away.
The software also allows users to search for influencers, hashtags, and keywords in real-time across groups.
The visualization tool of Keyhole is a standout feature: it enables you to turn activities into interactive maps, graphs, and word clusters, which you can then show or export into business presentations.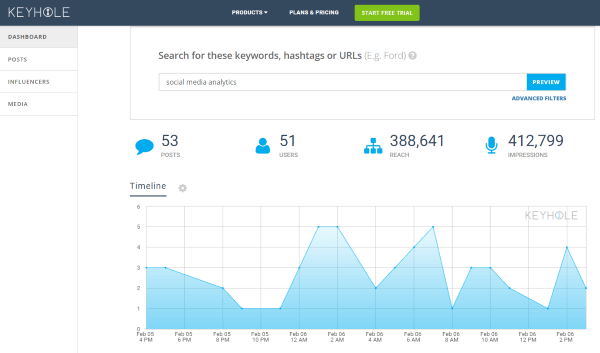 Finding a tool that supports monitoring someone's social media activity? KidsGuard Pro is suitable for your needs.
2. Hootsuite
The monitoring solution of Hootsuite's social media monitoring software is housed in a simple dashboard. Hootsuite has been most recognized for planning and streaming, which is a consolidated feed of all your brand's discussions, remarks, and hashtags across Facebook, LinkedIn, Pinterest, and YouTube.
This makes it simple to browse discussions, respond to or "like" them, and allocate things to coworkers who are best suited to respond.
The Inbox from Hootsuite is identical to Streams because it consolidates all of your social media inboxes into a single feed, allowing you to monitor and reply to messages without having to bounce between channels or chase email notifications.
You can also build up stored responses to reuse and amend for commonly asked topics as a premium add-on.
It's a viable solution for firms with moderate levels of online engagement. They also have Hootsuite Insights, a more comprehensive listening tool that allows you to dive deep into audience patterns and segmentation in real-time, compare brand health to rivals, and follow discussions across blogs, newsgroups, and web forums.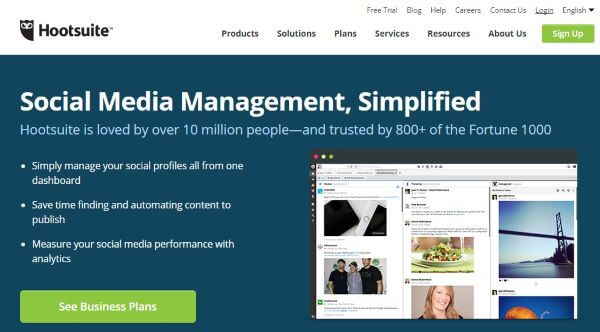 Related Read: [Guide] Why You Need Email Monitoring?
3. Cyfe
Cyfe allows you to create widget-filled dashboards that combine information from your media activities. If you require something with both tracking and engagement capabilities, a solution like Meltwater or Hootsuite might be a better choice.
All that being said, it's incredibly simple to get started: simply track comments, hashtags, and likes across the major platforms. You may choose from one of their pre-built displays or create your own using a variety of displaying widgets.
The widget will then be filled with actual statistics about your (or your competitors') social media activities, which you can see immediately or export as a document.
You may also set up rapid email and SMS notifications to be informed of a surge in comments or interaction, for example, to maximize influence or correct a mistake.
It's a basic yet trustworthy dashboard that's excellent for SMEs or organizations that require a consolidated picture of their own or their clients' internet activities.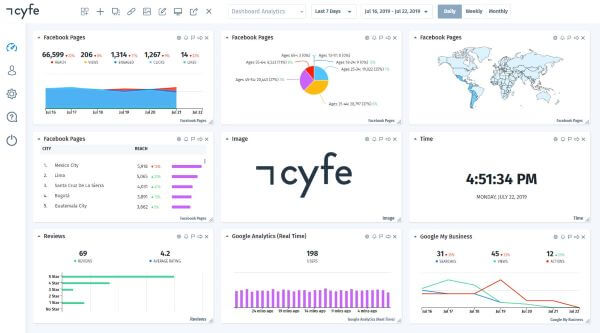 4. Sprout Social
Sprout is a social network management solution for businesses to organize day-to-day material posting, but it also includes media monitoring capabilities.
Rather than moving between platforms to track alerts, you can integrate texts, comments, and hashtags from essential channels into one single hub with both the Smart Inbox, which sits at the Centre of the monitoring display.
Established inbox screening and labeling to assist you in focusing on interactions and saving time so you can focus on the most profitable online opportunities.
Establishing Sprout search queries to check for product and brand references can also help you keep track of the most essential conversations.
Sprout's "Current Reports" gives insight on Twitter effectiveness (but not any other main social media outlets), demonstrating where your initiatives are effective and providing a split by one of the most prominent hashtags, hot topics, and well-known famous people.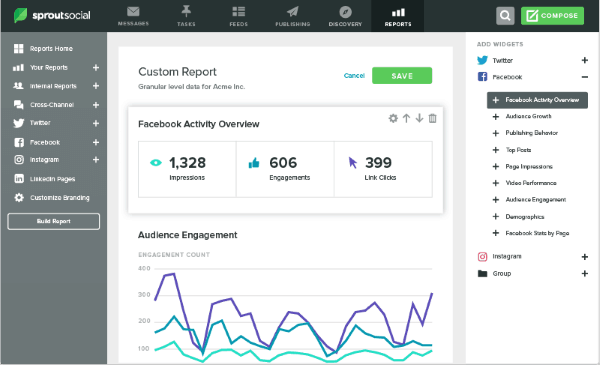 5. Meltwater
Meltwater gives AI-driven insights into a wide range of business operations. Its social networking monitoring and interaction software, which emphasizes statistics and targeted interaction, is a big part of this.
It examines millions of postings every day from social networking sites, blogs, and news websites, in addition to social media. It removes unnecessary mentions and gives sentiment to the ones that are significant to you.
Meltwater allows you to create searches, identify key contributors, and measure your digital progress. Meltwater has several dashboards, some of which monitor, evaluate, and analyze your online activities.
You may also create personalized displays to better match your needs. Meltwater enables the user to enter three keywords per search and adjust the results with a variety of filters.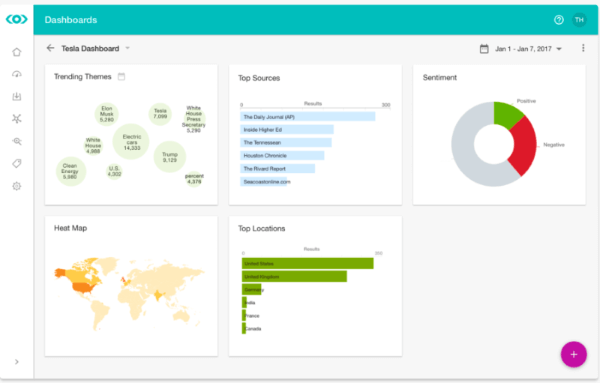 Part 2. What is the Best Social Media Monitoring Tool?
Monitoring social media has become a need and though very easy by the use of several applications available in the market. From a large number of the list, we have first selected the top 5 tools. Now, we will choose the best from them.
A keyhole is a tool that lets marketers track, enhance, and report on their social media effects. Marketers may use Keyhole's social listening, influencer monitoring, and social media analytics solutions to better their social media strategy and demonstrate its effect on colleagues and clients.
The easy-to-use dashboard in Keyhole enables you to create and distribute reports in seconds, saving you hundreds of hours every year.
Analyze advocates chatting about your hashtags with Keyhole's features and the results generated by it are up to the mark and that is the reason we consider it to be used than the other tools that also have some unique reasons for which people use them.
Part 3. Extra tips: Can I Monitor Someone's Social Media Activity?
Yes, we can monitor others' social media activities and you can get many social media monitoring tools online that will help you out in this task.
Why do you need to spy on someone's social media?
Many situations come in our daily life when you need to spy on someone's social media applications. That person may be your spouse, your employee, or it could be your child.
When there are trust issues between spouses, the first thing they do is to try finding something from social media platforms like Facebook, Whatsapp, etc. Your employees may be cheating you and to clarify it, you need to have to monitor their social media applications.
The most important person in a parent's life is kids. They need to know about kids' activities on social media platforms, they are innocent but can be trapped by anyone for their misuse and that can harm them in either way.
So, all of these are recommended to you KidsGuard pro for Android to get the best results for spying on their target devices. This application will also provide you with extra features, other than social media monitoring so that you can spy on anyone in maximum ways and this is the reason it is said to be the best spy app for Android phones.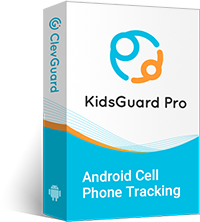 KidsGuard Pro for Android Features
Track cell phone location in real time and view location history
Check all incoming and outgoing calls & SMS
Spy on social media apps like WhatsApp, Instagram, Snapchat, Facebook, Viber, WeChat and more
Remotely access the files on the target phone, like contacts, photos, call logs, etc.
Part 4. Conclusion
In this article, we have discussed why we need to monitor someone's social media messages, the tools that help find the social media data on target mobile phones. Several tools are available for this purpose that are unique and amazing.
KidsGuard Pro for Android is one of the best spy monitoring apps that provides fully secure services and its features are extremely extra-ordinary as per its cost, which is worth nothing if we compare it with the services it provides us. Other tools can also be used but the features provided by the KidsGuard Pro for Android have no comparison and once you try it, you will recommend it to others.