Want to keep an eye on your kid and keep YouTube watching history in view? You may want to do so to know if your kid is accessing the adult content and wasting his time. If he is doing anything wrong, you can warn him and proceed with the detailed Parental control. It is possible only when you will have the correct record and accurate data of what your child is accessing on YouTube and how to see YouTube kids' history.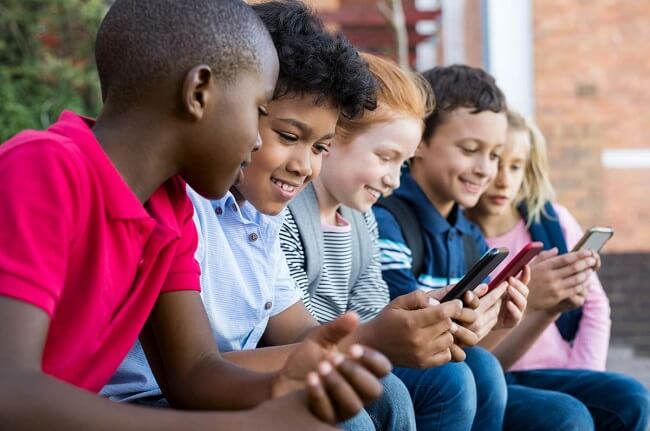 In this article, we have provided all the information about how to see the history of videos watched on YouTube by putting up parental control on YouTube.
Part 1: Apps to Monitor Your Kids YouTube Watch History
There are many monitoring apps for parents to monitor their childrens online activities, including YouTube history. What are they? Keep reading to find out!
1. KidsGuard Pro for Android (Recommended)
This parental control app for Android is an exclusive Android monitoring application. It gives you full control over all the activities of your kid, including the kids YouTube watch history. From viewing the main page of YouTube, the recommended videos, and all the videos that even may be deleted from the history, there are almost limitless possibilities of what you can do with KidsGuard Pro for Android.
Let's see how to use KidsGuard Pro for Android for monitoring your kids YouTube watch history.
How to use KidsGuard Pro for Android to Monitor YouTube Watch History
Step 1: Create your KidsGuard Pro account
To register for a KidsGuard Pro account, click the Sign Up/Monitor Now option and provide your valid email address. This process is simple and straightforward.

Step 2: Download and install the KidsGuard Pro app
You will be sent to the My Products and Orders Manager page after successfully acquiring the Android tracking app. You may verify and adjust the ordering you established before in this section.
Then, on the target Android smartphone, select the Setup Guide icon and carefully read the directions to finish certain essential setups.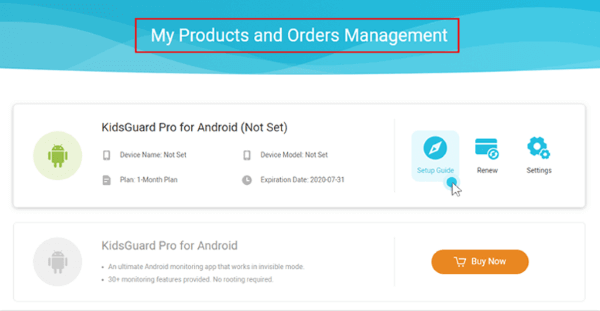 Step 3: Confirm your configuration and begin monitoring your account.
Log into your KidsGuard Pro account on our website after installing and configuring the software on the target phone. You'll see the device and accompanying data if everything is installed correctly.
To view the phone's activity and data, go to Dashboard. Please keep in mind that on the very first occasion you sync data from your phone to the dashboard, it will take a little longer.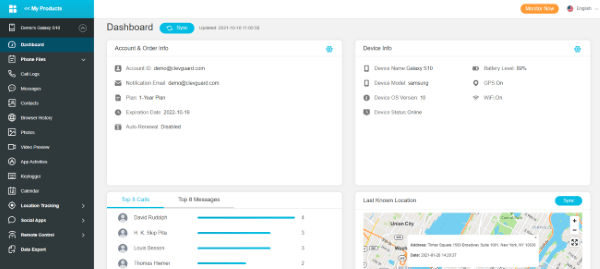 What Are Major Features of KidsGuard Pro For Android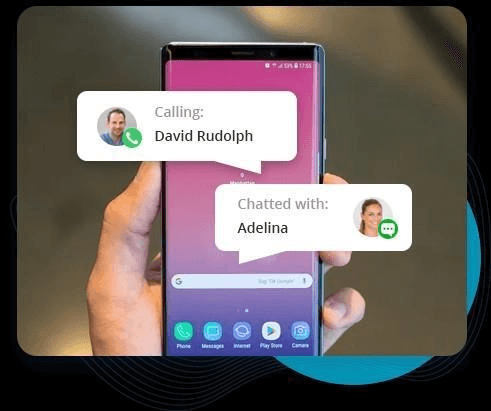 Monitor Social Media Apps

KidsGuard Pro for Android not only allows you to monitor YouTube but you can monitor various social media applications including Instagram, WhatsApp, Snapchat, and LINE.

Track the Real-Time Locations

This location tracker app has GPS or Wi-Fi location tracking technology, you can track the real-time activity of your children

Access to Everything on Phones

It would be right to say that KidsGuard Pro for Android is an all-in-one solution to all of your parental control and child monitoring problems because it gives you access to everything on your phone either offline or online including the complete control over contacts, call logs, texts, photos, videos, browser history, third-party applications, and social media apps.

Capture Screenshots

While your child is browsing something, you cannot only check his real-time activity but can also capture screenshots. In this way, you can move with confirmation.

Take Secret Photos

You can also take secret photos from the phone of your kid so that you will be able to keep a record of everything before he deletes it, including contacts, call logs, and text along with browsing history and videos.

Record Phone Calls

By monitoring his incoming and outgoing calls, you can see whom he is talking to. The application also provides you access to the microphone so that you can record phone calls.
Why KidsGuard Pro For Android Is A Most Recommended YouTube Watch History Tool?
Here are the few advantages that give KidsGuard Pro for Android an edge over the other similar tools.
Allows social media tracking;
100% safe;
100% undetectable;
No rooting of target phone required;
Has inbuilt GPS or Wi-Fi location tracking technology;
Sets up geofence.
Now let's have a look at other applications that are designed for kids for monitoring and checking YouTube watch history.
2. Famisafe
With various website filters, you can keep your searches safe. By choosing different subscription plans, you can get control over multiple devices. The dashboard contains all the essential information about your kids' activities.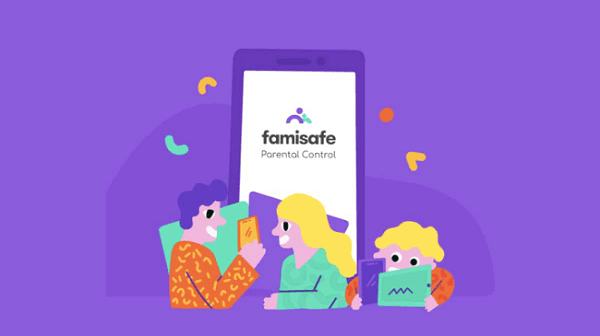 Pros
Available for iPhone, Android, and Kindle Fire devices.
The app has uninstallation protection
Notifies you of incoming and outgoing calls
Can monitor YouTube activities
Cons
Does not show the deleted SMS
3. Qustodio
It is one of the highly configurable applications. The best part about this application is that you can keep an eye on your kids' activity irrespective of what device he uses. This application is perfectly compatible with windows, iOS devices, Android, and even Kindle devices.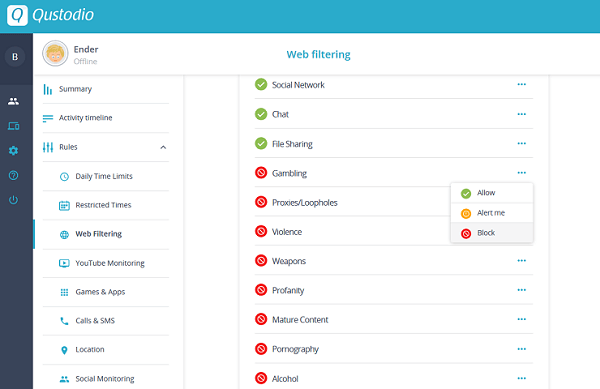 Pros
The interface is quite easy and simple
Super beginner-friendly
Allows you to block certain apps on your phone and desktop
Comes with time restrictions
Cons
Highly expensive
Does not allow you to track a social media applications other than Facebook
4. iKeyMonitor
This app is amazing as it provides discreet and tamper-proof monitoring. The best part about this application is that your child will not be able to uninstall it as it is a password-protected application that prevents unauthorized uninstallation.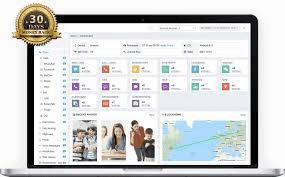 Pros
Prevents uninstallation
Allows remote control of iOS and Android devices
Provides discreet and tamper-proof monitoring solutions
Cons
Can't track the child's activity if he is using the windows device
5. Net Nanny
With plenty of customization features, the application also provides blocking solutions. Although the app promises to provide people with geofencing and location services, the features are not up to the mark. However, it is also a beginner-friendly monitoring solution for parents with easy setup.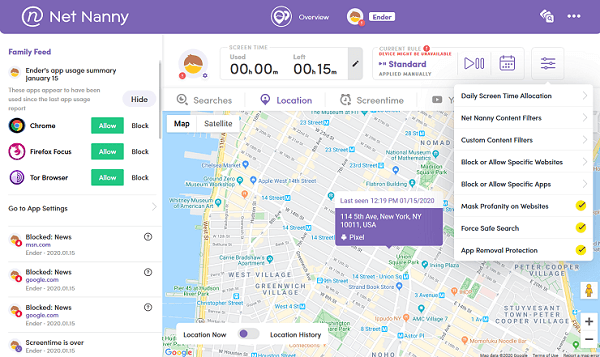 Pros
Comes with app blocking features
Gives you access to custom web filters
The setup and interface are comprehensible
Cons
Geofencing features are not competitive
Expensive
Part 2: Other Ways to Monitor Your Kid's YouTube Activities
1. Go Through YouTube History
If you have a Google account, you can open it on your kid's device and let him use YouTube. In this way, all the YouTube history will appear to you and you can access it anywhere. Here's how you can do it.
Go to YouTube Settings;
Tap on Privacy & History section in Settings;
Click on Clear the watch history;
Tap on Save Changes.
However, this option is not feasible when you want to keep your Google account private.
2. Install YouTube Kids
YouTube Kid is a kid-friendly version of YouTube. It will not allow your child to access the adult content or anything that can confuse him. This version is suitable only for kids of preschool age and up to 12 years. If your kids are teenagers, you will need another alternative.
Open the browser and type YouTube Kids;
Select the YouTube Kids app;
Press Enter to start the downloading process;
Wait for the download completion and install the app;
Run to launch it.
3. Turn on Restricted Mode
The restricted mode gives you control over what your kids see. By choosing this mode, you can intentionally limit your kid.
Go to YouTube;
Select Settings;
Choose Restricted Mode or Safety Mode;
Turn it on.
However, your kid can easily turn the mode off as the option pops up whenever you want to access restricted content.
4. Check Browser History
The history of your browser also has all the information about what your kid has accessed on YouTube. However, it can easily be deleted.
Click on the menu button at the top of the screen;
Click History;
You can also use CTRL+H to open the history.
5. Create Separate YouTube Channels
Create a separate YouTube channel for your kid and set preferences for it. In this way, you will be able to teach your kids to stick to the categories and references you have set up.
Sign into YouTube (or Google);
Visit the YouTube channel switcher;
Click Create a new channel;
Type the name of your new channel;
Tap Create.
FAQs About YouTube Watch History
1. Can Family Link see YouTube history?
Yes, you can use your Family Link application to get in touch with the YouTube history including the search history and the watch history.
2. Does YouTube watch history have a limit?
YouTube has various options to keep the history information. For example, you can choose to retain data for 3 months, for 6 months, and even up to 18 months, or until it is manually deleted.
3. How to Clear YouTube Watch History?
When you open YouTube, at the top of the screen, you will see the settings option. Tap Account, then Settings. So when you go to settings, you can clear your history over there. Click Clear All to clear all the searched and watched history.
Conclusion
This was our comprehensive guide on checking YouTube kids' history. Now you know how to see YouTube kids' history. However, remember that if you want to get maximum knowledge about searching and watching the history of YouTube, you need to proceed with quality applications like KidsGuard Pro for Android. It is our first recommendation as it has all the basic and advanced features that make the YouTube kids history checking process super simple. Moreover, it is not confined to YouTube but also provides you with plenty of social media app monitoring and offline activity tracking options.