These days there are a lot of technological advancements which prove to be very useful in our day to day life. GPS location tracking is one such inbuilt innovation on most cellphones which has helped people in many problematic scenarios. Therefore some location tracking apps also come into being. Using these applications you can be aware of where your family or loved one is at all times and know they are safe. Here we have summarized top 10 location tracking apps of 2020 so that you can monitor someone's whereabouts in real-time.
Our ratings: 9.8/10
Price: Only one edition with all premium features. The price is cut down to $8.32 per month for a yearly plan.
KidsGuard Pro, which is used by millions of people, not only acts as the best phone location tracker app but it is packed with a lot of features as well which prove to be very effective in monitoring your loved one. With the help of this app you are able to get the instant access of someone's whereabouts in real-time. What surprises us is that it works secretly so that your target will never find out their phone is being monitored. Apart from the location, it can also be used for viewing call logs, browser history, SMS, and social apps data on that device remotely. Check out what can you benefit and why it is awarded as the best location tracker app.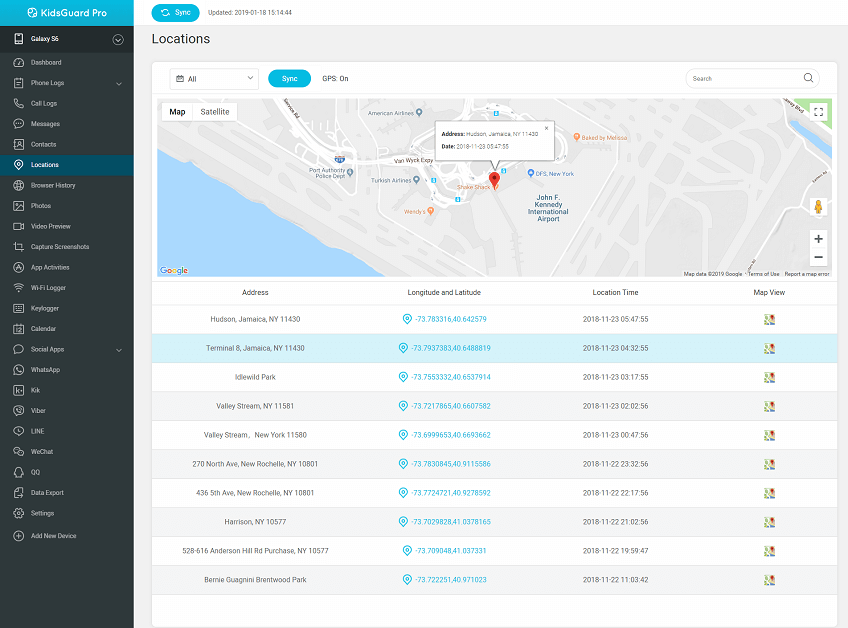 What Can You Do:

You can track real-time location with GPS and also gives out the entire location history.

This app offers accurate indoor location details because of its Wi-Fi based location tracking technology.

You will be able to view the live location on a map along with street info, time and date.

You can set a safe zone with geofence feature and get notifications when the target enter or left that area.

You can search or export the location data on your device.
Why We Recommend It:

It can update data in real-time with 100% accuracy.

It can track the target phones in stealthy mode.

It takes only 3 simple steps to set up.

It has a completely web based panel where you can open on any browser.

It does not require rooting or jailbreaking the target phone.

It offers more monitoring features avaiable for both Android and iOS.
To see what more it can do, head over to its live demo here for free.
Notice
Now you can have a 30% off discount to enjoy all the premium features. Quickly to enjoy the best price for your need.
2. FamiSafe App
Our ratings: 9.7/10
Price: You will be billed at $59.99 for the yearly plan.
FamiSafe is another one of the best location tracking apps which can be used to know the whereabouts of someone. The real-time locations are effectively tracked with the help of GPS. A detailed report about the entire history of where your target visited will also be shown on the device. It has the geo-fencing feature which you can set boundaries and get alerted whenever your target enters a dangerous area.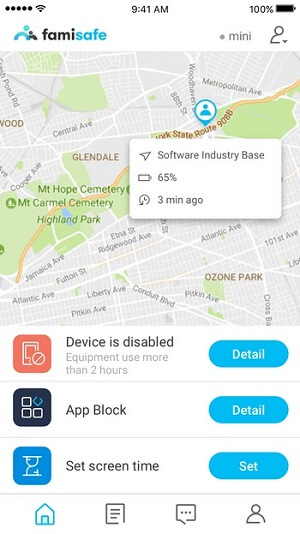 What Can You Do:

You can easily access the live location just like KidsGuard Pro.

You can view the location history with details.

You can track multiple devices with one account.
Limitations of FamiSafe:

Some users reivew that this app may freeze at times.

Phone's battery gets drained easily.
3. Life360
Our ratings: 9.6/10
Price: It provides free version for basic features and costs $95.88/year for premium features.
This mobile location tracker app is designed for families to share their locations. This is a simple app with limited features but it is a great way to keep track of each member so that you don't have to worry about their whereabouts and safety.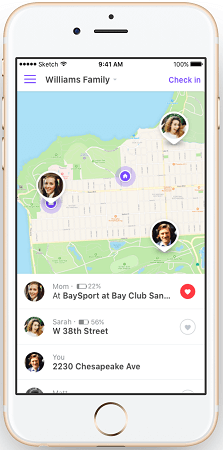 What Can You Do:

You can track your target's recent and real-time location.

You will be notified when your target passes your most frequented places.

Families can share location with each other.
Limitations of Life360:

It works with the target user's knowledge. If you want to track location secretly, KidsGuard Pro is the best choice.

Limited features with a bit higher price.
4. Glympse
Our ratings: 9.5/10
Price: It is free for Android user.
This popular location tracking application enables user to share the real-time location using GPS tracking. It acts as an Android tracker bridge between families, friends or co-workers. You can also invite you friends or families to join Glympse group and share location with each other on dynamic map.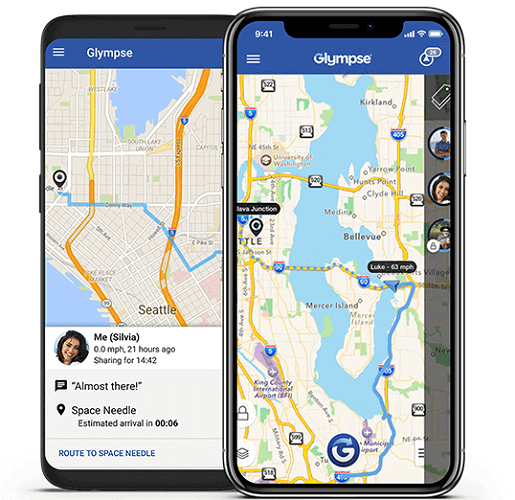 What Can You Do:

You can share current location with anyone.

You can send a message to let friends know you are almost there.

It does not need sign up to use the app.
Limitations of Glympse:

It is only compatible with Android.

It stops updating at times even you reload the app.

The location is not accurate at times.
5. iKeyMonitor
Our ratings: 9.3/10
Price: Free 3 day trial provided, but after that you have to pay $59.99/month for full version.
As one of the best location app for iPhone/Android, you can find out the current location of your loved one, and get to know of any potential threats early via iKeyMonitor. It presets the time period during which you want the target device to be monitored. Besides, it also works quietly in stealth mode to track the device's location.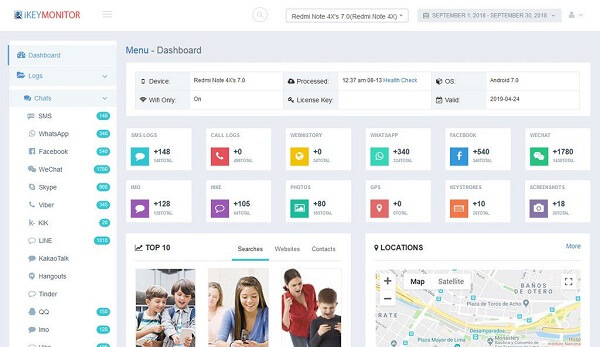 What Can You Do:

You can access location history on may easily.

It provides accurate addresses and time stamp.

It offers more comprehensive monitoring features on target phone.
Limitations of iKeyMonitor:

You have to root or jailbreak target phone to access advanced features.

The installation is too complex for novice.

The price is in higher place.
6. Prey
Our ratings: 9.2/10
Price: A person plan costs $60 and a home plan costs $180 for a year.
With the help of this phone location tracker app you can see a hour-by-hour location history. It has the excellent feature of remote locking. In case, your target loses their phones, all their personal data like documents, emails, directories, cloud storage files etc can be wiped off remotely.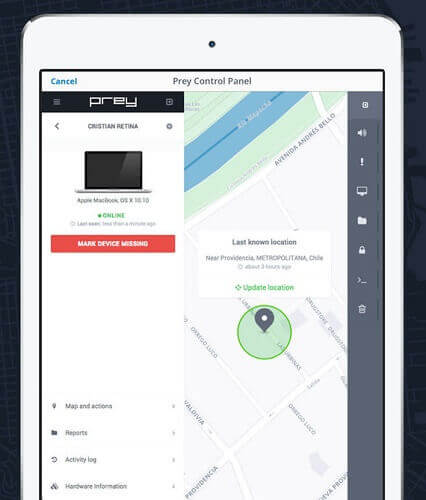 What Can You Do:

You can keep an eye on your target location with combined tracking methods.

It can gather new movement with timed checks.

You can lock or erase data when a device is lost.
Limitations of Prey:

Some users report accuracy issues.

Lack muitiple phone monitoring features compared to other apps.
7. Qustodio
Our ratings: 9.0/10
Price: The medium plan costs $96.95/year.
Qustodio is an excellent GPS tracker Android/iOS app that help the parents monitor and manage their children's device remotely to keep them safe and away from dangerous scenarios. It features an online dashboard which can be accessed anytime from anywhere to track current location with GPS. The best thing with this app is that child can use the Panic button to call for help in an emergency.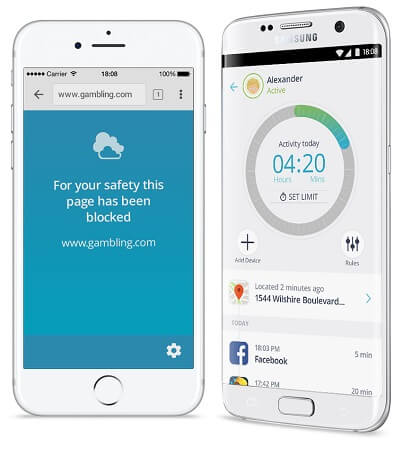 What Can You Do:

You can find your target on the map and know where they have been.

You can also monitor time spent on app activities.

You can set time limits or block apps.
Limitations of Qustodio:

Location-based panic button is only available for Android.

The phone's functioning becomes very slow.

Custome support is poor.
8. ESET App
Our ratings: 9.0/10
Price: It provides free trial with few features and starts from $29.99/year for extra features.
With the help of this phone location tracker application, you can keep your kids safe in a friendly and easy way. You can remotely check the GPS location of you target and set up geofencing. It also offers a details report on app activies of your target.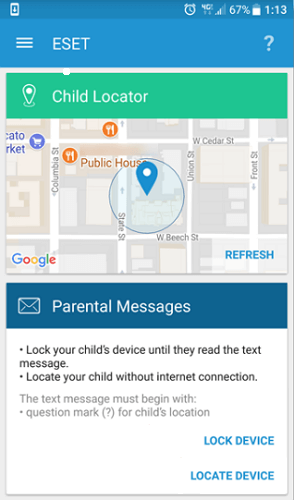 What Can You Do:

You are able to view the current location of your target.

You can set up alerts with geofence.

You can control inappropriate web content.
Limitations of ESET app:

The installation has many steps which is hard undetstand for new user.

It is not stealthy so that target user will find out.

Location results lack accuracy.
9. GPS Phone Tracker App
Our ratings: 8.9/10
Price: It has free trial and covers $1.49 - $69.99 subscription plans.
This application uses the latest technology and advancements of GPS to track the Android location. It is easy to track the location of your target at any time to make sure they are in a safe and secure area. This application can also be used in cases when you lose your cell phone or if your cell phone gets stolen.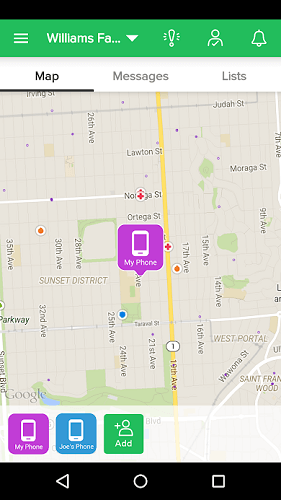 What Can You Do:

You are capable of tracking the live location with simple steps.

It gives more location details down to street.

You can view previous history to check where your target has been.
Limitations of GPS Phone Tracker:

This app contains a lot of ads which is annoying.

The update is not real-time and lags sometimes.

Some users report the result is miles away from real location.

Does not include other parental control features.
10. FollowMee
Our ratings: 8.8/10
Price: It has multiple plans and starts from $5.98/mon for real-time location tracking.
The FollowMee tracking mobile app is a good tool to monitor your target's whereabouts through a online web site. It can be used to track down the real-time updates after the downloading. It comes in a stealth mode, which means they would not get to know that their mobile phone is being monitored.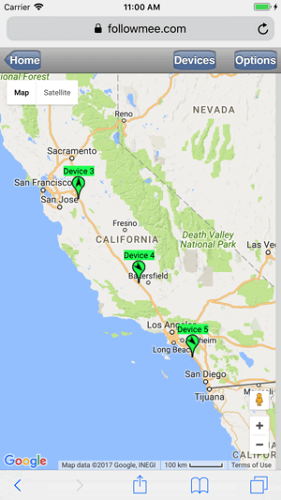 What Can You Do:

Real-time location tracking is available.

You can simply login to its website using browser to monitor location.

You can track unlimited number of devices with one account.
Limitations of FollowMee:

Only 3-day location history is maintained.

It does not offer more useful monitoring features like other apps.

The location results is wrong sometimes.
Conclusion
We have introduced top 10 location tracking apps and to me, KidsGuard Pro seems like a clear winner on all factors considered individually and the most recommended product which not only works as an amazing location tracker app but it also has many other features which can be used to monitor your loved ones phone activities and keep them safe from any kind of danger. Now you can start the location tracking with the 3 simple steps below.
How to track real-time location within 5 minutes using KidsGuard Pro
Sign up and create an account on KidsGuard Pro. Then subscribe a plan to enjoy all the features.

Visit www.clevguard.net on the target device to get the download link. Then, simply login to your account and complete the configuration.

Finally, navigate to the KidsGuard Pro web control panel and click Location from the left side panel to get location tracking updates of the target device.