In recent times, many parents fail to keep a close eye on their kids due to terrible pressure to balance their life and parenting together. This could end pretty badly because today's children are facing with both real-world dangers and online issues. Parents should regulate children's smartphone use and pay close attention to their whereabouts, just to make sure they are safe and sound.
So, using parent spy app will be very appropriate and time-saving. These apps will allow you to see everything on childs'phone, including monitor children's locations, online activities, messages and other contents of your child's phone and show you the daily reports.
In this article, we have compiled a list of top spy apps for busy parents, check them out below.
Top 6 Parental Spy Apps to Keep an Eye on Your Child's Phone
1. KidsGuard Pro - Best Parental Spy App
KidsGuard Pro is a newly released parental monitoring application yet considered the best app to spy on child's phone. It is packed with multiple cell phone spying features. The app itself is easy to install and operate (The process can be done within 5 minutes, and you can go to the last part to know the details).
Parents love the online portal of the app as it is very convenient and easily accessible while monitoring the target device. The app also works very scretely, it works in the background of the target device without informing the users. The app icon will disappear after well installation. Some incredible features of KidsGuard Pro are listed below:
Monitoring Location: The location tracking of the app is just incredible. The GPS provides very accurate location tracking in real-time.

Set Geofencing: You will be able to create virtual fences on the map. Whenever the kid crosses that fence, you will be notified.

The app is capable of accessing photos, videos, browser history (even the incognito search history), contacts, etc. on the target device.

You will be able to track all the calls and text messages remotely.

You can also monitor 10 most popular social apps, such as Facebook, Instagram, WhatsApp and more. It will automatically take screenshots without being detected.

The keystroke recorder will capture all the typed words, even the words unsent in the input box.

The app also monitors the device screen and you will be able to take screenshots.
As you can see, KidsGuard Pro is one of the best parent spy apps for Android. There are numerous advantages of using it. Let's have a look.
Pros

The app is very easy to use. The installation and even the operation are extremely easy.

Procedure like jailbreaking or rooting is not required for the use of this program.

Fast and effective technical support is available.

Compared to other spy apps, the price is budget- friendly.

The app works in an absolutely secret way.
Cons

In addition to parental spying, it lacks some other features to set up parental controls.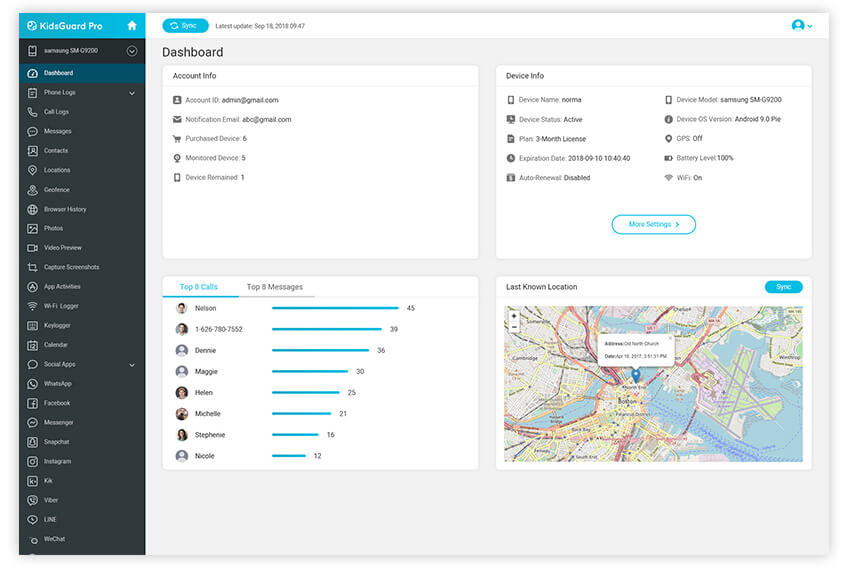 XNSpy is compatible with both Android and iOS devices. It is a great application with exceptional parental spying features. The price is affordable and it comes with 24 hour technical support. The app is packed with features like location tracking, phone calls recording etc. It can also monitor third-party instant messaging apps like WhatsApp. Keylogger and Wi-Fi logger are also available!
Pros

More than 30 features are available, each of them are equipped for extensive monitoring.

Cross-platform compatibility.

24 hour tech support is available.

Even if the files are deleted from the device, they can be viewed from the web account.
Cons

You can only track one phone at a time.

Not suitable for desktop monitoring.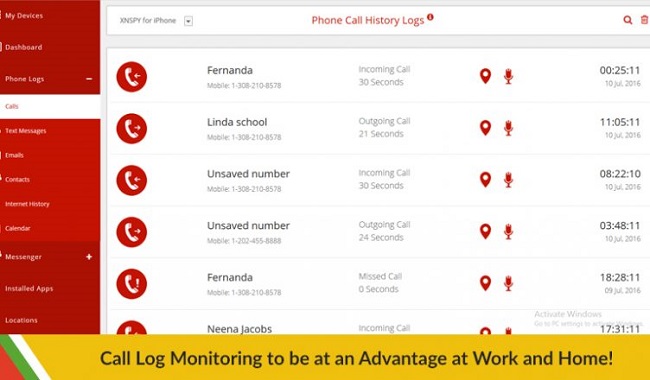 One of the most popular parental spy apps is Spyzie. The app has exceptional capabilities and it is capable to monitor many files on your child's device, for example, WhatsApp, locations, call logs, messages, etc. The app also has the capability to run in stealth mode. Also, it doesn't require you to root Android or jailbreak iOS in order to install the said app. In terms of compatibility, it supports Android 4.0 or higher version. As for iOS devices, it supports iOS 10.00 or higher version.
Pros

The performance is quite good.

Remote monitoring is possible.

Jailbreaking or rooting is not required.

The interface is very attractive and user-friendly.
Cons

The price is on the high side.

Some features do not work on iOS devices like location tracking.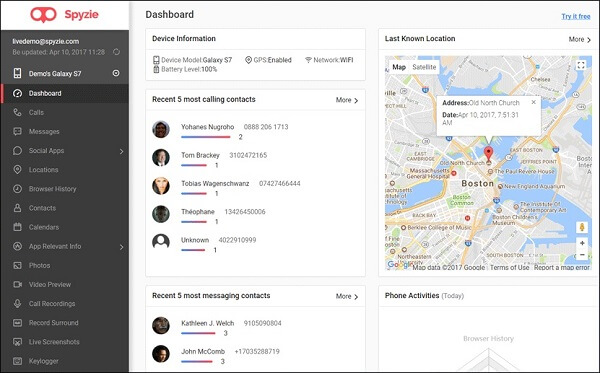 mSpy is one of the well-known parental spy apps of all time. The app is great, efficient and works very smoothly. With this app, you can remotely monitor calls, SMS, keystrokes, photos, internet usage and even social media on the target device. The location tracking feature is also packed to help you check the current whereabouts. This can be a good parent monitoring app for you.
Pros

The app can be used to spy the contents remotely.

Over 25 useful features are provided.

Installation is very easy.

All the data can be viewed with online dashboard.
Cons

You need to root or jailbreak the target device.

This app costs too much.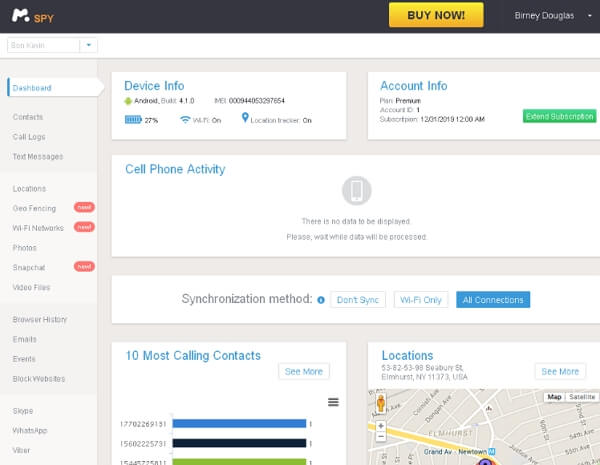 MobiStealth is one of the best spy apps for parents. The app is equipped with magnificent monitoring features. There are 2 different packages available: Pro and Pro-X. You can decide which one suit you best and use any one of them to track location, monitoring SMS and calls, check photos, and videos etc. Of course, most of the features are only available on the advanced edition.
Pros

Supported to monitor multiple devices on one dashboard.

Not only capable of smartphone monitoring but also desktop monitoring.

Features like Snapchat, messenger, and WhatsApp monitoring are also available.

No need to root or jailbreak the child's device.
Cons

No free-trial provided.

The installation success rate is lower than other apps.

No intuitive interface.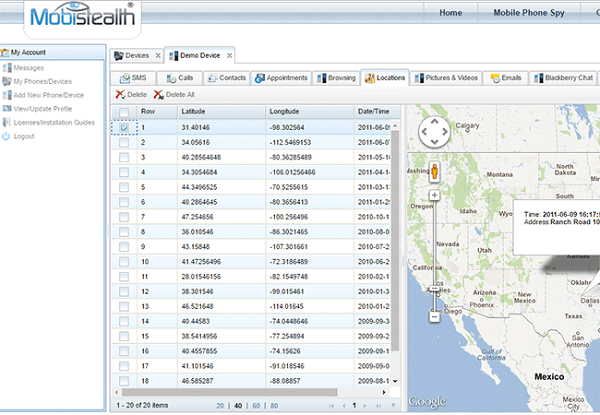 AppMia is a worthy addition in the list of the best parental spy apps for Android. It works on Android, iOS, Nokia and BlackBerry devices. The app is great and it has some convenient monitoring features as well as free upgrades. The app will easily complete your basic monitoring needs. Features provided by AppMia include WhatsApp monitoring, call surrounding recording, messages checking, location history tracking, websites blocking and more.
Pros

Free upgrades available.

The basic version can let you check installed apps, calendars and music without cost.

Discreetly monitors the target device.

Works on multiple-platforms.
Cons

iPhone devices need jailbreaking.

Several blocking options are missing.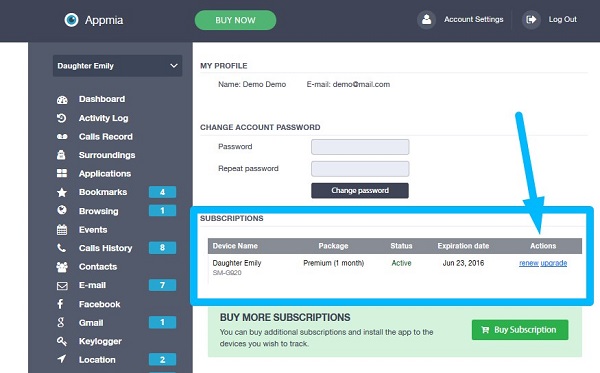 How to Monitor Child's Phone with the Best Parent Spy App
Among all 6 of those apps we consider KidsGuard Pro to be the best spyware for parents. The app performs better than others in our test, and the price is quite competitive.
What the most important is it has the extraordinary spying features. Below we will show you how to use KidsGuard Pro to track your children's device. You can monitor all the contents on your kid's phone with just 3 steps.
Step 1: Sign up with KidsGuard Pro with your proper email ID. Then purchase a proper plan to enjoy all the premium features.
Step 2: After completing the registration, unlock your kid's mobile and download KidsGuard Pro Assistant app from www.clevguard.net.Then tap on the downloaded APK file to install the app. Next, the app will access some necessary permissions automatically.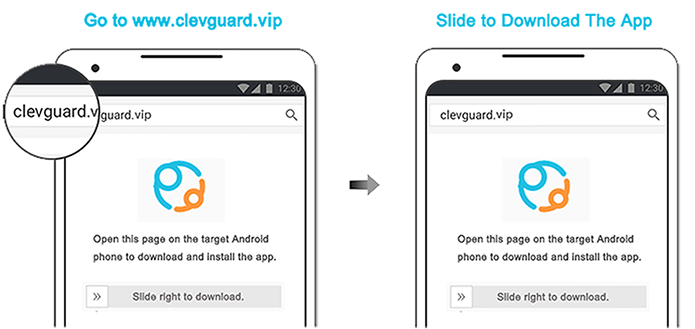 Step 3: Now, go to the web portal of the app and sync the target device. After that you will be able to monitor everything from the dashboard.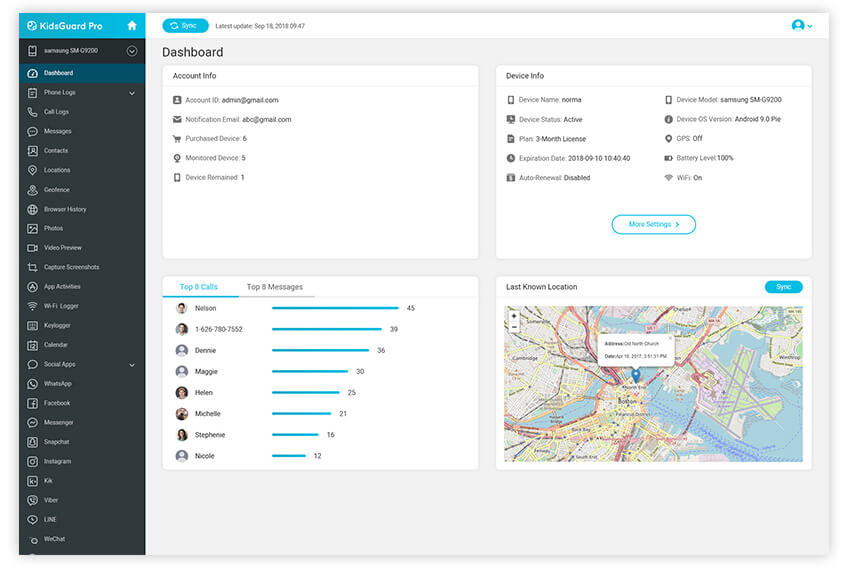 As you can clearly see, KidsGuard Pro is extremely easy to use. Considering its ease of use and its effective features, we strongly recommend using this app for monitoring your kid's smartphone.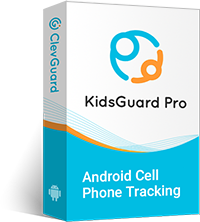 An Array of Amazing Features
Track the real time location and view location history

Check all incoming and outgoing calls SMS

Monitor app activities and know which app is frequently used

Remotely access the files on the target phone, like contacts, photos, call logs,keylogger, etc.

Monitor social media apps like WhatsApp, Instagram, Snapchat, Facebook, Viber, WeChat and more