When it comes to the apps which can track your child's activities on their phones there are numerous options all promising the best ever parental control. However, not all of them live up to their claims and fail in performing basic parental control functions.
You might have not only wasted a lot of money but would have unnecessarily invested a lot of time into it as well. However, Spyzie is an application which actually lives up to the features which it claims to have inbuilt in it. It is undoubtedly one of the best parental control apps available in the market and has a very good track record of helping parents keep a check of their children's activities on their phones. In this article, we will enlist all the necessary details about this app and would give a detailed Spyzie review along with some alternatives if you are not satisfied with this app.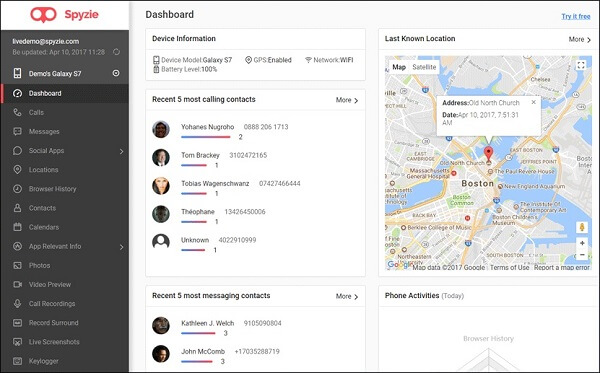 Part 1: What is Spyzie & What Can it Do
Spyzie is one such app which helps parents in controlling and monitoring almost all the activities on the target phone. From blocking certain apps to reading and viewing the messages and images, Spyzie lets you do all this with ease.
Spyzie Features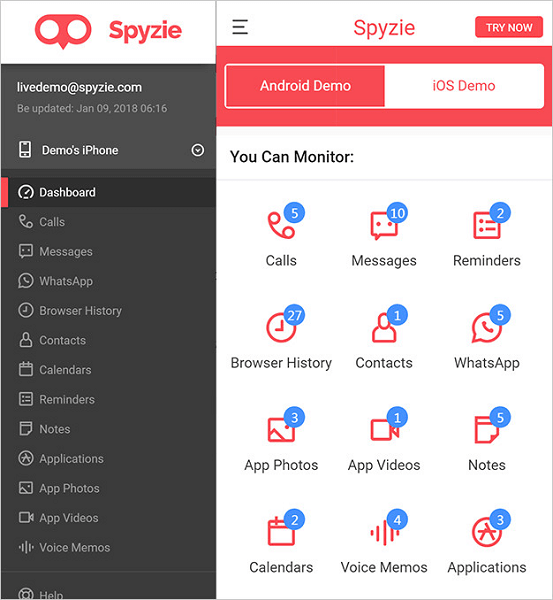 1. App Blocker Which Blocks Certain Apps on the Target Phone
One of the most useful features which you will find on the Spyzie app is the app blocker feature. Through this app, any app which you feel your child might be getting addicted to can be blocked. There are so many apps online which might not be suitable for being viewed by your child and this one lets you block all such apps.
2. Restricting Usage
Through this app you can set scheduled restrictions on the target device. This feature works great when you want to limit the screen time usage of your child. During the time scheduled by you, the phone will be locked and cannot be used by your child.
3. Find Out About all the Activities Happening on the Target Phone
All the incoming as well as the outgoing calls on the target phone can be tracked using this app. You can even read all the emails, messages and do track so much more. This way you would know what your child is exactly been upto and you can take the necessary measure if you seem they are onto something inappropriate.
4. Track Activities on Social Media
Social media is one such platform where all the people post all their life happenings. Even though it is highly useful, there are many potential dangers lurking around on these platforms. Through this app you can track the activities of your child on the major social media networks like Kik, WhatsApp, and Facebook etc.
5. Track Location
Tracking location is one of the most important features of a parental control application. And Spyzie is capable of remotely tracking any type of Android or iOS. The dashboard comes with a dedicated tab with in-depth details on the exact location of target device as well as location history. You can view route history and total location history on Android and iOS both. But if you want to get real time location of the target device, it is only possible with Android devices.
Spyzie Price
The Ultimate edition with full functionality starts at $39.99/month and the premium edition with limited functionality starts at around $29.99/month for Android and $39.99 for iOS.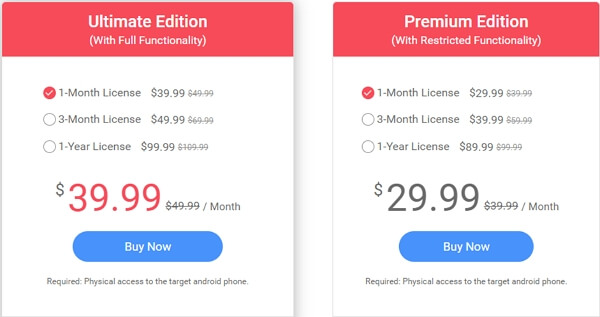 Part 2: How Does Spyzie Work
The setup of this Spyzie parental control app is pretty simple and fast. You can follow the steps below to know how you can install this app and use it for monitoring your child's activities on their phones. Below are some briefly described steps to install this app.
Step 1: Go to the official site of Spyzie and sign up by entering your email ID and password.
Step 2: Login using your details and start the setup of this app on the target device. The setup features step by step instructions which will ensure that you have a hassle free installation process.
Step 3: Enter the name along with the age of the target device owner and select Android or iOS before tapping on "Next".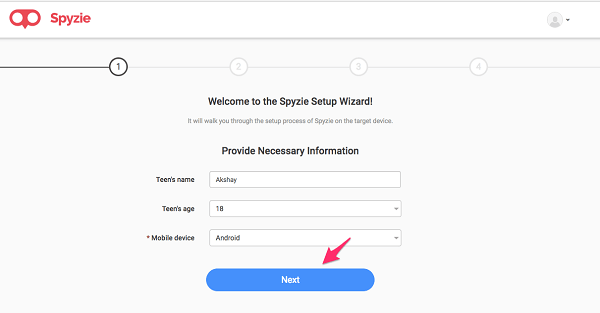 Step 4: On target device go to "Settings", "Security" and turn "Unknown Sources" on.
Step 5: Go to "Settings", "Google", "Security", "Google Play Protect" and turn off "Scan Device for Security Threats".
Step 6: Click on the link given on the target phone and install the app on it.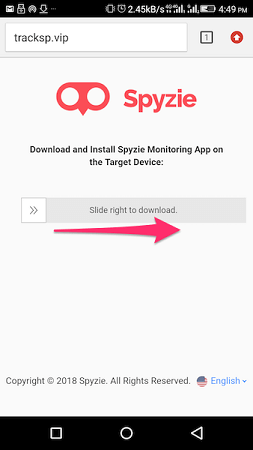 Step 7: Once the app gets installed sign into it using your account details.
Step 8: Tap on "Grant" and then on "Activate".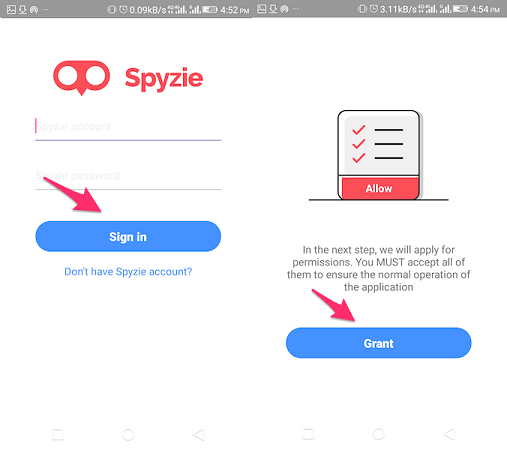 Step 9: Select "Start Monitoring", then "Complete" and then again "Start Monitoring" to start the process of monitoring your kid's phone.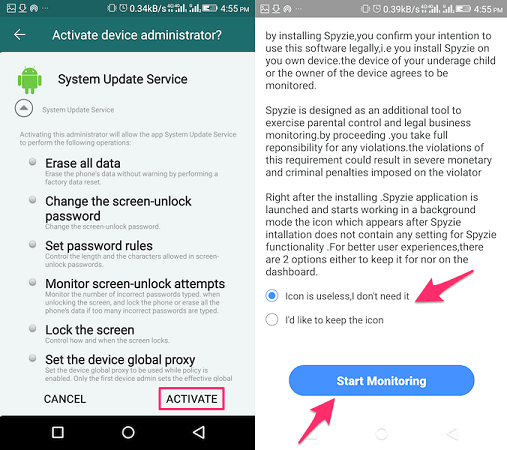 Step 10: Wait for a few minutes and you will be taken to a dashboard with all the necessary tracking information.
Part 3: Is Spyzie Worth Choosing
Even though Spyzie comes with an extensive list of features which makes it one of the best parental monitoring apps, it does come with a few disadvantages as well. Below are some of the pros along with some cons of using this app for parental monitoring.
Pros:
It has a very simple and friendly user interface which can be easily understood by even a novice.

It works on stealth mode which makes it hidden on the target device.

It sets up recording conveniently.

You do not have to root or jailbreak your device in order to use this app.

The inbuilt features of the web panel and mobile monitoring allow the user to view all the activities with ease.
Cons:
When compared to the other available apps, Spyzie app is pretty expensive.

When you do not jailbreak your device, the features of this app become limited.

The response time of certain functions is quite prolonged.

When installed, it makes the target phone lag in performance.

The group chats on several messaging apps cannot be viewed or monitored using this app.
Even though this app has some disadvantages, it is worth trying it out. It does lack in certain areas but it definitely excels in other areas where most of the parental control apps lack.
Part 4: Spyzie Alternative - Find Out Excellent Parental Control Apps
There are some great alternatives for this parental control app which overcome almost all the cons of Spyzie. You can try them out instead of using Spyzie. Some of them are given below.
This is one of the most excellent Spyzie alternative due to the list of extensive features. With the increased growth in the issues arising online, kids are more vulnerable to potential risks and threats online. KidsGuard Pro has been designed by keeping all these vulnerabilities in mind. It is an excellent parental control app which has highly efficient features to help you track the functions on the target phone.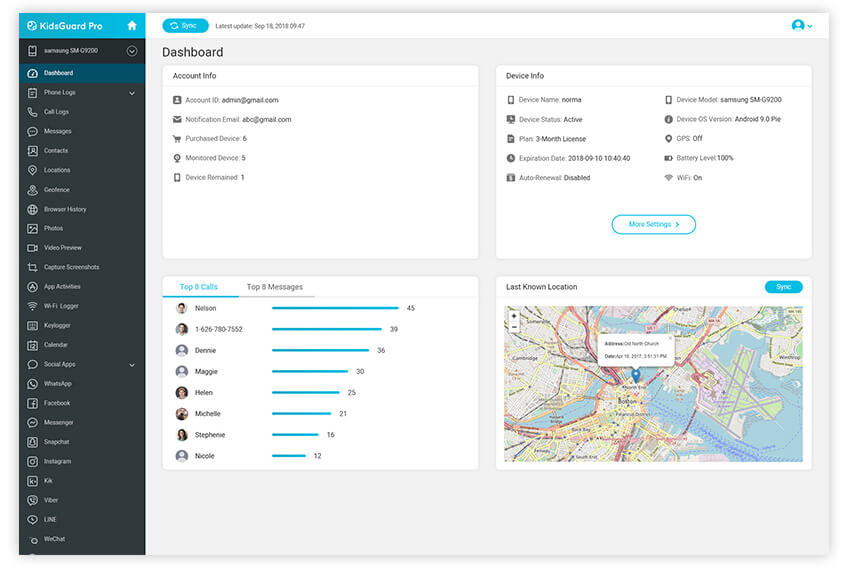 Features:
All the incoming and outgoing calls on the target phone can be viewed.

The entire browser history can be seen.

All the photos and videos stored on your child's phone can also be accessed.

Instant real time screenshot can also be taken on the target phone.

Almost all the app activities can be tracked.

Comes with a keylogger function.

All the content in the calendar and notes can also be viewed.

The contacts stored in your child's phone can be seen.

All the messages and the contents of the social media apps like Whatsapp, Viber, LINE can be viewed.

The real time location of your child can also be tracked.
Conclusion
Spyzie is one of the most known and most downloaded parental control apps. However, due to its limitations, you should try out the other apps which can work the same way and better. KidsGuard Pro is one such app which can be a great alternative to Spyzie. This is one of the most recommended apps which can be great for parental control. It is highly recommended that you try out the 3-day trial version of this app to know for yourself.