How to check history on an iPhone after it's been deleted? Well, this is a very meaningful topic.
To be honest, there is so much that we can browse today on our mobile phone. For parents, the browsing history is definitely crucial to track their kids' online activities. But if kids are trying to hide from you and delete the browser history, it's a different story.
So, let's cut to the chase and try solving the problem head-on. Stay with us till the very end because we are going to provide some of our best recommendations that can help you check browsing history after it's been deleted. Let's get started!
Can browsing history be recovered after it is deleted?
This is a very important question because it will very much lay down the foundation of your research about recovering deleted browsing history.
To answer this question first, yes, it is possible to recover the browsing history after it has been deleted. When you connect your iPhone with a computer, or simply sign into an iCloud account, the backup system will start working. Either iTunes or iCloud can make a copy of the information on your iPhone, including Safari history.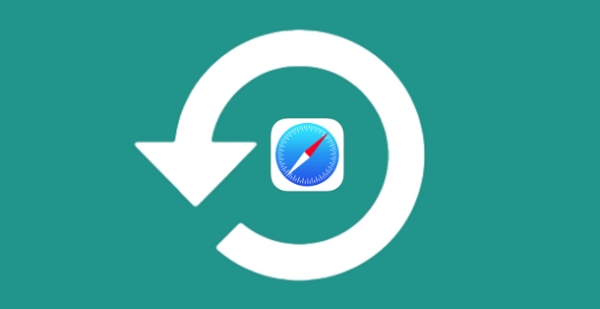 After figuring this out, let's learn how to see deleted history on iPhone. You can find 3 ways below. The first and second methods are suitable for recovering the browsing history that you accidentally deleted on your iPhone, and the third method is suitable for viewing the history deleted on other people's phones.
Method 1: Try to Restore Deleted History from iCloud
To make sure this method is useful, firstly go to Settings > Your Name > iCloud and make sure the Safari tab is enabled.

Then do the followings:
Visit iCloud.com and sign up with your iCloud account.

If you have set up two-factor authentication, you need to enter the verification code sent to your iPhone.

Click on Account Settings under the profile.

On the settings page, scroll down and find Restore Bookmarks under Advanced section.

You should see a list of Safari archives. Choose the bookmarks you want to restore and click on the Restore button. This may restore your deleted Safari history.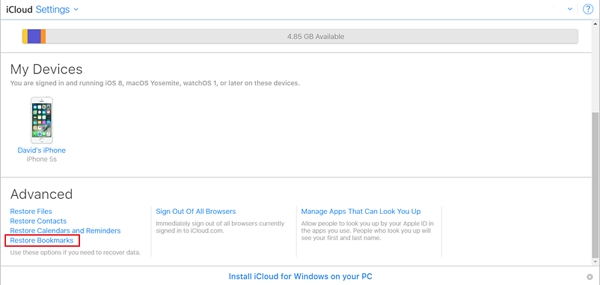 Method 2: Try to Restore Deleted History on Safari with iTunes
If you have decided to restore the deleted history using the iTunes way, you will have to take care of a few things before you take action.
So first of all, we will have to figure out whether or not there is an iTunes backup file containing the deleted Safari history. If not, the whole "restoring the browsing history" thing falls apart. Another thing you should be aware of is that while restoring a backup, it replaces everything there is on your iPhone. The backup data takes over the existing data which may result in loss of important information. This is a risk that you will have to take if you are looking to check deleted browsing history on iPhone.
Now let's get started.
First of all, connect your iPhone to your computer with iTunes installed. If you see a trust popup on the iPhone, tap Trust to continue.

On your Mac with macOS Catalina 10.15, open Finder. On your Mac with macOS 10.14, or earlier or a Windows PC, open iTunes.

Select your iPhone and then click on Restore Backup.

Look at the date of each backup and select the most relevant one.

Confirm to restore and wait for the whole process to finish. After that, check your iPhone and see if the delete browser history is retrieved.

Method 3: Directly Check Deleted History on iPhone using KidsGuard Pro
The above two ways definitely work, but if you want to check someone's deleted iPhone history, we have a much more effective solution. And it is by using KidsGuard Pro. This app is specifically used to monitor iPhone data, including deleted data. So, how can you use KidsGuard Pro to check browsing history after it's been deleted? Let's discuss in detail.
Step 1. Download the KidsGuard Pro from www.useapp.net.

Step 2. Create an account for this program and purchase a plan to activate it.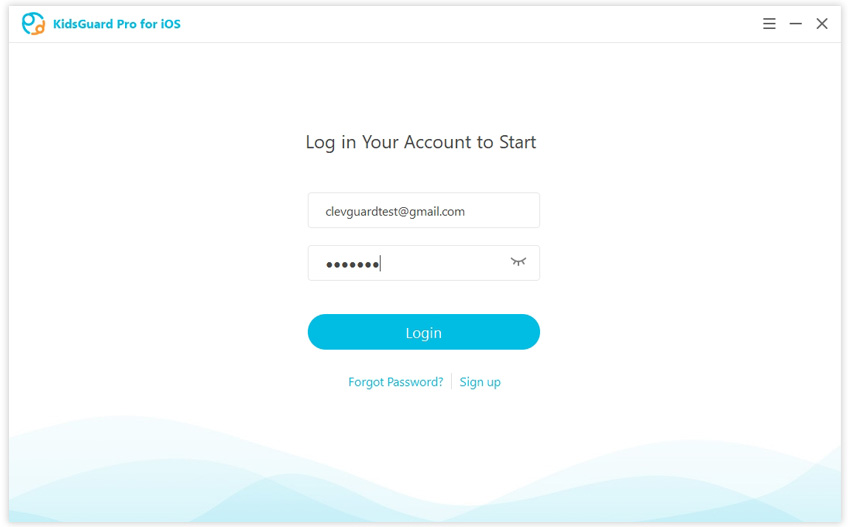 Step 3. Connect the target iPhone that you want to check the deleted Safari history and then start scanning process.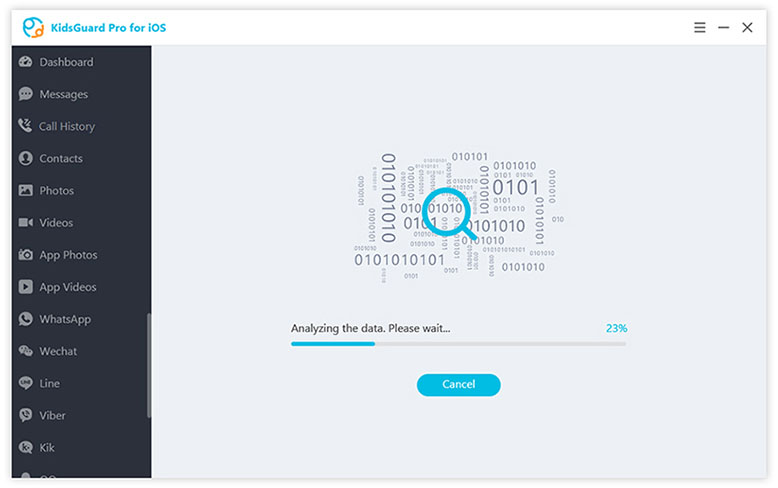 Step 4. When the scanning completes, select Safari History from the left menu and you will see all the browser records. Those deleted will have a red delete icon.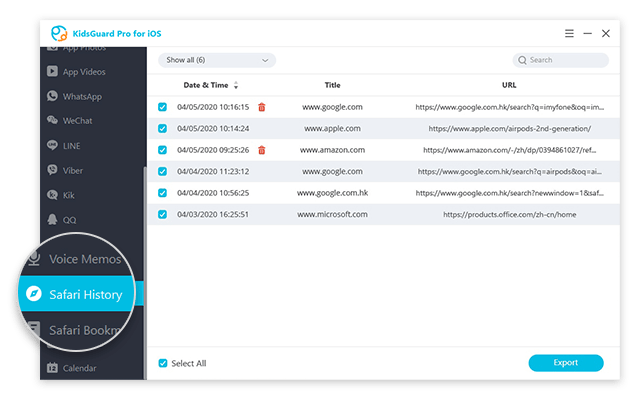 And that's it!
What Makes KidsGuard Pro Differ from the Previous 2 Ways
So when should I choose KidsGuard Pro instead of restoring a backup? As we said before, you can use it to check deleted history on other's iPhone. Of course, you can also try this method if it's your own iPhone. Here is a bit more information about KidsGuard Pro.
As long as the iPhone is connected and identified once, it will remember the device, and will automatically record the data the next time when the target iPhone is plugged into the computer.

It can run in stealth mode.

It supports to check 20+ iPhone files, like call history, messages, WhatsApp, notes, etc.

It has a good compatibility. The latest iPhone 13 and iOS 15 are covered.

You can use it to monitor your children, your spouse, etc.
Final Thoughts
So, now you know how easy it is to restore the deleted browsing history using different methods. Again, if you want to view the deleted history on your phone, try you luck by using method 1 and method 2.
To check other people's deleted browsing history, we highly recommend you choose KidsGuard Pro to get the job done because it is a one-time setup that will help you throughout your life.
All you have to do is install the program to your computer and the target device and you are good to go. We hope this piece of content brought great value to you.