Question:
I want to bypass Roblox filter to play game. How to do it?
Communication and bond over similar interests are some of the many things Roblox can offer to people, particularly to kids. And with nearly 200 million total users as of March 2021, it's referred as one of the biggest digital communities in the world.
So to experience these things and go to digital adventures with acquaintances, be aware of these methods on how you can use Bypass Roblox Filter.
Why do Users Want to Bypass Roblox Filter
But before that, let's first talk about why users want to Roblox Filter Bypass.
Excitement: Users feel every time they're intrigued on what other people messaged. Especially children, who are immeasurably curious on what's happening and eagers them to find it out.
Social Influence: Friends and the online community of a user tend to be large now-a-days. So they are pressured to do something that their circle of friends already did. And one of these things is bypassing the game filter.
Addiction: Roblox can be an addictive platform to many users. And this nature can urge their desires to bypass game filters even if they don't have much understandable experiences on the matter.
NOTE:
If you are worried about your child being addicted to playing games, KidsGuard Parental Control is an useful parental control app to protect children from Roblox. It can:
Capture kids' devices screen to know what they are doing;
Block the inappropriate games, websites to create a safe online environment;
Track kids in real time and view their location history;
Receive detailed daily, weekly, and monthly reports of your child's online activity;
Internet filter to protect kids away from being harassed by scams;
You can click the button below to know more features about it.
How To Bypass Roblox Filter
There are five ways here to help you bypass roblox filter! Let's see it!
Way 1: Enter Roblox Support and change the age.
A lot of Roblox's users are between pre-teens to adults. If you want to remove safe chat feature and open the entries of sensitive contents, consider changing your age on settings.
Step 1. To reach out, you have to fill out a form on Roblox Support and find "Contact Us". Complete the required information such as, name, email, and contact number.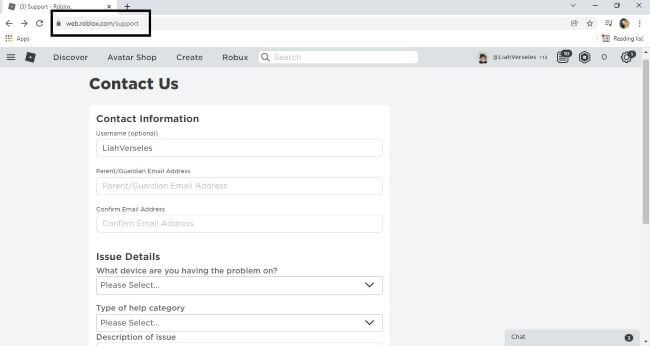 Step 2. The first drop-down menu you'll see is where you can select the type of device you are using.
Step 3. Next, click "Type to help" category and select "Chat& Age Settings".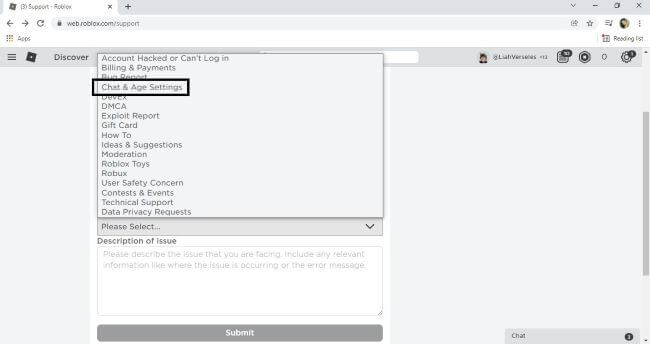 Step 4. On the next drop-down menu underneath chat age settings, click "Change Child Age".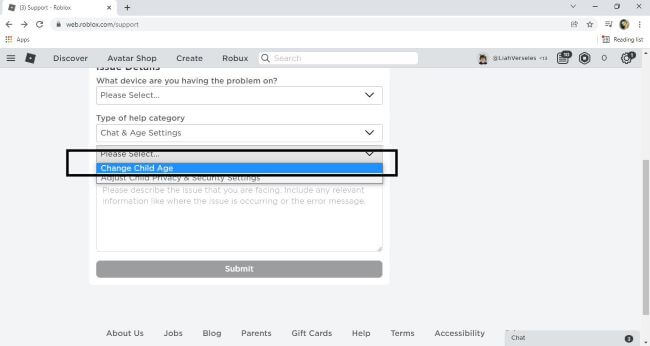 Step 5. Explain on the "Description of Issue" box that you are over 13 years of age and click "Submit".
After this, you will receive a confirmation from the email you provided. Keep in mind that they may take 24 hours to verify and change the restrictions.
Way 2: Turn off safe chat on Roblox.
Step 1. Find an option "My Roblox" on the page and click it.
Step 2. You'll see a drop-down menu and select "My Account".
Step 3. Locate "Updated Parent's Email Address" on the "Update Email Address"option.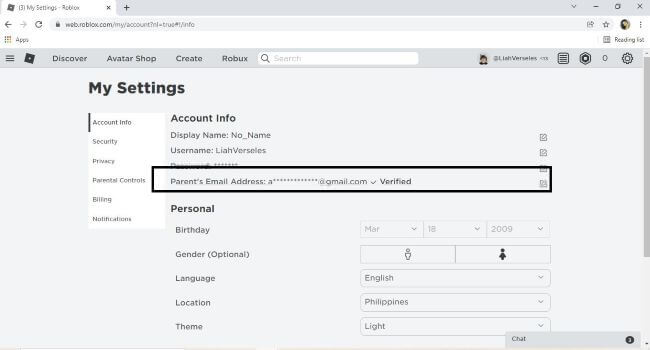 Step 4. After this, you'll receive a notification on the email address you just provided.
Step 5. Click the Activation message on the said email so it can direct you to a webpage.
Step 6. There you will click "Privacy Mode" and you'll see a toggle which you can turn off beside the "Safe Chat".
Step 7. Finally, click "Finish Verification" to update the changes, which is useful for roblox chat bypass.
Way 3: Using Roblox Filter Bypass Tools
If you want to message any texts without Roblox's detection, you can use non-complex and free tools to bypassing Roblox Filters.
Step 1. Lingojam Website can be your best option because it lets you type any texts and automatically converts it to a readable format that you can copy and paste.
Step 2. Just simply go to their website and type the text you want in the box.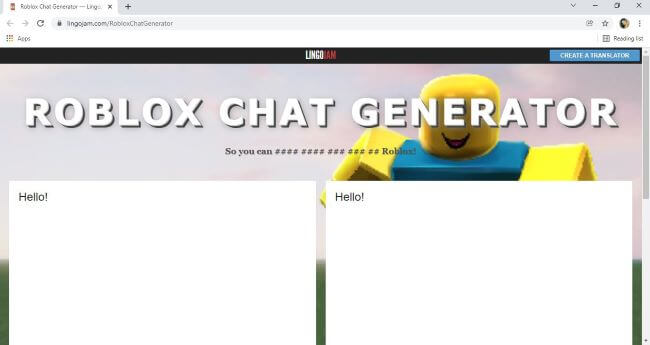 Step 3. Capture it by inputting Ctrl + C or cmd + C. Now, you can paste it on Roblox's chat box and hit send.
Way 4: Using Roblox Filter Bypass 2
Roblox Filter Bypass 2 is also a safe and reliable option. It follows the same steps of Lingojam but with a little change on the text. So if you input "hello", the app will enter "h3ll0'. This makes your message more undetectable.

Step 1. Go to their website and type the text you want.
The website will automatically change the text if it's malicious or inappropriate. This saves you from being detected by Roblox.
Step 2. Capture it by typing Ctrl + C or cmd + C. Finally, paste it on Roblox's chat box and hit send.
The website will automatically change the text if it's malicious or inappropriate. This saves you from being detected by Roblox.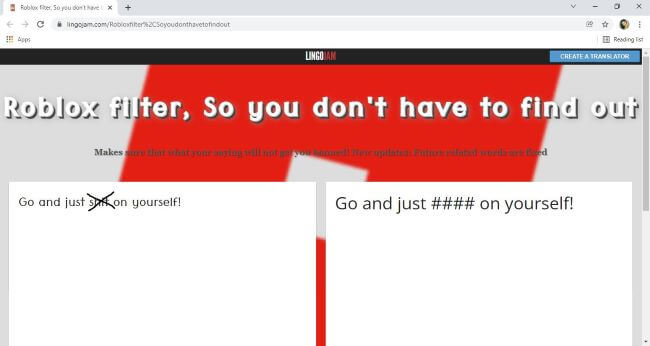 Way 5: Using Roblox Chat Bypass Script
Synapse is one of the best ways to use a script and bypass the chat filter of the game. It can also be used on any server and can get patched very easy, in which can be the downside of using this. You see, once the developers gaze upon the script, they'll patch it right away.
The script you'll be using is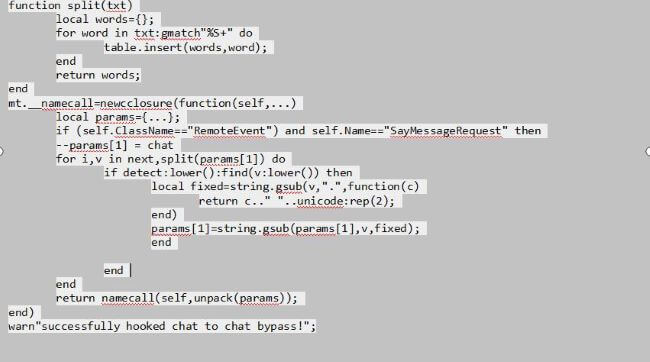 To use this script, follow these simple steps:
Step 1. Install synapse, a scripting tool that lets you put scripts on any games.
Step 2. After installing it on your device, open Roblox and join any server.
Step 3. Open the synapse menu and paste the script above on the synapse box.
Step 4. Execute and it will bypass the chat filters automatically.
Warning about Bypassing Roblox Filter
Any methods discussed here are prone of getting banned from Roblox. Especially if you overused it. So aside from using these methods, try to be careful with the algorithms as well. Because if lots of players reported you from bypassing Roblox filter, you are more likely to be banned.
FAQs about Roblox Filter
Q1. How do you uncensored on Roblox?
Since there is no special means to express the curse or foul word in Roblox, you can use the star key to recognize it. Also, make sure the terms are clear and not too obscene, otherwise you will be kicked out of the game.
Q2. Does Roblox have IP bans?
Yes, IP bans exist on Roblox. This sort of ban is for players who extremely breached the Terms of Service or federal law. All players with this IP address will be prohibited for 7 days (1 week) and will receive a 403 error when attempting to access the Roblox website.
Q3. Can you still get IP banned on Roblox?
Yes, they have the ability to IP ban you. This implies they have the authority to disable your whole IP address's ability to create new accounts. Meaning, you can't create new accounts in that IP address or neither playing in someone else's account if they're also in that IP address.
Conclusion
Roblox is mainly for children. So they don't want their gaming system be full of malicious and vulgar contents for their primary audience. If you are not one of the younger audience of it, bypassing Roblox Filter can be of help. Especially if creating a cautious game environment is not crucial at your age.
If you want to protect your kids online and restrict time on Roblox, KidsGuard is a great choice for you to use!