Question: How to Keep Kids Safer When Using Mobile Phones?
A safe online environment is very much necessary for our kids these days. Much of the world is on online sites, and your child is vulnerable to all kinds of behaviors.
You should use parental control software to keep an eye on your kids. Parental control apps should be viewed positively. Another way to keep your kids safe is to make a contract with kids before giving them. If they break any rule, you can punish them or take their mobile phone back.
In this article we will help you to make a teen cell phone contract.
Part 1. A Sample Cell Phone Contract between Parent and Child
A Cell phone contract between kids and parents is necessary. Here is sample of cell phone contract for kids. First of all you should make a list of Your Child's responsibilities. For example,
I will always share my phone's password with my parents, and they can use my phone anytime.
I will never send threatening messages to anyone.
I will not place any calls after 9 pm.
My phone will be charged all the time.
I will respond promptly whenever my parents call me.
I will never use my phone at the family dinner table.
I am responsible for always keeping an eye on where my phone is and for keeping it in good condition.
I will follow all the rules of etiquette regarding cell phone usage in public spaces, such as turning them off during class.
I will inform my parents if I receive any alarming phone calls or text messages from unknown people.
I will inform my parents if I get harassed by someone via phone calls.
I will never bully anyone on the phone.
I will send no more than______ texts per day.
I will make choices that don't get me into any trouble regarding my phone.
I will never download anything without asking permission.
Parent Responsibilities
I understand that I have to answer all my children's questions about owning a cell phone.
I will support my child if they inform me about getting any alarming messages.
I will inform my child if our plan about cell phones changes.
I will warn my child before taking his phone permanently.
Consequences
I understand that using a cell phone is a privilege and that if I fail to follow this rule, my cell phone privilege shall be revoked.
I totally understand that my cell phone will be taken back if I fail to do my chores or fail to maintain my grades.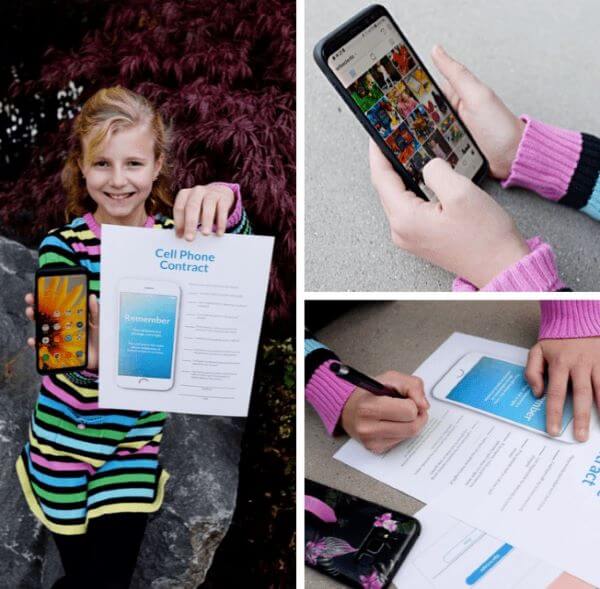 Part 2. Manage Kids Phone with KidsGuard Parental Control App
KidsGuard parental control app is a well-designed application. This app includes the most amazing features which help in monitoring such as:
Block inappropriate apps & websites
The KidsGuard website and app blocking features are above beyond. Because Hundreds of apps are available online, most of which are not suitable for your kids. These websites and apps contain adult and pornographic material which is not suitable for kids.
When parents give mobile phones to kids, they want to explore these things and become an addict. So parents should make such apps and websites on kids with KidsGuard parental control app.
Capture screen in real-time
The more interesting feature of the KidsGuard parental control app is to capture the real-time screen. If you think your kid is behaving in a strange way (smiling or stressed while using a phone), you can instantly capture his phone's real-time screen to know what's going on.
Taking screenshots of the targeted phone screen is easy. Go to the dashboard, click on the remote control, tap on capture screenshots option. The KidsGuard parental control app saves these screenshots according to date and time.
You can view the captured screenshot on the dashboard. Additionally, you can view and directly download these screenshots from the dashboard.
Real-time GPS & Geo-fence
KidsGuard has amazing features like GPS and geo-fencing. Because by using these features, you can know about the real-time location of your kid.
Additionally, you can create a virtual boundary for your kid by marking locations as safe or dangerous on the digital app. If the target phone crosses these boundaries, then you will get alarms. You can easily check the time at which boundaries have been crossed as well as how much time they have spent on it.
Call filter
KidsGuard has an option for call filtering. So you can keep your children away from all kinds of fraud by monitoring their calls.
View browser history
It is important to keep an eye on what your children are searching for on the web. The internet gives them access to all kinds of stuff, but you can prevent them from watching drug abuse, sexual abuse, and pornography.
In KidsGuard app, click the button below the Contacts option on the left sidebar, and you can easily get access to the browser history.
How to Set Up KidsGuard Parental Control App?
Step 1.
Click download button below to install KidsGuard from Google Play Store or App store.And then sign up an account.
Step 2.
Login to your account and go to dashboard, click on
Bind Now
button here, copy the Url in the setup instruction and send it to kid's device.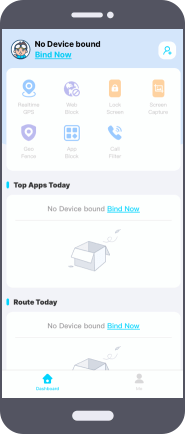 Step 3.
Open the Url in kid's phone to install KidsGuard Jr onto their phone. After setting, you can start to manage his/her phone.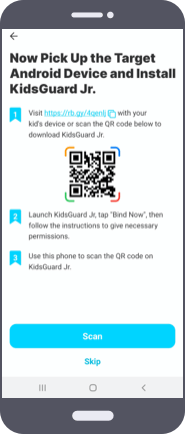 Part 3. What Age Should Kids Get a Cell Phone?
There is no specific right age for kids to have a phone. It completely depends on your kids' maturity level. According to experts Recommended age is 13 years. but the decision should be made in a relaxed mode. You shouldn't buy your kid a phone only in this pressure that all of his friends have a phone.
Pros of cell phone usage
Educational support
The positive thing about the phone for kids is that it helps the kids in their studies. There is a lot of study stuff available on the internet, so if your kid is having an issue solving math problems, he can easily contact the online math instructor or search for answers on the internet. So cell phones provide educational support to kids.
Awareness
The use of the phone in kids makes them aware of what's happening around them. They can know about the news of the world, about new projects, weather, and other issues. So every kid should have a personal phone.
The best partner in emergency
Today's kids take part in various extracurricular activities like school functions etc. kids also hang out with kids. So it is very important for kids to have a phone to contact their family. Moreover, parents can track their kids ' phones in an emergency situation.
Cros of cell phone usage
There are several mobile phone disadvantages like:
Cyberbullying
Cyberbullying is the worst thing. That's why every parent is afraid of cyberbullying. Nowadays bullying is so common. If your kid has a Phone and uses technology, then there are high chances that he can be bullied which isn't good for your kid.
Screen addiction
One of the biggest risks of phone usage in kids is that they become screen addicts. When Parents provide personal phones to their kids for safety purposes, they use them for different things like gaming, movies, dramas, chatting and social media. These all entertaining activities on the phone made the kids phone addicts. That is the way they spend all day in front of mobile screens.
Health issues
The overuse of technology is not good for your kids' health. If your kid is using too much phone, it can affect his mental and physical health. Social media is away from reality. In this way, your kid starts expecting unrealistically from himself and others. When these expectations aren't met, your kid can become mentally ill. You kid can become depressed.
Involvement in inappropriate activities
It is proved thing that when kids have personal phones, they get involved in inappropriate activates like pornography, sexting, dating, adults games etc. all these things have a negative impact on kids life, most of the cases, the kids become addicted to pornographic stuff and they can't get over of it.
Part 4. Final Thought
Nowadays the phone has become a basic need. It is a fact nothing is bad until you are using it right away. But giving personal mobile phones to kids is not appropriate. There are different disadvantages of using a mobile phone at an early age. Excessive use of mobile phones causes various health issues, weak eyesight, depression and anxiety. Additionally, kids can get involved in bad things like pornography, drugs addiction etc., so if you think you should give your child a phone for their safety, make a phone contract for kids. In addition parents should manage child's phone with KidsGuard parental control app.