With the introduction of the virtual world, young children are getting more and more addicted to it. Along with this, there are many other social media applications as well which can lure children to indulge in inappropriate and illegal activities and get stuck in a potentially dangerous situation.
With the increase in the number of cybercrimes over the past few years, parental monitoring has become very essential. By using the several applications available online which are meant for parental control, many such problems can be kept at bay. Here are some more details about these remote monitoring apps and how they help the parents keep a tab on their child's activities on their mobile phones.
Part 1: Best Remote Monitoring App
The highest rated and the most recommended parental control application is KidsGuard Pro. When it comes to child monitoring, it is one of the best remote monitoring apps for Android which can go through activities like:
Monitor popular social media apps like Facebook, Ins, Snapchat, WhatsApp, Tinder, Viber, etc.
View call history and contacts.
Read all received and sent messages of kid's phone.
Check browser histories and know what child has visited on the internet.
Track location history and set geofence for kids.
View phone files like videos, photos, docs and more.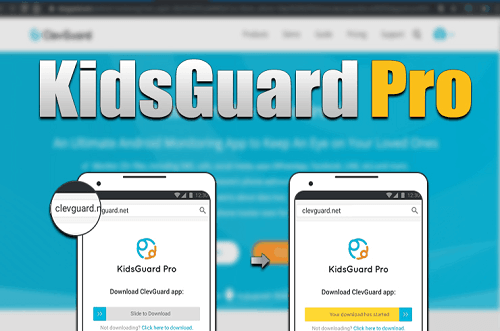 Steps of Using KidsGuard Pro
You can use this application by following the steps below. We have a special offer now - 30% off discount for all the products. If you're interested, hurry up to get it!
Step 1. Create your KidsGuard Pro free account by tapping "Monitor Now" button. Then choose a plan according to your need.
Step 2. Go to www.clevguard.net and download the assistant on the target phone by checking the Setup Guide on My Products page.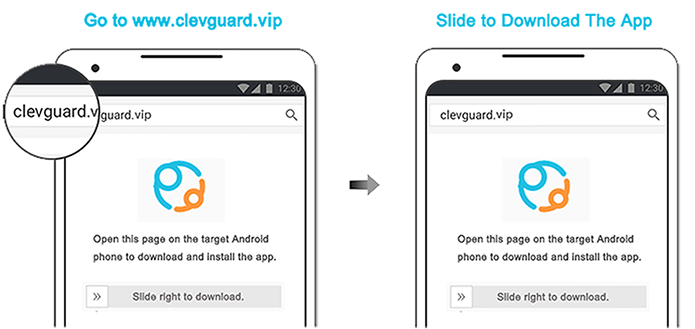 Step 3. Switch on Unknown Sources from Settings to make sure you can install KidsGuard Pro.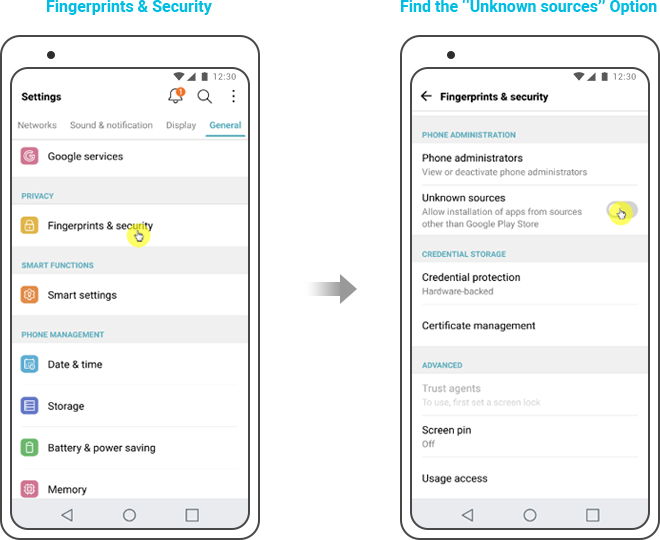 Step 4. Click on the KidsGuard Pro app icon to launch it and sign in using your username and password. Finish the setup wizard and after that, the app icon will no longer be visible on the device.

Step 5. Wait for the app to sync the data in the target phone to the dashboard, then you can remotely monitor all the activity of your child from anywhere.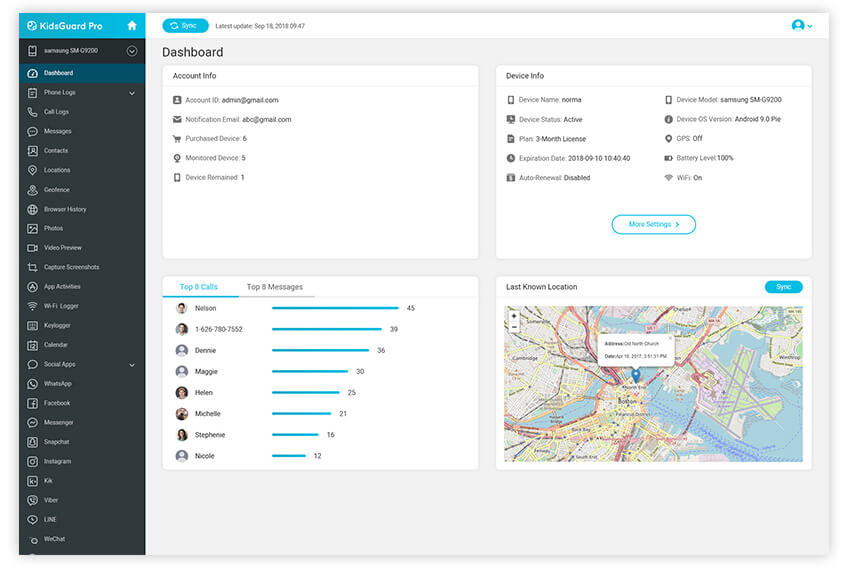 Part 2: Other Remote Monitoring Apps for Android and iPhone
Apart from KidsGuard Pro, there are many other parental control applications on the market, but they might not be as good as KidsGuard Pro. Some of them are mentioned below.
1. Spyzie
With the help of Spyzie you can, keep a check on incoming and outgoing calls and messages, download media files, track browser activity and set limits, use inbuilt GPS to track the real-time location, and much more. Once this iOS/Android remote access app is installed on the target phone, the app icon gets hidden automatically. With the help of this application, you can even get detailed messages, and call logs and take screenshots remotely. This application works very well on non-rooted or non-jailbroken devices
One of the major drawbacks is that in the iPhone version, the phone location cannot be tracked efficiently. Once you delete any data from the target phone it cannot be recovered in any way.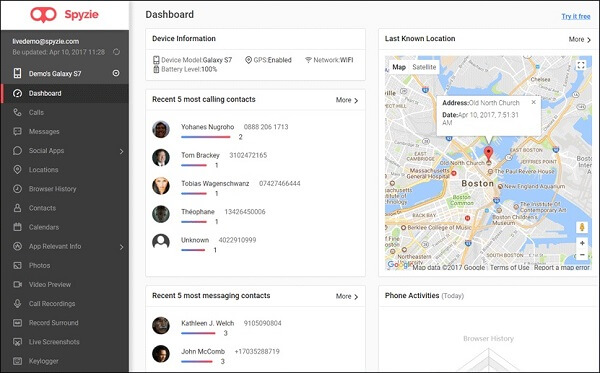 2. Bark
Using this app you can easily keep a check on 24 platforms which includes WhatsApp messages, emails, call logs, messages, and much more. Once the application is installed, initially you will be guided through the entire process of using every feature on the dashboard. You will get alerted automatically in case the app detects any form of potential risks and also you will get free expert advice on how to tackle a scenario or circumstance.
Even though you can check on various parameters, the location tracking feature is absent in this application.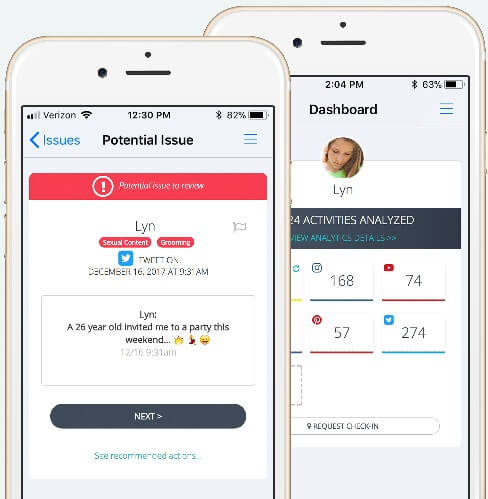 3. Hoverwatch
Hoverwatch is a mobile tracker app that can track text messages, call logs, contacts, calendar audio, camera, locations, etc. It also comes with the capability to monitor various social media applications like Facebook, Snapchat, Instagram, Whatsapp, etc. It is designed to remain completely invisible while it doing its job.
Overall, a simple, user-friendly, and effective monitoring app that is free to use for a limited amount of time!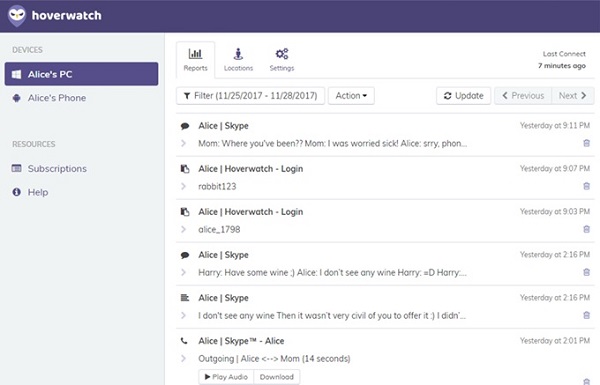 4. Mamabear
Mamabear helps parents monitor text messages, social media apps like YouTube, Instagram, Facebook, and much more on the target device. Location sharing is also possible with the use of this application. Detailed reports are given on a regular basis which can be accessed remotely. You can even be an alert if your kid is speeding while driving.
The fallback which this remote monitoring software is that it does not have the feature to remotely block a call from any number!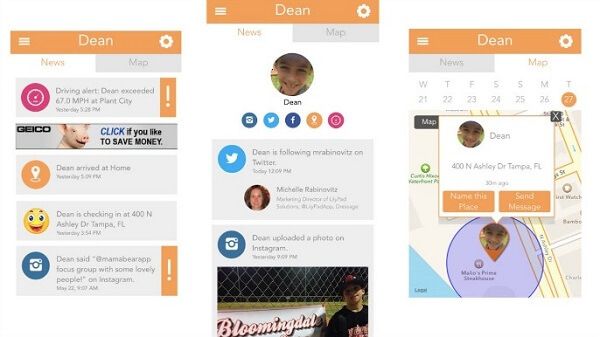 5. MMGuardian
This is one of the excellent parental control applications which come with real-time alerts, web-filtering, call blocking, app blocking, etc. You can easily install MMGuardian and keep a check on your child's activity.
With the help of this application, you can set time limits on your kid's phone and even track the real-time location of your child.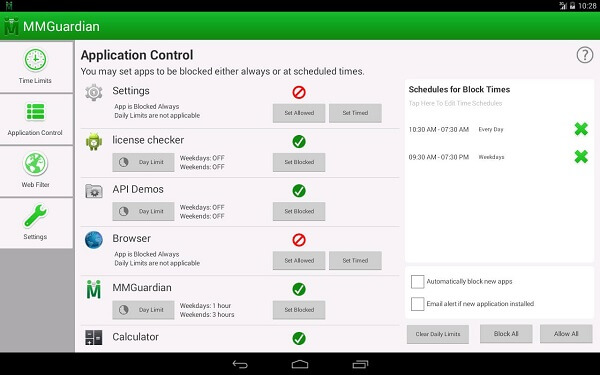 6. KidControl
KidControl is one of those free remote monitoring apps that are capable of location tracking and it is really good at it. With the help of this app, you can get SOS alerts in case of emergencies, automatic location alerts, online location tracking, and other reacted information.
Keeping in mind, this is only a remote location tracking app and doesn't have other features. You can start off with this app for free.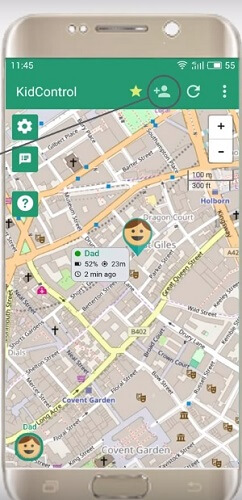 7. MobiStealth
All the sent, received and saved emails on the target phone can be accessed with the help of MobiStealth. It is a remote monitoring app for Android and iOS with the help of which you can also track cellphone location remotely. It has a very simple user interface, which would mean that any person with the basic sense of using a mobile phone can install this application and use it to monitor their kid's activities.
Only remote call recording feature is in-built in this app but you cannot block any incoming or outgoing calls from or to specific numbers using MobiStealth.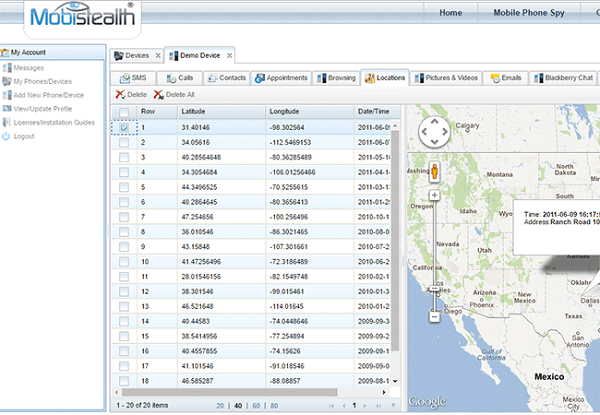 8. Appmia
This application comes with a free trial and has a set of unique features such as call recording, real-time location tracking, and social media app monitoring which includes Whatsapp, Viber, and Facebook etc. You can monitor text messages, emails and much more. Any photo or video can be accessed and seen remotely.
The lack of customer support and online instruction is a major drawback of this parental control application.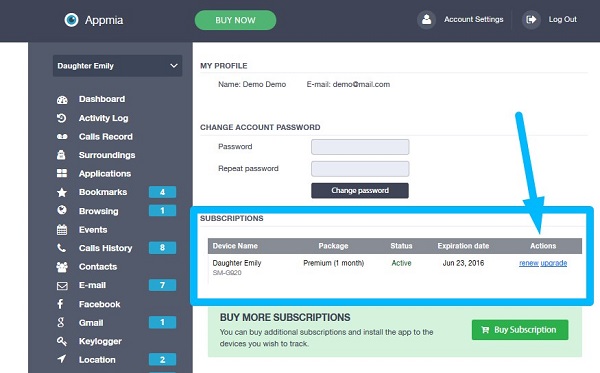 9. TrackmyFone
The real-time location of your child can be tracked with the help of this application, so that when in need you can reach them quickly. Also comes with geo-fencing! All the calls, messages, and emails can be monitored remotely by using this application. Social media applications such as WhatsApp, Skype, Messenger, etc on the target phone can also be monitored.
Live customer service is absent and comes with a 3-day free trial!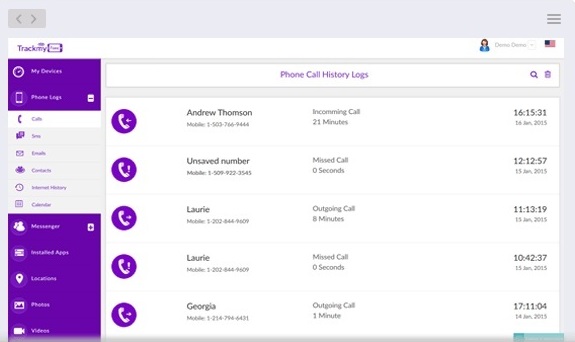 10. Norton Family Premier
Norton Family Premier is a famous parental control app which comes with remote monitoring features like app, media, text, email, and social media supervision. The app also provides content blocking, time limit, and location tracking etc.
Overall, a potent remote monitoring tool that can help protect your kid from potential danger online. It comes with a 30-days free trial that you can opt for.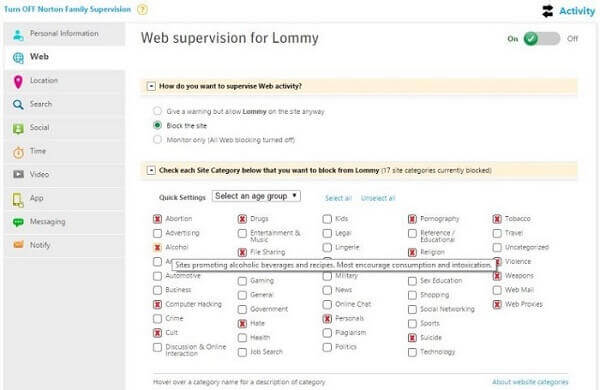 Conclusion
Even though all the applications mentioned above are pretty good, KidsGuard Pro is the best when it comes to the perfect remote monitoring software. It has an extensive list of unique features which prove to be very useful in tracking and monitoring your child's activity online. With the increase in the number of dangerous threats online you as a parent would definitely need to install any one of these parental control applications on your child's phone. This would keep them safe and protected from the dangerous threats online.