Parents must keep watching the browsing history of kids after specific intervals to know for what purpose the kids are using the phone.
Because kids are probably found all the time playing games and sometimes, they use social media applications or may watch adult content.
The same is the case with a spouse, and employees when you have some doubt about their sincerity you can search the browsing history to realize many things about your employee's work too.
In this article, we will discuss how to check private browsing history on phone.
How to Access Incognito History on Android?
What Does Incognito Mode Actually Do?
Incognito mode is a very interesting feature that enables users to do anything on their phones without being linked to their identity.
Incognito mode is ended by closing all the windows that are opened in incognito mode and after closing the window the history and other data are also disappeared.
Opening a new incognito window confirms that your browsing history, sites data, passwords, cookies, etc. will not be saved and thus others using your device can't watch your activities.
When your phone is on the incognito mode it by default set aside your login and passwords and your browsers are not connected to your emails.
Now you will be surprised to know that we can also track the history of browsers even at incognito mode using different software and tools.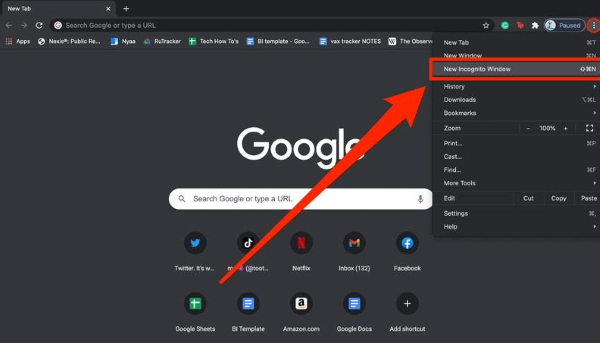 The above-mentioned question that how to check the history on Android is going to be answered in this part. The only best-suited answer for this is by using the KidsGuard Pro for Android.
It provides parents the facility to watch kids' activities online even their browsing history to see what they have been searching for using browsers on their Android. Parents can do this even without knowing kids so that parents will be able to realize what their kids do in their absence.
KidsGuard Pro for Android is the best choice for the incognito mode also. Kids who are much familiar with technology often use the incognito mode for browsing so that if anyone searches their browsing history could not find anything.
But for parents to even watch the browsing history on incognito mode, KidsGuard Pro is the solution. Hence, we can say that KidsGuard Pro for Android is the best answer you can give to anyone if someone asks you how to access incognito history on Android.
Let's go through the steps of using KidsGuard Pro for Android.
Step 1. Create an Account
Click Monitor Nowbutton below and skip to KidsGuard Pro's website. The first step is to create an account on KidsGuard Pro for Android and then choose a package you want to utilize.
Step 2. My Products and Orders Management
After selecting the package, move to the order management page click on the Setup Guide tab, and follow to instructions to start using it.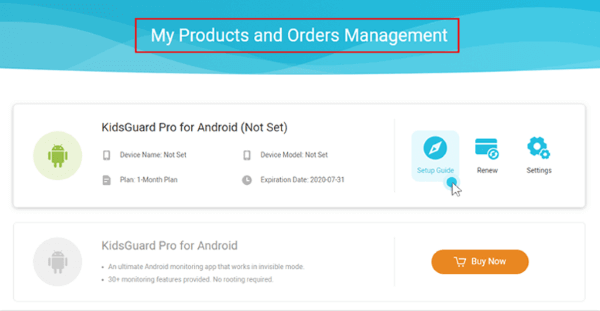 Step 3. View target phone's browsing history on dashboard
Open the Dashboard and click on the browser history tab available on the extreme left corner of the menu list.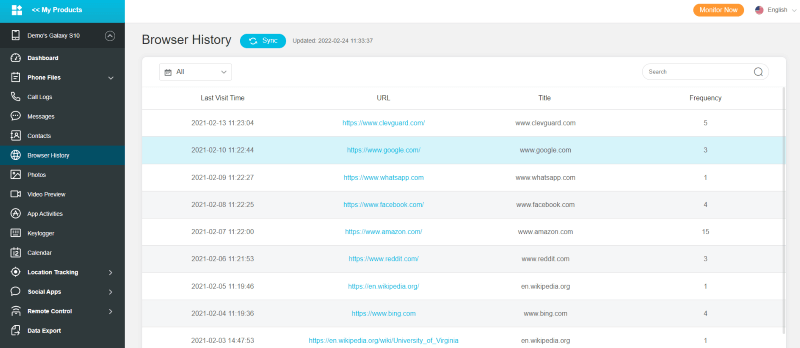 How to Check Safari History on iPhone?
KidsGuard Pro for iOS provides more than 20 features to watch the kid's activities online and the one for which KidsGuard Pro for iOS is considered the best application is its feature to watch the browsing history additionally it has a variety of other features also, that help the parents to keep an eye on their kid's activities online using iPhone.
Its interesting feature is that it also enables parents to watch even the deleted files from the connected iPhone. It also helps you to watch the location history of the targeted iPhone.
Parents can watch the browsing history of the Safari browser running on their kid's iPhone without even their consent so that they can secretly watch the activities of their kids online and then treat them as per need to save their future from ruining.
To connect the devices if you don't have the facility to connect them under the same Wi-Fi, then you must connect the device with your PC using the USB cable. Here are a few steps to watch the Safari history.
Step 1. Install and activate the app
First of all, you need to create your account and install the application to use. Follow the complete guideline procedure to activate the services after selecting the package.
Step 2. Connect the devices
Follow the instructions for the installation process to create a connection between the devices to get the data of your kid's iPhone.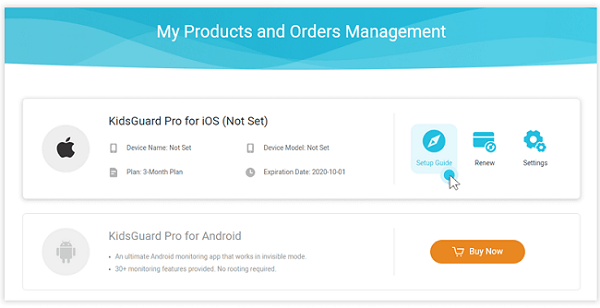 Step 3. View target iPhone's activity on dashboard
Open the Dashboard and find a scroll down the menu bar on the left side and look for the Safari history tab. In this tab, you will be able to watch the websites that are visited and their time and date also.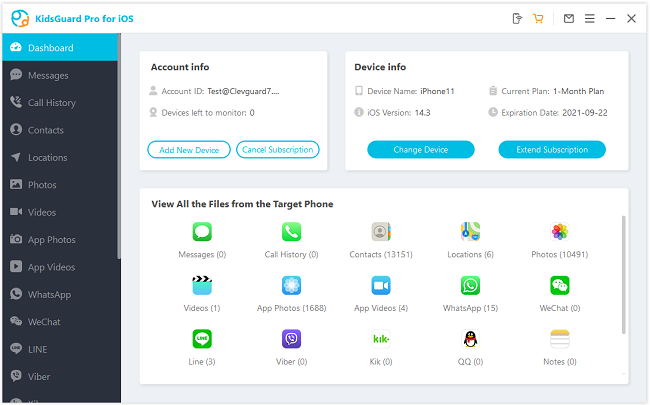 What Else Can You Access With KidsGuard Pro?
Check social media activities
As already discussed, KidsGuard Pro not only provides web browser history but its other features also help out a lot of parents to keep an eye on their kid's activities.
Parents can see all social media apps that are installed in the kid's phones by which they can realize what kind of apps their kids are using. Additionally, all the text messages, pictures, and videos shared from these apps can also be seen using this app.
Track calls and text messages
Another feature of KidsGuard Pro is that it enables parents to track all the calls and messages of the target phone.
Parents can know whom their kids are in contact with and also they can read the text messages being sent and received. Also, all the incoming and outgoing calls can be kept under observation by parents using KidsGuard Pro.
View photos and videos
KidsGuard Pro offers another very useful parental control feature for parents to view all the photos and videos in the phone gallery of their kids.
Parents are also enabled to watch those photos and videos that are being shared using social media apps. At young age kids usually share adult content for the sake of fun so this app will help parents to know about their child's online activities.
FAQs about Private Browsing History
Q1. How to Check Browser History on Your Own Android Device?
To check your browser history on Android, select "Apps" from the home screen and select the browser you have on your device. For Chrome browser, tap on menu and then click on history.
Q2. How to Check Someone's Browsing History on Android Phone Remotely?
To check someone's browsing history remotely you need to need parental control apps that are available in a large number but we will recommend you KidsGuard Pro as it possesses all features that a parental app should have.
Q3. How do I know if I am in incognito mode?
Incognito mode always has a black theme for your browser and will have no account attached as our Gmail gets connected on chrome normally. It also has a specific symbol shown on the top right corner of the screen.
Final Thoughts
In this article, we have learned what incognito mode is and what are the reasons different people have to watch the browsing history of our concerned ones? Then we discussed how to see incognito history on phone. There are several ways to watch the browsing history on Android or iOS devices but we must prefer KidsGuard Pro as we have discussed in detail how convenient it is and what extraordinary features it provides to users. All its features are unique and no other app or tool provides us these features collectively with a single payment.