According to a WorkTime study, over 30% employees spend their productive time on activities that are not related to work. In fact, the average worker spends seven or more hours each week spending productive time on activities which are not related to his/her job.
This is where an employee productivity tracker comes in or, more specifically, employee productivity tracking software. If you've ever wondered how to increase productivity of employees in an inexpensive and time-savvy way, then employee productivity software is all you need.
1. How Can you Track Productivity of an Employee Working from Home?
There are a number of ways to track employee productivity who are working from home. This can include anything from an email tracking tool to see the number of emails they are exchanging each day to a time tracking tool which tells you how they are making use of their 'company time'.
Other ways to track a remote employee's productivity might be through project management apps, task lists, self-reporting and managerial reports.
An employee productivity tracker, on the other hand, goes well beyond than just monitoring clock-ins and clock-outs or how many emails your employee has sent on any given day. They come packed with a variety of insightful features which all you keep track of your employee's productivity levels from start to finish each day.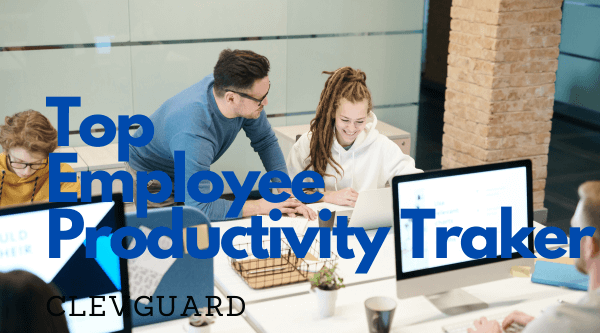 2. Is Using Employee Monitoring Software a Good Idea?
According to recent statistics, 64% employees visit non-work related sites every day on the job. Among these, 39% spend an hour or less, 29% spend two hours, 21% spend 5 hours, and 3% spend ten hours or more each day.
Employee productivity tracking software can help you understand how your employees are using their productive time each day. You can easily track how much time they are spending on delegated tasks. It's a practical way to see how much time is wasted each day on activities that have no bearing on work responsibilities.
If not used correctly, then an employee productivity tracker may cause privacy issues to arise, as well as lowered morale due to the feeling of constantly being monitored or watched.
On the other hand, if used correctly, then using employee productivity tracking software is a very good idea.
Here's how you can make the best of it:
3. Top 8 Best Employee Productivity Tracker
Indeed, you can get many results from internet when you search the topic of top employee productivity tracker. But which is the best one to try? Don't worry, we are here to pick the top 8 for you, and also recommend the best one based on our tests. Keep reading.
1. ClevGuard MoniVisor – 5/5 stars
MoniVisor for Windows is a leading employee productivity tracking software to help employers monitor how employees are spending their productive time. We're placing this at the top of our list as we feel this is the best, most discreet way to see what your employees are doing during their productive hours.
MoniVisor brings a series of unique features for tracking employee efficiency. From remotely monitoring social media chats and reading send/received emails to tracking all the internet activity, and auto-screen shot taking, this employee productivity tracker has it all, really, when it comes to keeping tabs on your remote workers.
MoniVisor even lets you view every keystroke typed, helping you establish a pattern so as to how productive or non-productive your employee is. Most important of all, they'll never know they're being monitored!
If you have ever been curious about how your employee spends their time on their computer while working from home, then MoniVisor PC monitoring software can help you silently track desktop activities, helping you see exactly what your employee is seeing on his/her computer screen!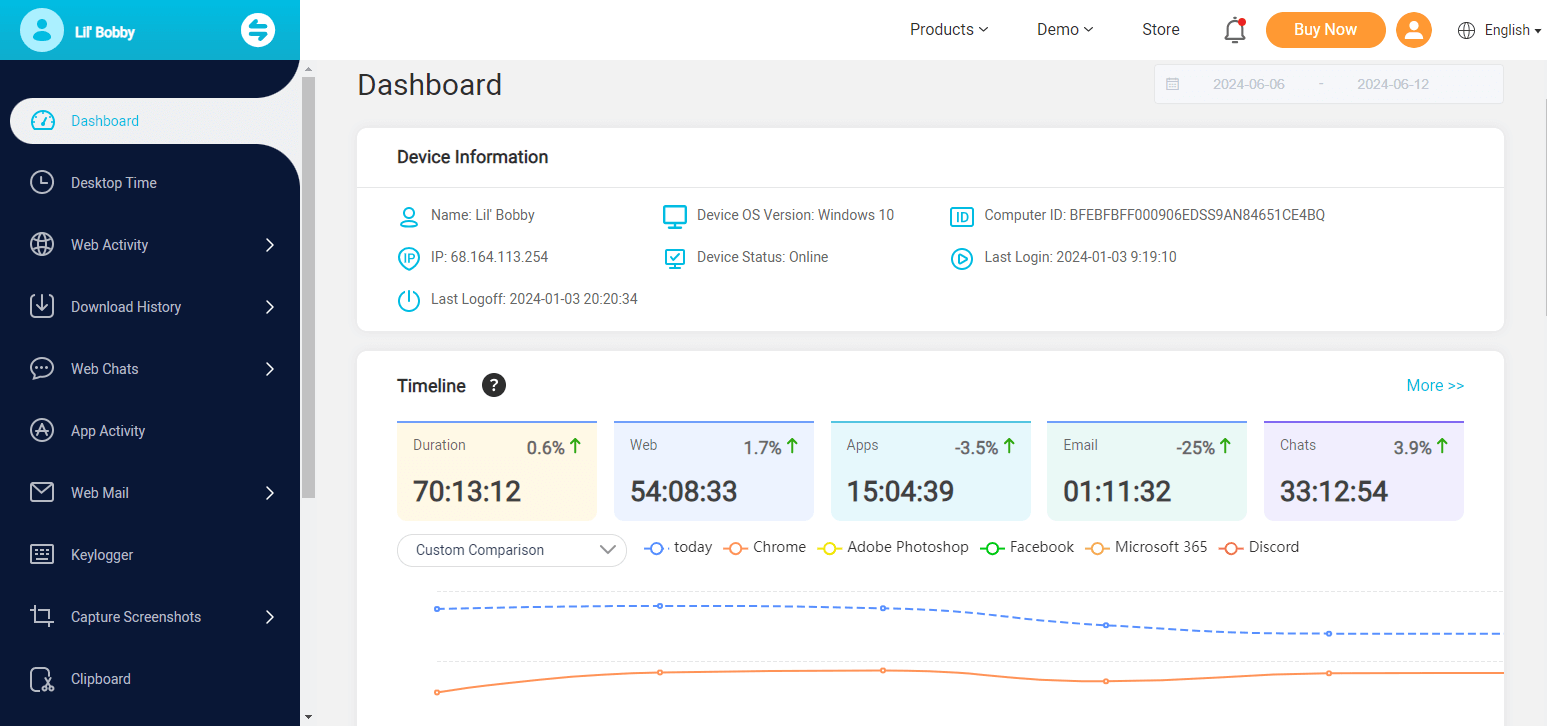 2. Teramind – 4/5 stars
Teramind is another fantastic employee productivity tracker, offering functionality which can capture almost any user activity. This can range from tracking emails and keystrokes to screen recordings, live views of employees' desktop screens, Zoom sessions, and more.
The key features of this brilliant employee productivity tracker include time tracking, employee monitoring, productivity optimization, data theft protection, compliance, and insider threat detection. With its suite of comprehensive monitoring features, along with its depth of embedded reporting features and robust analytics, we're placing this as our second-favourite employee productivity tracking software. What makes it different from MoniVisor is that this tool mainly collect reports rather than the detailed contents.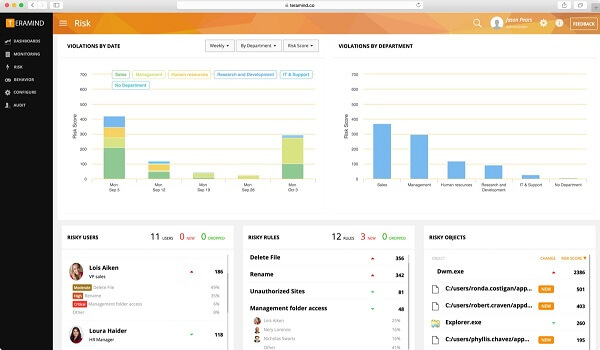 3. Time Doctor – 3.5/5 stars
There's a good reason over 83,000 companies have chosen Time Doctor as their employee productivity tracker of choice. In fact, some of the biggest brands today like Home Depot and Verizon are using Time Doctor to monitor their employees.
The best part is Time Doctor seamlessly integrates with tools you may already be using like Trello, Basecamp and Salesforce, to name a few. As the name of this employee productivity software?suggests, Time Doctor helps with time tracking in order to improve employee productivity.
Your team managers get pop-ups when team members are unproductive or visit non-work related websites, for example. Every employee is given a daily report on productivity metrics so that they can take steps to boost productivity. In addition, Time Doctor also offers a host of useful features like webcam shots, web and app usage statistics, screenshots, chat monitoring, break tracking, off-track reminders and more.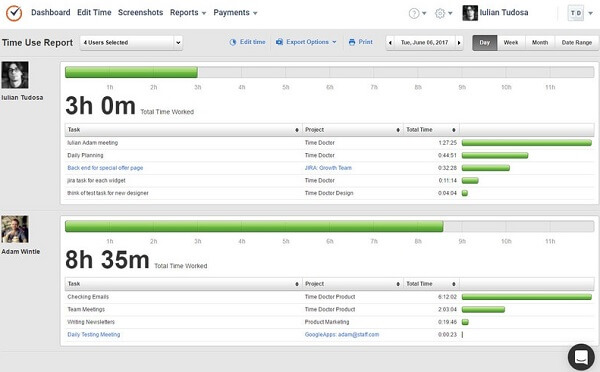 4. ActivTrak – 3/5 stars
ActivTrak is a great employee productivity software on its own, offering a 'free forever' plan initially, helping companies measure productivity and boost employee efficiency by improving workflows.
The clout-native employee productivity tracker analyzes remote workplace activity for each employee and then sends reports to help you see who your hardest working or most unproductive workers are. You will also be able to see each worker's level of engagement and see who might become disengaged.
When it comes to tracking and improving inefficient workflows, ActivTrack is a fantastic employee productivity tracking software. Additionally, it also includes features such as real-time monitoring, website blocking, USB tracking, screen playback options, remote installation and activity alarms.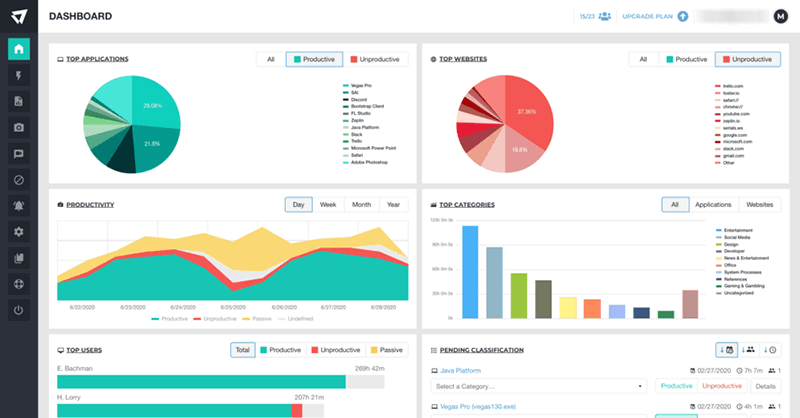 5. Hubstaff – 3/5 stars
We feel that Hubstaff deserves the same love as ActivTrack when it comes to monitoring and managing a remote workforce. Keeping your remote staff engaged can be tough but this employee efficiency monitoring tool can help you hold everyone accountable.
Hubstaff's top features include detailed reports, productivity measurement, online timesheets, GPS tracking, geofencing and more. It's a very economical and practical way to keep a check on your employees, and used commonly in the freelance, consulting, cleaning and healthcare sectors.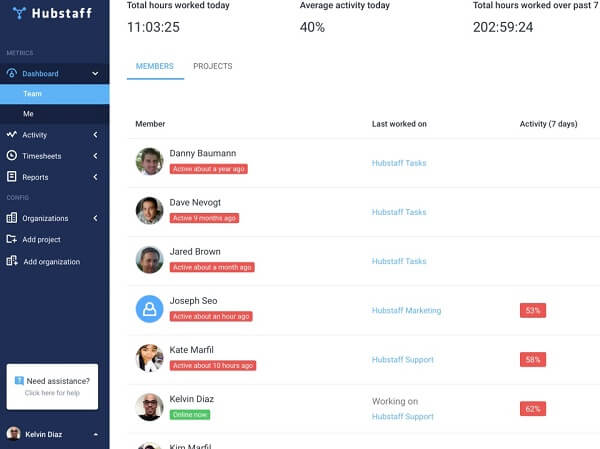 6. StaffCop Enterprise – 2.5/5 stars
When stacked up against the others, StaffCop Enterprise is still a comprehensive employee productivity tracker offering a rich and varied selection of tracking features. It offers powerful surveillance features as well as data acquisition and reporting – however, it requires on-premises installation to work, which means your employees will know they are being tracked.
It's highly configurable, offers webcam capture capability, OCR functionality for documents and screenshots, powerful reporting and remote desktop control.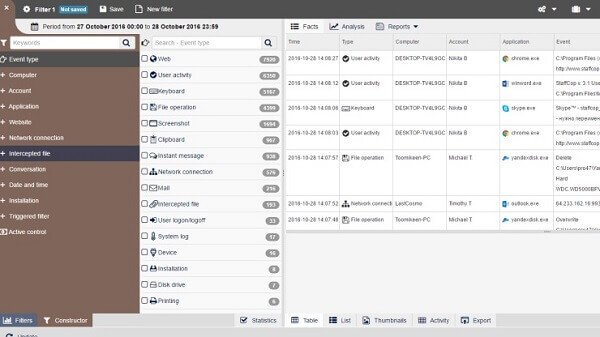 7. DeskTime – 2/5 stars
Even though DeskTime is a really easy-to-use?employee productivity software and even though it doesn't offer a myriad of features like the other trackers, it still offers three essential features that make it worthwhile: project management, employee monitoring and productivity analysis.
In addition to tracking time, DeskTime also calculates each worker's daily efficiency and productivity by categorizing programs, apps and URLs. Plus, you can easily create employee groups and manage application productivity separately for each group.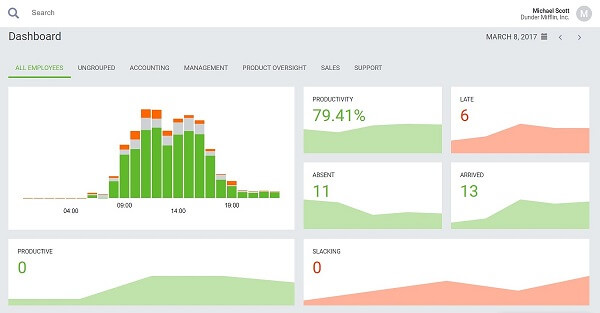 8. Veriato Cerebral – 2/5 stars
Veriato Cerebral is well-known among organisations of all scales for its robust employee tracking and engagement features. Its data collection abilities powered by AI can track employee activity and mitigate any potential insider threats.
Along with great visibility into employee communication and activities, you also get a good balance of monitoring and analytics under one interface.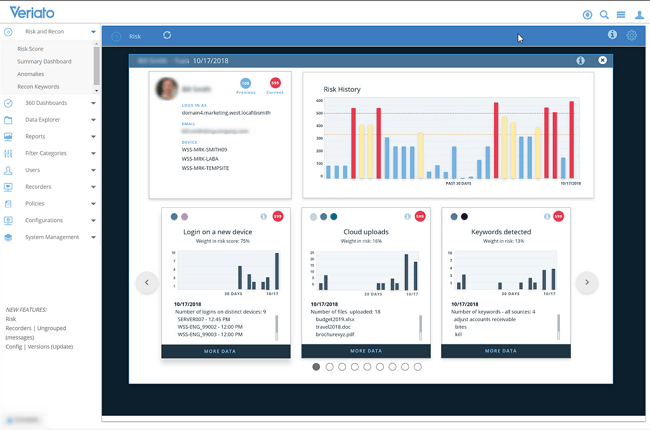 4. How to Choose the Best One as Employee Productivity Tracking Software?
To be fair, these are all great employee productivity trackers – but if you're looking for a tool that helps you view literally almost anything remotely and secretively on your employee's PC, then a hidden computer monitoring software - MoniVisoris a clear winner.
If you're just looking to get daily reports, then any of the other ones like Teramind, Hubstaff or ActivTrak would do.
5. How to Increase Productivity of Employees?
In general, there are many ways with which you can boost employee productivity outside of using an employee productivity tracker:
Focus on results rather than the number of hours spent on any specific task

Communicate expectations more clearly and directly

Proactively communicate with your team and offer constant feedback

Trust and empower your managers to use a non-conventional approach where needed

Encourage a culture of self-reporting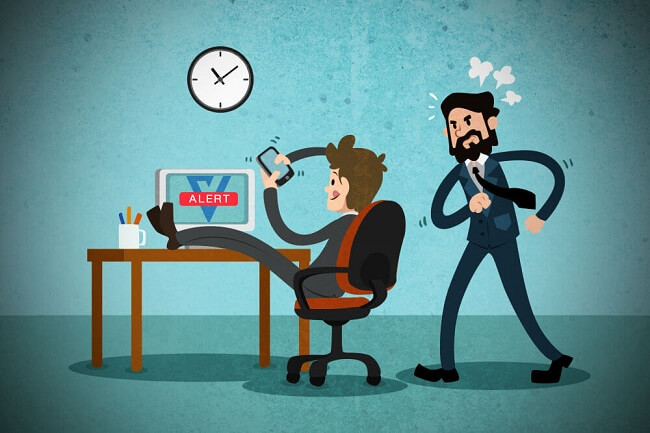 In Closing
With the above tips in mind, it still makes a lot of sense to use an employee productivity tracker like MoniVisor to help identify productivity gaps and keep everyone better engaged.