Question:
Some Pop-ups and web pages of adult content often appear on my computer recently. Is there any free porn blocker to stop them? I don't want my kids to see these.
Advertisements are a major thing that we can't ignore while surfing the internet. Most websites earn money by displaying ads and these ads can be of any type such as video, poster, or banners. The nature of ads depends on the website where they are being displayed.
Your kids can get exposed to anything good or bad that is available on the internet such as violence, gambling, and pornography until you have installed any kind of free porn blocker, website blocker, or enable the explicit content filter. These websites aren't only harmful to kids but they often contain malware and viruses which can result in losing all data stored on your computer or smartphone. In this article, you will learn how to block inappropriate websites on phones and computers using different methods.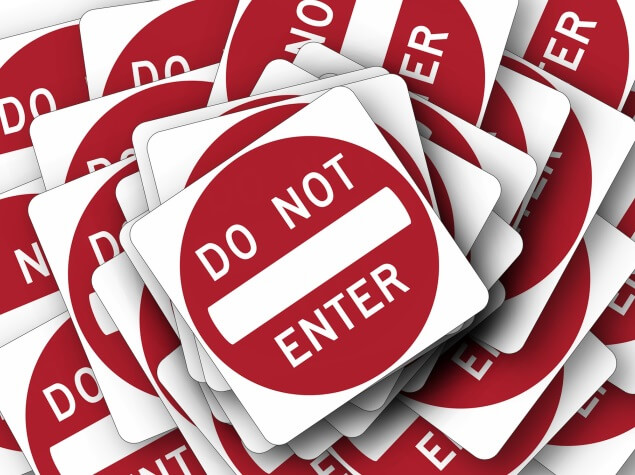 Part 1. Way to Block Porn Website in Mobile and Computer
1.1 Remove access to adult content using DNS
How to block adult content using DNS and what are DNS servers? First, get an idea about DNS, DNS stands for Domain Name System.
DNS is a process that has made humans easily remember the URL of websites. The IP address of Facebook is 69.63.176.13.69.63 and you will have to remember the IP addresses for each website that you want to visit. Remembering a complex combination of numbers is a very difficult thing to do and that's why DNS is used. It has made our internet browsing easier and now it automatically translates the URL into an IP address whenever we request to visit a webpage. Such as if we want to visit "facebook.com" and we hit this URL into our browser the DNS will automatically tell the computer to visit "69.63.176.13.69.63".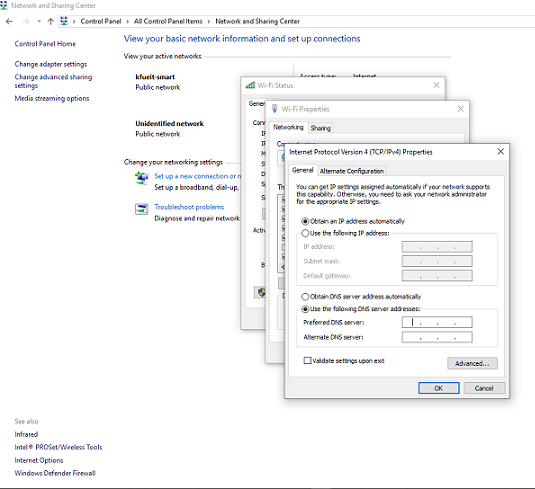 With the help of DNS servers, you can block porn websites and you can find free and paid DNS servers on the internet. Here's how to block porn using a DNS server.
Open Control Panel and then click to Network and Sharing Center.
Click on active network connection then details and copy the IPv4 Default Gateway such as "192.168.1.1"
Paste it into a web browser and enter your router's credentials to log in.
Remove the current DNS IP address from the text boxes and write down the new DNS servers that you want to use for blocking porn websites.
Save it and log out from your router's web interface
This will block all unwanted websites and it's free blocking software that you can use to block porn on all devices that are connected with your router whether it's a computer, smartphone, or tablet.
1.2 Use parental control in phone
Apple has built-in parental controls on iPhone, iPad, and iPad touch that allow users to restrict many things such as:
Prevent explicit content and content ratings
Restrict Siri web search
Allow changes to privacy settings.
Restrict Game Center
Prevent web content
We will make use of Prevent web content to block adult websites. It has a feature that automatically filters website content to restrict access to adult content on apps installed on your iOS device including the Safari web browser. It allows you to add websites yourself that you won't want to see on your kid's iOS device and can limit access to websites that are approved only. Follow the steps given below to use a free porn blocker.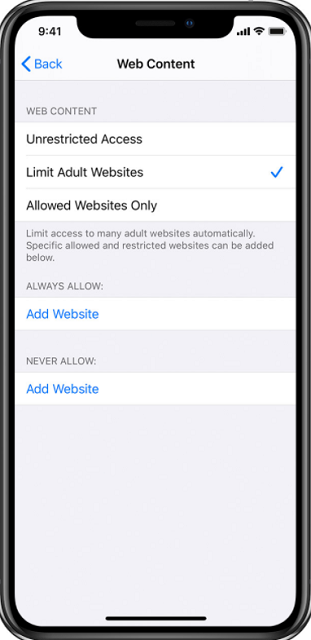 Open "Settings" and go to "Screen Time"
Now tap Content and Privacy Restrictions and type your Screen Time passcode.
Content Restrictions and then Web Content.
Here you can choose Limit Adult Websites, besides this, you can add websites that you don't want your kids to visit as well. You can allow the device to only visit websites that are allowed.
Now, even if your child is about to reach adult websites the iOS device won't even open it in the browser as they will be automatically blocked by the Web Content filter. This is a free porn blocker for kids. If you find any websites that are not being restricted by the iOS device, you can add that website manually and it won't be able to access anymore on the iPhone.
1.3 Use SafeSearch for Search Engines
Internet is becoming safer for kids day by day due to the efforts done by search engines. Google search engine has a feature that's known as SafeSearch and you can use it to filter sexually explicit search results while you are using Google in the office, with children, or for yourself.
How SafeSearch Works?
When a user enables SafeSearch on Google, it restricts the pornographic or adult content from your search queries whether they are websites, images, or videos. SafeSearch only works on Google search results and other users on your network may search and get access to adult content. It's a free porn blocker feature but it's not 100% accurate always.
How to Turn on or off SafeSearch?
Go to Search Settings or think link https://www.google.com/preferences directly.
Check a box that's labeled as "Turn on SafeSearch" if you want to turn SafeSearch off, please uncheck this box.
Click on the "Save" button at the bottom of the page.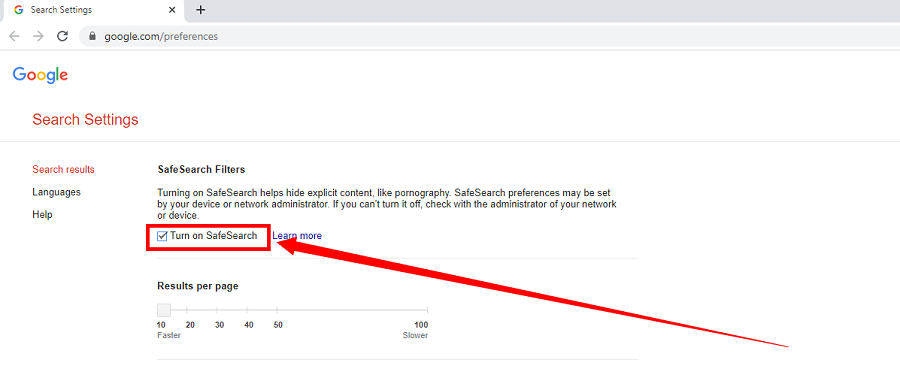 1.4 Ad blocking Sofeware AdGuard
AdGuard is a tool that makes your web surfing smoother, safer and secure. It has more than one feature to offer such as it's the most advanced ad blocker for Windows, offers privacy protection, and also a parental control tool. The parental control module allows parents to protect their kids from adult and pornographic content on the internet. By enabling the Parental Control feature, AdGuard activates SafeSearch which will block user's access porn websites including other inappropriate material. This works with Google, Yandex, and Bing search engines.
Here are the steps on how to block inappropriate websites using AdGuard:
Step 1. Download and install AdGuard for Windows, install it according to the instructions provided.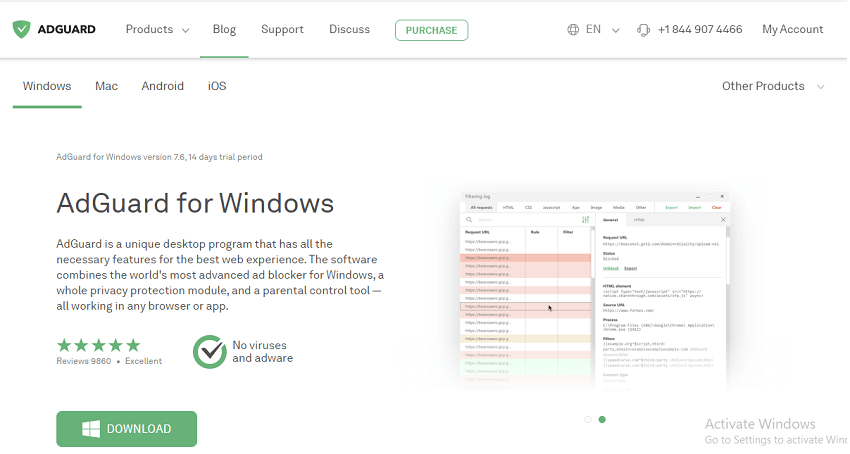 Step 2. After the installation process, launch the AdGuard for Windows and click on Settings. You will see different options in Settings click on Parental Control.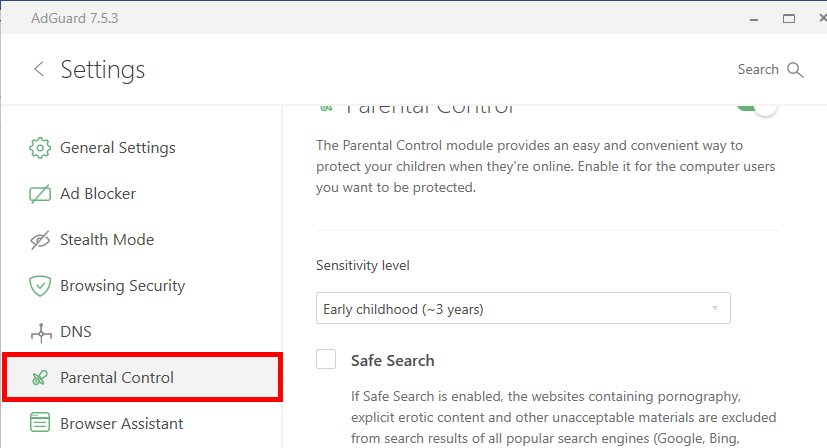 Step 3. Slide the switch button and the options will be activated, select the sensitivity level according to the age of your kid and check the Safe Search box below its position.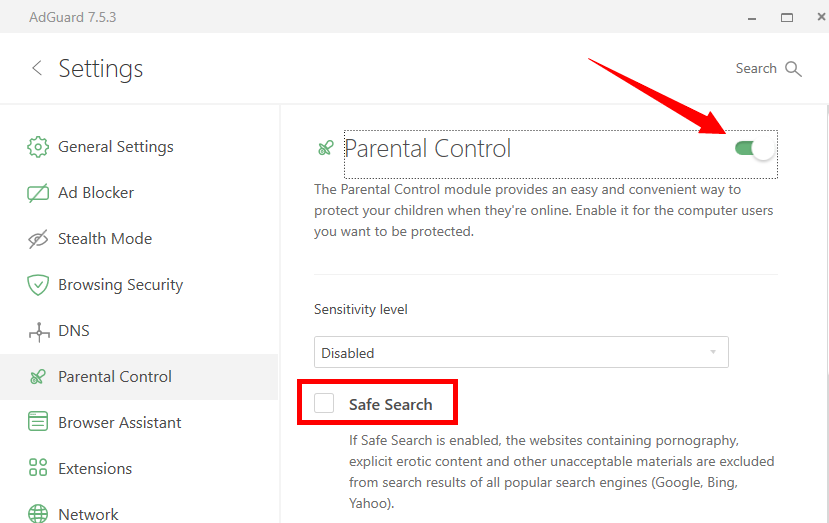 Note: You can add specific websites as well which you don't want your kids to visit or you feel that they are unsafe for your loved ones.

Besides, these porn blocking features there are other useful features such as blocking ads because sometimes inappropriate ads appear which is not a good thing for kids.
MiniVisor for Windows - Monitor Web without Set Site Blocker
The best way to monitor the web without a site set blocker is to use MiniVisor for Windows. MiniVisor for Windows is a monitor application that can be used to monitor activities on target computers. Suppose, you want to know whether your kids are into porn website or not, you can use MiniVisor for Windows to monitor their internet browsing history and all the words typed on target computer.
Tracking Internet Activity
Recording all the keystrokes
Capturing the screenshots.
It enables the users to track all the internet activities and downloading's that were performed by the user on the target computer.
MiniVisor can monitor all the social networking websites and apps such as Facebook, Instagram, YouTube, Skype, WhatsApp, and Twitter, etc.
You can view all the internet browsing history and you can exactly know when and at which time a specific web page was visited and how much time was spent there.
View all the downloading files and also the path where files are stored.
It supports all the famous web browsers such as Google Chrome, Firefox, Microsoft, Edge, Internet Explorer, and Opera web browser.
MiniVisor for Windows allows you to view the internet browsing history and look if there's any kind of inappropriate activity or visited any web page that was related to adult content. By viewing the internet browsing history, you will get a clear idea about your kid and if you realize any search related to explicit images or pictures, you can ask your kid regarding this and can take action that's appropriate according to the situation.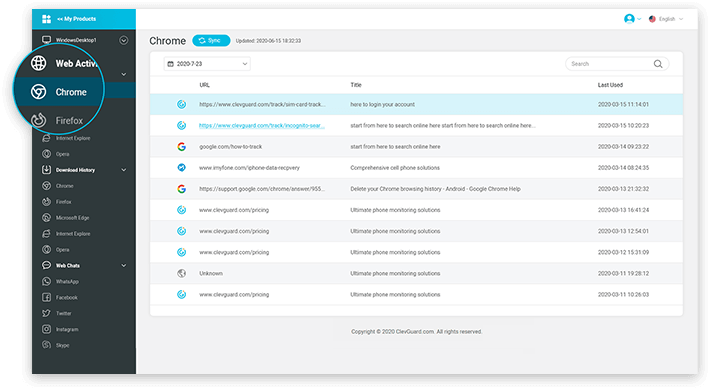 Another thing that really can help to block inappropriate content is the use of keystrokes as all the keystrokes will be saved and parents will be able to see what their kids do online and what kind of things they are into.
Conclusion
The new generation is getting more into adult content on the internet and if you don't stop them at the beginning, it gets worse. Especially kids are not mature to decide what to see on the internet or what to leave, that's why it's recommended to use porn blocking software to ensure the internet is safe for your kids and loved ones.