Due to the current pandemic, the practice of working from home has become pretty common. Although you may find almost everyone working from home these days, this poses a great challenge for the managers. Managers have no way to ensure that their employees are working efficiently from home by spending the required amount of time on assigned projects.
Are you worried whether your employees working from home are genuinely working or wasting time? Do you want to know how to monitor employees working from home? If yes, you have come to the right place! This article will tell you about the ways in which you can spy on your employees working from home to check whether they are effectively dedicating time for working or not,  and you can view all the file from their computer.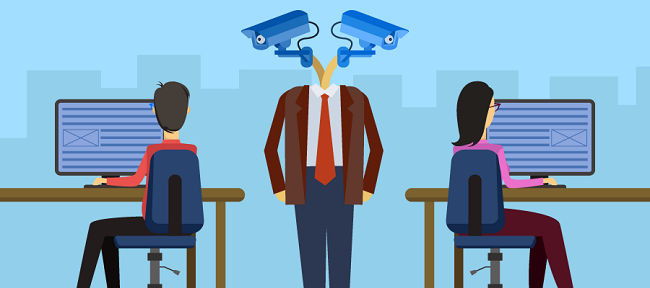 1. Can you Spy on Employees?
Legally, employers can monitor and check almost any activity carried out by their employee at work as long as the reason behind monitoring their activity is crucial enough for the employer's business. Employers can even install video cameras, read the postal mail and email shared and exchanged in the work space, monitor phone and computer usage, and use GPS tracking at work to ensure employee productivity.
These things become much easier to monitor and check when the employees are physically present in front of you. However, with a work from home kind of scenario, keeping a check on employee activities becomes pretty difficult. Then the best way is to ask for some third-party apps for help.
2. How Do Companies Monitor Employees Working from Home?
As discussed above, monitoring the activities of your employees who are working from home may be difficult. There is a way in which you can make this process hassle-free. With the help of MoniVisor for Windows by ClevGuard, you can remotely monitor all the activities of employees working from home. This is one of the top-rated apps for monitoring desktop activities remotely. This app silently records all the activities on the computer without letting the user know. So if you have provided laptops to your work from home employees, you can install this app on it to monitor their activities.
If you want to know how do companies monitor employees working from home by using this app, you can follow the simple steps given below.
Step 1: Get a Valid ClevGuard Account and a licensed Plan.
Using a valid email address to create a MoniVisor account, then pick a suitably priced plan and make the payment to start to enjoy all the features. We know that there is no free way to monitor someone's computer, we tested out and proved that MoniVisor is the cheapest and the most valuable Windows computer monitoring tool.
Step 2: Follow the Guide to Download And Install MoniVisor correctly.
After the successful purchase, you will get to the My Products page, and there you can get the Setup Guide. Follow the setup instructions on-screen and make the necessary changes in the system configuration to finish the activation process.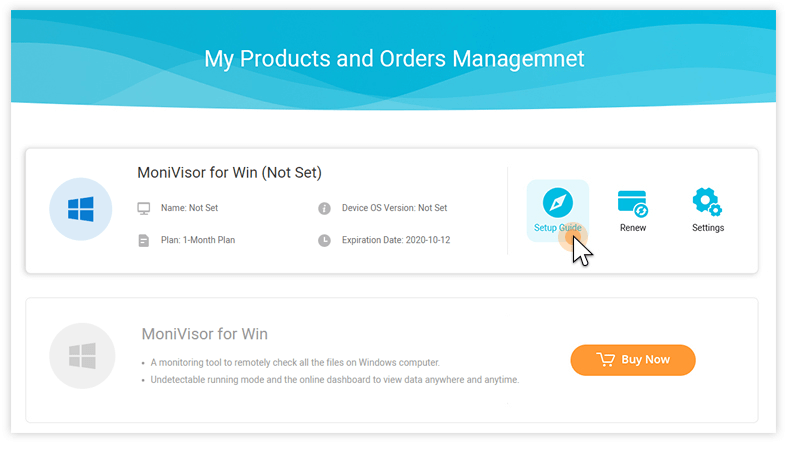 Step 3: Access to the Online Dashboard to Monitor Employees
Use your account details to access the online dashboard from any device. Once you do this, you can use the options given in the dashboard to remotely monitor all the activities on the computer on which this app is installed.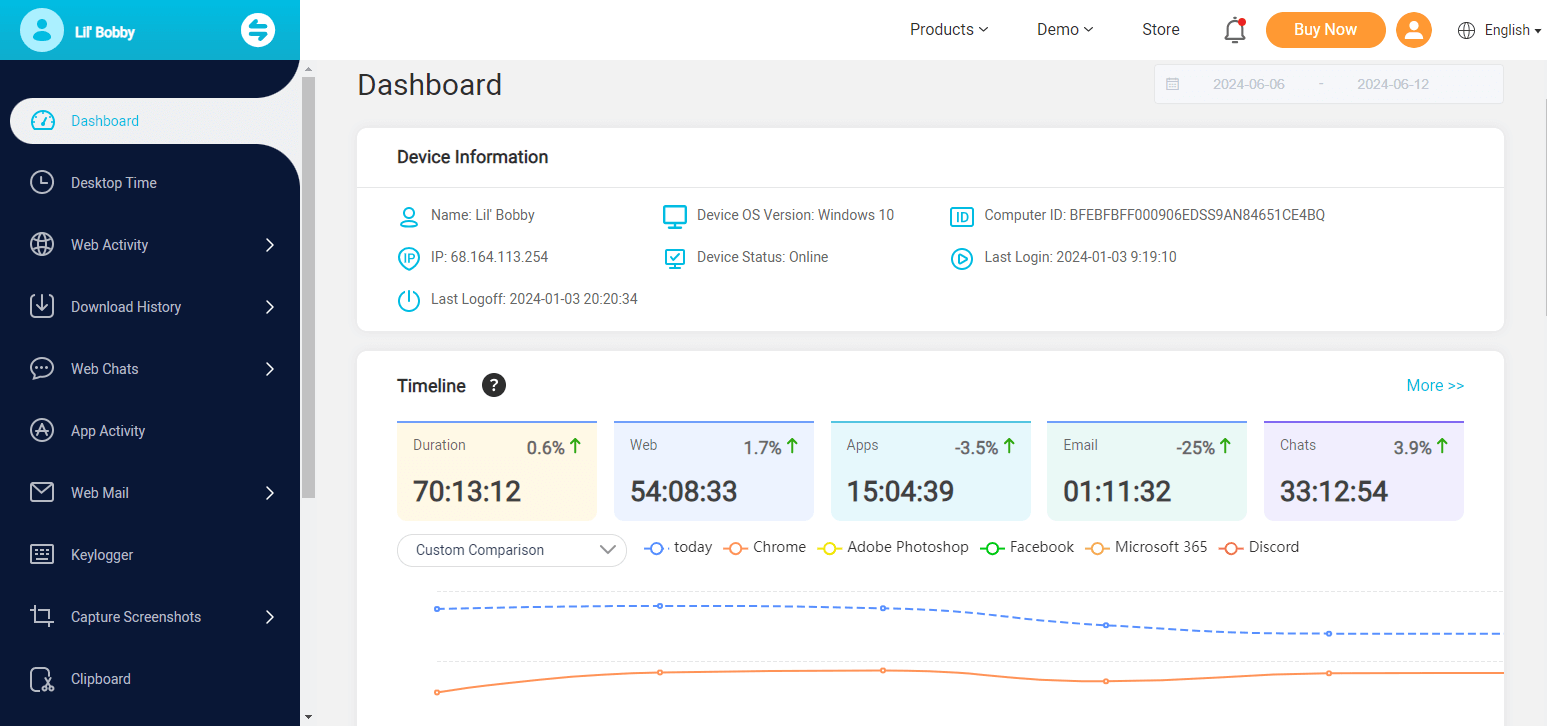 2.1 What Does MoniVisor can do for Employee's Working Monitoring
MoniVisor can be used to monitor several types of activities on the target device, some of which are given below.
Check conversations on social media (web): All the chats on popular social media platforms can be monitored remotely, such as WhatsApp, Facebook & Messenger, Twitter, Skype and Instagram. Even the details about the receiver of  the messages, emoji, media files like photos and videos can be checked.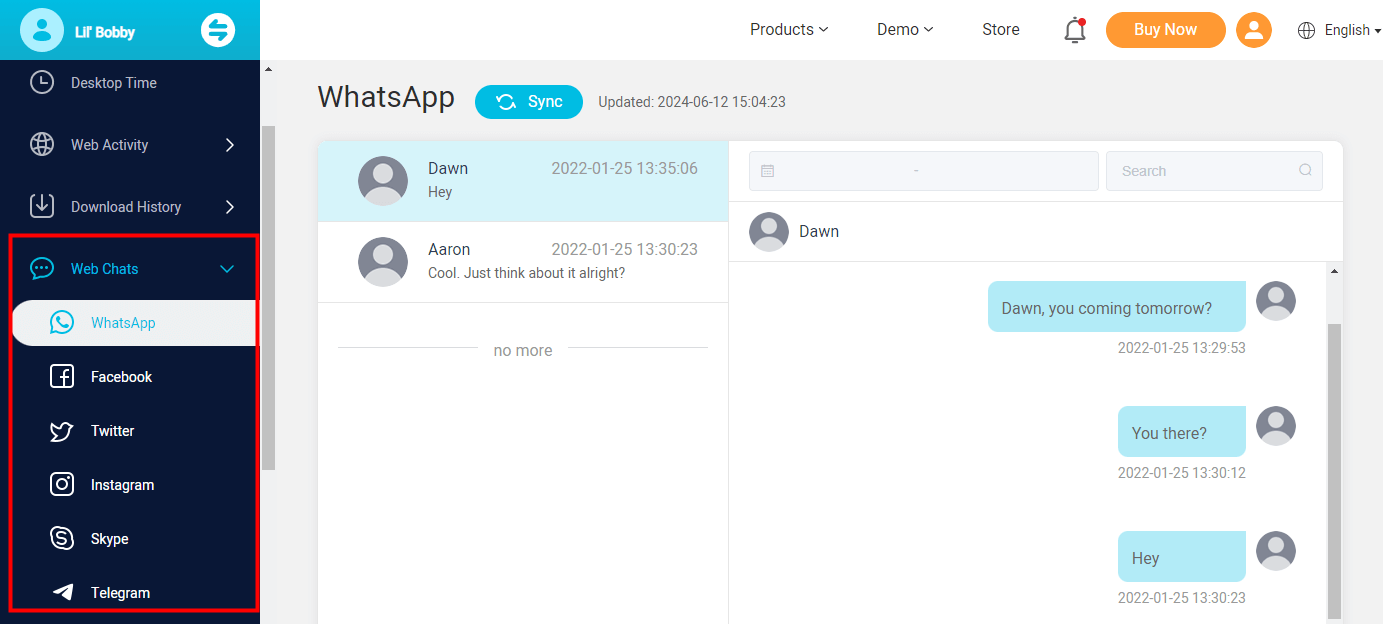 Monitor browser history and download history: All the URLs browsed and used for downloading content gets stored and synced to the online dashboard and you can directly click on these URLs to check what the target device user was searching for or downloading.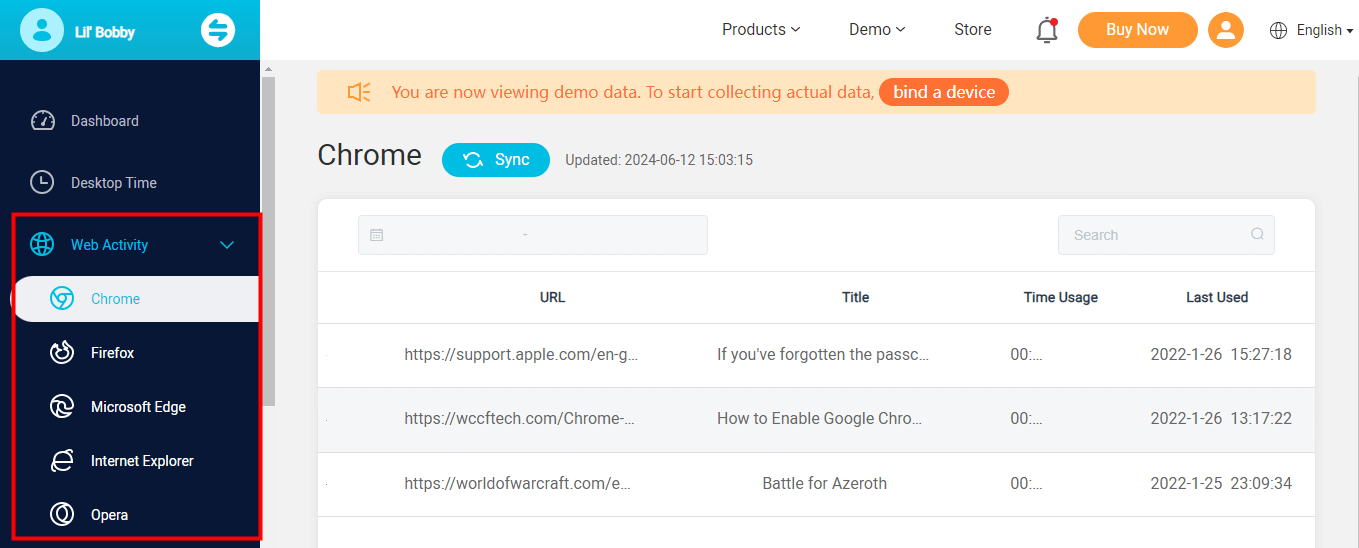 Access exchanged emails: Any email sent or received through any of the web-based programs can be checked with the help of this app. You can check the full contents including the email address from Gmail, Yahoo mail and Outlook.

Take instant screenshots from the target desktop : You can make this app take automatic screenshots of the target device at specific time intervals. All the captured pictures will sync to your dashboard automatically. You can even download these screenshots later for your later viewing.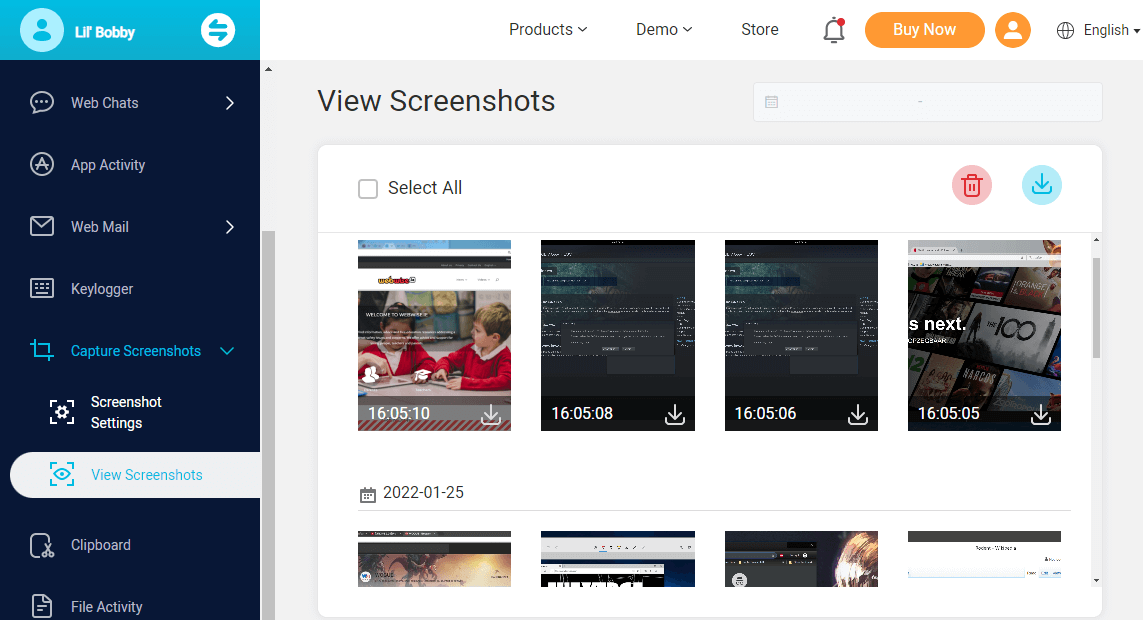 Record every keystrokes: Whatever the target device user types on the keyboard, it gets recorded by this app. Even the keystrokes that have been deleted or used in incognito mode can be viewed with original timestamps. It's really the best keyboard recorder.

Track app activity :The activity on every app being used on the target device can be recorded and viewed. It will calculate the usage time and the last using time.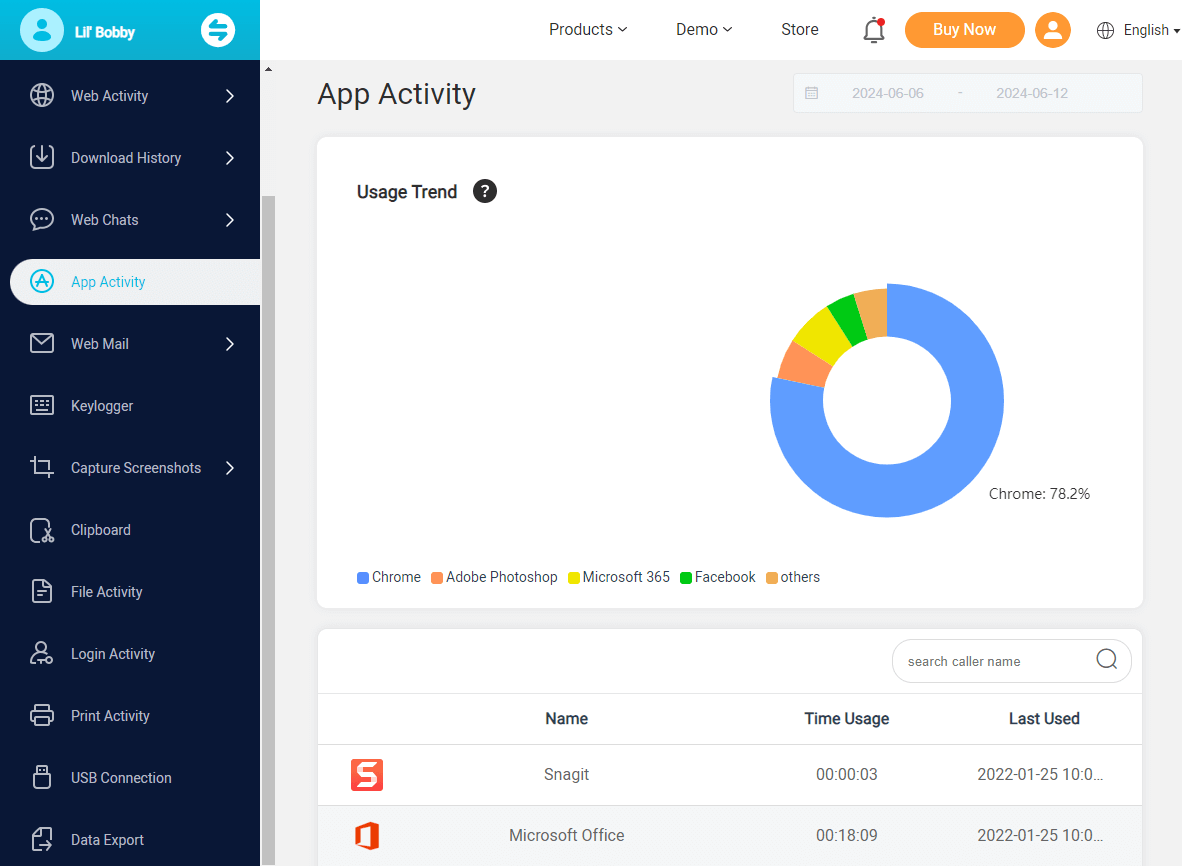 Monitor login activity: The timestamps and login history on the target device can be tracked easily. Maybe this can be used as a reference to employee's attendance.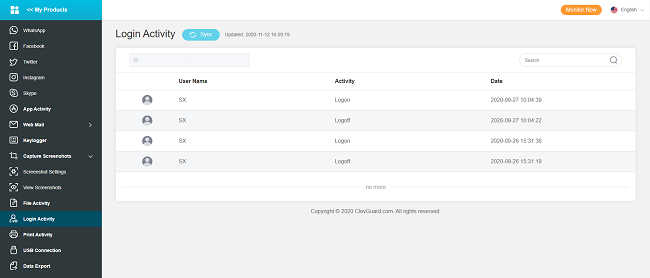 Record file and print activity: Whenever your employee carries out an activity on a file or prints something, it will all be recorded by this app. All the full file path will show you for your checking.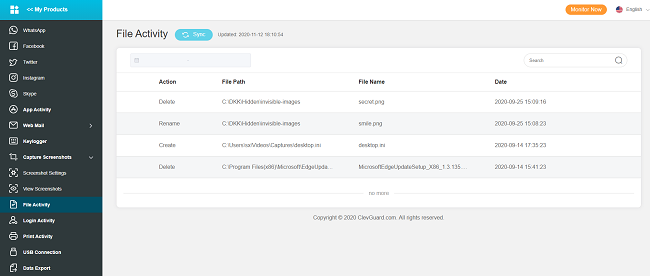 Check the USB connected device You can check all the devices which may have been connected to the computer through the USB port.
One try is better than a hundred hearers, want to experience these wonderful features just try it now!
2.2 FAQs about MoniVisor
You may have some questions about such kind of professional computer monitoring app and want to make sure if it's suitable for you to appyly it for employee monitoring. Below are some questions and answers to ease your concerns.
1. Do I need to physically access the target computer?
Yes, but you only have to physically access the target computer once to download and setup the app after which you can remotely monitor all the activities on that computer.
2. Is this app totally hidden after the installation?
Yes, once you install and activate this app on the target computer, it automatically goes incognito, which means that the target device user would not know that their activity is being monitored and then you can monitor them without detection.
3. Can I view the data from the target computer in real time?
Yes, this app provides the feature of syncing the captures data n real-time. And if there is  a network delay problem, you can manually sync the data too.
Above are the most frequently asked 3 questions by the users. If you are very interested in this employee monitoring app, you can look the product FAQs page for more information.
3. How do you Measure Employee Productivity when Working from Home?
When it comes to working remotely, there's typically one concern that plagues employers and employees alike: will you still get as much done? How do you measure productivity?
Well, here is the list for you that you can refer to these aspects to mesure employee productivity.
Set clear goals and deadlines: The company should maintain a results-oriented culture. This may automatically push the employees to finish the tasks and improve the productivity.

Analyze important tasks: This will help you measure productivity by the number of important tasks they have managed to resolve per week.

Track progress on priorities:Focus more on priorities than on numeric goals. Set them frequently to adjust those priorities. Productivity is measured by how much progress they make on those priorities in a given time frame.
How to Monitor Employees Working from Home [Video Guide]
Summary
You will definitely benefit a lot if you invest in a remote monitoring tool if your employees are working from their home. You can ensure employee productivity by doing this which would in turn affect the growth and development of your company. The best tool or app to invest in for such a purpose is MoniVisor for Windows by ClevGuard. This application to monitor employees working from home is highly recommended for all those employers and managers who wish to keep a check on their employee's activities on their computer.