With much going on around the world, and with the work-from-home culture, because of the pandemic, employee monitoring is absolutely mandatory.
But employee monitoring is a diverse subject. It is not as simple as tracking the time or managing the schedules or the workloads. The tools we have detailed in the article below have the most intricate monitoring features like keylogging, location tracking, and screenshots capturing.
These tools are also designed for tracking people on a large scale. Some of the tools are also more focused on time tracking instead of activity, which depends on your need. So, let's check out the article below and pick the computer activity tracker of your choice.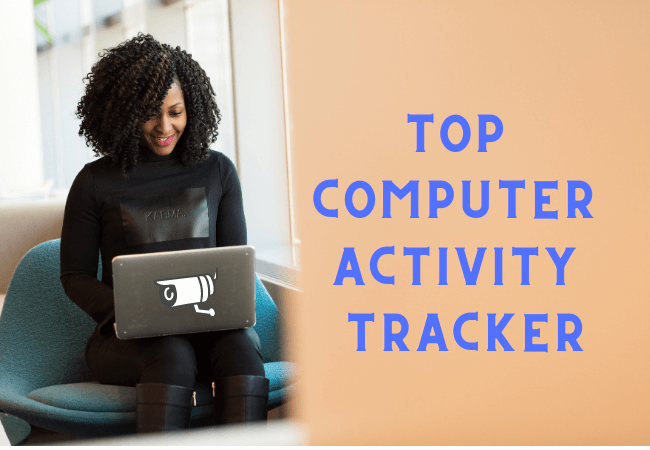 1. First Pick: MoniVisor Computer Activity Tracker Review
Well, our first pick is MoniVisor computer tracker. It is one of the best ways to monitor computer activity remotely.
MoniVisor works through a hidden app running on the target's computer and an online dashboard to check all the data. It does make you install the app on the target device physically, but after that, you don't even have to get close to the device. All the monitoring will be done remotely from the dashboard.
The advantages and features of MoniVisor can be concluded as below:
MoniVisor is easy to install with a detailed guide, it will take you about 5 minutes.

Works in a hidden mode without letting the target know, it will now show on task manager or desktop.

Tracks all the internet browser activity and browser download history., all the records can be checked remotely.

All the sent and received emails on the target computer will be intercepted and you can read them on your own computer.

You can take screenshots from the target computer remotely without notifying the user.

Keystrokes recording is available to track all the typed contents, even the search history in incognito mode.

All the webchat history from like WhatsApp, Skype, Facebook can be monitored.

Many other wonderful features you can go to the online demo for a view.
The operation of the MoniVisor computer activity tracker can be concluded as 3 main steps: sign up for a valid account, download and activate the tool on the target computer, and then check the data remotely on your end. So easy!
This is how wonderful and powerful of MoniVisor is! For more details of such tool, you can go to the products page for a further understanding! By the way, the tool is on its special sale, don't hesitate to check the big discount to save more!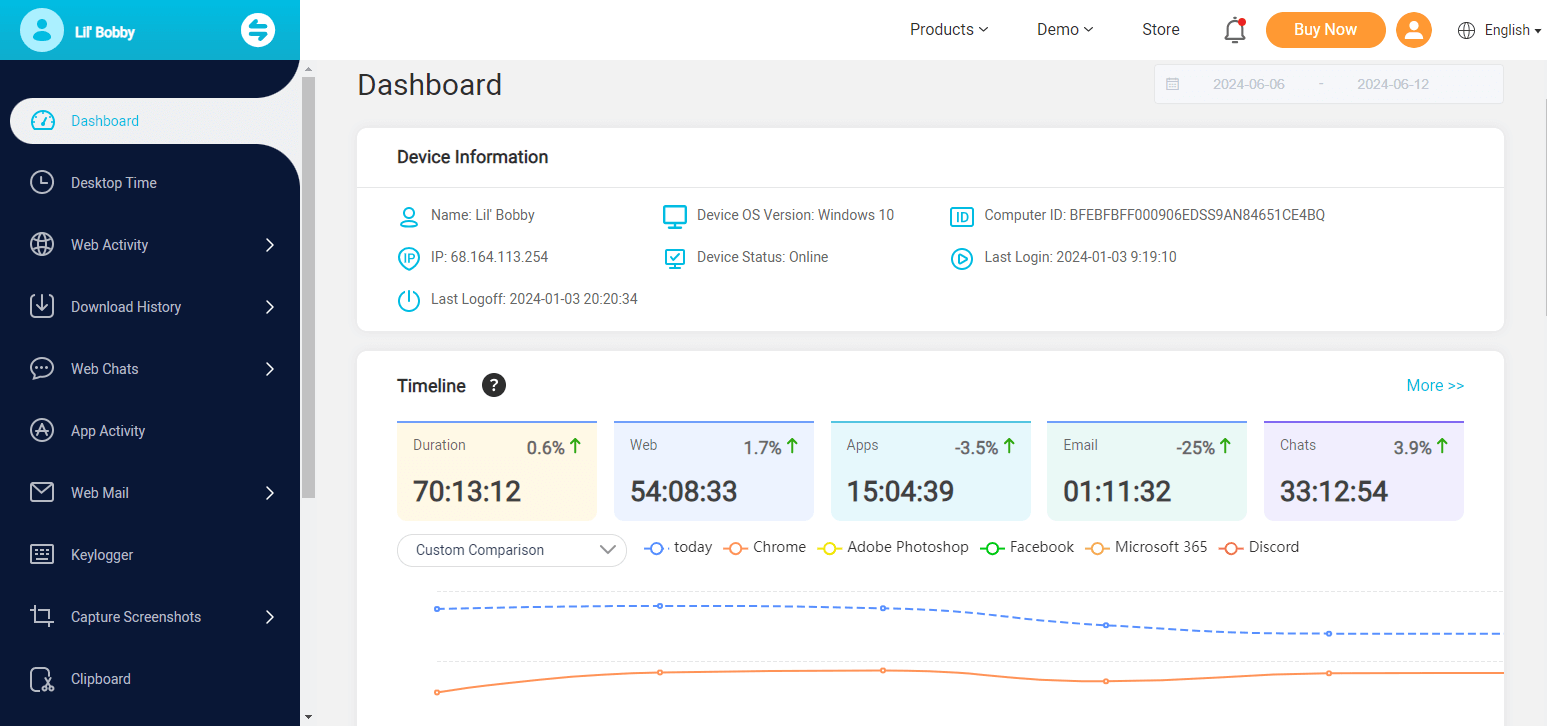 2. InterGuard Computer Tracker Review
InterGuard is a customizable employee monitoring tool that is widely respected in veteran industries. It means, with InterGuard, you will get the standard monitoring tools as well as a few add-on options to capture data in retail.
InterGuard's capability ranges across desktops and smartphones. It has features like laptop theft prevention to data loss prevention. Unfortunately, the user interface is a bit outdated, and it could be a task to understand it. There are also installation and compatibility issues.
It's not so much a computer activity tracking software as a computer protection software, and it's not as powerful as the MoniVisor we mentioned earlier.
Advantages
A wide range of features and add-on modules

Gives you a high-level visual representation of your workforce's computer activities - giving you at-a-glance overviews to quickly see metrics like "most productive employee" or "most email attachments sent".

Choose from over 30 preset reports or easily create your own with InterGuard's Computer Monitoring Report Wizard.

Convenient search ability

Endpoint lockdown capability

Verified performance with outstanding reports
Disadvantages
Requires more than 10 licenses

Expensive, especially the add-on functions
Process
InterGuard's installation is not so simple. Once you have an account, you have to log in to your InterGuard Admin account and click on'Settings'. Go to the 'Download & Licensing Options', and you will be able to download the agent.
InterGuard will provide the instructions. Upon downloading the tool, you will get additional instructions. Now, start the installation, and it gets done with the installer wizard. There will be no issues; it will take a few minutes.
Once the installation is complete, you will be asked to delete all the installer files from the machine and reboot the device. No trace of the software will be on the machine. But you also need to set 'Antivirus Exclusion'.
InterGuard gets blocked by most of the antiviruses on the market. So, this is an important step. After that, hand over the machine to the employee, and it will start collecting data immediately.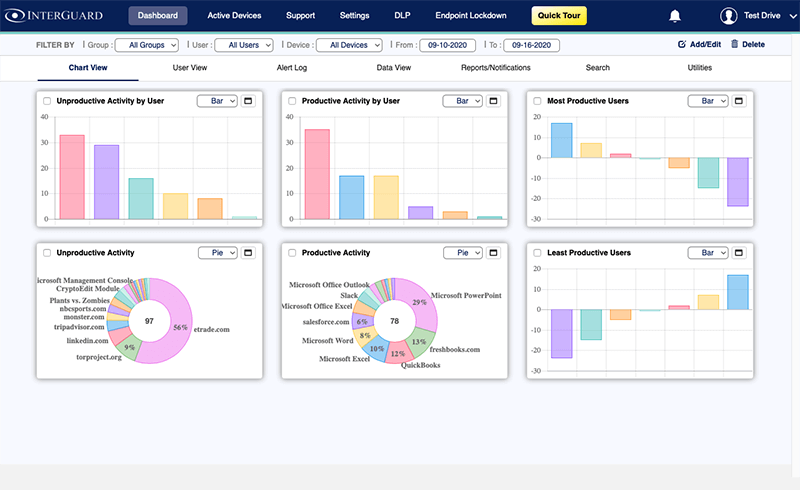 3. Hubstaff Review
Our next pick is Hubstaff. It is also an excellent computer activity tracker tool. Hubstaff is best for time tracking and of course, employee monitoring.
Hubstaff has some of the most exciting features for employee monitoring. One of its well-known functions is keystroke monitoring, but the tool spends most of its focus on time tracking.
Still, when it comes to performance, Hubstaff is very appealing. It is desired by the users for its wider range of functions like Expense Management, Project Management, and more.
Advantages
Wide range of functionalities

Easy to use and install

Excellent for time tracking
Disadvantages
No advanced tracking features

The stopwatch functions require an additional app on the desktop

Does the most basic reporting
Process
Hubstaff has the simplest installation procedure. Just download the tool and complete the installation. Once installed, you have to login from your system, and you will be taken to its dashboard.
In the dashboard, you will find an overview of all the employees that have worked throughout the day. A total of 7 days reports will be available.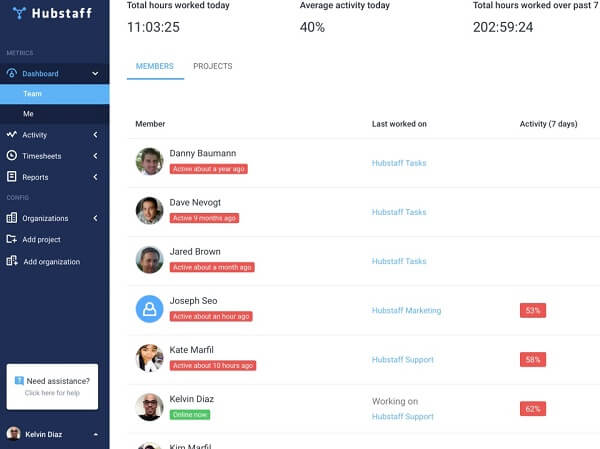 4. Veriato Cerebral Review
Another most desired option for a PC activity monitor is Veriato Cerebral. Veriato cerebral is the new age activity monitoring tool with some robust features.
It is not only just saying, where most new-age tools fail, Veriato succeeds due to its advanced employee engagement functions and data collection function through an AI.
Veriato Cerebral has one of the most advanced Artificial Intelligence for data collection, and it not only collects data but also tracks all types of employee activities, which will eventually help you to prevent any potential threats to the company.
Advantages
Provides great insight into employee activity

Helpful for detecting risks

Powerful insider threat detection ability

Analyzes all employee communication

A powerful blend of monitoring and analytics
Disadvantages
Very expensive for long-term use

Collects massive amount of data which will take up space

Not really suitable for remote and covert installation and operation
Process
Veriato Cerebral has to be installed on a device that runs on the 64-bit Windows Operating System. It can be used on Windows 10, Windows 7, and Windows Server version 2012 and 2016. You will also need a minimum of 40GB of space for installation.
Veriato Cerebral comes with a quick installation procedure, which will also set up SQL Server Express 2016 on the computer. This is a default database for customers with less than 100 clients.
After installation, you will find Veriato's interface and the offers feature to be very intriguing and advance. Monitoring is simple; you just need to activate your licenses. Then, you have to add a recorder in the target devices, which is simple, and instructions are provided. Installation takes a bit of time, but after installation, the recording will begin immediately.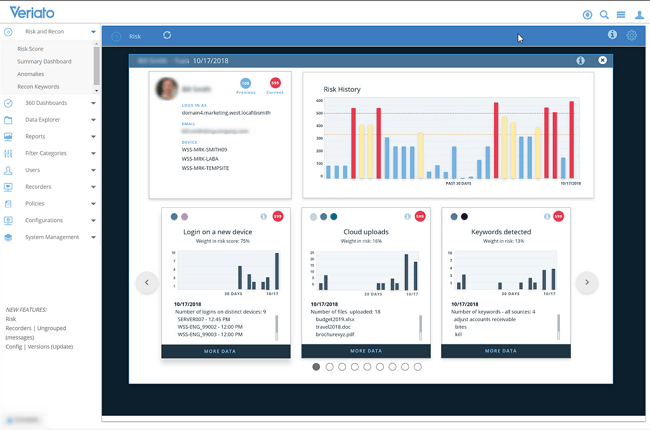 5. Controlio Review
Next, we have Controlio. It is a cloud service and an employee monitoring solution at the same time.
Controlio is a very capable monitoring solution, and it is also available at a considerably lower price. You will be able to track every aspect of an employee's activity using Controlio.
It is a very productive tool that comes with features like capture screens, keystroke tracking, and can even record videos as well.
Advantages
Productive monitoring feature

Capable of distinguishing between productive and distracting activities

Effective scoring for users

Syncs keylogging and video recording
Disadvantages
Video capture doesn't come with AI or OCR function

There is no universal functionality
Process
The demo for Controlio is available for free. You just have to fill-u pa simple form provided by their website. They will ask for information like email, company name and the number of people work there, etc. Submit these details and create an account.
After that, log in to your account and download the agent. Then, install it on the employee's computer. After installation, it will work in stealth mode, and it will start sending data automatically.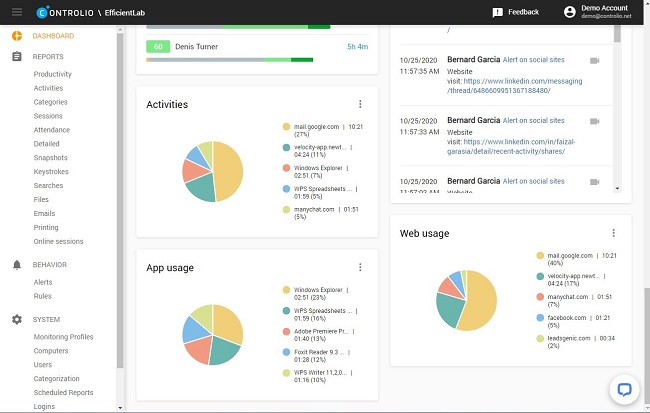 6. StaffCop Enterprise Review
StaffCop Enterprise is one of the most recognizable names if you are looking for monitoring tools.
This tool is specially designed for employee monitoring. There is a rich selection of features under its wing that will make employee monitoring simple and detailed. The StaffCop Enterprise I a powerful surveillance tool. It will gather data, it will provide detailed reports, but it also needs physical installation.
Advantages
A wide range of tracking features

Configurable

Capability to capture webcams

Remote desktop control

Detailed reports
Disadvantages
The client setup is dated

Not equipped for remote or distributed work

Now cloud-based interface

No app integration
Process
There is no cloud-based deployment system. You will be able to access the admin dashboard but only after the installation on a server. Then, you have to set it up, and the details of the procedure will be provided.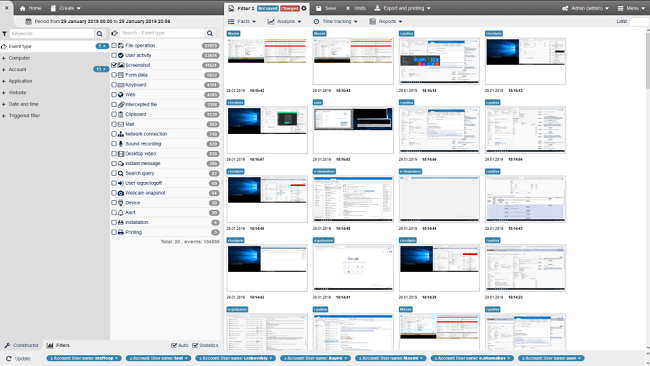 7. Workpuls Review
Workpuls has a clear focus. It is an excellent tool, but it only targets small businesses. So, while purchasing it, keep that in mind.
This tool works in stealth mode. It can take screenshots. Of course, real-time tracking is available. You will also be able to track apps, website usage, time, and attendance. Nonetheless, this is an excellent tool but only designed for small businesses only.
Advantages
A flexible tool

User-friendly interface

You can take screenshots

Real-time tracking

A lot of functions
Disadvantages
Reports are not detailed

Only suitable for small businesses

Space for improvements
Process
There is a 7-day trial period available for Workpuls. You are not required to provide your payment information for the demo, but you do have to connect with one of their experts who will help you to set up the demo.
Here is both advantage and disadvantage to this kind of setting. So, as long as you agree with this situation, you don't have to worry about installation or the operation. The experts will show it to you.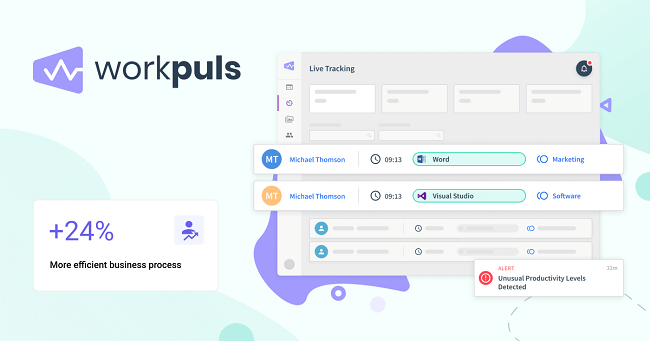 8. DeskTime Pro Review
Our final pick is DeskTime Pro. DeskTime has some of the most amazing monitoring features.
Besides the basic employee monitoring need, you will get Calendar and Invoicing features. It is easy to install and operate. DeskTime Pro will let you monitor user activity.
The tracking tool also offers an app and URL tracking. You can take screenshots, get custom reports. Overall, this is one of the outstanding tracking solutions on the market.
Advantages
Time tracking is automatic

Invoicing feature

Calendar feature

Project and task management

URL, app, and document tracking
Disadvantages
Reporting is very limited

Only available for XLS, not CSV

No shift scheduling
Process
DeskTime Pro has a free version available for single users. It includes some time tracking functions and app tracking for Android and iOS devices. But a pairing plan for single users is also available, as well as the plan for multiple users.
Now, the installation is very simple. You can connect your login credentials to Facebook or Twitter, or Linkedin at the moment you sign up.
Then, click on the big green button to download the agent on the Windows machine. The dashboard will give you instructions in detail; all you have to do is to follow them. Go through the installation wizard, and it will take only about a few minutes.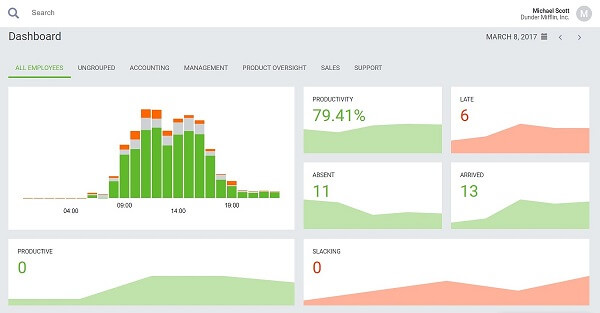 FAQ (Frequently Asked Questions) about Computer Activity Tracking
So, here are answers to some questions asked by our users frequently. If you want a clear understanding of the process of computer activity tracking, we recommend reading the answers below.
How can I track my computer activity?
It is very simple to track computer activity. There are plenty of methods available. But we are going to specify one of the simplest options available.
So, in the Settings of the computer, click on'Privacy' and then go to'Activity History'. Now, head to'Manage My Activity Info'. A new browser window will pop up. You may have to log in if you haven't already.  
How can I monitor employee activity on my computer?
Yes, you can monitor employee activity from your computer. But you need to use the apps we have detailed in the above article. But if you are looking for something more detailed like checking web search history, MoniVisor is best suited for this task.
Summary and the Editor's Choice
Therefore, if you are looking for industry-leading employee monitoring solutions, then you will find all that you need in the list we have produced in the article above. We have discussed some of the best and advanced products available on the market.
Some of these products are equipped with AI for employee monitoring, and some use an algorithm that is capable of distinguishing between productive and distinguishing activities. But all that being said, there are significant drawbacks too. But it all depends on your requirement in particular.
If you ask us to make a pick, then we choose MoniVisor - A professional computer activity tracker and remote computer hacker. Well, it is our first choice, and we are impressed with it the most. It is one of the cheapest solutions on the market, yet it provides some of the most advanced features and one of the most efficient monitoring solutions.