Truth be told, computer monitoring is always a topic that sparks heated discussions. On one hand, it involves privacy concerns; on the other hand, productivity cannot be guaranteed in remote working. However, the benefits of user activity monitoring outweigh its inconvenience.
The computer activity trackers we are about to introduce have the most intricate features, like keylogging, user activity monitoring, and email tracking. If you are scouting for activity monitors on Windows, look no further than this post. Get ready to check the user activity on your laptop!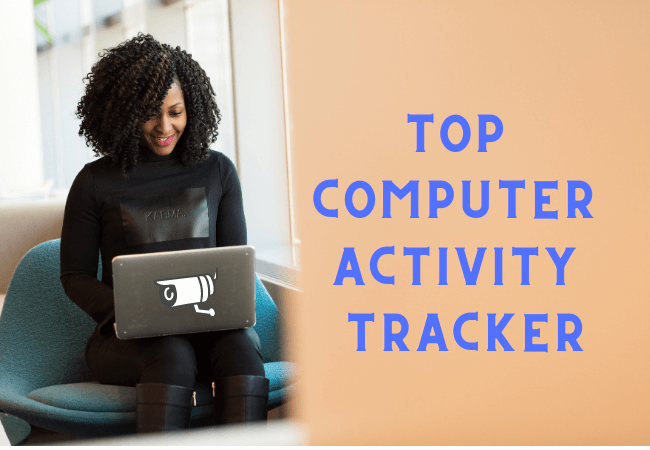 1. First Pick: MoniVisor Computer Activity Tracker Review
Well, our first pick goes to MoniVisor for Windows. This is a comprehensive computer usage tracker for both business and individual users. Whether you are worrying about your kids' online activities or employees' idle time, MoniVisor's robust usage monitoring functionalities will never let you down.
This activity monitor remains hidden once installed on the target Windows computer. The computer usage tracker works via an online dashboard that is sleek and uncluttered. You have no trouble checking all the activity history on this Windows laptop. All your stored data will be transferred remotely to the dashboard.
Here are some highlights of this activity monitor:
Easy to install and configure. Several minutes to get started;

Work in stealth viewer mode with no traces left on the task manager or desktop;

Able to track app usage, web history, and browser downloads remotely;

Check web mail activities, including Yahoo, Gmail, and Outlook;

Capture the screen of the target computer in real time without notifying the user;

Available keystrokes recording to track all the typed contents;

Export the needed statistics in CSV for analysis.
The operation of the MoniVisor can be concluded as follows: sign up for a valid account, download and activate the computer usage tracker on the Windows computer, and then view the user activity remotely on your end. So easy!
This is how wonderful and powerful of MoniVisor is! For more details of such tool, you can go to the products page for a further understanding! By the way, the tool is on its special sale, don't hesitate to check the big discount to save more!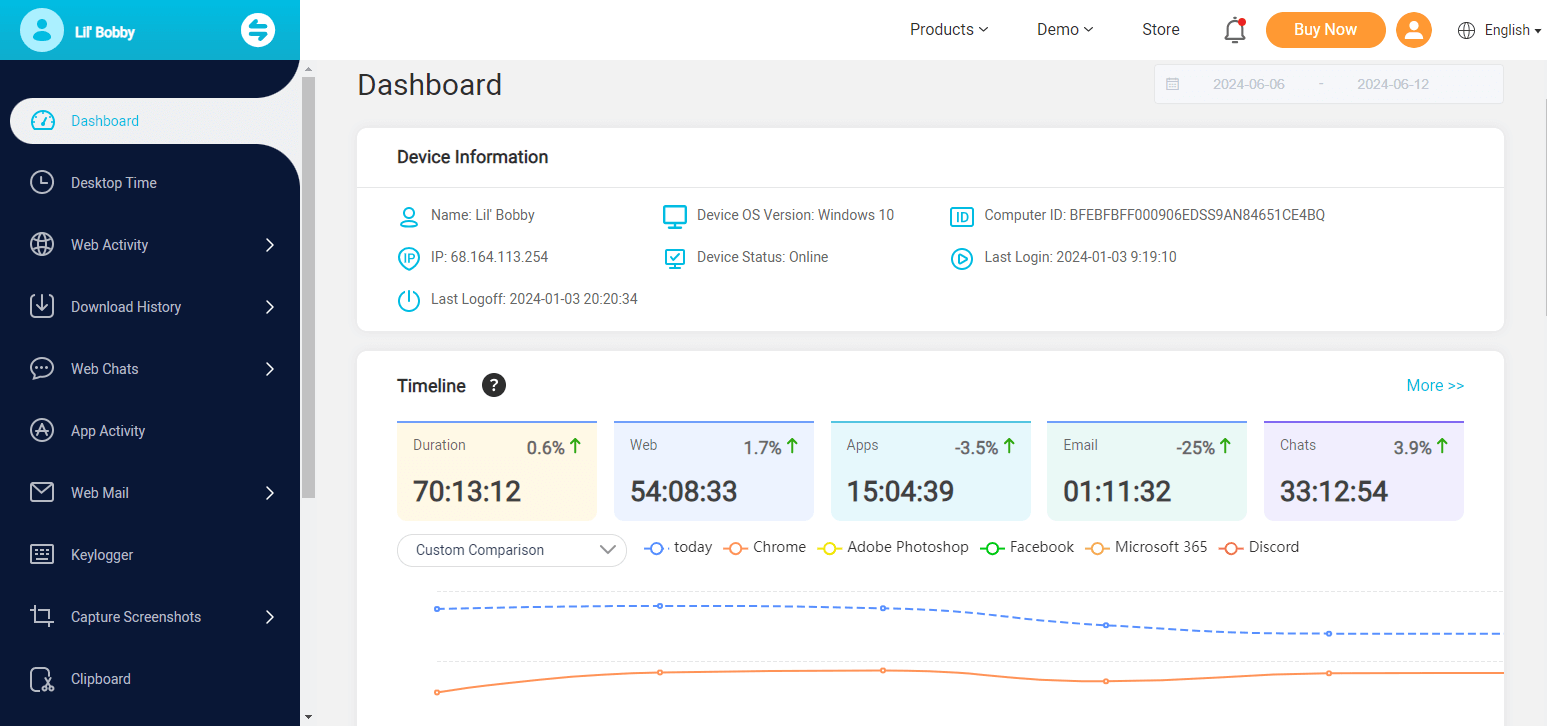 We understand that monitoring is a time-consuming task. That's why MoniVisor is first recommended to solve your needs for user activity monitoring.
2. InterGuard Computer Tracker Review
InterGuard is a customizable employee monitoring tool that is widely respected in veteran industries. It means that with InterGuard, you will get the standard monitoring tools as well as a few add-on options to monitor computer activity in detail.
InterGuard's capabilities range across desktops and smartphones. It has features like laptop theft prevention and data loss prevention. What's more, InterGuard has gained the admiration of countless users, thanks to its exceptional customer support. Unfortunately, this laptop usage tracker lacks real-time reporting to promptly detect and alert against malicious behavior or data exfiltration.
Advantages
A wide range of features and add-on modules;

Streamlined dashboard to present data in a clean and uncluttered fashion. One can quickly see metrics like "most productive employee" or "most email attachments sent";

Choose from over 30 preset reports or easily create your own with InterGuard's Computer Monitoring Report Wizard;

Convenient search ability;

Endpoint lockdown capability;

Verified performance with detailed reports.
Disadvantages
Extra payment for capturing screenshots;

Set up an anti-virus protection exemption.
During the review, InterGuard's installation was not as smooth as expected. Before downloading the agent, you have to set up the licensing options. Even with the help of the tutorials, the whole process can take a while.
Once the installation is complete, you will be asked to delete all the installer files from the machine and reboot the device. In addition, you need to set "Antivirus Exclusion". InterGuard gets blocked by most of the antivirus programs on the market. Undeniably, InterGuard is a powerful usage tracker for Windows, but the setup may hold you down.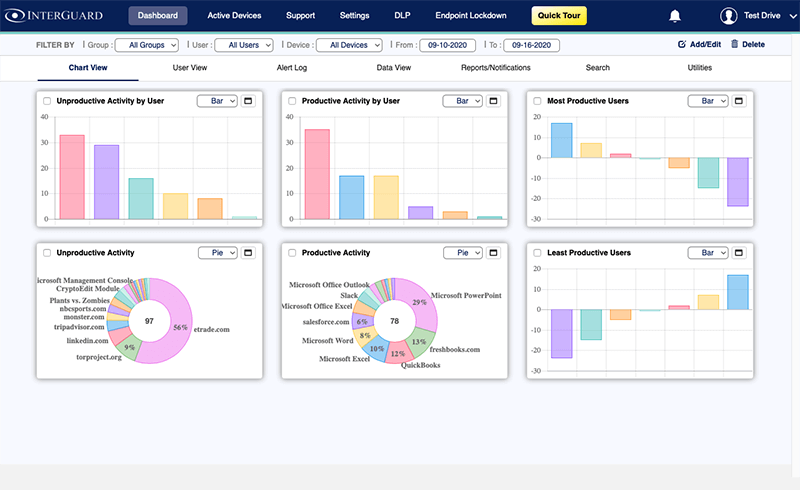 3. Hubstaff
Our next pick is Hubstaff. It is also an excellent computer activity monitor for Windows. Hubstaff is long praised for its time tracking capability and, of course, employee monitoring.
Hubstaff has equipped itself with amazing features for computer activity monitoring. It enables employers to track the time spent on tasks and projects and capture screenshots. Still, when it comes to overall performance, Hubstaff is very appealing. It is desired by the users for its wider range of functions like expense management, project management, and more.
Advantages
Create detailed reports on time worked, tasks completed, and project progress;

GPS tracking available to monitor locations;

Available on mobile phones;

Allow integrations with payment and accounting tools.
Disadvantages
Higher monthly subscription fe

Lack of offline computer activity monitoring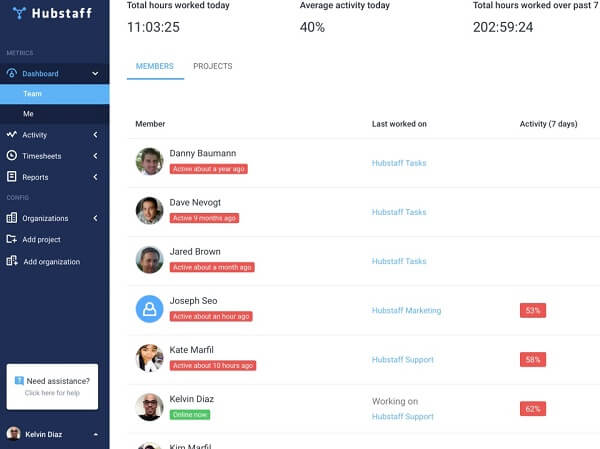 4. Veriato Cerebral
Another desired option for monitoring user activity on Windows is Veriato Cerebral. Veriato Cerebral is the software solution that brings a new level of understanding and control to your digital workspace. Veriato succeeds due to its advanced employee engagement functions and AI-based data collection feature.
Veriato Cerebral has one of the most advanced Artificial Intelligence for data collection, and it not only collects data but also tracks all types of employee activities, which will eventually help you to prevent any potential threats to the company.
Advantages
Allow for User and Entity Behavior Analytics to identify insider threats;

Export insightful reports and analytics;

Easy customization to align with someone's monitoring needs;

Create user behavior profiles for in-depth analysis.
Disadvantages
Higher subscription costs.
Please note that you'll need a computer with robust specifications to run this program smoothly. Veriato Cerebral has to be installed on a device that runs on the 64-bit Windows operating system. It can be used on Windows 10, Windows 7, and Windows Server versions 2012 and 2016. Apart from these requirements, a minimum of 40GB of space is needed.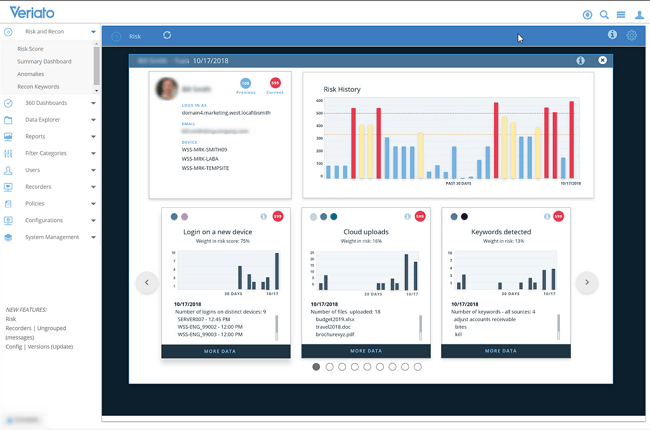 5. Controlio
Next, we have Controlio. It is a cloud-based service provider and an activity monitor at the same time.
Controlio is a very capable monitoring solution, and it is also available at a considerably lower price. You will be able to track every aspect of user activity using Controlio.
It is a very productive tool that comes with features like capture screens, keystroke tracking, and the ability to record videos.
Advantages
Productive monitoring features;

Capable of distinguishing between productive and distracting activities;

Provide scoring for employees regarding efficiency;

Syncs keylogging and video recording.
Disadvantages
Video capture doesn't come with AI or OCR function;

Limited integration with other software.
The demo for Controlio is available for free. You just need to fill in some necessary information and gain access to this usage tracker. After installation, the computer monitoring software will work in stealth mode and start sending data automatically.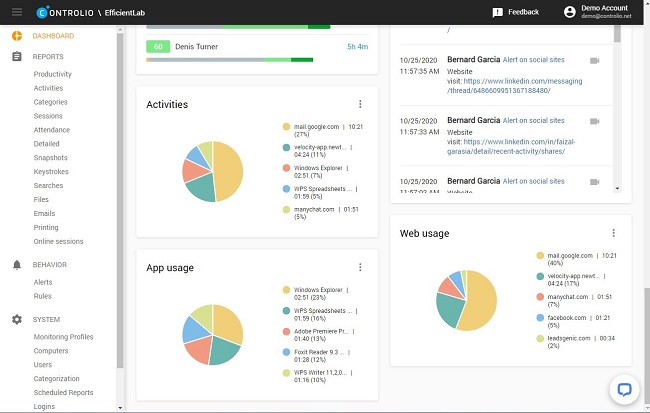 6. StaffCop Enterprise
StaffCop Enterprise is one of the most recognizable names if you are looking for user activity monitoring on Windows.
This usage tracker is specially designed for employee monitoring. There is a rich selection of features under its wing that will make employee monitoring simple and detailed. The StaffCop Enterprise is a powerful activity history viewer. It will gather data and then provide detailed reports, but it also needs physical installation.
Advantages
A wide range of tracking features;

Capability to capture webcams;

Able to export detailed reports;

Remote desktop control.

Detailed reports
Disadvantages
Only available on Windows;

No app integration
There is no cloud-based deployment system. You will be able to access the admin dashboard, but only after the installation on a server. What's more, the software can be complex to set up and configure, requiring a learning curve for administrators and IT staff. It may not be the best option for organizations looking for a simple and quick solution.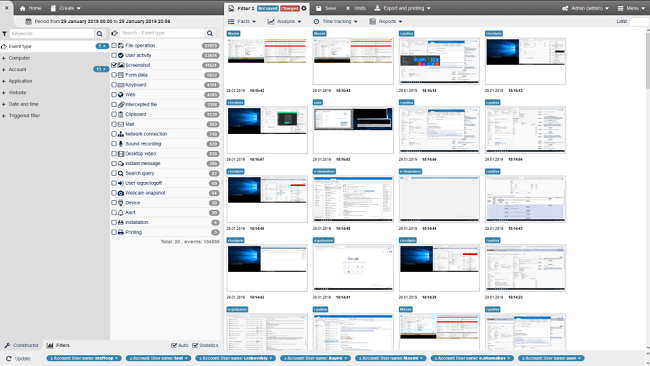 7. Workpuls (former Workpuls)
Workpuls has a clear focus. It is an excellent tool, but it only targets small businesses or organizations. So, while purchasing it, keep that in mind.
This tool works in stealth mode. It can take screenshots. Of course, real-time tracking is available. You will also be able to track apps, website usage, time, and attendance. Nonetheless, this is an excellent tool, but it's only designed for startups.
Advantages
User-friendly interface to offer data visualization;

Take remote screenshots;

Real-time tracking of projects and tasks;

Record the team's attendance and schedule shifts.
Disadvantages
Only suitable for small businesses.
Insightful provides a 7-day free trial. You are not required to provide your payment information for the free demo, but you need to contact support before setting up the demo.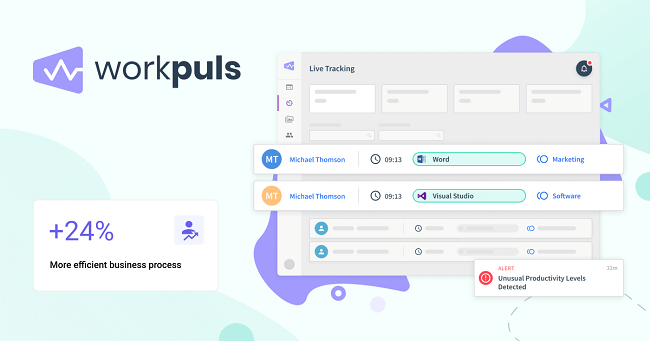 8. DeskTime Pro Review
Our final pick is DeskTime Pro. This computer activity monitoring tool has some of the most amazing features, such as Calendar and Invoicing. Aside from these features, the usage tracker also offers app and URL tracking, takes screenshots, monitors document titles, and creates custom reports. Overall, this is one of the outstanding activity monitors on the market.
Advantages
Automatic time tracking;

Smart performance indicator to identify key performers and slacker;

Schedule shifts and create a team calendar;

Project and task management;

URL, app, and document tracking.
Disadvantages
Reports only exported in XLS.
DeskTime Pro has a free version available for individual users. It includes some fundamental time and user activity tracking for Android and iOS devices. But a pairing plan for single users is also available, as is the plan for multiple users.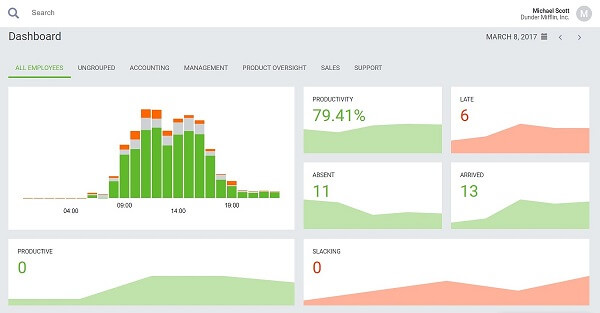 Wrapping Up
Therefore, if you are looking for software to monitor computer activity, then this post has everything you need. Some of these usage trackers are equipped with AI for employee monitoring, and some use an algorithm to tell who's productive or slacking off. Comprehensively, MoniVisor is one of the reasonably priced computer activity monitoring tools for Windows, yet it provides some of the most advanced features and one of the most efficient monitoring solutions.
FAQs about Computer Activity Tracking
So, here are answers to some questions asked by our users frequently. If you want a clear understanding of the process of computer activity tracking, we recommend reading the answers below.
How can I track my computer activity?
It is very simple to track computer activity. There are plenty of methods available. But we are going to specify one of the simplest options available.
So, in the Settings of the computer, click on'Privacy' and then go to'Activity History'. Now, head to'Manage My Activity Info'. A new browser window will pop up. You may have to log in if you haven't already.  
How can I monitor employee activity on my computer?
Yes, you can monitor employee activity from your computer. But you need to use the apps we have detailed in the above article. But if you are looking for something more detailed like checking web search history, MoniVisor is best suited for this task.