"Is there any free SMS tracker without installing on target phone? Does it really work?"
Actually, it is possible to monitor SMS without target phone or installing the software. For iOS users, as long as they have signed in the same iCloud account, they can take advantages of the iCloud syncing feature to read other's messages.
For Android users, an effective SMS tracker app is necessary in most of cases. Strictly speaking, such apps require one-time access to the target phone at the first beginning, but after the installation, you don't need to touch the target phone again to track text messages, this is because all the information can be checked via an online platform.
Top 7 Free SMS Tracker without Target Phone
So, as discussed above, to make free SMS spy online without target phone possible, you will need a handy text message tracker. We have searched for some apps on the market and also set some reference points. Each of our editors will rate he apps based on the following criteria. According to the final score, we have come up with the top 7 text trackers that are good to use.
| Apps | KidsGuard Pro | Panspy | Copy9 | mSpy | Fonemonitor | Highster Mobile | iKeyMonitor |
| --- | --- | --- | --- | --- | --- | --- | --- |
| Ratings | 9.5/10 | 9.1/10 | 8.9/10 | 8.7/10 | 8.5/10 | 8.2/10 | 8.0/10 |
Some criteria to determine the most  effective SMS tracker are listed below:
Is the app easy to use?

Are the messages updated in real-time?

Can the app track messages deleted in the target device?

Is the app cost-effective?

Does this app provide rich features?  

Is the app available in different languages?
1. KidsGuard Pro for Android
Compatibility: Android devices
KidsGuard Pro is by far the best text message tracker of recent generation with extensive capabilities. It can effectively track all the incoming, outgoing and even deleted text messages on the target device.
Except for this, instant messages from 10 popular social apps can also be monitored. This include Facebook Messenger, WhatsApp, Snapchat, LINE, Wechat and more. KidsGuard Pro works in stealth mode so the owner of the target device will never know about its existence.
Available on Android, this app is really easy to use and also comes with some other effective monitoring features.
Pros

Remotely track all sent, received and deleted messages without knowing.

It is capable of tracking messsages from popular social media apps.

The contact name, data and time stamps are displayed.

Messages are uploaded to its online dashboard in real-time.

This app has a very clear user guide and intuitive interface.
How to Set up KidsGuard Pro for Android?
Step 1.
Click
Monitor Now
button below and skip to KidsGuard Pro's website, use a valid email address to sign up an account.
Step 2.
Log into your account and go to
My Products
page, click on
Setup Guide
button in the box and follow the instruction to download KidsGuard Pro for Android onto target phone. This step only needs to take 5 minutes. Don't worry, this app in 100% undetectable!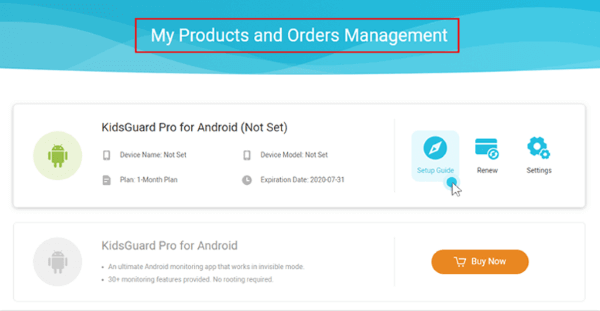 Step 3.

After setting, you can start to monitor target phone's activity on your dashboard.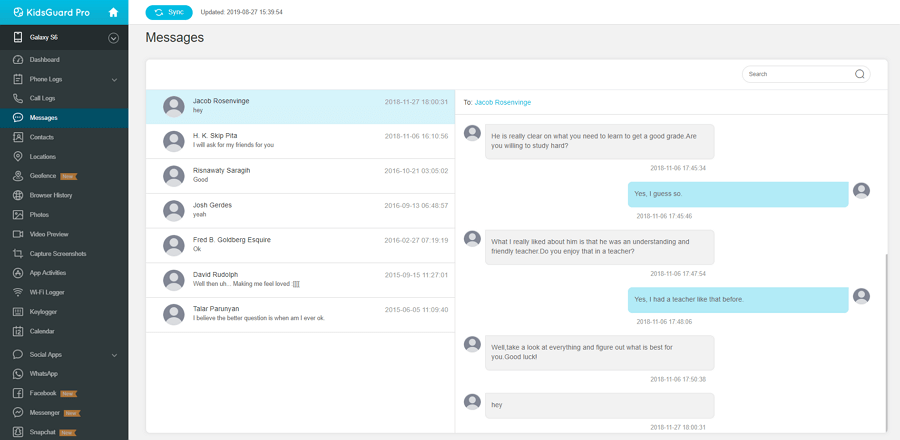 Notice
Now you can have a 30% off discount to enjoy all the premium features. Quickly to enjoy the best price for your need.
2. PanSpy
Compatibility: Android devices
PanSpy is another text message tracker without target phone. Its specialty is tracking Android smartphones. So, you will be able to monitor SMS, calls, track the location, and check the instant messaging apps like Skype, Whatsapp, Snapchat, Instagram, Line and many more. Equipped with numerous features this is a great solution if you need to track incoming and outgoing texts, or view the sender's information.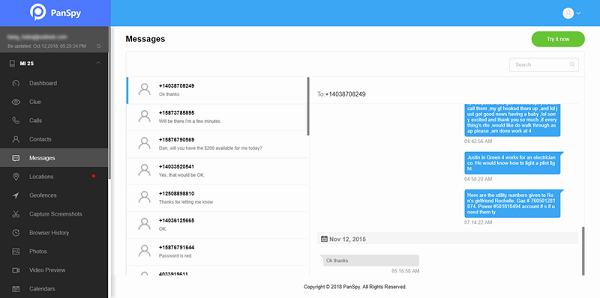 Pros

A free trial is available.

User-friendly interface.

You can download the attachments from text messages.

Supports with multiple social media messages tracking.
Cons

Supports Android devices only.

The app doesn't work well in Android 9.0 and higher versions.
3. Copy9
Compatibility: Android devices
Copy9 is a parental control application with the capability to track texts without the presence of the target device. It has been launched for decades and many users are familiar with it. The method of monitoring is completely cloud-based. The captured data by Copy9 gets sent to its server and then it is transmitted to your device. Besides this, the app is packed with other essential features as well.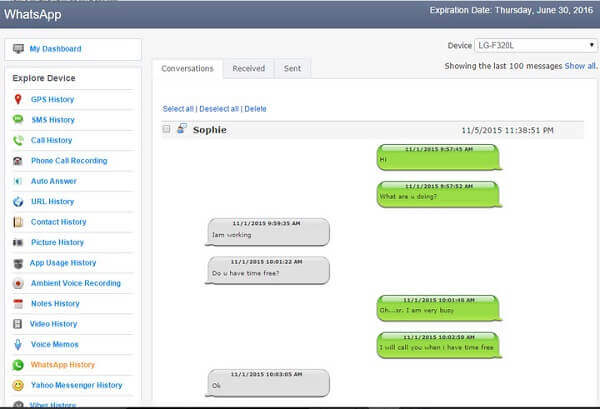 Pros

An efficient SMS tracker, you will be able to easily track the incoming the outgoing texts.

You can view the call log with incredible details.

You can also check the location history of the target device.

Instant messaging app monitoring and alerts or notifications are also available.
Cons

No customer support can be found.

This app has not been updated for years.
4. mSpy
Compatibility: Android and iOS devices
mSpy is the next app on this free sms spy online without target phone list and it is quite powerful. mSpy is packed with a lot of features, dedicated to tracking and monitoring mobile devices. This is a fine SMS tracker that uses an advanced algorithm to track all the send and received texts. You can also track instant messaging apps like WhatsApp, Snapchat, and Facebook messenger etc. as well.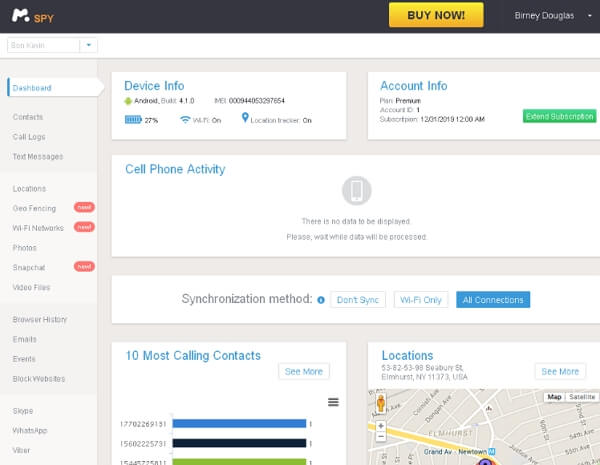 Pros

The messages are synced very timely.

The app is easy to install and setup.

You can also spy on MMS (only for Android).

The customer support is available in multi-language.
Cons

The app is quite expensive compared with others.

To use instant message monitoring feature, the Android phone must be rooted.
5. FoneMonitor
Compatibility: Android and iOS devices
FoneMonitor is a very useful tracking and monitoring app. Primarily, this app was designed as a parental control app but its versatile features made it capable of completing other tasks too. This app will make you capable of tracking texts remotely on several platforms. Its numerous features have made it one of the best SMS trackers which can work on the target phone without showing any results on it.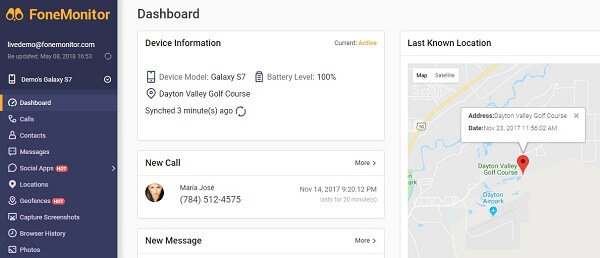 Pros

It allows users to track SMS inconspicuously.

It is packed with several tracking and monitoring features.

Accessing the web history is very simple and easy.

It provides multiple cell phone monitoring and tracking features.
Cons

This app is not allowed in some countries.

It takes a long time to synce the messsage data.

The technical support somehow is unresponsive.
6. Highster Mobile App
Compatibility: Android and iOS devices
Highster Mobile is another monitoring app known for its exceptional tracking capabilities. This is also one of the best SMS tracker without target phone, and this app uses its very advanced algorithms to monitor the sent and received messages easily on the target device. Also, you can check who the target user is texting.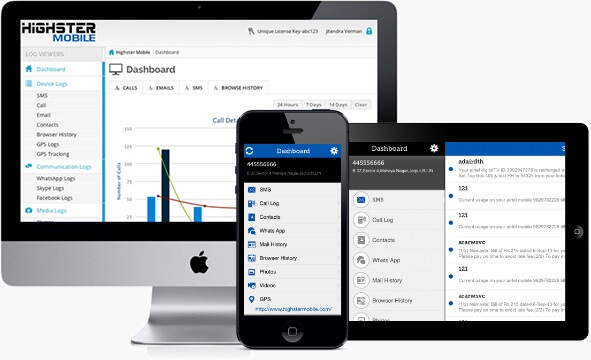 Pros

This app allows tracking deleted text messages.

This app only requires one-time payment.

This app is very engaging that even comes with stealth camera feature.

It can extract files from any Android and iPhone devices.
Cons

There is no proper customer support.

Some text messsages on the target device are missing.
7. iKeyMonitor
Compatibility: Android and iOS devices
iKeyMonitor is another significantly well-known parental control app. This can be an ideal option for tracking SMS on a target phone remotely. It is packed with advanced features which makes the cell phone tracking much easier. It comes with a very easy to use interface and overall a good app which is slightly priced at a premium.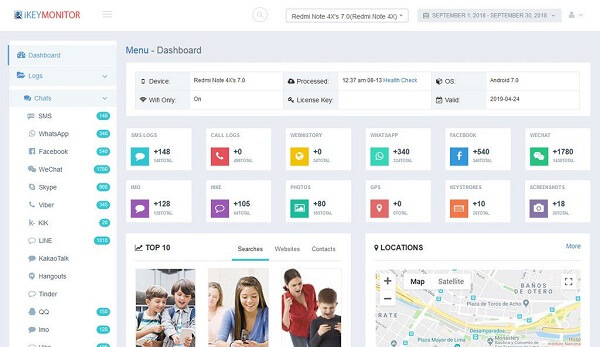 Pros

It has a beautiful UI design.

Sent and received texts are monitored effectively.

The app supports multiple languages.

There is a free plan available for a specific time.
Cons

The price is on the expensive side.

Android devices must be rooted in order to access all the features.
Verdict
If you are looking for free SMS tracker without installing on target phone, we are sorry to say that but this is only possible in certain situations. In this article, we have listed 7 most capable SMS tracker apps that does require one-time installation but does not require the target device further for tracking results.
How to track text messages without target phone? These apps are all very effective and do a good job in tracking text messages on the target phone. Even though, all of them has impeccable features we think, KidsGuard Pro will do a much better job in terms of performance and usability after careful consideration. Go for it if you are interested.