"I have recently purchased a new computer for my children and now I am noticing that he's always using it till late at night. Should parents monitor their children's computers? Any help will be appreciated. Thanks!"
Question:
Is there any parental control software to monitor computer to know children's computer activities?
Yes, it's possible and parents can monitor their kid's computers and keep a track of all their activities.
Many kids pretend that they are studying on the computer but they infect play games or do watch entertaining media. Kids aren't mature and in some cases, kids have purchased expensive online things without the knowledge of their parents and this is how it can cause you financial loss as well.
In this article, we will introduce Top 5 Kid's Computer Monitoring Software to you so you can monitor your kids surfing activities much better.
Recommendation:
MoniVisor for Windows is a computer monitoring software for parents which you can't skip. It's a monitoring tool that basically tracks all the activities on children's computers and it's compatible with Microsoft Windows 7, 8, and 10.
You don't need to worry where you are. In the office, on a business trip, or away from home, you can keep your eyes on kids' computer from anywhere at any time you want. What you need is just an internet connection and all the data will be synced in real-time.
Features of MoniVisor for Windows
Monitor all social media activities of kids including conversation sent/received, photos, videos, emoji, and documents without even knowing the target user.
Record screen or capture screenshots of the target computer silently and automatically at a time set by the parents to know what children are doing on the computer.
See all the keystrokes that were entered by your kid on the computer using the keyboard to know what he/she searches about or what kind of chat they do online.
View all the internet history including what web pages were visited and at which time, downloaded time, and also you can monitor YouTube history as well.
Pros

Remotely monitor your kid's computer online from anywhere with real-time data using the dashboard.
Keep your kid safe from porn and adult content by using an app blocker and content filtering feature.
Keep an eye on your kid's friend by monitoring their social media conversations.
Get a free demo before buying the premium version.
Monitor more than one device from your computer.
Cons

Can't work without internet.
Doesn't support Mac computers.
How to Use MoniVisor for Windows?
Step 1. Click "Monitor Now" button below and skip to KidsGuard Pro's website. Simply click "Sign Up" in KidsGuard Pro's website and register an account. After that, you can choose a suitable plan to activate all the PC monitoring features of MoniVisor.
Step 2. Then you'll automatically be taken to a webpage titles' My Product and Orders Management .Here, you can find your order. Then, click Setup Guide to check out the detailed instructions for completing the required configurations on the target's Windows computer.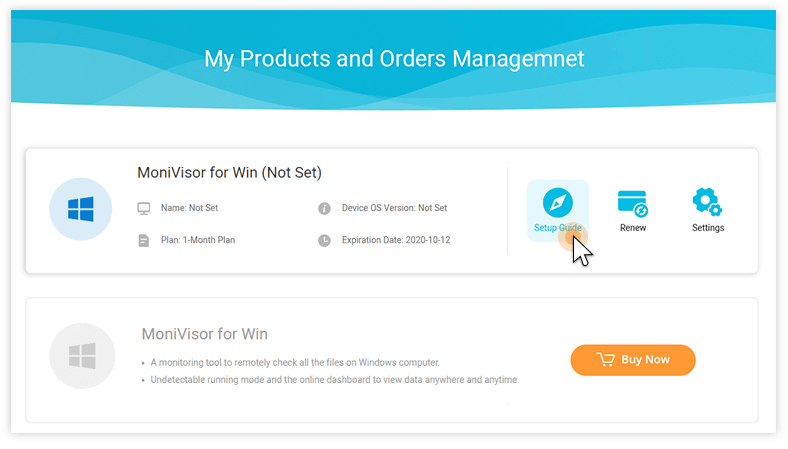 Step 3. After follow the instruction to install MoniVisor, you can start to monitor target computer's activities on dashboard.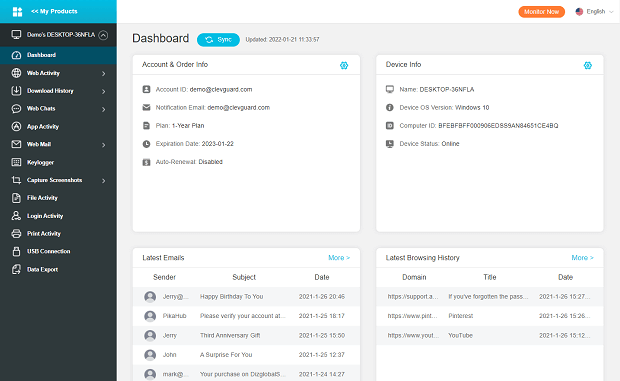 Norton Online Family
Recommendation:
The Norton Online Family Tool is a well-known computer monitoring software that's very efficient for tracking your employees and loved ones. This allows parents to keep their kids away from distractions such as adult videos and pictures and parents can easily view all their activities viewed videos/images, and all their social networking activities as well.
Features of Norton Online Family
Instant lock for Windows PC, Android tablet and phones.
Video supervision for your loved ones.
Manage online learning environment of your kid.
Pros

You get more control over your kid's computer with more blocking and filtering features.
Locate the GPS location of your kid's easily.
Cons

It doesn't work on Apple Mac computers.
Doesn't offer geofencing.
Time restrictions apply per device.
Social media monitoring is lackluster.
3. Kaspersky Safe Kids
Recommendation:
As a screen monitoring software for parents, Kaspyersky safe kids provides safe and improved web interface for your kids that don't let your worry about their online presence. You can configure Kaspersky safe kids to monitor social networking platforms such as Facebook and VK. The other parental features include application control, device monitoring and time limits. There's another feature that allow parents to know where's their kid.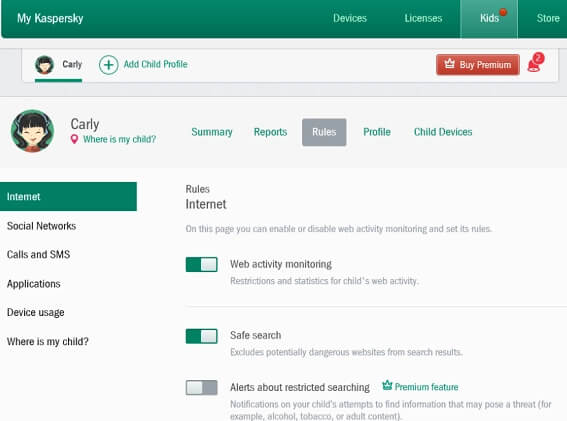 Features of Kaspersky Safe Kids
Easily locate the real-time GPS location of your kid's device.
View the usage of devices and applications.
Restrict adult websites and apps.
Pros

Available for all operating systems such as Mac, Windows, Android, and iPhone.
Can be used for both children's and employee's monitoring purposes.
Free trial version available.
Cons

It can be a security risk if the password is lost anyone with the password can access your children's device and location.
You can only filter content in specific web browsers.
Can only track VK and Facebook in social monitoring.
4. Window Live Family Safety
Recommendation:
Being a parent it's important to know about the computer monitoring software for parental control and Windows Live Family Safety is one the finest computer monitoring software for parents. It's specially designed for Microsoft Windows Computers which enable parents to control their children's computer by applying limits on both games and apps. It can also show screen time and summaries of all activities to parents.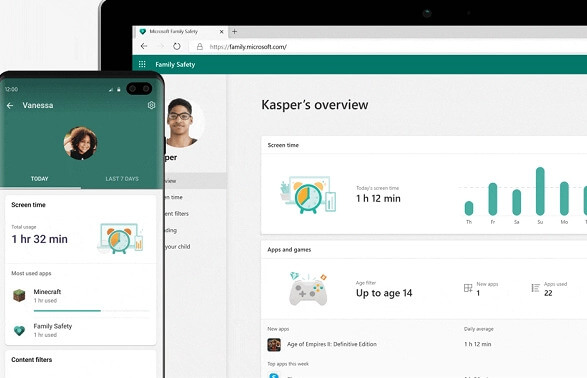 Features of Window Live Family Safety
Let your kids safely explore the internet with filters.
Get the location of your loved ones on your device anywhere and anytime.
Restrict adult websites and apps.
Pros

Get a weekly report of your kid's all activities.
Easily block inappropriate websites, apps, and videos.
Restrict kids to screen time on specific apps and games.
Cons

Content filters work only with Microsoft Internet Explorer or Edge.
You will have to create an email account for everyone even young kids.
Except for Windows no support is available for other platforms.
5. FamiSafe Computer Monitoring Software
Recommendation:
Parents can't stay around their kids all the time to make sure they are safe and when it comes to the online world it becomes harder for parents to control their children. In such a situation, you can take help from monitoring Softwares such as FamiSafe computer monitoring software.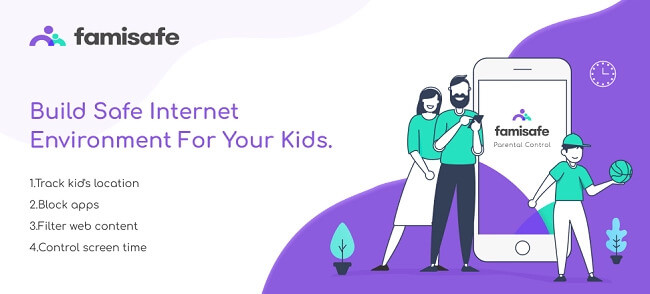 Features of FamiSafe Computer Monitoring Software
See detailed daily report of computer usage of your children.
You can log in from third-party apps such as Google, Apple ID, or Facebook.
Block app by their categories and you can set sleep or study times as well.
Pros

Monitor YouTube history and videos as well.
Get notifications with geofencing.
Monitor photos and videos.
Cons

Doesn't work with Desktop.
Can only track web browsing history on Android.
Location can only be tracked on Android.
Final Words
Editor's Recommendation -- MoniVisor, Best Computer Monitoring Software
| | MoniVisor | Norton Online Family | Kaspersky Safe Kids | Windows Live Family Safety | FamiSafe |
| --- | --- | --- | --- | --- | --- |
| Price | $129.95/year | $274.99/year | $14.99/year | $99.99/year | $39.99/year |
| Number of Devices | 15+ | 5 | 10+ | 1 | 10 |
| Support Windows | √ | × | √ | √ | √ |
| Geofencing | √ | × | √ | √ | √ |
We have composed a fair comparison of the 5 best computer monitor software for parents with all the features, pros, and cons. After reading this, you will get an idea of which one is the best fit for your needs. If you are confused and then we would recommend you to use MoniVisor for Windows to set parental control of children's computer.