Remote access to a computer is not a simple task. This requires precision and sophistication which makes it very difficult for regular people.
But Windows tried to fix this problem with the Remote Desktop Connection app. This is a good tool but it does require permission from the user of the target computer. This particular function makes this tool unsuitable for covert access of someone other computer.
This post is intend to tell you how to remote into a computer, both with and without permission.
Well, all you require is ask the help of a tool. For more details, be sure to check out our article.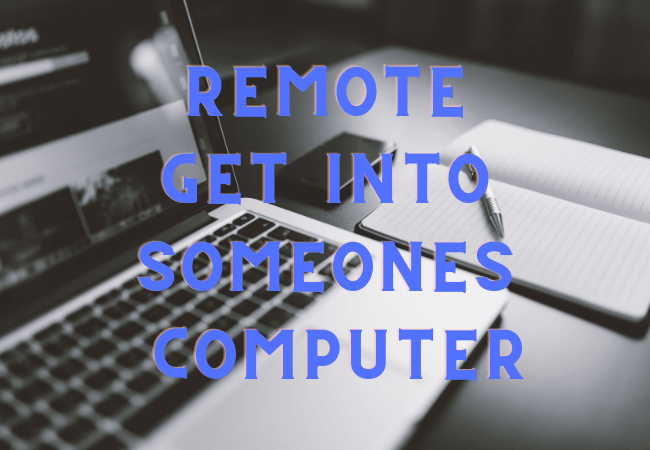 1. The Official Guide on How to Use Remote Desktop to Access Windows Remotely
Officially Windows 10 has a remote desktop connection app that will allow you to connect to other computers or windows devices if they are connected to your local network or have a public IP address.
Basically, you will be able to use this desktop connection app to connect your computer from some other device or connect your friends computer with their permission.
If all the conditions are clear to you, then check lets check out how to remote into a computer Windows 10. This is a 2 part procedure. First, we will discuss the steps to connect to a computer and then show you the steps to allow access.
Connect Remotely to a Computer
Step#1: Click on the Search Bar and type Remote Desktop.
Step#2: Then, click on Remote Desktop Connection.
Step#3: A desktop connection window will appear on the screen. You need to type the IP address or the name of the Windows device and then click Connect.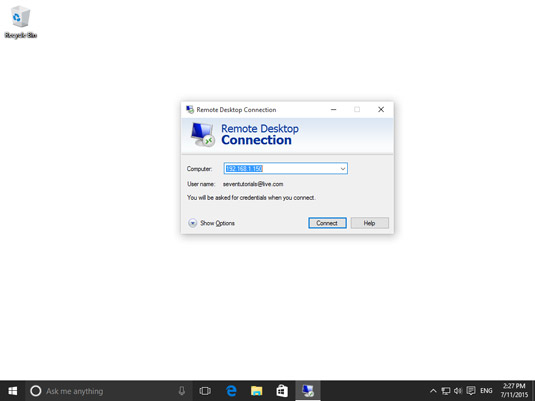 Windows will start the remote connection procedure immediately.
Step#4: In Windows inform you that the remote connection cannot be authenticated due to some issue, you need to click Yes to connect anyway.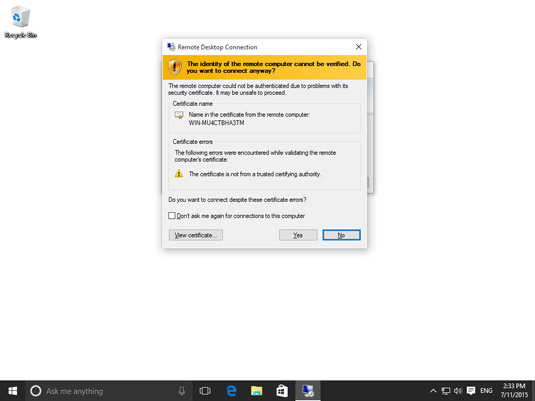 After a while, you will be connected to the desired computer, remotely.
When the connecting procedure is finished, you no longer need to stay connected to the remote computer, click on the X button on the top right corner to close the app, and then click OK.
Allow Access to Windows 10
This is a default programming for the safety of individual users. So, if you want to access it, you have to allow the access, manually.
Step#1: Click on the Search Bar and type Remote Desktop.

Step#2: A list of results will appear on the screen. Click on the Allow Remote Access to Your Computer.

Step#3: The system properties menu will appear on the screen. Navigate to the Remote tab and click on the Remote Desktop section. Check the box beside Allow Remote connections to This Computer.

Step#4: Finally, click OK to end the procedure.
Now, this is an easy procedure. But if you want to successfully access a computer, both of the procedure needs to be completed.
If it is your computer, then things will be simple as you have access to both sides.
If it is your friends computer, then you have to complete the remote connection procedure for your part but the access can only be allowed by the owner of the other computer.  
2. How to Remote Into Someone Elses Windows Computer without Detection
The official Windows 10 remote access app is quite excellent. The connection is stable and for the most part, satisfies the need of connecting to a computer.
But when it comes to connecting to someone elses computer without notifying the owner, the remote desktop connection app is not suitable. Sure, you can complete the remote connection procedure from your part but Windows by default doesnt allow remote access. So, the owner of the target computer has to permit you.
So, you can be sure that the official Windows remote access app will not be able to provide the type of access you seek. But there are tools to make it possible. This part is going to introduce such a tool named MoniVisor.  Next you will get an overall understanding of this tool.
Why Need to Access Someones Computer
As you are trying to access someones computer without their knowledge, your action might look like an invasion of privacy.
This is true but there is some particular situation that warrants such an aggressive approach. In these situations, the need for privacy potentially outweighs the risk, the dangers, and the consequences of not doing it. Lets discuss these aspects.
Monitoring Kids Computer
Even before the COVID-19 epidemic, kids were getting access to computers and the internet at an early age. This was a risk and most parents ought to avoid it by limiting its use. But due to this epidemic, the internet has become a part of their lives.
It opens them to a vast known world where there is a potential threat in every corner. From online bullying to accidentally stumbling upon unprecedented content, everything can be very damaging to their mental and emotional state.
Monitoring Employee Computers
This is an issue for your professional life and applicable if you are employing several people. In this case, you are the owner of the working computers in the office. So, you can legally monitor them for employee activity.
This will provide you an insight into what your employees are doing during the work hour. This will help to increase productivity and you will be able to keep an eye on any potential threat to your company.
Monitoring Couples Computer
This is also related to our personal lives. Being in a relationship is not easy; especially, if you suspect the other-half is cheating.
Monitoring the computer may will be helpful to improve your relationship and it also will help you to see through the web of lies you are being fed. Or you may find, nothing is going on. It was all your imagination and that will help you to go back to your life with peace.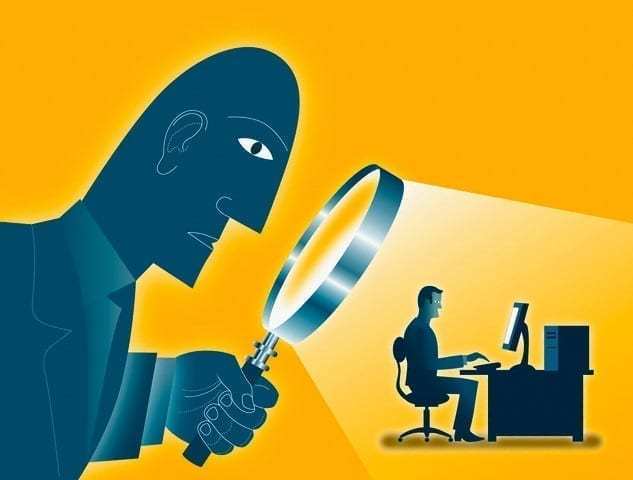 How Can We Get into Someones Computer Remotely and Secretly
All you require is an effective tool that will provide you access to the target computer. The tool has to be easy to operate and installation also needs to very simple.
Initially, you have to access the target computer. You have to do it only once. So, do it carefully and all you have to do is to install the software. Then, the software will start working in the background of the target computer hiding its presence and feed you all the information via its secured online portal.
Just like we mentioned above, a software named MoniVisor that comes with a user-friendly interface and effective monitoring capabilities.
The Steps Guide to Remote into A Computer without Them Knowing
MoniVisor is one of the best tools for accessing Windows computers, remotely. It has a simple installation and operational procedure that makes it the most convenient solution for remote monitoring.
So, lets check out how to remote into a computer over the internet using Monivisor.
Step 1: Register an account with MoniVisor by clicking on the Monitor Now option. Then you need to purchase a plan with all the necessary functions you require.
Step 2: After purchasing the app, you will be taken to the My Products and Orders Management Page. Here you can get the very detailed Setup Guide  and then follow the instructions to finish the process.
In this period, you need to download, install and activate the software, but dont worry, the guide will clarify every details for you. The whole process may take you about 5 minutes.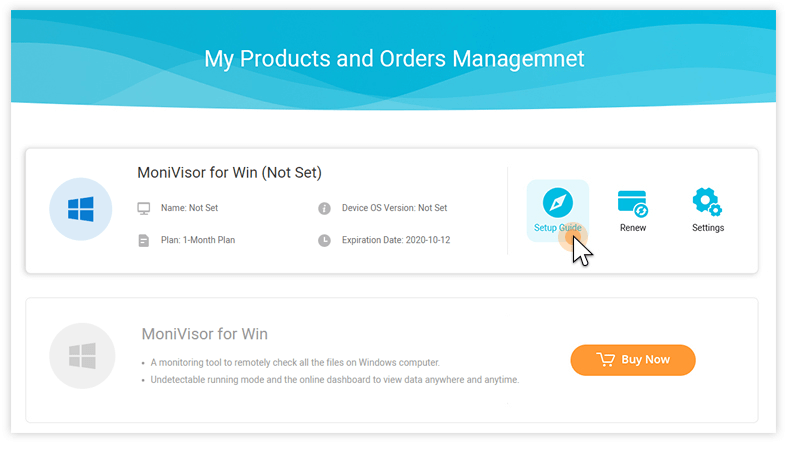 Step 3: After finishing the configuration procedure, MoniVisor will start running in the background of the computer.
Now you can visit the ClevGuard website and login into your account. Click on the "Dashboard option and all the recorded data will be visible to you.  
By now, you have already remotely accessed into someones Windows computer without getting them knowing. And in the future you will no longer need to have close contact with the target computer, you can use your browser to log in and view the data anytime and anywhere.
You can use the features listed below to monitor target computer:
Internet browsing history and download history tracking: All the search history and download history can be recorded and you can check on your own computer.

Web mail (like Gmail, Yahoo and Outlook) and web social media(like WhatsApp, Facebook, Skype and Twitter) platfrom contensts tracking and reading

Real-time keystrokes recording: Record all the contents typed on target computers keyboard.

App activity recording: Record the app usage of each app on target desktop.

Auto remote computer screen capturing: Take a screenshot from target computer without them knowing.

File activity tracking: Track all the files activity made on target computer.
For more features, you can check the free online demo to have a try first.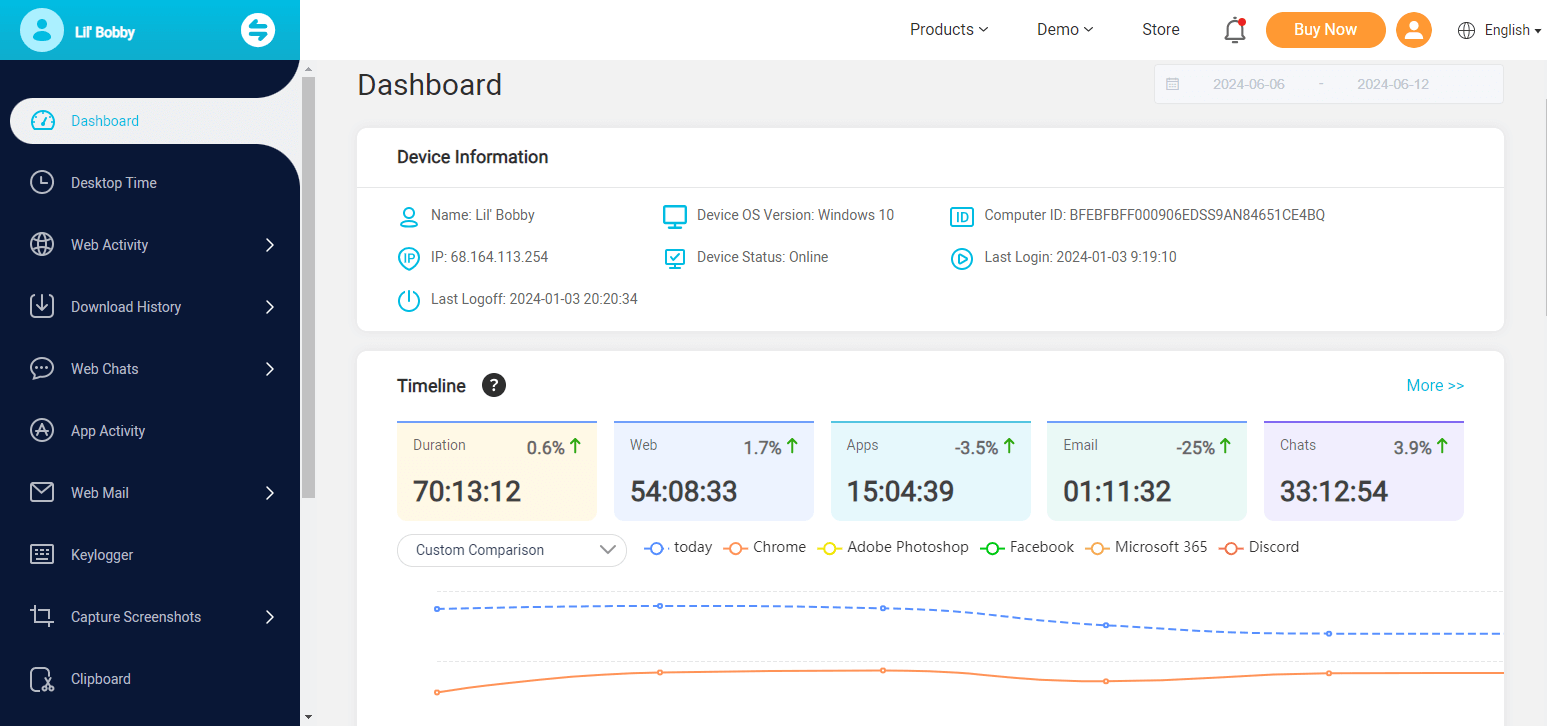 You must remember that the first data sync takes a considerable amount of time, do not get worried. And you wont have to wait for permission from the owner of the target computer for accessing the device.
Summary
Therefore, the Remote Desktop Connection app on Windows may be the official solution but it is not well equipped for covert remote access. For this task, you need to procure a tool that is specially designed for the said task i.e. Monivisor.
If you have any questions about the tools using, please feel free to leave your comments below.