Question: Why do Parents need to find a social Media blocker app?
Nowadays, kids are more addicted to the internet and phone. They spend 70 percent of their time on the internet.
Additionally, almost every kid has a social media account, and they keep posting weird pictures and personal videos to attract other users or audiences.
They don't know posting such kinds of stuff on social media accounts can harm them. That's why parents are worrying about kids.
In this article we will provide you complete guide about how to block social media on iPhone and other tips.
How to Block Social Media on iPhone?
If your kid is an iPhone user and you want to block all social media apps and websites on his phone, you can easily block them.
There are different apps available online, but Freedom is an unbeatable social media blocker app for iOS users. This popular app allows you to block social media on the iPhone. There is another option like you can block social apps except for a few.
So you can block desired social apps on a kid's iPhone with the Freedom app. this app help you to block social media on iPhone.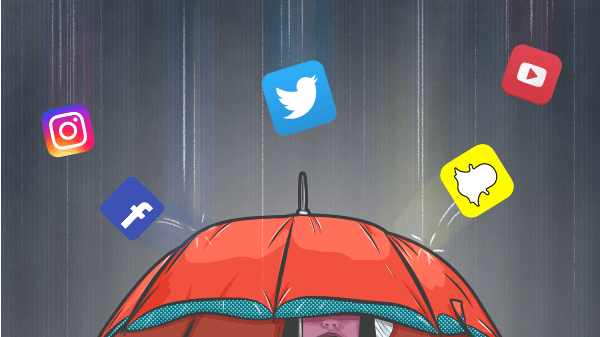 Here are steps to block social media platforms on a kid's iPhones.
Download and install the Freedom app on your iPhone to start using the Freedom app for blocking social media sites and apps.
After installing, signup and create your account with email and set a password.
For safari, install a Safari content blocker.
On iOS 14 or below, go to Setting, tap safari, and content blockers.
For iOS 15 or above go to iOS settings > safari > extension.
To turn on "all websites," go to safari > content blockers > toggle all websites.
Now click on "install app blocker" to install the Freedom app blocker.
For installing a Freedom VPN, use your touch ID and password.
You do need to turn on or off to VPN because it works automatically.
Now open app , go to setting , click block list.
Select social media apps and create block list, now these apps are blocked you will not receive notification from these sites.
Top 5 Social Media Blocker Apps for Android
Social media is not safe for kids, but nowadays, kids are addicted to social sites like WhatsApp, Instagram, Facebook, Twitter, etc.
Kids are unaware of the danger of these social sites, so they keep uploading their pictures, videos and personal information on these sites. The excessive use of these social sites disturbs the parents and makes them worried too.
So parents always want to block these social apps on their kid's devices. Technology makes it easy for parents to block social media sites on kids' phones with free and inexpensive social app blocker apps.
Here are the top 5 social media blocker apps mentioned below.
1. KidsGuard Parental Control APP
KidsGuard parental control app is a highly recommended app for blocking social media apps and websites. This app works smoothly on the Android phone and allows the parents to block unwanted social apps.
As you know, there are a lot of aggressive games and social apps that impact mental health. The KidsGuard parental control app blocks these kinds of games and most used social apps easily. That's why it is the best social media blocker app.
In this way, the parents can keep the environment safe for kids and control their addiction to social sites.
Additionally, the KidsGuard parental control app includes other features like screen limit, screen capture, call filter, browser history, real-time location, geofencing, and activity report.
So, we can say that the KidsGuard parental control app is a complete package for the parents to keep them safe. If you are frustrated because of your kid's social media apps addiction, install the KidsGuard parental control app on your kid's phone, KidsGuard is the best choice for you.
How to use KidsGuard parental control app?
Step 1.
Click download button below to download and install KidsGuard from Google Play Store or App Store.
Step 2.
Open KidsGuard, sign up an account and log in. Now go to dashboard and tap on
Bind Now
, copy the Url in setup instruction and send it to your kid's device.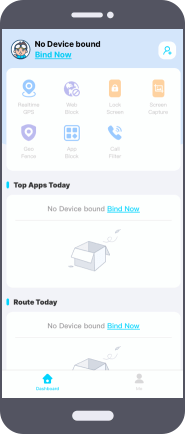 Step 3.
Open the Url in a browser on your kid's phone to install KidsGuard Jr on his/her phone. After setting, you can start to manage your kid's phone now.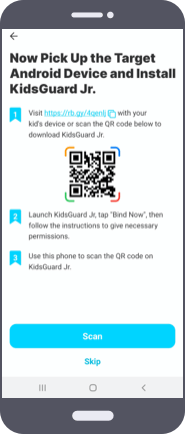 2. Moment
The moment is a popular social media or website blocking app. People can easily block the social media apps that they want to. The admirable thing about this app is that it not just blocks apps but also tracks the time spent on other apps on your Android phone.
The moment app has other features such as tracking time spent on each app screen limit. As a parent you want to control your kid's social media addiction, you can download this app.
It will block all social media apps on your kid's phone after downloading the app. This app is available on the google play store and the app store free of cost.
Its free version contains ads and has limited features. So if you want to enjoy all features, get a monthly or yearly subscription for a premium account.
3. Off time
Off time is such an amazing social media blocking app for Android phones. This app helps you block social media apps or websites and all games that take too much time for your kids.
Additionally, this app aids you in blocking all messages from unwanted contacts. This app has other amazing features like take-off time and inviting other people to join your off time.
Furthermore, in this app, you can set a screen limit of app usage, etc. you can download this app from the google play store for free.
4. Famisafe
Famisafe is a parental control app that favors the parents to block social media platforms. Additionally, this app has other amazing features that are useful for parents.
Kids use too many social media platforms, and parents are not with this behavior. So Famisafe gives them the best option to block all social apps and websites from kids' phones without telling them.
5. Flipd
Flipd is an easy-to-use and straightforward social apps blocker application. This application helps you to break the bad habit of your kids who spend time on social apps. This app also blocks all unwanted notifications from social media apps and sites.
You can permanently block the social apps and set a break from social media apps. Additionally, you can do the monthly challenge of not using social apps that helps the kids get rid of a social app addiction.
So, if you want to block social media accounts on a kid's phone, install Flipd.
Related Read: Parents Awareness: You Must Know about Social Media Porn
Tips: How to Block Social Media Apps from Yourself?
As you know, millions of people are using social media apps and websites. On these sites, people share a lot of stuff like videos, pictures, traveling vlogs, memories, etc.
Additionally, people from different cities and countries follow each other on these sites. But people face too many issues because of too much exposure to social media platforms.
That's why they want to block these social media suites from their phones. Here are some reasons for blocking social media sites or apps.
1. They might suffer From Online bullying
Bullying happening on social media sites is even worse and more damaging than real-life bullying because these people act freely, and mostly they do it anonymously, and they can reach any level.
Bullying can happen to anyone. It doesn't depend upon your age. Kids under 13 are mostly affected by it because it's the time when their self-esteem begins to develop.
Bullying makes children seek virtual approval. Abusive language and gossiping also give rise to anxiety and depression. Bullying can also trigger self-harm.
2. Inferiority complex
On these social media sites, people are influenced by kids around them and their circle of friends and way beyond that.
So, they feel pressured to stay updated with the worldwide trends for young minds. It might give a feeling that they won't be able to achieve good things in life as much as other people are doing. So it causes an inferiority complex in them.
3. Stalkers or predators can track location
People on social sites upload pictures and other personal information. Additionally, they might share things that are not really for the whole worldwide.
For example, they might take pictures of their ID card or atm card and share them with others. If they share their location or any picture showing your location, stalkers might easily reach your location and can put you and your family in danger.
4. Anxiety
According to different studies, too much use of social sites causes anxiety and depression in people.
Because on these sites, they experience so many things which are not good for their mental health. Because of these issues, people want to stay away from these social media sites.
So here is one method to block social sites on your device:
First, if you are an Android 10 user or above, try Focus Mode on your phone to block desired social apps.
Next, go to Settings, tap the digital well-being or parental control option.
Now scroll down, select an app, tap on the hourglass icon, set time (minimum time) now. All selected apps will be blocked when time is up.
So in this way, you can block social apps on your Android devices.
Conclusion
As you know, a lot of social media platforms are available where people create accounts and spend too much time. We all know that social media apps and websites are a source of entertainment but using too much is dangerous. Nowadays, kids are using different social sites. They used to make friends, talk to strangers, and share personal information on these websites, which is dangerous for them. That's why parents want to block these social media apps from their kid's Android phones. The KidsGuard parental control app is highly recommended for parents.