"How can I remotely spy and control my kid's phones? Is it easy?"
Protecting children from mental health and bullying is the core responsibility of parents. Leaving them on their immoderate makes them vulnerable to both hidden and non-hidden risks. Spying your children's phone secretly can stop them from learning obscene behaviors, interacting with strangers, exploring adult sites, and engaging in other horrendous acts.
Hence, instead of restricting your kids'Internet access, you can remote spy and control your children's phones. Read the following article to learn to spy on your children's Internet use secretly.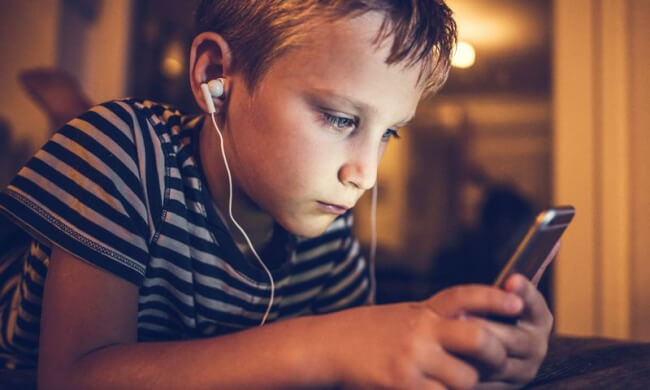 1. What should you consider before having a remote spy and control service?
With the evolution of modern technologies and the internet,cyberbullying has became a major concern for parents across the globe. The threat, however,can be moderated with strict supervision of the child's online activities.
To protect your kids from getting exposed to life's harsh realities, you need to step up and monitor their smartphones and limit their online activities. Various parental control software is available online that enables parents to check their kids'online connections, most-visited sites, and apps downloaded on their smart devices.
The best parental control software is the one that is secretive and provides complete information about the child's smartphone activities. Besides letting parents spy on their kids, these applications also give useful recommendations in the form of necessary steps to be taken.
Similarly, while having a remote spy and control service, check their customer support service that is essential for enhanced consumer experiences. Make sure you are acquiring services from a trustworthy website. Also, check their refund policy to demand reimbursement in case you are not satisfied with the software's performance.
2. Five Best Spy and Control Softwares
Given below are famous spy and control softwares to help you choose the best cell phone monitoring app.
1. mSpy
mSpy is one of the best phone tracker apps preferred by thousands of parents globally. This app offers 24/7 multi-language customer support and advanced monitoring features such as:
Monitoring of call logs and messages;
Satellite address locator tracking;
Checking browser history and media files.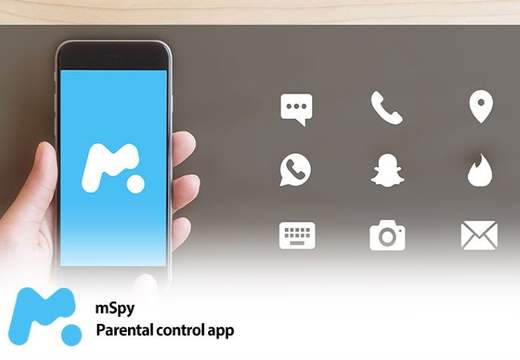 2. Spyic
Spyic is a user-friendly and cost-effective call phone tracker that enables 24/7 spying on kids'phone activities with a convenient one-time payment. Some of its features are:
Call recording and search alerts;
Remote screenshots and photos;
Timeline of all smartphone activities;
Track locations and take remote pictures;
Wi-Fi logger.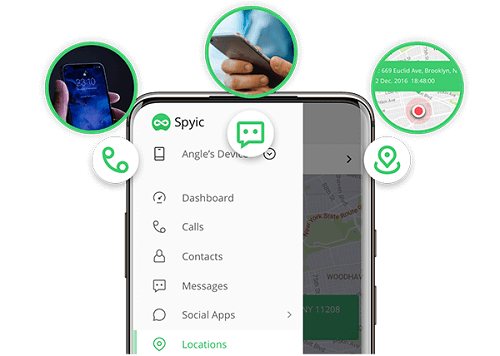 3. KidsGuard Pro
KidsGuard Pro offers an ultimate solution to the spying needs of diverse customers. This progressive tracking software ensures all-round-protection and offers a more generous pricing plan than other parental control apps.
Given below are its key features:
Remote videos and photos;
Calls and Texts logs;
View location history;
Hack Social App messages;
Safari Browser History.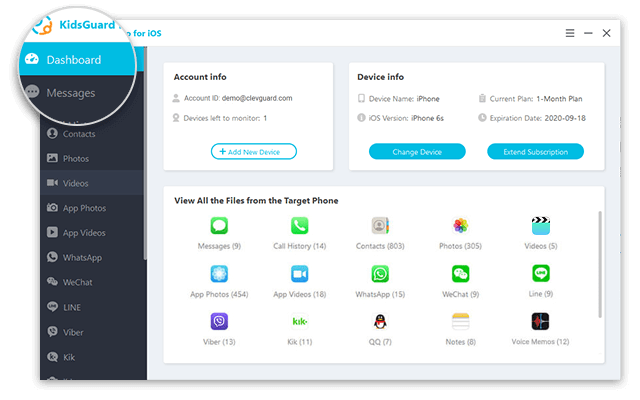 4. Cocospy
Cocospy comes with an exclusive GPS tracking feature, which allows users to track SIM locations in real-time. Besides, it enables you to:
Spy instant messengers;
Track web history and view network details;
Find hidden pictures.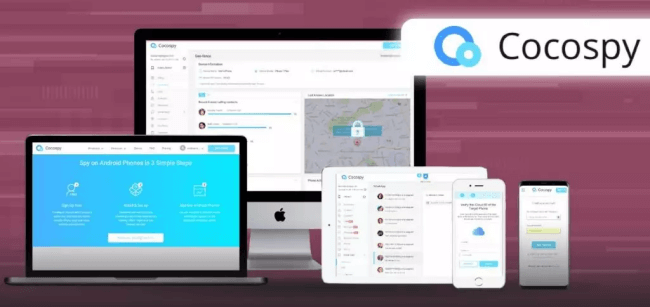 5. uMobix
uMobix enables comprehensive monitoring of target phone's activities including:
Monitor call history and text messages;
GPS tracking;
Browser history and access the photo gallery.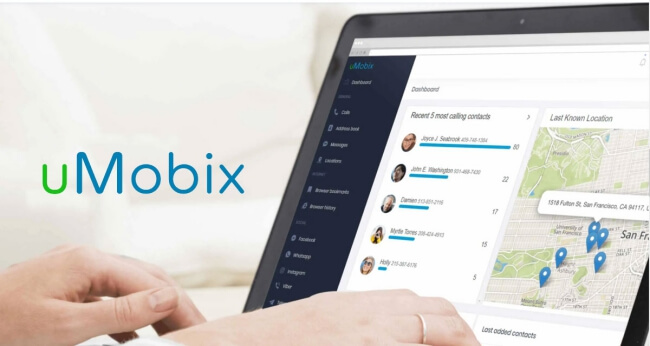 Comparison of 5 Best Spy and Control Software Services
mSpy
Spyic
KidsGuard Pro
Cocospy
uMobix
Type
Parental control and mobile tracking
Monitoring Software
Parental Phone Tracking Software
Tracking&Monitoring Software
Advanced Cell Phone Tracker
Features

1. Alert dangerous

2. Wi-Fi Monitoring

3. Instant messengers monitoring

1. Track Locations

2. View Social Contacts

3. Calls and Texts Recording

1. Tracking Smartphone activities

2. No jailbreak Required

3. Lower Pricing and 30-days money back

1. Tracking SIM Location

2. Web History Tracker

3. Spying on instant messengers

1. Access to videos,photos and social applications

2. Keylogger

3. GPS tracking

Rating
5.0/5.0
4.9/5.0
5.0/5.0
4.8/5.0
4.9/5.0
3.How to Remotely Spy and Control Phone with KidsGuard Pro
3.1 Key Features of KidsGuard Pro
KidsGuard Pro is an ultimate monitoring app for Android and iOS that comes with a set of several exclusive features which make it one of the best cell phone parental monitoring apps. For instance, it is 100% undetectable and gets started within five minutes. With its advanced and user-friendly interface, you can monitor more than 30 different apps including Snapchat, WhatsApp and so on. Parents can record calls or view text messages without rooting their kids'phones.
Moreover, KidsGuard Pro can also be used to track real-time locations, thanks to its inbuilt GPS or Wi-Fi location tracking technology. Its remote-control function offers a variety of stealth-mode operations such as remotely taking pictures or screenshots, recording phone calls, and reading incoming and outgoing text messages.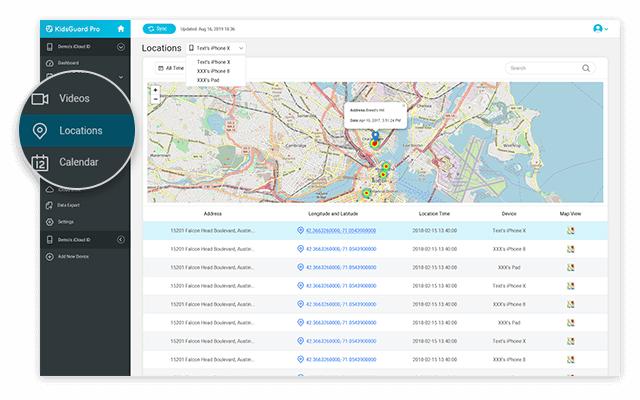 3.2 Ways to Monitor iPhone
Step 1. Create Your Account and Choose Your Plan
Account creation is a must for both Android and iPhone users. Therefore, Sign up on your smartphone or computer/laptop and create your account by entering your valid email address and password. You will receive an email from ClevGuard confirming your registration. After creating your account, select KidsGuard Pro for iOS and choose your desired pricing option. It is highly recommended to choose the premium 1 year-plan to use advanced monitoring features.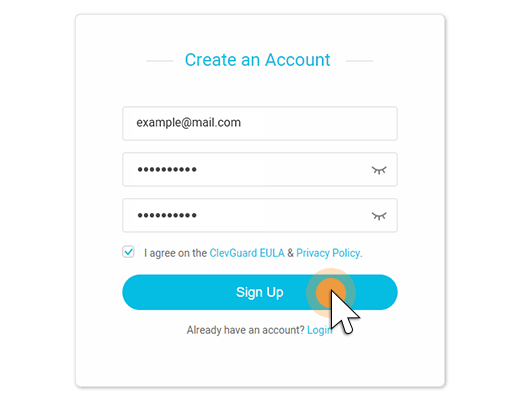 Step 2. Download and Install the app on your computer
To start the downloading process, tap on the Setup Guide learn how to download and install the app on your computer.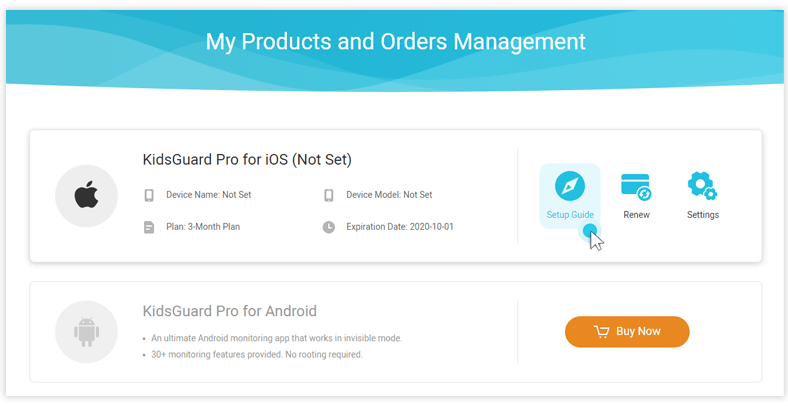 Step 3. Device Verification&Data Scanning
To monitor your child's phone's activities with KidsGuard Pro, it needs to physical access the target iPhone and scan it. You can do this by connecting the device to a computer with a USB or connecting it to Wi-Fi and get data as shown in the Dashboard figures.With the completion of the scanning process, you are now ready to monitor your kid's iPhone and get access to the monitored data. You can even check the deleted files, switch between different types of files, check chat history, and view data on your computer.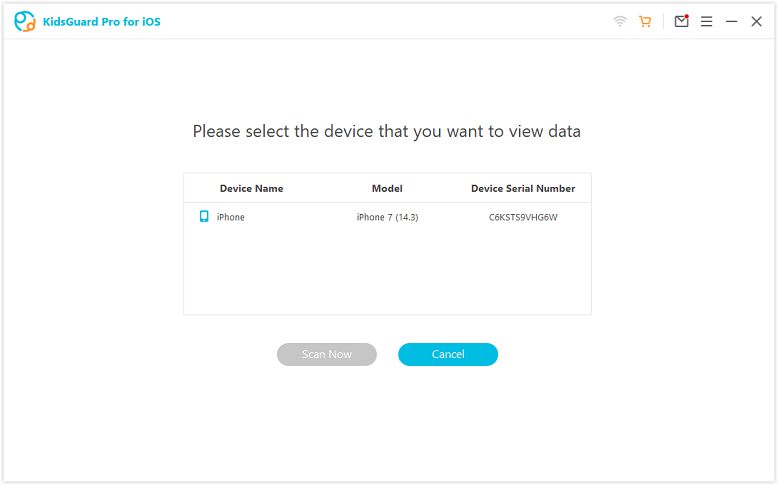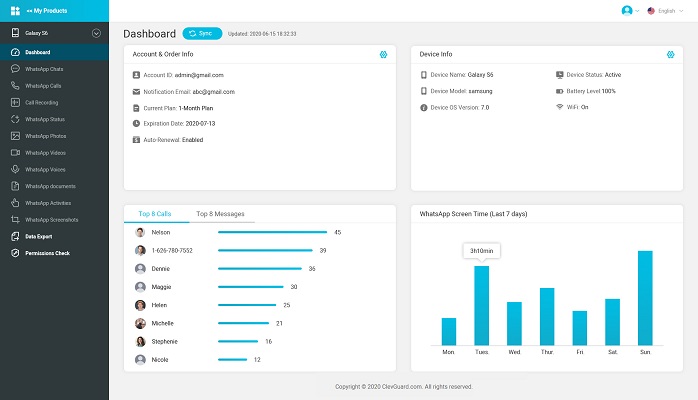 4.Common FAQs
Can I remotely install spyware on a cell phone?
Yes, but the remote installation of spyware varies depending on the phone type, device permissions, and individual privacy. The only way you can remotely install spyware is to ask the device owner to follow the installation link.
Can spyware be installed remotely?
Yes, but this process is very complicated. You need to send an email or message to the target device and ask the owner to open the attached file or link.
Is it possible to spy on a cell phone without access?
Yes, spying on a cellphone without physical contact is possible only by sending emails or text messages. Unless the user installs the parent spy remote control app, you can't spy on the target phone without access.
Can you spy on a phone without access to it for free?
If you have someone's phone lock password, it is possible for you to spy on an his phone without access to it for free. Otherwise, you have to install a spyware on the target phone to start remote monitoring.
Conclusion
Rising incidents of cyberbullying have exposed children to online harassment globally. It is the responsibility of parents to monitor their kid's online activities by using remote spy and control software.While choosing a cell phone monitoring app, check its reliability, customer support service, and refund policy. Some of the best parental control software are mSpy, Spyic, KidsGuard Pro, Cocospy, uMobix.
Now don't hesitate, take a try and use these spywares to monitor your child's phone with this guide!