Private browsing is a basic feature in every browser. It hides some of your online activity by not storing your searches, form data, cookies and images, which offers some improved privacy, but it can't make you completely anonymous online. It is believed that some information related to your private browsing activity is stored on your iPhone and can be tracked.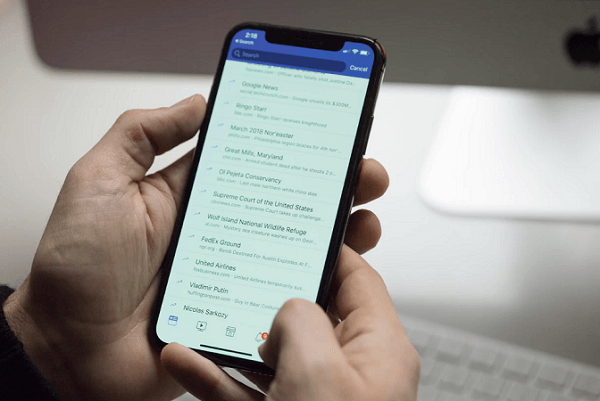 All You Need to Know About Private Browsing
There are a lot of good reasons to go incognito while browsing online. For example, you might need to research topics that you'd rather not have to enter into that search box. So it is important to understand what a private browser does, and does not do.
How to Get Private Browsing on iPhone:
Navigate to Safari app.

Tap on the two quares icon in the lower-right corner to open a new window.

Tap on Private option in the bottom left corner.

You're in, your address bar will become darker. And Safari will also show you a brief explanation of what private browsing is. Tap the plus icon to search things.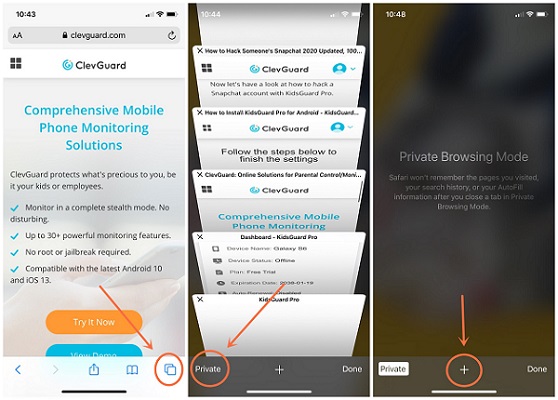 What Private Browsing Keeps Private:
It doesn't keep a record of which sites you visited while on Private Mode.

Passwords entered on various websites are not being saved.

There is no autocompletion of passwords and usernames as well.

It prevents the websites from adding cookies to your device.

It won't record your searches in the search box.
What Private Browsing Doesn't Keep Private:
Safari Private Browsing history is never totally safe. While private browsing is a great way of keeping things incognito, it doesn't offer the all-round safety that you require. There are a number of things that private browsing cannot protect.
It can't protect all of the information with your Internet Protocol (IP) address.

Bookmarks that you save in private session are still visible when private browsing is disabled.

Your Internet Service Provider can still see what you do online and possibly sell that information.

If you're using your work computer, then it will still see and record your online activity because of installed monitoring software.

The websites you visited can track your device and behavior on their servers.
Can Private Browsing be Traced on iPhone
As mentioned before, Safari Private Browsing deletes your browsing activity, search history, auto fillers, and cookies from your browser and iCloud once it's closed. However, it only hides your activity, not the data.
If you  google "How to view Private Browsing history of Safari on iPhone", there are multiple ways provided online. What we did is we tested all of the available methods and figured out whether they are just myths or actual facts. The results that we came up with are presented in the following part in detail.
In a rush? Wondering how to track someone's Safari history secretly? You can skip to this part directly.
Some Popular Ways on How to View Private Browsing History in Safari
If you are willing to trace private browsing history on iPhone, you can benefit from these methods. Not all of them work equally. Some of them work while some of them don't. Let's get a little deeper with these.
1. Keylogger Software
The keylogger is commonly known as the phone monitoring software that records everything you do, touch and type on your iPhone. For instance, when you do a search on Private Browsing, previously installed keylogger could only track what you type on an actual keyboard. Just be warned that Apple does not authorize this kind of apps and set tough security protection. But they take advantage of the flaws of iPhone lets certain apps run in the "background" while you're doing other things by the means of jailbreaking.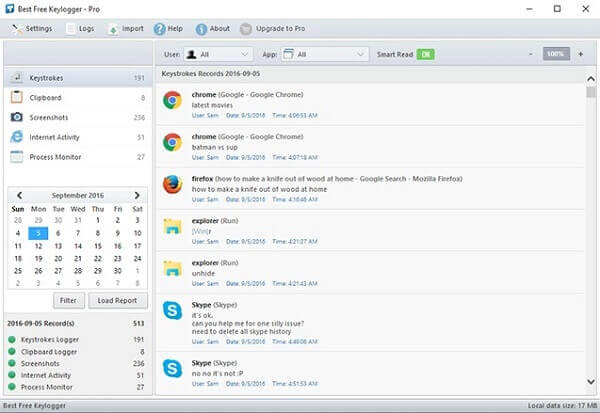 NOTE:
Keylogger only works on "jailbroken" iPhones. If it fails, you might brick your iPhone. Even it works, hackers may steal your personal information, damage your device, or introduce viruses easily.
2. Website Data
There is an option in the iPhone settings labelled Website Data and many other articles claim that it can store private browsing history. However, Website Data are files, images, cookies, etc. It is because when you visit a website on an iPhone or iPad, snippets of data are saved to your device in order to be able to show you the website in the browser. Anyway, we will introduce the steps of this method so that you won't fall into victim.
Open the Settings app. Next, scroll down to find Safari.

Go to the very bottom of the screen and tap Advanced.

Tap Website Data at the top of the screen.

The next screen displays the websites that are using the most data. If you want to see them all, tap Show All Sites.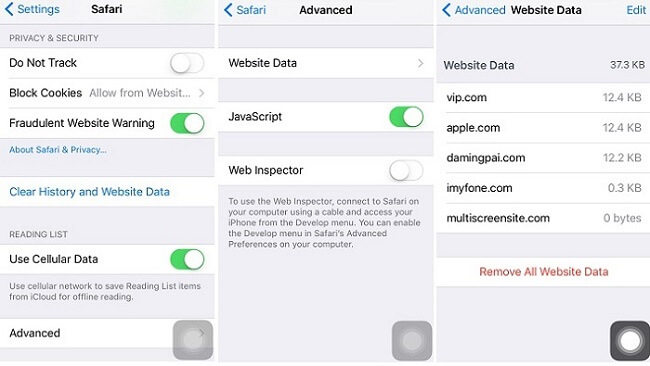 NOTE:
Website Data only shows how much space your frequently visited websites take up, not actually any data that means Private Browsing.
3. SQLite
SQLite is a popular tool that claims to access and trace private browsing data on the iPhone. A list of the URLs you have visited during private browsing sessions are stored in a database file. All you need is a database file and an SQLite browser to access the database. Here is the step-by-step guide for Mac users:
Once you are in the Finder, click Go menu.

Hold the Option key and click on the Library when it appears.

Navigate to the Safari folder. Select and drag the 'WebpageIcons.db' file into the SQLite browser that you previously installed.

Click on the Browse Data tab, you can navigate to all the visited URLs from this device.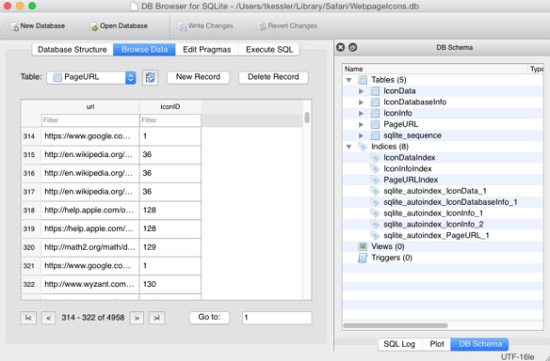 NOTE:
It works but Security firm Check Point has disclosed a major vulnerability in SQLite databases that allow hackers to inject malicious code into devices. You should be careful about using this tool.
The Best Way to Check Someone's Safari History on iPhone Secretly
With all those methods we checked, some failed and some worked, but you have to compromise with the security of the phone. If you wish to know how to check someone's Safari history with a safe and legit way, then use a dedicated parental monitoring tool like KidsGuard Pro for iOS. It is an online tool very helpful for parents who want to monitor the online internet activity of their children even without being detected.
This software can help you keep tab on all the websites visited with their URLs and titles on an iPhone or iPad. You can view date and time as well. All the bookmarks stored on their phone can be tracked. For those wonder how to check deleted history on iPhone, KidsGuard Pro comes in handy.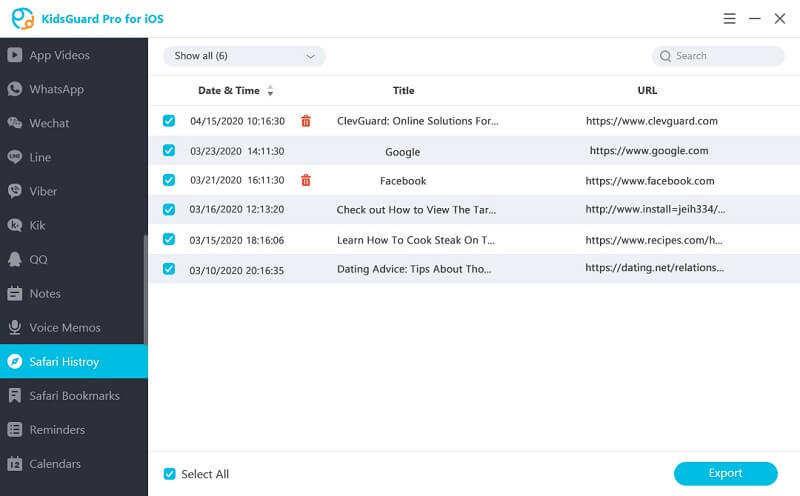 How to Track Someone's Browsing History using KidsGuard Pro
It is quite easy to track Safari history on iPhone using KidsGuard Pro. All you need to do is to follow these steps on this 3-minute video.
What Else Can You Benefit from KidsGuard Pro
KidsGuard Pro is equipped with a lot more monitoring features:
Call history

Messages

Photos

Videos

Contacts

WhatsApp

LINE

WeChat

Kik

Notes
Till now, KidsGuard Pro has been chosen by thousands of users around 190+ countries and many tech sites like AlternativeTo and APPLEFAN also recommend it. So you can rest assured and give it a try.

Conclusion
No matter which browser you choose, it will have its own private browsing feature. It does offer you some privacy, but it is possible to trace private browsing data with some tools. You should think twice when make a choice as some tool may cause security issues.
If you want to know how to check deleted history on iPhone, KidsGuard Pro is the most suitable option in our eyes. You can track many files on someone's iPhone without any hassle. Go ahead and create your free KidsGuard Pro account and explore all of its amazing features below.