Call history is an important feature of any cell phone and reveals a lot of important information on dialed calls, missed calls, or received calls. Maybe you're curious to see who you're on the phone with the most, you may accidentally delete your call log or in case you want to access someone else's call log for legitimate reasons.
Whatever the cases, here we are discussing top 6 reliable ways on how to look at call history on iPhone and how to see deleted call history. What's more, this chapter also introduce a smart way on how to look up others' call history on iPhone in real time.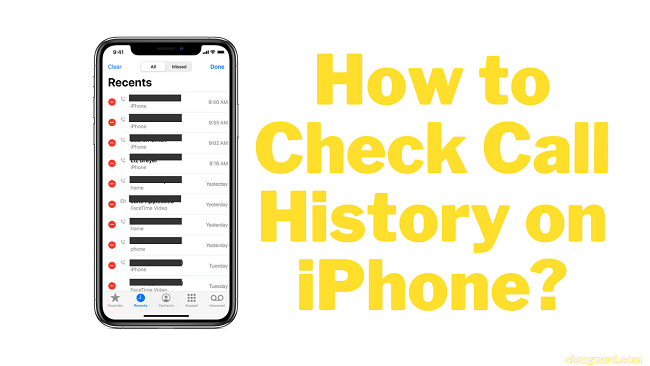 Part 1 How Can I See My Call History from Months Ago?
Here are 3 methods to help you look at your call history on iPhone from months ago.
1.1 Look up Call History on iPhone with Phone App
Step 1: Unlock your iPhone and navigate to the Phone app. By default, it is at the bottom dock.
Step 2: When you tap on this iPhone call history app, a list of numbers (iPhone call log) will appear in front of you. You can find the different options at the bottom of the screen including favorites, recent, contacts, keypad, and voicemail.
Step 3: Tap on the Recents to see all of your call histories.
Step 4: To know more details such as call type (missed, incoming, outgoing), call time, call date, about a specific contact, you can click on the (i) icon.
Step 5: If you want to view old call history on iPhone, just scroll through all your recent calls. It stores iPhone call history for up to a year.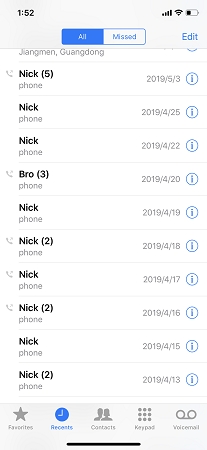 Limitations:
Deleted call logs will not be shown in the Phone app. Apple can hold 1000 calls but only shows you the most recent 100 of that history, so if you want to look for old call history, you have to delete some of the existing logs.
1.2 Look up Your Call History with One Specific Person on iPhone
Do you want to view iPhone call log history with one specific person but it's been a long time since you last talked? Scrolling through your whole history is time-consuming. But don't worry here is a detailed guide that will help you see someone's iPhone call log history at ease.
Step 1: Launch the Phone app on your iPhone.
Step 2: Call the specific person but make sure to dismiss the call before it goes through.
Step 3: Proceed to the Recent tab and you will find the person you just called in the list. Tap the (i) icon next to the person's name.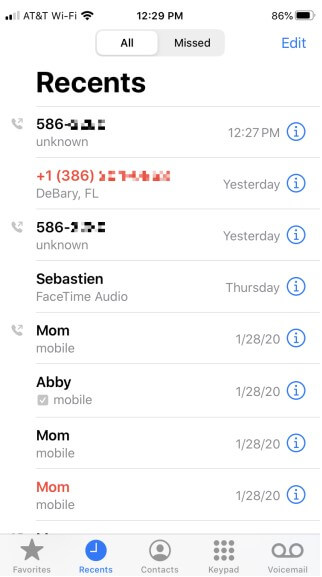 Step 4: Then you can view the previous call history with this person along with time, date, and duration.
1.3 Look up Call History on iPhone via Your Carrier
To look at your full call history on iPhone, you can also check your cellular carrier's call logs statement. The carrier usually stores call history ranging from 18 months to 6 years.
Step 1: Go to the AT&T website. Resgister your account or sign in with it.
Step 2: Click on the Phone Features tab and Call History. Your iPhone call history will be shown.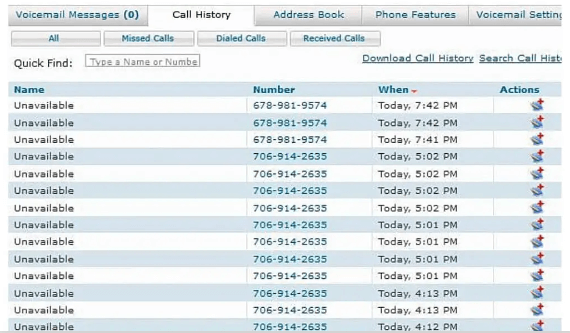 Part 2. How to Look at Deleted Call History on iPhone?
Well, now you have known how to look up call history on iPhone. However, if you have deleted the call history, how can you check them out. Don't worry, here are 3 useful methods to see deleted call history on iPhone.
2.1 See Deleted Call History on iPhone via iCloud Backup
If you delete some important call history on your iPhone device, you can restore them from the iCloud backup. But you should have backed up your call history before, then you can use this method. This is how to view old call history on iPhone as well.
However, to do it, the iCloud backup and sync option must be enabled on the phone. In that case, you can simply restore the iCloud backup and view it for free. Mentioned below are the steps to see iPhone call history.
Steps to See Call History on iPhone with iCloud:
Step 1: Go to iPhone's Settings app and launch it.
Step 2: Swipe up to find General option and hit Reset.
Step 3: Next select the option called Erase all contents and settings.
Step 4: The phone will restart and you should select Restore from iCloud Backup during the initial setup process.
Step 5: Enter iCloud ID and password and tap on Next.
Step 6: Wait a minute and when the restore process is complete, you should launch the Phone app to view the call history.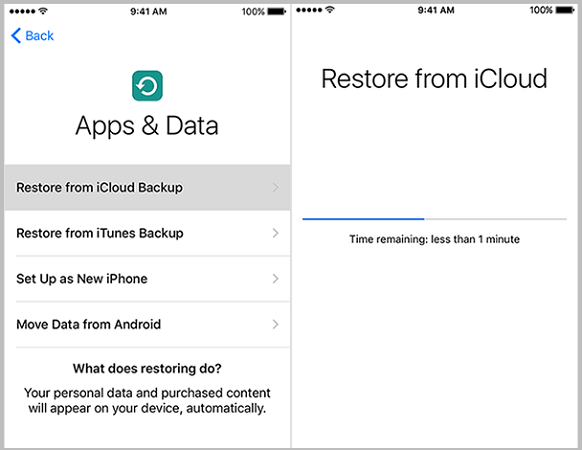 Limitations:
This method replaces the pre-existing data of the target iOS device. Also, it demands you to reconfigure the device from scratch.
Tip:
Many people would ask why can't I see my recent calls on my iPhone. Well, this may because:
Update iOS version.
Recover the wrong iTunes or iCloud backups.
2.2 See Deleted Call History on iPhone via iTunes
Beside restoring deleted call history on iPhone via iCloud backup, you can also restore them from iTunes. Make sure you have backed up the call history before.
Step 1: Go to iTunes app on your computer, and conneect your iPhonee via a USB cable.
Step 2: Once your iPhone is detected, click the Restore Backup.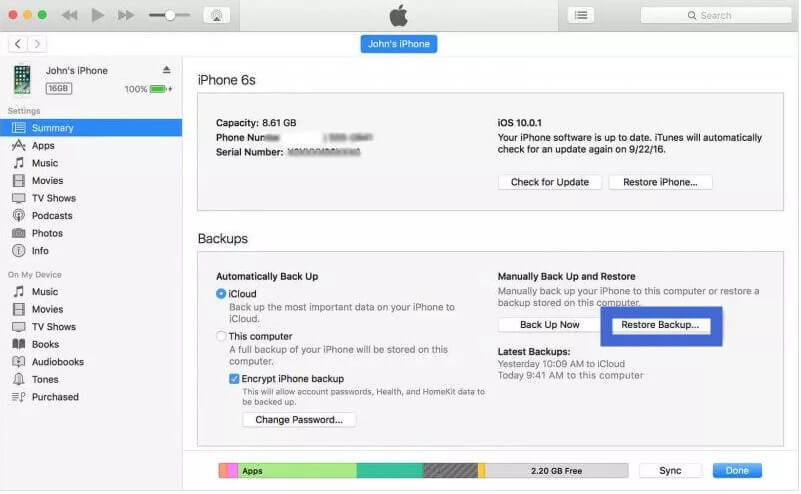 Step 3: Click Restore button to confirm after selecting the backup file you need. Then wait until the process is finished. Then you can see your deleted iPhone call history.
2.3 See Deleted or Other's Call History Using KidsGuard Pro
By now, I'm sure now you have learnt how to check call history on iPhone. However, the previous methods have some drawbacks, as you noticed. If you wonder how to see deleted calls on iPhone or check someone's call history for the purpose of keeping your eyes on their activities, then you should opt for call log tracker, KidsGuard Pro. This call log monitor for iPhone app always stands out because of its unique features.
Think about any functionality related to cell phone tracking, KidsGuard Pro provides 20+ incredible files. If we pick just a call history, then it covers every aspect related to call logs such as incoming and outgoing calls. Even if they delete call histoy on iPhone, you could still see the deleted ones on your device.
Furthermore, it gives you the complete details including contacted name, phone number, date, type, and call duration. Doesn't seem astounding?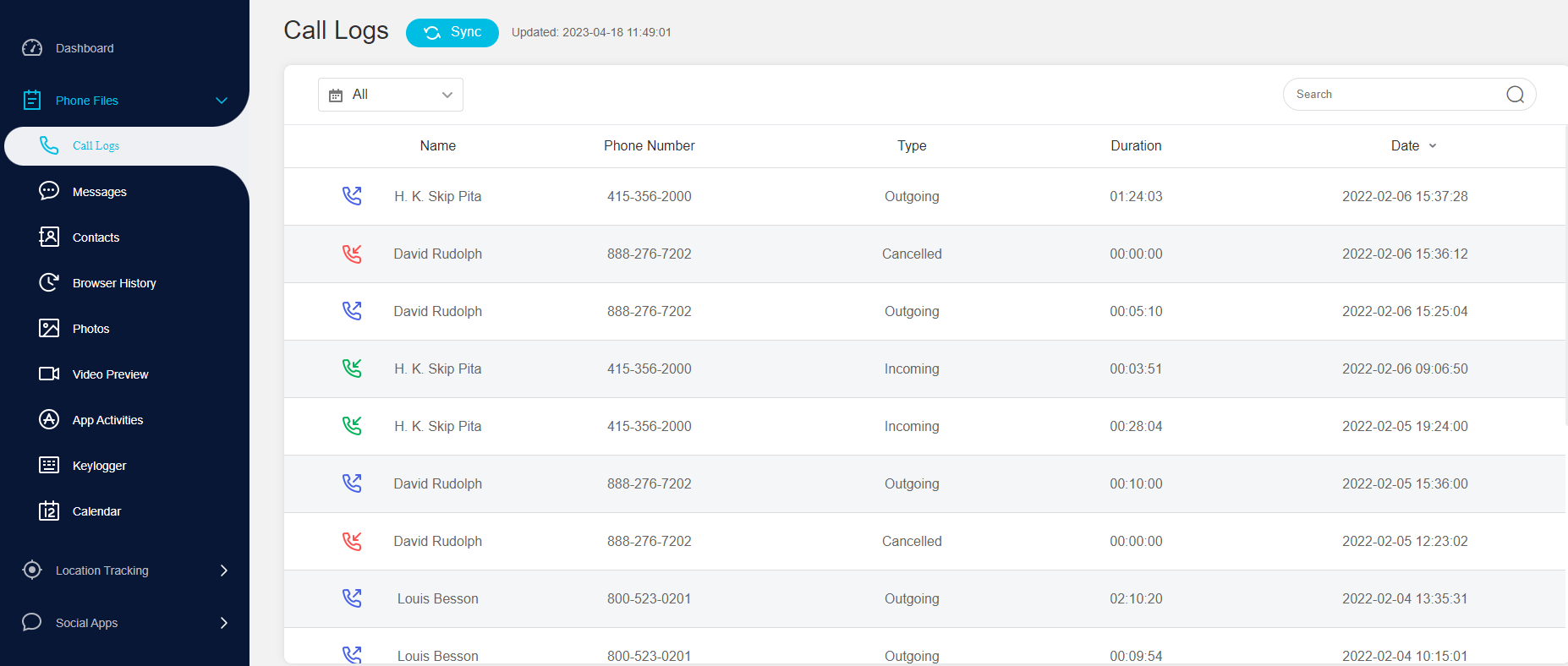 How to See Call History on iPhone with KidsGuard Pro
Hence, it is easy to complete the setup, here are only 3 steps involved to use this app.
Step 1: You can click the button to choose a suitable plan depend on your need, then get an iOS license.
Step 2: Download and install the application on the computer/laptop. Then connect the iPhone to the same computer using the original USB cable. Once the device is detected, simply navigate to the next step.

Step 3: It will start to analyze and scan the backup data, then you can click Call Logs in the left panel and will see a list of call history logs even deleted on the target device. You can also select the option Export to save them on your device for later viewing.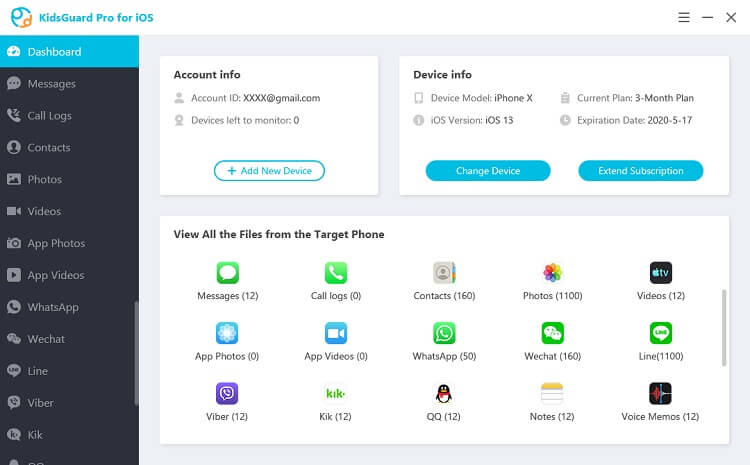 You may notice that it not only works well on tracking your own call history of any number but also is suitable for viewing someone's call logs. Because it is the best method to keep tabs on your close ones of things like with whom the other person contacts and how frequently for protection reasons.
What Else You Can Get from KidsGuard Pro
The functionality of KidsGuard Pro app is not ended yet. It covers more in one package.
Media files: You can see and download all the photos, videos, and more that are stored on the target iPhone device.
Messages: This app tracks each sent, received, and deleted SMS and iMessage with timestamp and contact name.
Social media apps: Aside from textual messages, it can view instant chats from social media apps including WhatsApp, LINE, Viber, Kik, WeChat, QQ.
Safari history: It allows you to check browsing history of the target device.
Phone files: You can check the complete details of notes, contacts, voice memos, reminders, calendars, and more.
Frequently Asked Questions about KidsGuard Pro
Q1. Does it have a trial version?
KidsGuard Pro offers a live demo for free and a 30-day money-back guarantee and you are able to discontinue its services anytime.
Q2. What are the compatible requirements for KidsGuard Pro?
KidsGuard Pro series is a very optimized application and compatible with all types of operating systems including Android - KidsGuard Pro for Android, iPad, and iPhone - KidsGuard Pro.
Q3. Is it safe to use KidsGuard Pro?
KidsGuard Pro promises that all your data is safe. Be assured your information and privacy are in safe hands and even their tech teams have no access to your encrypted data. Moreover, it has a user base of millions of people around 190+ countries and is vetted by many professional tech sites.

Endnotes
It is true that we have composed this article for the use of your own and someone else's. Now that you know how to see call history on iPhone, please make sure that you use it responsibly. Hope this 6 methods can help you look at call history on iPhone with great convenience.
If you want to track deleted iPhone data or someone else's iPhone with a professional tool, it must be KidsGuard Pro for its comprehensive functions and budget-friendly pricing. It's your time to make the choice. Or leave any idea about this article. We will come back to you as soon as possible.