Question:
How can I see the location of another iPhone? I want to track my son but he refuses to share location with me.
Finding someone's location on iPhone has become so easy over the last couple of years. As a matter of fact, Apple offers some native features which enable users to check locations on iPhone of our friends and family, or to find the lost phone. But there are certain restrictions on the use of these features. Aside from that, a few third-party tools capable of tracking the iPhone current location now exist. If you desire to know how to find someone's location on iPhone, then 3 different ways in this article can definitely answer your question.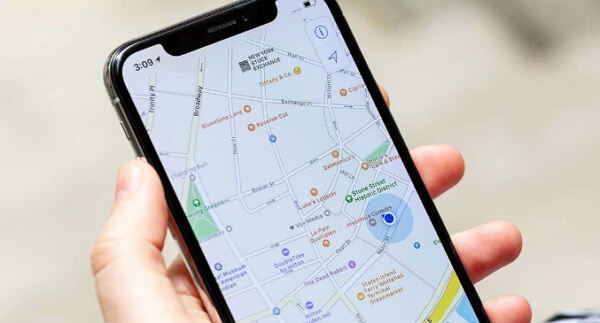 Way 1: Track Someone on iPhone Without Them Knowing Via KidsGuard Pro
Suitable users: For those who want to track someone's iPhone secretly and keep getting the location info.
Is it incognito: 100% hidden
Out of all the ways I am going to mention, using KidsGuard Pro iPhone tracker is certainly a perfect solution. It allows you to find someone's location on iPhone without the target user ever finding they are being tracked. This efficient iPhone monitoring app works remotely online, so you can know where the person is anytime, anywhere.
And the best part is that it is fully compatible with all iPhone models and latest iOS 14 without app installation or jailbreaking. This is a feature that other competitors do not have.
How to See Someone's Location on iPhone Secretly with KidsGuard Pro
With only 3 simple steps, you can start to find someone's location on iPhone:
Step 1: Get a valid KidsGuard Pro account.
Create your KidsGuard Pro account and then purchase an iCloud plan in order to have unlimited access to all advanced monitoring features. Proceed by selecting the operating system of the target phones or tablets.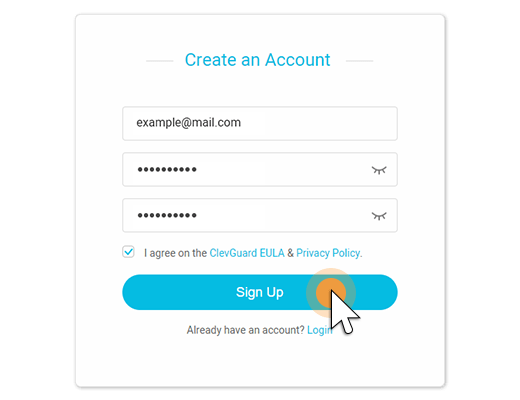 Step 2: Verify iCloud account.
Enter the iPhone owner's valid iCloud ID and password and click on the Continue button. Kindly ensure the iCloud ID or password you filled up is correct and the account is valid. Once the iCloud account has been verified successfully, you will be led to KidsGuard Pro's web control panel.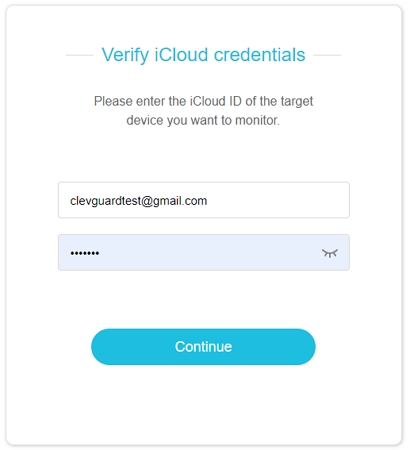 Step 3: Start tracking iPhone location.
Once you are on the KidsGuard Pro's web control panel, you can start monitoring the target device and checking all the updated data remotely. Click on the Locations tab and you will get to see someone's location in real-time on a digital map and you can also check the previous location history, along with street info, timestamp, etc.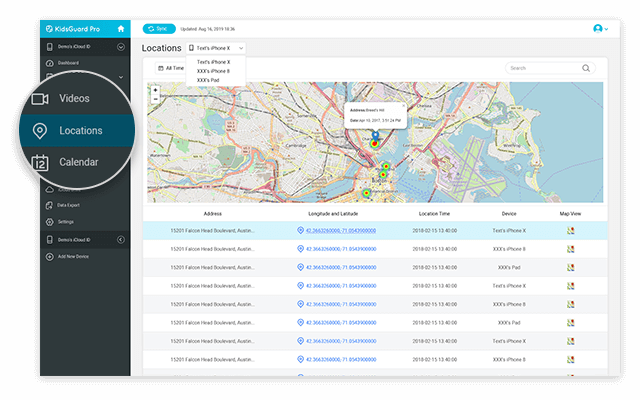 Sound simple enough, does it? We have told you how to secretly track iPhone location with the best app KidsGuard Pro. You may need one-time access to the target iPhone if the two-factor authentication is enabled.
[Video] How to Track iPhone Location? | iPhone Location Tracking in Real-Time
We shot a video on how to use KidsGuard Pro to find someone's location on iPhone/iPad. If you wish to have better understanding of this app, give it a try yourself by hitting the "View Demo" button below.
More Benefits of KidsGuard Pro
KidsGuard Pro specializes in tracking and monitoring someone's cell phone. In fact, it does much more than just providing location details. It enables you to have a complete insight on someone's iPhone, including photos, videos, contacts, notes, iCloud drive and more. We recommend KidsGuard Pro not only because it is secure and legitimate, but it has a good reputation.
Pros

Remote and hidden location tracking.

It cannot be turned off or refused by the user.

It can upload all data in real-time.

Check other files on someone's iPhone at the same time.

You can use it on any devices, like your iPhone/Android or computer.
Cons

It requires you to know the target iCloud ID & password.

It is not free.
Way 2: Check Someone's Location Using Find My Friends
Suitable users: For those who can have access to the target iPhone and in the contact list of the one they want to track.
Is it incognito: It can easily be discovered if the owner of the iPhone opens Find My Friends app. And the iPhone itself will also remind the user that the location is being shared.
Another way by which you can know how to check someone's location on iPhone is to make use of the "Find My Friends" feature designed by Apple. This feature allows iPhone users to share their locations with others so they can track their whereabouts as they go about their day. However, it is possible to enable Find My Friends on someone else's iPhone and share their location with your iPhone without them knowing if you set it up correctly.
How to see someone's location on iPhone using the Find My Friends app
Step 1: Getting the app. To track an iPhone user running iOS 12 or below, Find My Friends is readily available or download it in the iOS App Store on the targeted device if you can't find it. However, if your target phone is running iOS 13, Find My Phone and Find My Friends have been combined into one app called Find My.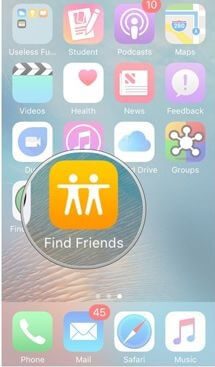 Step 2: Enabling the app on the target iPhone. Once you open the Find My Friends app on the target iPhone, click on the contact picture at the bottom to enable "Share My Location".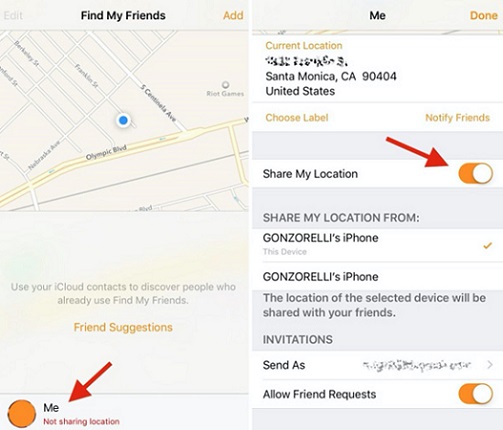 Step 3: Sharing location to yourself. To share the location of the target iPhone to your own device, swipe your iPhone up from the bottom of the screen to enable AirDrop and make your device discoverable to "Everyone". Click "Add" on the target device and select "Share Indefinitely".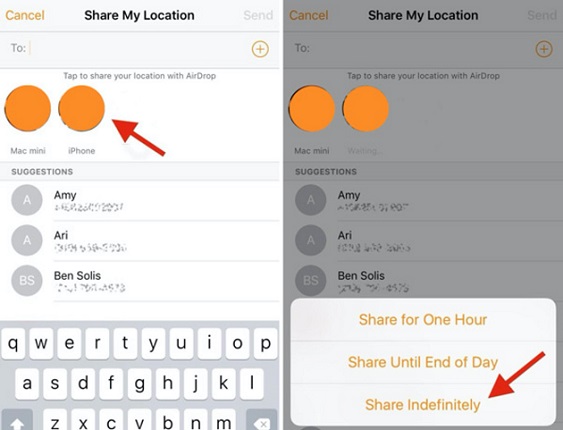 Step 4: Accept their location without sharing yours. When the pop-up message asking if you want to share your location, choose "Don't Share" to make sure you can find your family's iPhone without them knowing.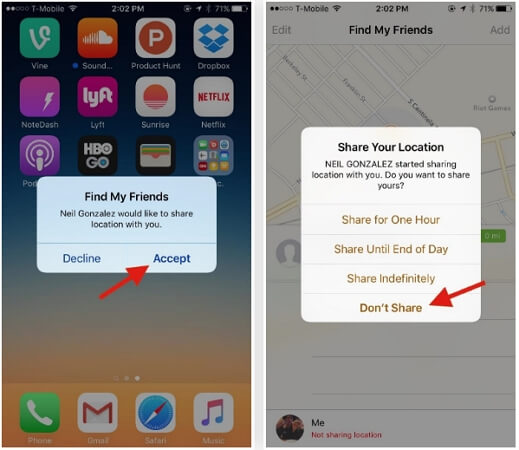 Step 5: See someone's location. Now in the Find My Friends app, you should see the contact icon and the exact location. Of course, there is possibility that you will be caught this way and your friends can stop sharing location at any time. You can also set alert when someone leaves or arrives at a particular area.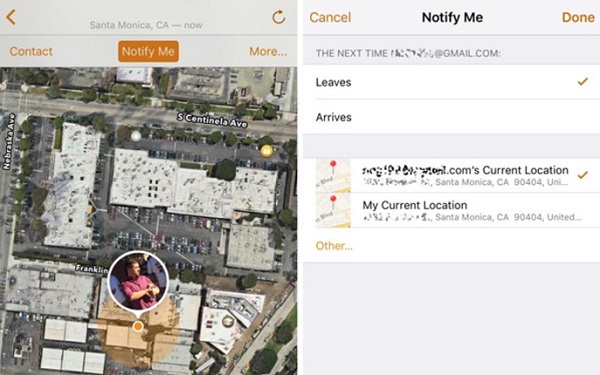 Pros

It is free and official.

The location is in real-time and accurate.

You can set up a geofence.
Cons

Possibility of being discovered.

It can easily be turned off by the user.

Both devices should be using iPhone.
Way 3: See Someone's Location on iMessage App
Suitable users: For those who can have access to the target iPhone and can get the permission for location sharing.
Is it incognito: The iPhone owner can see a status in iMessage saying "You started sharing location with [contact name]", so obviously it's not hidden.
iMessage is a built-in iOS messenger that is used for texting and also allows sending contact cards, voice memos and so on. iMessage is another way on how to get someone's location on iPhone. This is a hidden feature that many users don' know. iMessage Location allows users to send specific locations to individuals on their contact list. Here are the steps on how to see someone's location on iMessage app.
How to see someone's location on iPhone on iMessage App
Step 1: Get the target iPhone and open iMessage app.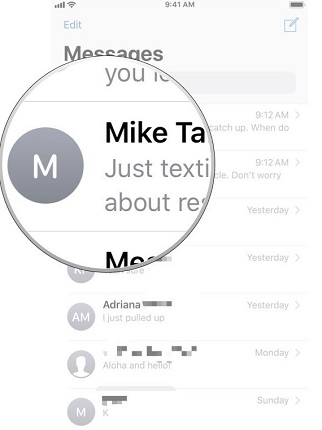 Step 2: Open a conversation with yourself and tap the contact icon.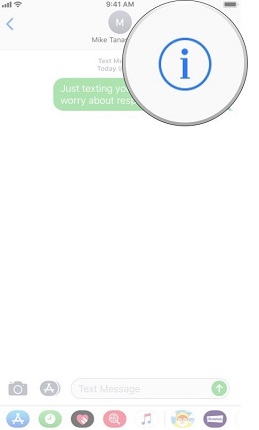 Step 3: Tap info and select Share My Location.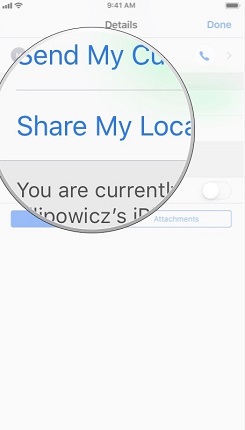 Step 4: Set the duration for one hour, until end of day or indefinitely.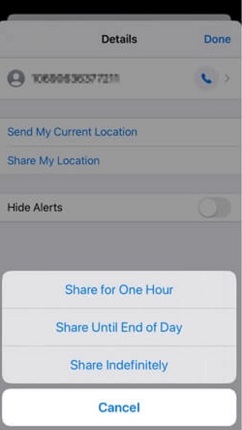 Step 5: Join in the location sharing on your own iPhone/iPad and select not to share yours. Then the target's location will be sent and you can check the current location of the said iPhone on the conversation.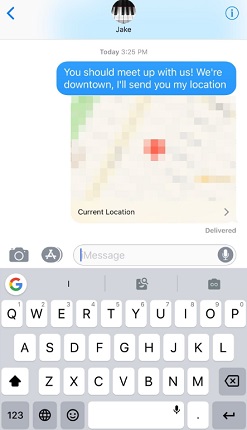 Pros

This method is complete free.

You can get the up-to-date location info.
Cons

Not hidden.

The target can stop sharing location with you.

You and your target should have iPhones.
Why does it say location not available on iMessage?
Some users gave us feedback on this issue. Here are some reasons you can refer to:
The device is switched off or there is no internet connection.

Your friend turned on Hide My Location in Find My Friends.

The Find Friends feature is disabled. Enable it from Settings > Privacy > Location Services or in Settings > Privacy > Location Services > Find Friends.

No account is signed in to Find my services.

The date is not correct. Modify it from Settings > General > Date & Time. Better to enable Set Automatically.
People Also Ask About iPhone Location Tracking
Q1: How accurate is the location on Find My Friends?
Find My Friends is not very accurate. iPhone can usually be accurately positioned to the nearest 20 feet or so.
Q2: How to see location history on iPhone?
iPhone doesn't record location history. There is iPhone Significant Locations feature that allows you to check frequently visited locations. Go to Settings > Privacy > Location Services > System > Services > Significant Locations. If it's on, you'll probably see a few locations here under History.
Q3: Can you tell when someone checks your location?
Not possible. When sharing a location with your friend using "Find My Friends", iPhone won't give an indication about how many times someone checks your location. There are no event logs available to look up.
Q4: Can you see someone's location if their iPhone is off?
No, iPhone is not trackable when it's switched off.
You may want to know: How to Trace A Switch off Phone's Current Location.
Write in the end
We have covered 3 best ways on how to find someone's location on iPhone. Depending on your needs, you can choose any of the three methods discussed above. However, KidsGuard Pro for iCloud is the most guaranteed and the only hidden means of tracking an iPhone without being detected. Supposing you want more monitoring features, go ahead and choose it.