Question:Is it possible to get a call history of any mobile phone number?
Have you been stuck in a world of confusion as to whom your kids or even your partner is always up to behind the cell phone?
Have you ever thought about the possibility to hack phone calls?
By knowing call details sometime can give you the extra clue needed to quickly fix things up before they really get out of control. In this article, 2 effective ways are discussed for those who wonder how to hack mobile call history online.
How to Hack Other Phone Call History without Knowing
Call history can contain a lot of information, like the contact name, the date and duration of a call, whether it is incoming or outgoing, etc. It is not an easy task to track someone else's call details unless you explore some mobile tracking apps. These apps can provide you the most accurate and real-time data. If you are looking for a reputed and reliable app, don't hesitate to try KidsGuard Pro.
Wondering how to hack call details of any number? KidsGuard Pro can check all the call history on target phone in your end, and listen the call recordings to know all the details! You will feel amazing by its powerful features and easy operations. Using KidsGuard Pro requires you to install the app on the target device you want to track first, and then you can log in to the cloud-based online dashboard to check the call logs. The dashboard can be accessed on any devices with any browsers.
Why choose KidsGuard Pro for mobile call hacks online
There are a few reasons which make KidsGuard Pro the perfect idea to track other's call history. Some of the noteworthy features are listed below.
It records every outgoing, incoming or missed calls and also shows the detailed information, like contact information, call duration and etc.
You can listen all the call recordings with both side's voice.
It will provide you a list of the most frequent contacts.
It has the ability to track the target device remotely. You don't have to touch the cell phone every time to check files.
Call history is uploaded in real-time with 3G/4G or Wi-Fi network. KidsGuard Pro will also upload text messages, social media chat history, current locations, browser history, keystrokes and etc.
This app is 100% hidden on the target phone, making it is impossible for others to know you are tracking the phone calls.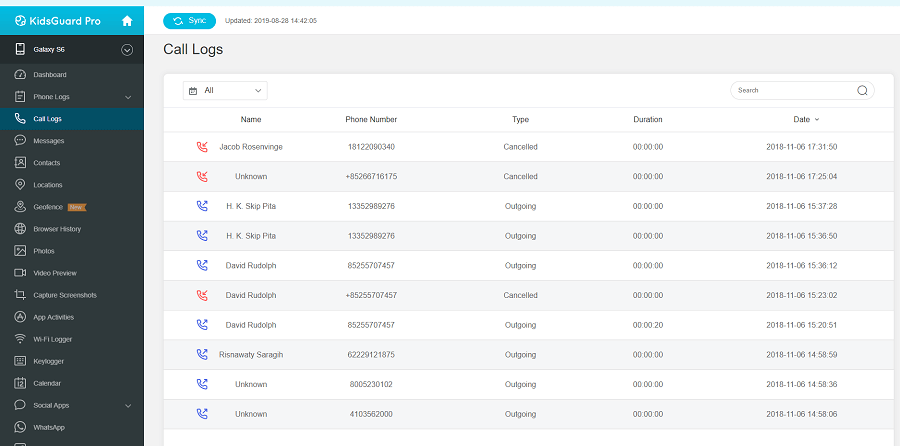 How to hack mobile calls using KidsGuard Pro: 5 minutes, 3 steps
Using KidsGuard is as simple as anything else. Below are the 3 steps required to install the app and check call history online. Even a novice can follow the steps and act like a pro.
1. Create a KidsGuard Pro account
Click on the Sign Up button to register for a KidsGuard Pro account and select a suitable plan for all advanced monitoring features.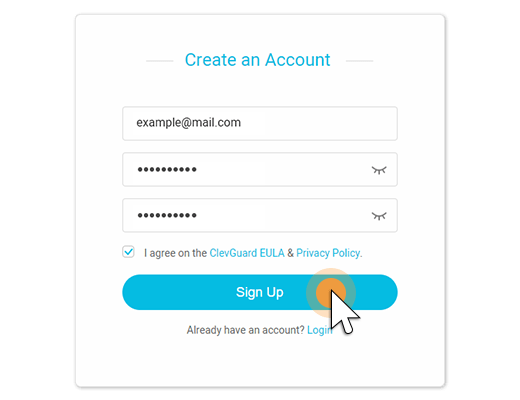 2. On the target device, download KidsGuard Pro app
To continue, open the target phone browser and visit www.clevguard.net to download the app.
Once the app has been successfully installed, log in and follow the on-screen setup wizard and allow some necessary permissions. If you don't want to drop a clue of anyone noticing you want to track their cell phone, then the best practice would be to clear browsing history and the APK file.

3. Log in the online dashboard and view call history.
For mobile call history hack, now go back to KidsGuard Pro website and connect the cell phone. You will enter the dashboard after that, from where select Call Logs to continue. This app also allow you check other data, just switch the file types from the dashboard.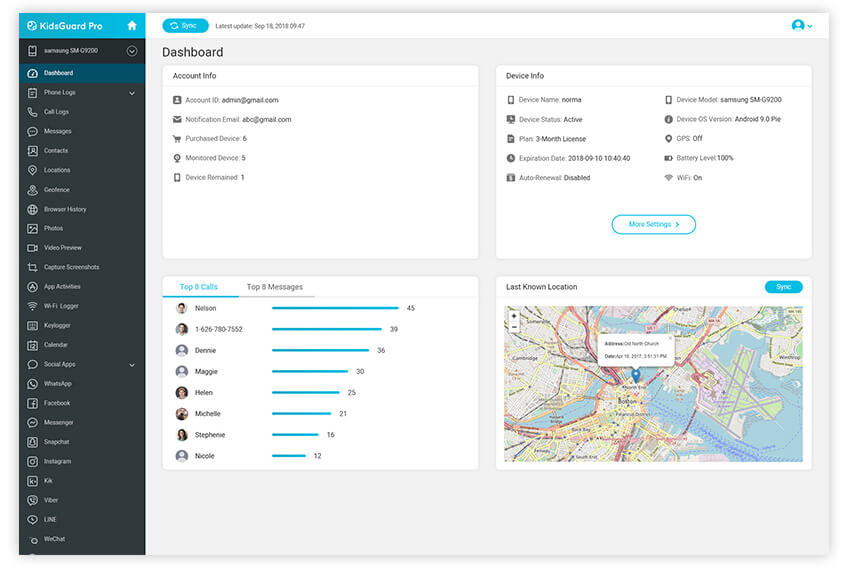 Is KidsGuard Pro worth it?
The simple answer is yes. KidsGuard Pro is just $0.27 per day, meaning for all the features you are getting with this app such as call history monitoring, location tracking, social media checking, real-time data syncing, etc, you are only paying that penny per day, which is way too low for a square meal. Besides, this app is favored by many famous websites (we attached a list below), so you can fully trust its professionalism and effectiveness in hacking call details online.

How to Hack Phone Calls with Mobile Service Providers
Mobile Service Provider (MSP) is those companies which provide transmission services to users of smart phones as well as tablet, through RF signals, rather than through wired, end-to-end communication. So can you use these service providers to hack mobile phone call history? Yes, your mobile service providers will collect the phone number you dialed and received as well as the time of each call. But this method has limitations unlike KidsGuard Pro that does everything 100%.
Limitations of using mobile service provider to hack mobile call history online
You must provide the service provider account and password to login the online service.

Some carrier providers only allow you to check the latest 100 records of call history.
How to use mobile providers
Although no method below can actually be compared with KidsGuard Pro in effectively hacking mobile phone calls, they are worthy noting. Here we listed 3 famous network provider companies. Basically there is no difference if you are using other services.
Verizon
Go to the My Verizon login page.

Enter your 10-digit prepaid phone number or user ID.

Click Sign in.

Go to My Usage page and select the line you want to view.

To view the call history, click on View minutes details.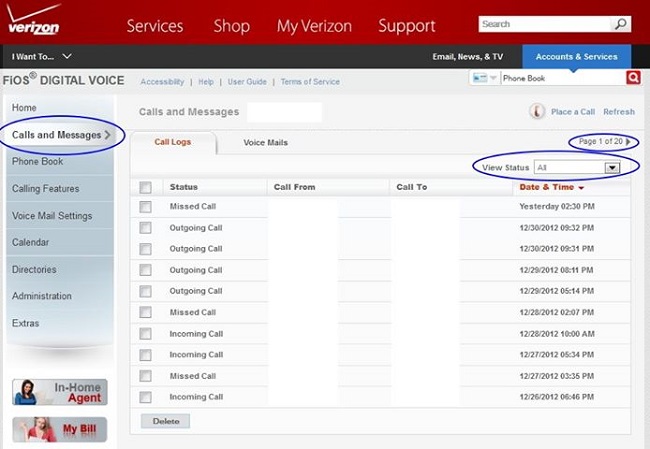 AT&T
Log in AT&T official website.

Select the Call History tab.

You can select a title such as Name or Number to sort by caller, or download call logs in XLS, CSV or PDF file format.
T – Mobile
Sign in to My T-Mobile and log in to your account.

Click on Usage.

Then select Calls.

Scroll down and you can find Download Usage Records option. This will save the call logs to your computer.
Decide Which Works Best for You to Hack Call Log
We have discussed 2 different ways on how to hack call online, but which way should you choose? Hope you can get a deeper understanding after checking the comparison table.
KidsGuard Pro
Mobile service provider
When to choose
If you want to remotely and secretly check someone else's call history.
If you want to get the call history of yourself or someone under the family billing plan.
Difficulty
Easy
Easy
Online tracking
Supported
Supported
Advantages
1. The app works in stealth mode.
2. Real-time call history tracking.
3. This is a long- time solution to hack call details.
1. The method is free and official.
2. It doesn't require using any apps or accessing the target device.
Requirements
Access to the target device to install the app.
The account and password to sign in network provider website.
Time needed
3-5 mins
2-3 mins
What else you can check
Text messages, contacts, locations, photos, videos, WhatsApp, Facebook, Messenger, Instagram, Tinder, Telegram, Kik, Viber, LINE, WeChat, QQ, browser history, keystrokes, etc.
Text messages, locations, billings.
Why is Hacking Phone Calls Important
By hacking phone calls of your kids, partner or employees, you have full knowledge about what's really going on with them behind the phone. For instance, understanding of the call history of your kids can make you able to protect them from voice phishing. If you are suspecting your partner is having affairs, you might as well track the call log to find out the truth.
In all, you've seen or read how you can easily hack mobile call history online without the knowledge with the target device user. The methods provided above have their own weaknesses as much as strength. To play it simple and help you make the best decision, you are recommended trying KidsGuard Pro. It has been tested and trusted by a host of users. With KidsGuard Pro, you can have a throughout view of the activities on the target cell phone, and most importantly, this can be done without others knowing.