Question:Why do girls need to use a period tracker?
Period or menstruation is common in girls when they cross the age of 12. Every month women go through this cycle, but the majority of women forget the period date and feel ashamed when their periods start when they are at school, college, or in a public place.
Because at that time, they are not prepared, and bloodstain appears on the clothes, which is embarrassing. Additionally, few girls go through pain during periods.
That's why they should know the exact date of the period because it helps them to get pre-period therapies to reduce pain.
In this article, we tell you about the 5 best period tracker apps for teenage girls.
Top 5 Best Period Trackers for Teenage Girls
There are different period tracking apps. The top 5 are mentioned below:
1. FLO
FLO is the most well-known period tracking app available. You can log your period and later on use it to anticipate things like when your menstruation will begin.
This app boasts of more than 70 symptoms that people usually experience during their menstruation, i.e. bloating, mood changes, cramping and sleep quality. Plus, you get to interact with a community of other people.
You can have a talk about sexual and reproductive health problems, and there are hundreds of articles that you can browse to learn more about your body.
You can also turn this app into a pregnancy tracker if you log that you have missed your periods this month or you are pregnant, and its free features are worthwhile without even paying for a premium membership.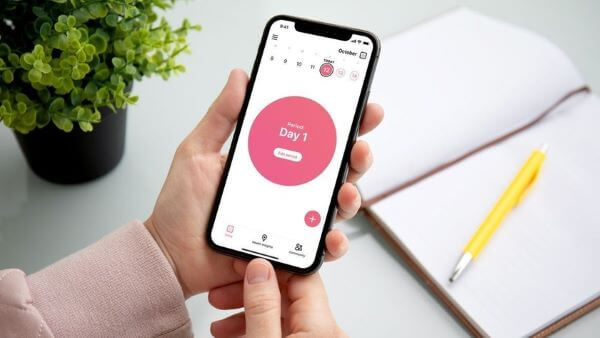 2. Eve by Glow
Usually, good period tracker apps try to communicate with the folks hoping to get pregnant in the same way as they communicate with those trying to avoid pregnancy. It is quite weird. Right?
While Eve focuses on users who are not trying to get pregnant now, it has many updates that remind you to track your symptoms.
In addition, your Eve information can be synced to your iPhone Health app. It also offers an interactive community where you can ask questions and share your stories.
According to reviewers, Eve is a sex-positive app, but the developer should expand language and features to be more gender-inclusive.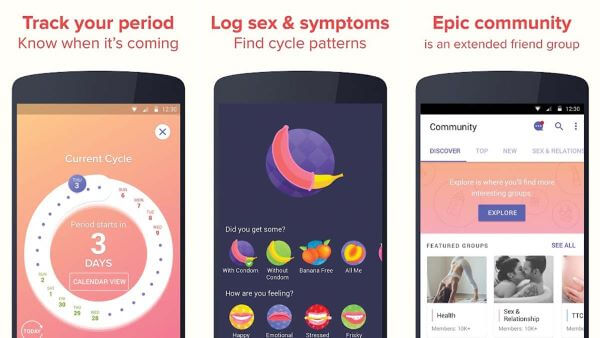 3. Clue
Clue has an easy and great interface. It is the best period tracker for teens. The Developers say that you can predict your cycle for up to three months in the future.
You can also enjoy the sexual and reproductive health content which is available on the app. It also includes a podcast called Hormonal, which explores how hormones affect human bodies and the world around them.
The app also uses gender-inclusive language and supports anyone who menstruates. You can also Sync your app information with the iPhone Health app.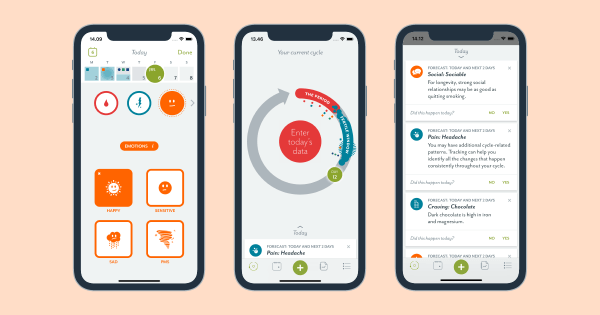 4. Spot on
Spot On was developed by Planned Parenthood, so it ensures empowerment and accuracy beyond just tracking your periods.
According to experts it is one of the best period tracking apps. You can have a conversation with Sex Educators to ask various questions about your body and the symptoms you have been experiencing.
It also gives information about Birth Control Methods, and there is even an IUD tracker that reminds you when it's time to remove your IUD.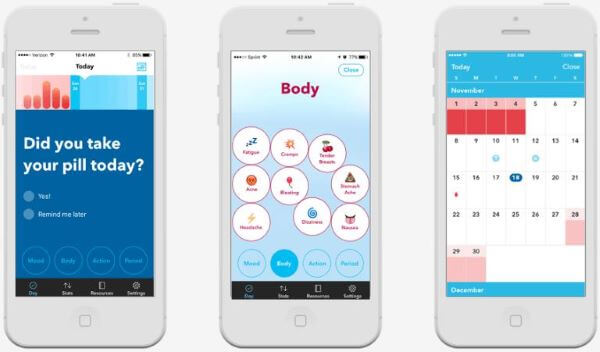 5. iPeriod Tracker Free
IPeriod claims to be the original and best period Tracker app for teenage girl. It is not pink like other apps but features an orchid on the Home Screen which says "Vagina app".
It offers a lot of quality features. However, the most commonly used one is the forum and social Networking Setup.
Menstruation, pregnancy and motherhood are quite difficult things to wade through, so iPeriod offers a safe place for women to connect and talk about issues going on in their lives.
Hormonal IUDs can be used for up to 3-6 Years, depending upon the brand, and Copper IUDs are recommended for up to 10 Years, so no one can blame you for getting your dates a bit confused. This app is totally free.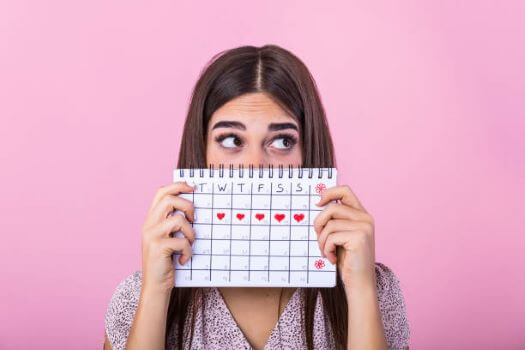 Related Read: Best 10 Relationship Tracker Apps for Couples - Can't Miss
What is the Best Period Tracker App?
No doubt that all period tracking apps are doing good. but people ask what is the best tracker app, and answer to this question is "FLO".
FLO is such an amazing period tracking app because of its features. These apps show multiple period symptoms and help the girls to know about periods.
Additionally, people can interact with other people on this app because there is a huge community. They can discuss health issues like late periods, cramps, etc.
Moreover, this app also helps during pregnancy, so we can say that this app has multiple features which are beneficial for women's health. So, if you want to download a period tracker app, install FLO on your phone.
Things Parents Should Teach Their Daughter
When teenage girls get their first periods, they become scared and embarrassed. Because they don't know about the periods at that age, what is this? Why does it happen with them?
How should they deal with this? Etc. These questions make them more nervous and confused. That's why experts say that parents must make their daughter understand the periods.
They should tell them about the reason behind periods and how to deal with them. Additionally, they should answer all questions which they have in their mind about periods.
Here are a few things that parents should say to their daughters.
1. Explain to your daughter about body changes
First of all, tell your daughter about the physical changes in their body. Because after the first period, so many changes occur in the body like breast size starts increasing etc., during the period hormonal level increases, so many changes occur.
Additionally, physical changes occur, but they also see other changes, like mood swings, anger, stress, etc., so parents must tell their daughter that all these changes are normal.
It also happens with every girl. So, they just have to accept these changes positively.
2. Tell them how often they get periods
Parents should tell their daughters that they will get periods every month for 6 to 7 days. They should be mentally prepared.
You should tell them that every girl has a different menstrual cycle from other girls. Few teenage girls get periods after 35 days, and in a few girls, period starts every 21 days.
So, make them believe that it's normal if they are getting periods after 21 days or 35 days.
3. Explain period symptoms
The girls who get periods first are not familiar with the symptoms. That's why a parent should tell them about the symptoms.
Before periods our body shows some symptoms as a reminder of be ready for periods. If girls become able to recognize symptoms of coming periods, they can handle periods very well. Here are the symptoms of periods.
Abdomen pain
Fatigue
Soreness in breast
Headache
Mood swings
blotting
4. Tell them about the period of supply
At an early age, teenage girls experience irregular periods so tell them to keep ready your period kit. The periods include a few things like underwear, pads, and tampons.
These all things are mandatory, so provide them with these all things. Additionally, tell them how to use these things and when to change pads or menstrual cups for the first time.
5. Tell them about cramps
Most girls feel cramps during their period so tell your girl that it's okay; no need to worry about it. Tell them how to manage this pain; a few exercises help lower the period pain. For example, hot oil massage is good for cramps.
Additionally, a few painkillers also help during periods of pain. Finally, a hot water bottle massage is a good option to reduce pain and get painless periods.
Apart from the health issues in your daughters, you should also make sure that your daughter is safe from all kinds of dangers.
The world is going into a modern era where the availability of technology is common. Every kid has access to the internet and owns a mobile phone.
That's why it's important to protect your daughters from the negative effects of the internet, mobile phones and bad society.
If you want to keep an eye on your daughter and want to know her daily online activity, you can monitor it easily with KidsGuard Pro for Android. Because when daughters become adults, parents worry more about them.
Additionally, The KidsGuard Pro helps the parents to monitor social media accounts, chats, media files, call logs, messages etc. it tells about the location of your kids so you can keep your kid safe with the powerful app KidsGuard Pro.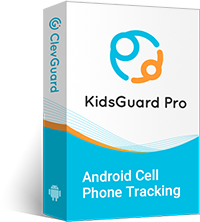 KidsGuard Pro for Android Features
Track cell phone location in real time and view location history
Check all incoming and outgoing calls & SMS
Spy on social media apps like WhatsApp, Instagram, Snapchat, Facebook, Viber, WeChat and more
Remotely access the files on the target phone, like contacts, photos, call logs, etc.
Final Thoughts
Monthly Periods are part of women's lives, but first-time periods make the person uneasy because that is the time when they don't know how to manage. At an early age, girls can't remember their period date, and they feel too many issues because of this. That's why every girl needs to remember their period date. They can track period dates with period tracking apps which are free to use. So they can remember their period date with the help of these free apps. These apps will help you to manage it properly.