Question: Why it's Necessary to Use a Hidden Spy GPS Tracking Tool?
Hidden GPS tracker for person is the best application used worldwide for the security concerns of our loved ones and is also used by companies to spy on their company vehicles and employees.
In this article, we will discuss and let you know about some best GPS tracking apps and also under what circumstances we need such apps.
We will also discuss the cost and limitations of using different GPS tracking apps.
5 Best Spy Tracking Tools
1. KidsGuard Pro for Android
If you are looking for the best spy GPS tracker, then I would suggest you use KidsGuard Pro for Android because it is being accepted worldwide by a large number of. It is considered the top parental control app.
What KidsGuard Pro can help you for tracking someone
KidsGuard Pro for Android is the best application for tracking the location of anyone you need. This app allows parents and other users to track the real-time location of the target device.
Moreover, it has a Geo-fencing feature that allows setting virtual boundaries for the target device and if they cross those boundaries you will get the notification on your connected device.
Other features of KidsGuard Pro for Android
KidsGuard Pro for Android has enabled users to enjoy its other interesting features also.
Take Secret Photos
This app enables users to take secret pictures from the rear camera of the target phone without them knowing. This is the best and most advanced feature for the best spy apps.
Access Phone Files
Using KidsGuard Pro for Android, users can get access to the target phone device and watch all the text messages, call logs, contacts, photos and videos, browser history, and many other things like notes, etc.
How to Use KidsGuard Pro for Android?
Using KidsGuard Pro for Android is simple. It involves just a few steps:
Step 1.
Sign Up
Click Monitor Now button below and skip to KidsGuard Pro's website. Just Sign Up by entering the information required and select a suitable plan.
Step 2.
Install the App
In the second step, log into your account and go to My Products page, click Setup Guide button and follow the instruction to install the application on the target device you want to spy on. You must follow all the necessary steps to connect the devices.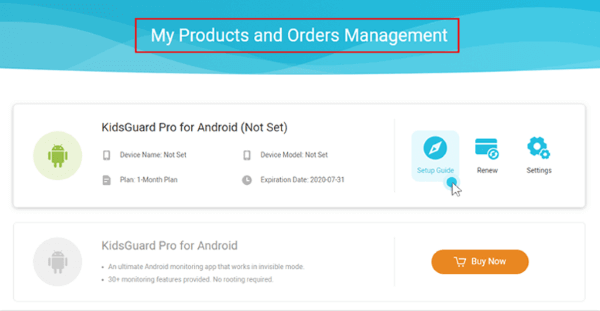 Step 3.

Check the Dashboard
Visit the Dashboard and enjoy all the features shown on the Dashboard as described above. Including target phone's GPS location and location history, social media apps activities, etc.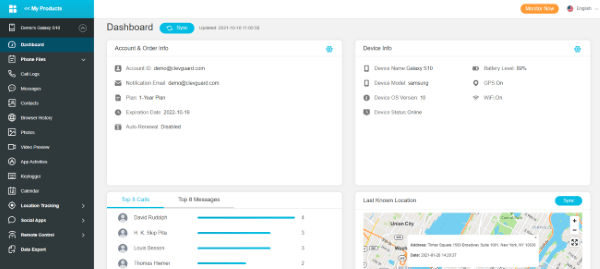 2. Hubstaff
Hubstaff is also considered one of the best spy trackers as it is used to monitor your whole team for any kind of mobile work.
This app is practiced by a big number of companies who were very annoyed and disturbed by their employees who always tried to misguide them and waste a lot of time while delivering the things they were supposed to deliver in a specific time.
Hubstaff app tracks the time when a person moves for the delivery and keeps the person's location in view by GPS tracking.
You can schedule the team working plan using the geofencing feature to know whenever your staff has missed the shift or has started it late.
Activity reports tell you the progress of each employee and you can easily highlight the specific employee who is working hard and the one not working properly.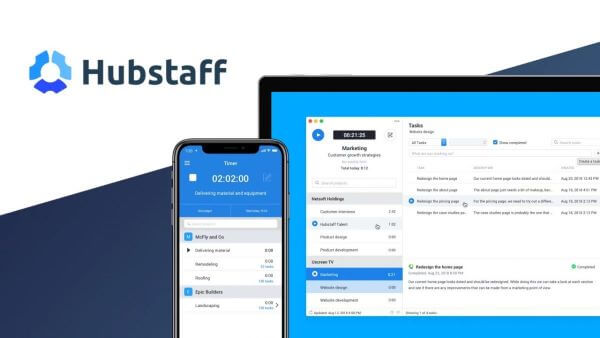 Limitations
Customer service is very slow and doesn't provide an effective response.
It does not support live chat.
3. Find My Kids – GPS tracker
Find my kids – The GPS tracker app is also one of the best and most reliable apps of 2022 that enable users to track the target phone's GPS location.
As the name suggests it is best for finding a kid's location and it is really helpful in this regard. Using this app does not demand any kind of registration process as other applications do.
In addition to GPS tracking, it also notifies you when your child reaches a specific destination. Parents also get alerts for the battery time of their kid's mobile. Find my Kids app is easy and user-friendly.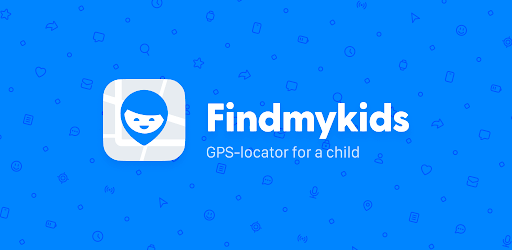 Limitations
It does not work properly on the iPhone.
Sometimes it does not provide accurate results.
4. Google Maps
Google maps are one of the most popular and widely used apps worldwide. This is an application by "Google" which provides the best GPS tracking service. People use this app to find some location just by adding the destination and the app will navigate you right from your current location to the destination.
This wonderful is also preferred because it also provides its offline services so that if at some places there is weak internet service the one map does not show result but you can get help through the offline map.
This also shows you the blocked paths and red light is shown when there is a lot of traffic and so the app also shows an estimated time to reach your destination by keeping in concern the traffic and other circumstances.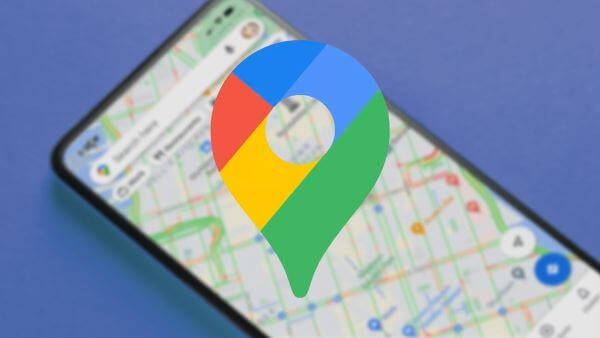 Limitations
Some locations may not be available on Google Maps.
It does not always show accurate results.
5. MMGuardian Parental Control
MMGuardian is also one of the best spy GPS trackers for the phone as its services are used by people from many countries. It has a user-friendly interface that enables everyone to use it without any technical knowledge.
This app provides you a report including the details of phone usage of the targeted device and it also provides some access to restrict your kids using the phone in some ways you don't want them to.
It enables parents to watch their kid's location any time parents want to. You have the facility to block someone to call or text on your child's number.
This app allows parents to set time limits for their use so that they may not get addicted to mobile phones and it may badly affect their studies.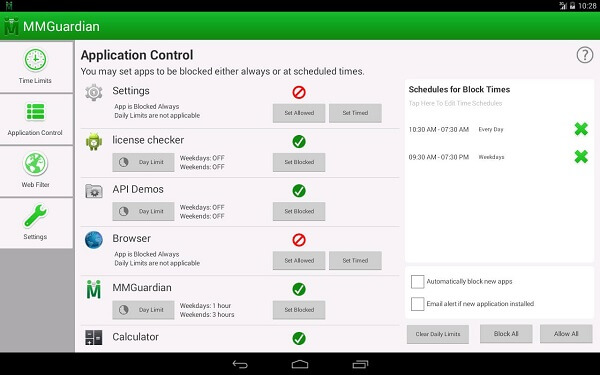 Limitations
It is used only for Android phones.
Bad customer service is also a setback of this app.
Related Read: How to Track a Cell Phone with GPS Turned Off?
How Does a GPS Tracker Work?
Working with GPS tracker apps is quite simple and easy. You just need to download an app you think is the best for this purpose on your kid's phone or anyone whom you want to target.
Everyone used to prefer a discreet tracker for their use as it helps them more to spy on their kid's device even sometimes without knowing them. Some apps are not even shown on the Home Screen of the kid's device but still are working secretly and sharing the details with the connected device.
Simply install the device on the target phone and connect it with your device and easily track someone anytime.
How Much Does a GPS Tracker cost?
KidsGuard Pro for Android only charges $0.27 per day and it is worth nothing as compared to the features it provides. This price is affordable and those who want to use it once would definitely.
Similarly, if we talk about the MMGuardian parental control app it charges #3.99 per month but its features are comparatively very less as compared to KidsGuard Pro for Android.
The pricing of HubbStaff is different depending upon the package you choose. Its price is between $7 to $10 per month. You can also check the prices of other apps. But I must suggest you should prefer the one with more benefits and an affordable price too.
FAQs about GPS Tracking
Q1. Can I track someone on Google Maps without them knowing?
This can only be done if you have once shared the live location on your device, then you can keep watching the real-time location of the target device. But it is quite difficult to hide from the target person whose location is being shared.
Q2. Is it illegal to track someone?
No, tracking some using the best discreet tracking device is not illegal if we are just concerned with positive use just to secure someone like parents can do this to track their kids.
Q3. How to find a GPS Tracker on my car?
You first need to know how the tracker device looks. It is a physical device with sometimes antennae or a minor light blinking on it. You need to check your car deeply using a flashlight to look it out.
Final Words
This article was really interesting as it is the topic of daily concerns and people are curious to know about some methods to track people they want to.
We discussed the best ways to track someone's location using Android phones. The best one with extraordinary features was KidsGuard Pro for Android as it has a big list of features with comparatively not much cost.
We also looked into similar applications that provide tracking features but obviously, each app is developed based on some objective and functions. We also compare the prices of different apps and learned how a GPS tracker works using apps on Android phones.