Question: Can I change the location on my phone?
If you need to change your phone's location, you might be considering moving it to a different country. There are many reasons why someone would want to do this. Whatever the cause for your relocation, there might be some ways to change your mobile location.
Today, we will tell you about the best Fake GPS Apps for Android and iPhone that will change your current location and how to Change the Location on Your Phone. So, let's get started.
Part 1 Why Would You Fake Your Location?
There are a few reasons someone might fake their location.
Privacy: Some people may not want to disclose their real location for privacy reasons, such as if they're using a dating app or social media platform where they don't want to reveal their actual whereabouts.
Security: In some cases, individuals may want to fake their location to avoid being tracked or targeted by malicious actors. This could be especially important for individuals in high-risk or sensitive professions.
Accessing content: Some websites and apps may only be available in certain regions. By faking their location, users can gain access to content that would otherwise be unavailable.
Online gaming: Gamers might use fake locations to access certain servers or game versions that are not available in their region.
Testing: Developers or researchers may need to test location-based applications or services, and faking their location allows them to simulate different locations without physically traveling.
We do not talk much about the reason, here we are explore the guides to solve your questions about how to change my location on my phone? Well, simply by using fake GPS Tool.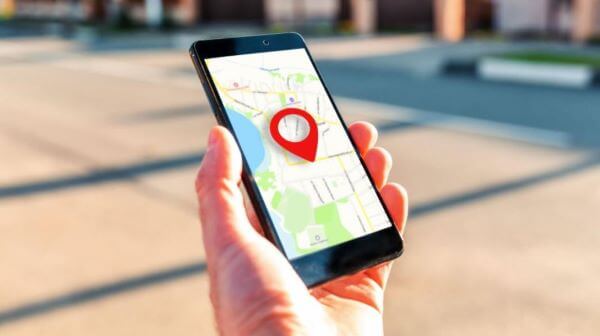 Part 2 Real Review: The Best Fake GPS App
Fake GPS App allows users to spoof or fake their GPS location. This means that the app can override the GPS location on a user's device, making it appear as though the user is physically located in a different place than they actually are.
But it worth noting that not every fake GPS is working well. We have tested and found the best fake GPS applications for iPhone and Android on the market today.
What is the Best Fake GPS App for iPhone?
ClevGo is a software program that allows users to easily change their GPS location on their mobile devices. With ClevGo, users can set their location to any place in the world with hifh accuracy, allowing them to access geo-restricted content, protect their privacy, or test location-based apps and services.
The program works by simulating GPS movement along a predetermined route or by entering a specific location on the map. Also, it is compatible with both iOS and Android devices and can be used on a variety of apps, including social media, dating, and gaming platforms. Overall, ClevGo is a convenient and easy-to-use tool for anyone looking to fake their GPS location.
How to Fake GPS with ClevGo
Step 1: Donload ClevGo on your Windows or Mac, then, connect your iphone to the PC.
Download for WindowsDownload for Mac
Step 2:Run the App, choose one transport mode in the top right corner.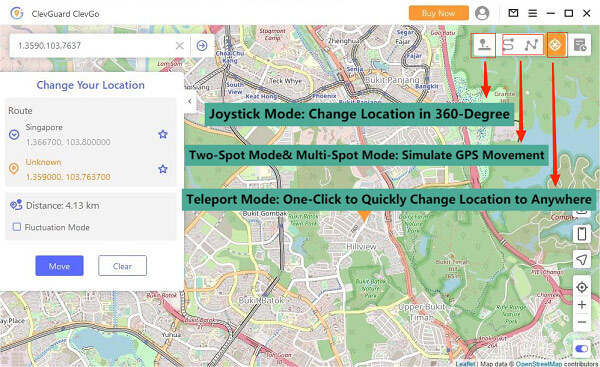 Step 3:Enter the address or choose a spot that you wanna fake to. Once done, click "Move", your location will be changed.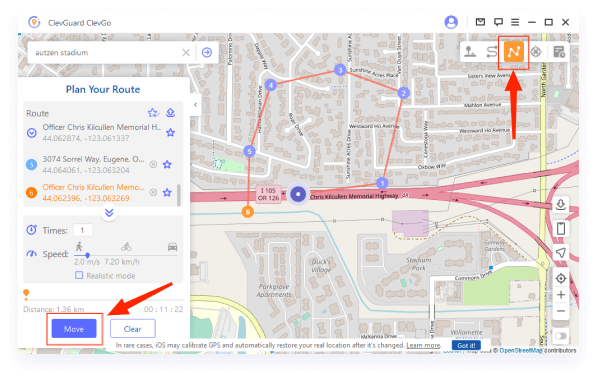 What is the Best Fake GPS App for Android?
We tested four popular fake GPS apps with various Android phones, from older models with 2G connectivity up to newer ones with 3G or 4G LTE coverage. We compared the results to a true GPS app, and two other apps we thought were most likely to cheat.
Fake GPS Location Spoofer can help users change location on iPhone and other androids.
Fake GPS is used for both positive and negative purposes. It can help you cheat on games or apps or avoid getting caught in risky situations. The safety factor is important, so we thought it was best to test for cheating first and then for safety.
How to Fake GPS Location on Android Phones?
Is it really easy to fake your GPS location on an Android phone? It's not as scary as you might think. It takes a few clicks and swipes. But if you want to disguise your whereabouts or those of someone you love, this is entirely possible. Getting GPS location data is a two-step process:
Firstly, you get the device's location, and secondly, you send that data to someone else.
Fake GPS location (or spoofing) is when you send fake data to the device so that it thinks you're somewhere else.
Part 3 FAQs about Location Sharing
Q1. Does fake GPS work?
In general, fake GPS apps generally direct users to websites or locations that the app developer has programmed.
Q2. How do you share your location on your iPhone?
Open the "Settings" app and tap on "Privacy" to share your location on your iPhone. Under "Location Services," toggle the switch to ON. Then, enter your current location in the "Dropdown Menu" and click on "Share Location." You can now invite friends or family members to join you as you walk around your neighborhood or explore new places.
Q3. How do you turn off your location on your iPhone?
To turn off your location on your iPhone, open the Settings app and tap on Privacy. Under Location Services, you will be able to toggle off the setting that allows your iPhone to track your movements.
Q4. How can you see the location history on an iPhone?
To see the location history on an iPhone, you need to enable "Location Services" in the Settings app. From there, you can view your past locations and find out which apps have used your location.
Part 4 Extra tips: How to Track Someone's Real-time Location?
There is no one-size-fits-all answer to this question, as the best way to track someone's real-time location depends on the specific tracking technology and circumstances involved.
However, some common methods for tracking someone's real-time location include using GPS devices, capturing IP addresses, and monitoring online activity. If you have a child and want to track your child's phone, you can use KidsGuard Pro.
KidsGuard Pro for Android
KidsGuard Pro is incredibly easy to use, and we tried it out with a wide variety of devices. It worked extremely well on phones and tablets running Android 5.0 or later.
It can cover and monitor over 30 social media files like WhatsApp, Snapchat, Calls, and SMS on your kid's phone. Your kid can not detect it and you can track it using your phone. You can install it within a few minutes and easily use it.
With KidsGuard Pro for Android, you can also track GPS location. Even if you use any fake GPS, KidsGuard can track your location. KidsGuard also features tracking the location of Wi-Fi, viewing the phone location history, and much more.
Using remote control features you can track the phone call with record options. You can also capture screenshots and take secret photos of your kid's phone. So, it is a great app for parents to keep an eye on their children.
How to set up KidsGuard Pro for Android?
Step 1. Click Monitor Now button below and skip to KidsGuard Pro's website,use a valid email address to sign up an account.
Step 2. Login to your account and go to My Products page, click on Setup Guide button and follow the instruction to download KidsGuard Pro for Android onto target phone. This step only needs to take 5 minutes.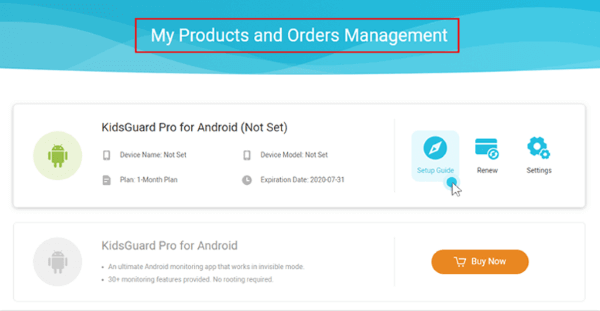 Step 3. After setting, you can start to monitor target phone's real-time location on dashboard. Social media apps and other information also can be checked.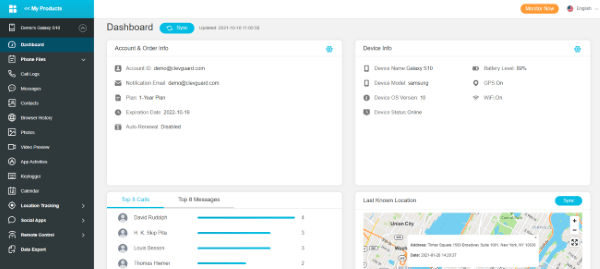 Final Words
It can be impossible to keep track of where your phone is if you're not careful. That's why it's so important to know how to change the location on your phone. We've got some helpful advice that helps you think, Change my location on iPhone. If you ever have to change the location on your phone or switch to a new device, there's an easy way to do so. Hope our information will help you.