Question: Can I change the location on my phone?
If you need to change your phone's location, you might be considering moving it to a different country. There are many reasons why someone would want to do this.
Whatever the cause for your relocation, there might be some ways to change your mobile location.
Today, we will tell you about the 3 Best Fake GPS Apps that will change your current location and How to Change the Location on Your Phone. So, let's get started.
Why Would You Fake Your Location?
There are a few reasons someone might fake their location. Maybe you're in danger and need to hide from people pursuing you. Or you don't want to know anyone about your location.
Other reasons might fake their location if they're trying to avoid getting pulled over for driving without a license or if they're trying to stay undercover while they're investigating something. How to change my location on my phone? Simply by using fake GPS.
A person with a GPS tracker would be able to find you in real-time, but no one else, unless they are also tracking that person. That kind of tracking is often illegal and extremely hard to notice as long as it's hidden.
Using Fake Location apps normally lets you keep whatever information you're hiding private. Even the police or other people who might try to track them down could not find you.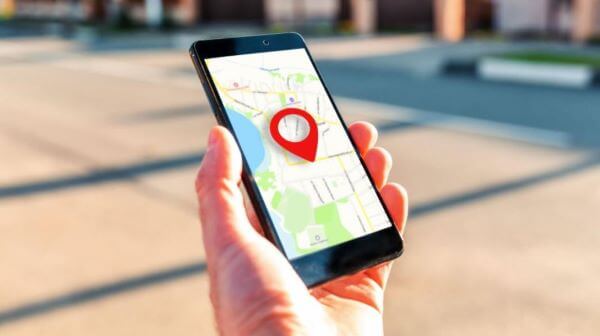 3 Best Fake GPS App
Fake GPS apps act as a real GPS device while remaining covert. The following are the three best fake GPS applications on the market today.
1. iFake GPS Location Pro
This app is a program that claims to create fake GPS locations for your iPhone or Blackberry. It helps you pretend to be elsewhere and allows you to send fake text messages on your phone.
If you desire, it also acts as a security tool, allowing you to monitor what others do online when they can't see what's going on. You can even take pictures of them using a remote control if enabled from afar.
This app is helpful for parents who want to keep track of their children's locations and make sure that they are staying out of trouble at all times.
2. Fake GPS Location Spoofer
This application for Android phones allows you to falsify your GPS location so that nearby apps and services can't access it. This app also allows users to change their location as often as possible and get directions from their phones.
This app is not just useful for people in a new area. But it can also be used to prevent apps from knowing where they are at all times. Users can track where their friends are at any given moment and use the contact list on their phones to find family members.
This app comes with many different locations to choose from and get directions without interference. The apps help you hide your location.
3. FakeGPS Run
This app provides the user with a realistic simulation of an actual gun. The only disadvantage is that it is not free, but other apps are available to get you started on your mission.
It comes in two different versions: the Standard and VIP versions, which have more features that might suit your needs.
A purchase isn't required to use these versions, but there are quite a few premium versions to choose from, too, if you're not satisfied with the standard or VIP wigs.
Whether it turns out to be worth buying any of these apps depends on whether or not you're interested in playing around with this kind of simulated device, which is likely being illegal pretty much across the board.
What is the Best Fake GPS App for Android?
We tested four popular fake GPS apps with various Android phones, from older models with 2G connectivity up to newer ones with 3G or 4G LTE coverage. We compared the results to a true GPS app, and two other apps we thought were most likely to cheat.
Fake GPS Location Spoofer can help users change location on iPhone and other androids.
Fake GPS is used for both positive and negative purposes. It can help you cheat on games or apps or avoid getting caught in risky situations. The safety factor is important, so we thought it was best to test for cheating first and then for safety.
How to Fake GPS Location on Android Phones?
Is it really easy to fake your GPS location on an Android phone? It's not as scary as you might think. It takes a few clicks and swipes.
But if you want to disguise your whereabouts or those of someone you love, this is entirely possible. Getting GPS location data is a two-step process:
Firstly, you get the device's location, and secondly, you send that data to someone else.
Fake GPS location (or spoofing) is when you send fake data to the device so that it thinks you're somewhere else.
What is the Best Fake GPS App for iPhone?
From the App Store. iFake GPS Location Pro is designed to look like a real GPS app and can track the location of someone or something.
It is very realistic and can be used to track people or pets. How to change phone location on iPhone? This app is designed to make it seem as if you are in a different location than you are.
It can be used for fun or to prank your friends. It helps you create fake maps that can be used for navigation purposes.
How to Fake GPS Location on iPhone?
There are a few ways to fake GPS locations on an iPhone. The first way is to use a third-party app like Fake GPS. This app lets you fake your current GPS location and trick other apps into thinking you are located somewhere else.
Another way is to use the built-in features of the iPhone. You can use the Maps app to fake your current location by changing the coordinates or adding a new place.
You can also use 3rd party tools like coverage that allow you to change your real GPS location and make it look like you are located somewhere else.
FAQs about Location Sharing
Q1. Does fake GPS work?
In general, fake GPS apps generally direct users to websites or locations that the app developer has programmed.
Q2. How do you share your location on your iPhone?
Open the "Settings" app and tap on "Privacy" to share your location on your iPhone. Under "Location Services," toggle the switch to ON. Then, enter your current location in the "Dropdown Menu" and click on "Share Location." You can now invite friends or family members to join you as you walk around your neighborhood or explore new places.
Q3. How do you turn off your location on your iPhone?
To turn off your location on your iPhone, open the Settings app and tap on Privacy. Under Location Services, you will be able to toggle off the setting that allows your iPhone to track your movements.
Q4. How can you see the location history on an iPhone?
To see the location history on an iPhone, you need to enable "Location Services" in the Settings app. From there, you can view your past locations and find out which apps have used your location.
Extra tips: How to Track Someone's Real-time Location?
There is no one-size-fits-all answer to this question, as the best way to track someone's real-time location depends on the specific tracking technology and circumstances involved.
However, some common methods for tracking someone's real-time location include using GPS devices, capturing IP addresses, and monitoring online activity. If you have a child and want to track your child's phone, you can use KidsGuard Pro.
KidsGuard Pro for Android
KidsGuard Pro is incredibly easy to use, and we tried it out with a wide variety of devices. It worked extremely well on phones and tablets running Android 5.0 or later.
It can cover and monitor over 30 social media files like WhatsApp, Snapchat, Calls, and SMS on your kid's phone. Your kid can not detect it and you can track it using your phone. You can install it within a few minutes and easily use it.
With KidsGuard Pro for Android, you can also track GPS location. Even if you use any fake GPS, KidsGuard can track your location. KidsGuard also features tracking the location of Wi-Fi, viewing the phone location history, and much more.
Using remote control features you can track the phone call with record options. You can also capture screenshots and take secret photos of your kid's phone. So, it is a great app for parents to keep an eye on their children.
How to set up KidsGuard Pro for Android?

Step 1.

Click Monitor Now button below and skip to KidsGuard Pro's website,use a valid email address to sign up an account.
Step 2.
Login to your account and go to
My Products
page, click on
Setup Guide
button and follow the instruction to download KidsGuard Pro for Android onto target phone. This step only needs to take 5 minutes.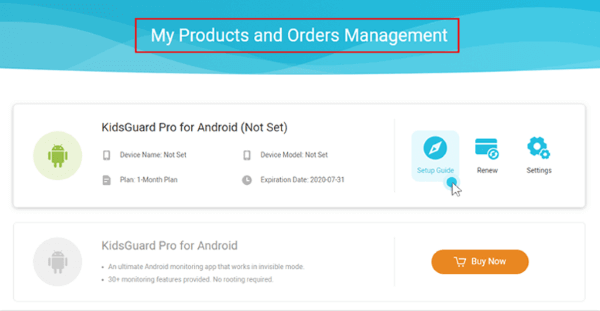 Step 3.
After setting, you can start to monitor target phone's real-time location on dashboard. Social media apps and other information also can be checked.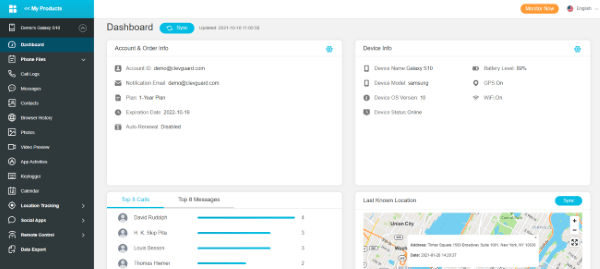 Final Words
It can be impossible to keep track of where your phone is if you're not careful. That's why it's so important to know how to change the location on your phone. We've got some helpful advice that helps you think, Change my location on iPhone. If you ever have to change the location on your phone or switch to a new device, there's an easy way to do so. Hope our information will help you.