Pokémon enthusiasts have made this topic a buzz on the internet whereby everyone is searching, and trying to figure out how to spoof in Pokémon Go without getting banned. Knowing the basics and understanding how this game is played is one thing, mastering it to play it effectively is something else.
In our Pokémon Go guide today, we'll show you 3 working tricks on how to spoof Pokémon Go while staying off the radar to avoid getting banned. Remember, if you violate the game's regulations blindly, you might end up getting permanently suspended from the game.
Part 1: What is Pokemon Go Spoofing?
Spoofing Pokémon Go is when a player uses GPS simulator software to fake their current location virtually, to trick the location-based system into recording their virtual location as their 'real-time' location. Spoofing will generally help you boost your progress on this Niantic's game while saving you the hassle of having to simultaneously walk around while playing, to accomplish miles/km on their geographical map.
Trainers use different Pokemon Go spoofers to simulate their GPS location, movement, and even speed to trick their teammates; and most importantly the game's trackers during gameplay. Many players spoof their location to help move around in Pokemon remotely, while tackling tasks and challenges to achieve certain hard-to-get Pokemon.
Can You Get Banned for Spoofing in Pokemon Go?
Yes, Pokémon Go players who engage in spoofing, or using location-spoofing apps to cheat their way to the top, run the risk of getting banned from the game. Niantic, the game's developer, takes a firm stance against cheating and regularly monitors player activity for any signs of spoofing. If you're caught, you could face temporary or permanent bans, which could lead to the loss of all your progress in the game.
Part 2: All About Pokemon Go Soft Ban
Upon getting a Pokémon Go ban, the player will be restricted from performing various essential activities for around 3 to 12 hours depending on the violation. After the duration, you can then get back to playing the game normally. You can however get rid of Pokémon Go soft ban!
Later in this guide, we'll illustrate Pokemon Go soft ban time, how you can avoid a Pokémon Go soft ban, and how you can get rid of it if penalised. Let's delve into it.
2.1 What kind of Pokémon ban will be in place?
The type of Pokémon Go ban induced on a player usually depends on the policy violated. Basically, one may get a soft ban for 3 hours if tracked or caught spoofing location in Pokemon Go. Moreover, the ban duration can be longer (12 hours or more) if the trainer is banned severally.
Remember, recurrent soft bans over a given period of time might lead to flagging, thus a permanent ban from playing the game. Here is the the common 3 sticks from Pokemon Go.
Strike 1 (Warning) - 7 Days
Strike 2 (Suspension) - 30 Days
Strike 3 (Termination) - Permanent
2.2 How to Get Rid of Soft Ban in Pokemon Go?
There are three key reasons that might trigger a soft ban on your Pokémon Go account:
If you get caught spoofing GPS location during gameplay.
If you're sharing Pokemon accounts with your friends or team mates.
Abnormal high speed travelling between locations in the game.
Feeling like 12 hours is too long to keep you waiting? You can try creating a new Pokémon Go account, uninstall the game, then reinstall it to sign in to your initial account.
This method is however considered a system 'bug' that has been effective in lifting the Pokemon soft ban. On the other hand, you can try stopping by the pokestop and 'spin and close' it 40 times.
2.3 Pokemon Go Cooldown Chart to Avoid Soft bans (1 - 150 Km)
| Total Distance | Waiting Duration | Total Distance | Waiting Duration |
| --- | --- | --- | --- |
| 1 KM | 1 Min | 30 KMs | 18 Mins |
| 2 KMs | 1 Min | 40 KMs | 22 Mins |
| 4 KMs | 2 Mins | 45 KMs | 23 Mins |
| 10 KMs | 8 Mins | 60 KMs | 25 Mins |
| 15 KMs | 11 Mins | 80 KMs | 27 Mins |
| 25 KMs | 15 Mins | 125 KMs | 33 Mins |
Part 3. How to spoof in Pokémon Go Without Getting Banned [3 Ways]
Illustrated below are the best 3 methods we have tested on the query how to spoof Pokemon Go, which can be used to spoof locations in Pokémon and get away with it.
Method 1. How to Spoof Pokemon Go with ClevGo
ClevGuard ClevGo is an Android & iOS Pokemon Go Spoofer which developers and gamers use to do pokemon spoofing. This software is built to help you safely simulate and fake virtual locations even on apps with location-based trackers and systems. Using this Pokemon Go location spoofer, you can safely spoof in Pokémon Go without getting banned and no need to jailbreak or root your mobile device.
Download for WindowsDownload for Mac
1.1 What makes ClevGo the Best Pokémon Go Spoofer?
Many Pokémon Go trainers have reviewed this GPS spoofer and acknowledged its effectiveness since it comes with a wide range of exclusive features adapted to suit both iOS and Android device users.
With ClevGo, you can not only spoof and mask your GPS location, but also bypass location-based Pokémon trackers that can flag you and get you banned. You can choose from two-spot, multi-spot modes and use a joystick to move naturally across spoofed locations. This location spoofer also gives you the ability to customise your virtual movement speed, and helps you create favorite routes, as well as pinning coordinates during gameplay for a more realistic experience.
1.2 How to Spoof in Pokémon Go Without Getting Banned [Steps]
Step 1: Download and Install ClevGo Pokemon Go Spoofer on your device to begin spoofing in Pokémon Go.
Download for WindowsDownload for Mac
Step 2: Use a USB cable to connect your phone to your PC. Validate this connection by unlocking your device, click Trust or Allow, then, enter your password. After this step, you can choose to start connecting using Wi-Fi by configuring both devices on the same network.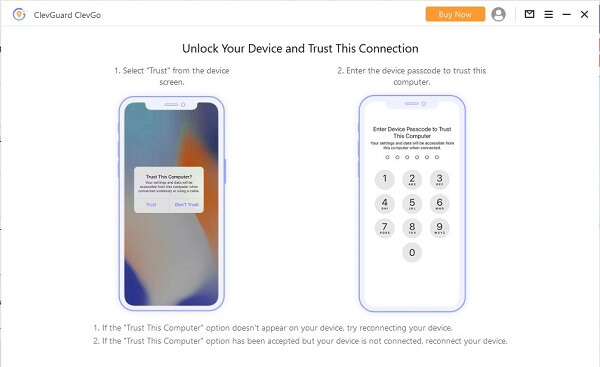 Step 3: As soon as the app is installed and the devices are connected, you can now launch it and load your map on Pokémon. Choose between Joystick Mode and Multi-spot Mode.
Multi-spot gives you the ability to select different coordinates and pin locations you'll be using on the map so that you can simulate the fake route in your coustomized speed.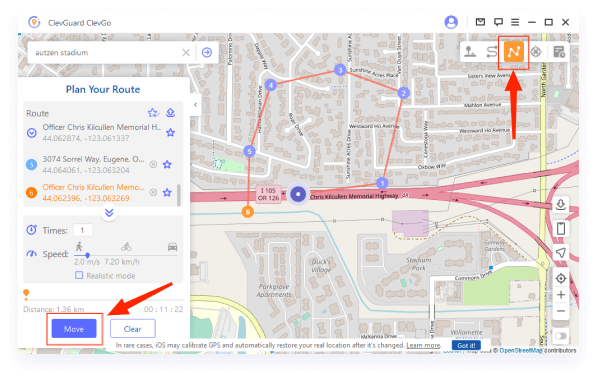 Joystick Mode on the other hand enables you to move around freely and change locations by utilizing the Direction & Move buttons.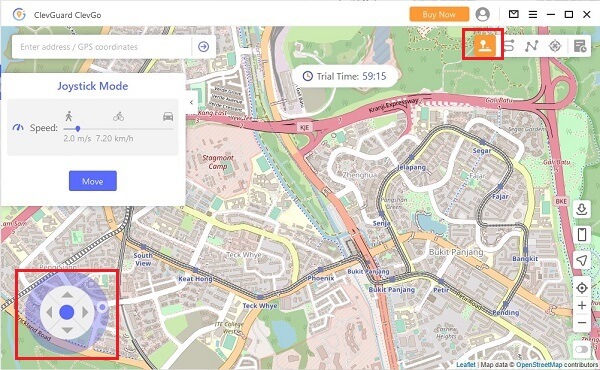 Method 2. Pokemon Go Cheating with PokeMap
A Pokémon Go map is a browser-built map that constantly maintains track of the trainer's surroundings in the gameplay. On a map, you can view and access game elements like Pokémons, pokéstops, and gyms available in your geographical location.
The Pokemap is an engaging browser-based app displaying all Pokémon spawn locations on the game, synced in real world GPS locations around you.
Related Read: 10 Best Places to catch Pokemon
How to find nearby Pokemon Go with PokeMap?
Step 1: To add a Pokestop or Gym, click and select the element you see available on the map.
Step 2: To pick a Pokemon, click on 'add a Pokemon', select the Pokemon to be picked, then select the particular location/spot.

Step 3: To search for a specific Pokemon, take a look at the list near the 'GO' button. Remember to check out the Pokemap's Pokedex and stats for Pokemon stats, and their best moves.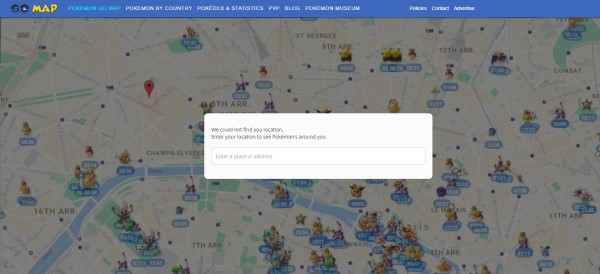 Method 3. Pokemon Go Spoofing Using PGSharp [Android Only]
PGsharp is a Pokémon Go spoofer built for Android Pokemon go players who need to simulate locations. Here are the key features in PGsharp that enable you to spoof and move around with ease:
How to spoof in Pokemon Go with PGsharp?
First of all, you'll need an active PTC (Pokemon Trainer Club) account. Then you'll have to download and install PGsharp on your device, from their official website. Make sure you don't have Pokémon Go installed on your device during the installation process.
As soon as the installation is complete, a new Pokémon Go application will be installed on your device. Log in to your account on the app to access the PGsharp features. You can spoofing locations with Joystick and moving around your map freely.
FAQs: More About Pokemon Go Spoofing & Pokemon Go Ban
How can I spoof Pokemon Go for free?
To spoof freely on Pokémon Go, choose a preferred GPS spoofer app adaptable to your device eg. the EaseUS MobiAnyGo, PGsharp, or PokeGo++ and begin utilizing it in your gameplay. Beware that you might get banned if you choose a spoofer that's not secure.
Does PokeGO ++ still work?
Unfortunately, this initially effective, cracked version of Pokémon Go is no longer functional nor available for gameplay. You can however use acknowledged GPS spoofers like ClevGo to spoof your location and pick your Pokemons safely without getting banned.
How do I know if I got a soft ban on Pokemon Go?
If you've got a Pokémon Go soft ban, every Pokémon you come across will flee or escape whenever you try to grab them despite the berries, or ball used during this task. You'll be restricted from performing certain tasks on the game for 3 to 12 hours.
Conclusion
From this guide, it's clear that there are a number of methods you can choose to spoof in Pokémon Go without getting banned. However, we recommend you use ClevGo Pokemon Go Spoofer for your GPS spoofing activities since it's exclusively secure, and more realistic, especially for Pokémon Go gameplay.