Pokémon Go is based on augmented reality (AR). In this game, the job of the player is to locate Pokémon that are hidden in the real-world location. The player visits each place physically to catch the Pokémon.
However, moving around causes a lot of distress and inconveniences so people are always looking for alternate ways to take part in the game. One of the easiest approaches is playing it through the Pokémon Go joystick. In this article, we will introduce how to fake GPS Joystick for Pokemon Go on iOS without Jailbreak so that players can easily navigate to every location from the comfort of their bedroom. All you need to do is control the directions with the provided buttons using a joystick.
Fake GPS Joystick for Pokémon GO on iOS
Part 1 What is Joystick in Pokemon Go?
As we all know, Pokemon Go is a location-based game. It is possible to use Joystick to move the character. In this case, when walking in Pokemon Go, players can navigate in a direction of their choice with the help of the on-screen joystick. It allows people to control the game devoid of any hassles. But is it possible to play Pokemon Go without moving by using Joystick? That's for sure. There are many Joystick tools available for you to spot and grab different Pokémon in the game from different places by bypassing real-life walking.
Part 2 How to Fake GPS Joystick for Pokémon GO on iOS without Jailbreak
Some Pokemon Go Joystick iOS apps require jailbreak. To avoid or bypass the ban on the Pokémon Go joystick, one should locate a legit GPS spoofer application that will make it easy for people to change the location in the game. Here in this section, you will learn about some of the GPS applications that can help you in spoofing your device's location without jailbreak. Check the methods below.
Method 1: Using ClevGo Pokemon Go Spoofer
ClevGuard ClevGo is an amazing application that allows its users to spoof their GPS location with Joystick and bypass real-life walking without any difficulty. ClevGo's Joystick mode allows users to fake the location and control the direction in 360-degree. It is popular among Pokemon Go players as its privacy and security concern its users. It supports both Android and iOS devices without Jailbreak or Root.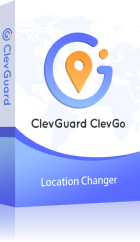 The key features of ClevGo
Joystick mode provides more flexibility to control the direction
It works well on almost location-based applications
Easily modify the GPS location on their device ease
Set their GPS route and movement according to the preference
Simulate the GPS movement in the realistic way
Save your routes on "Favorite" to use in the feature
The Steps to fake Pokémon go ios joystick
With the help of ClevGo app, the player can easily Fake a GPS Joystick for Pokémon GO on iOS without Jailbreak. All you need to do is, follow the below-listed steps one by one.
Step 1: Connect the device to your PC
The first step is to install and launch the ClevGo app on your PC, then connect the device successfully to your PC.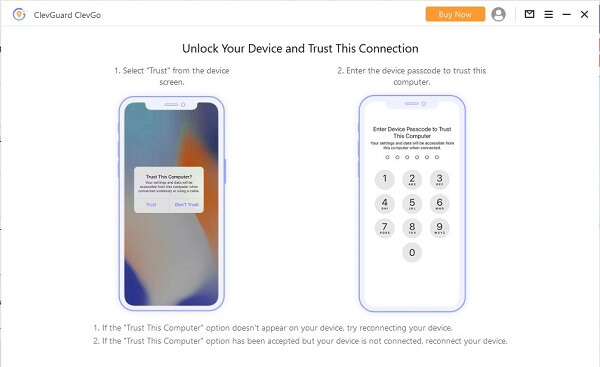 Step 2: Load your Map
After this, load the map and check your current location.
Step 3: Change your GPS Location using Joystick Mode
Now after this, change the location on the map with the help of the joystick. Select the mode of your choice. It includes Teleport mode, Two-spot mode, Multi-spot, Joystick Mode, and more. Simply pick "Joystick Mode" and enter the fake coordinates.
Then, you can control your direction with the Joystick, the mouse, the arrow keys or the "W, S, A, D" keys on the keyboard.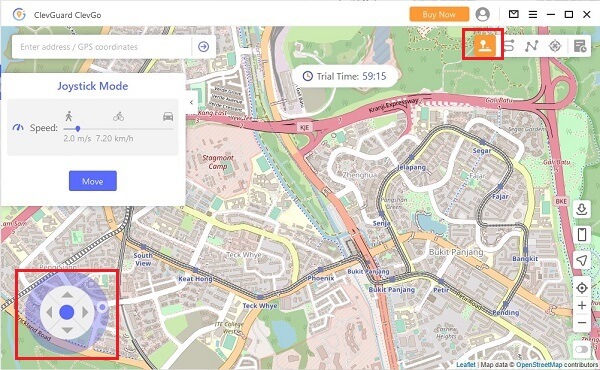 Method 2: Using the Tweaked version of Pokemon Go
TutuApp is a great third-party app store. It allows iOS users to install thousands of games and apps on their iPad or iPhone for free, including some unofficial content. Within that, you can find thousands of apps, emulators, games, and more. One doesn't need a jailbreak to use it.
In this case, if you wanna a fake GPS joystick for Pokemon Go, you can download the Pokemon Go++ app with the help of the Tutu App. Well, Pokemon Go ++ is a hacked version of Pokemon Go with Joystick, which allows players to teleport to other locations without walking.
How to use Tutu App to the fake joystick for Pokemon Go?
Step 1: Visit Tutu's Official Website
First of all, move towards TutuApp's official website and find the download link. When the site loads up on your web browser, you'll see two tabs. The first one is VIP and the second is Regular. Select the Regular as it is free of cost.
Step 2: Open the App
When you open the application for the first time, you will see an error message "Untrusted Enterprise Developer" as shown below.
Step 3: Fix the Error Message
To fix the error message, move towards your phone's Settings and select the General option. After this, navigate towards Device Management and select Profile(s). After this, click on Winner Media Co., Ltd and then select the Trust " Winner Media Co., Ltd "option. Once you perform this step, a Pop-up will show up on your screen. All you need to do is tap on Trust and you are done.
Figure 3: Fix the Error message  
Step 4: Move towards TuTuApp
Now the next step is to move towards the home screen and tap on TuTuApp. Now you will not receive any error messages. Once you open the app, move towards the search bar and enter Pokemon Go. Download the game and complete the installation process. Then you can use its built-in Joystick to control your character's moving.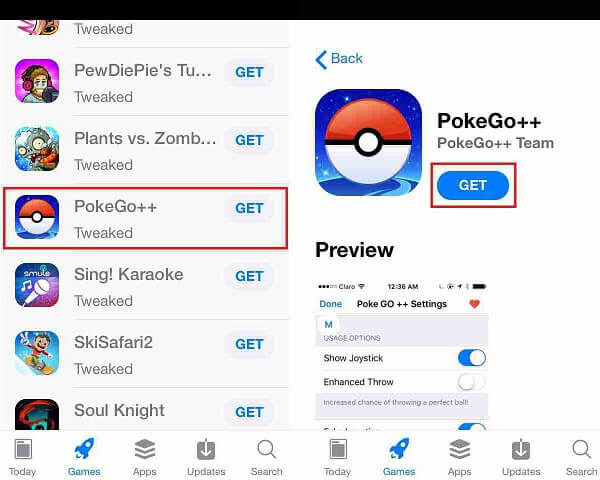 Method 3: Using Virtual Location in Microsoft
The player can also fake GPS joystick for Pokemon Go on iOS without jailbreak by using "Virtual Location". Virtual Location is a paid Windows PC application for modifying the GEO location of iPhone or iPad, which can be downloaded from Microsoft. When setting iPhone/iPad's location, it can also support controlling the move by the up, down, left, and right bottom. Besides, it allows users to make location debug to a custom script. 
For using Virtual Location to fake the GPS Joystick, follow the steps.
Step 1: Download the App in the Microsoft Store to your PC.
Step 2: Connect the iPhone to Windows. Choose the type of device, then, click "Refresh."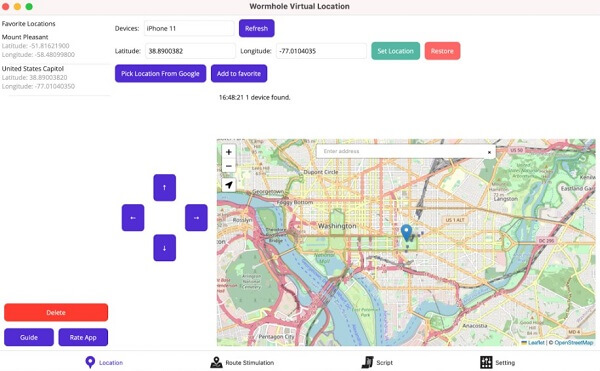 Step 3: Enter the location that you wanna fake. Click on "set as start location" and "Set as end location" by entering the latitude and longitude.
Step 4: Click "Start" to fake location or "Stop" to pause.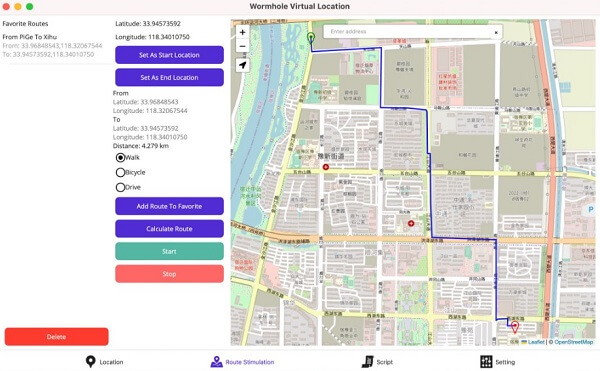 Part 3 Extra Tips: How to Fake Joystick for Pokemon Go on Android?
Method 1: ClevGo
As mentioned earlier, ClevGo is one of the best apps used to fake Joystick for Pokemon Go. The best thing about using this app is that it is available on both iOS and Android devices. So you can use it to change your location on Android without Root The entire process of downloading and installing the application is very simple. The benefit of using the ClevGo app is that it provides maximum safety to users and there is no need to jailbreak your phone while using this app.
Method 2: Fake GPS Location and Joystick
Fake GPS Location and Joystick is another application that enables its users to override their original location so they can easily 'trick' others by showing them their fake location. The player can easily pick an area or city of their choice from the app. The best thing about using this app is that players can move their location with the help of a simple joystick.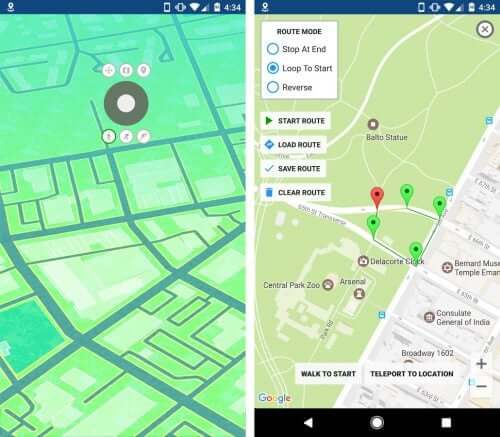 The tutorials to use Fake GPS Location and Joystick
To use this app, one needs to activate the developer mode on their device after installing the app on their phone. For this, navigate towards your phone settings and click on About phone. After this, move towards Software and select Build number (7 clicks). Now the next step is to select the Settings option and click on Developer Options or mock locations. After this, select Fake GPS Location and you are done.
Conclusion
Pokemon Go is an interesting game that is popular among people of all age groups. The game is intelligently designed ad contains amazing features. However, to use some of the advanced features such as fake GPS location with Joystick, the players should get the help of some Pokemon Go spoofers. For security and privacy concerns, non-jailbreak is essential. If you wanna spoof Pokemon Go with Joystick, ClevGo would be the most secure choice.