The digital gaming world has transitioned greatly, especially in the Augmented Reality gaming sector, whereby audio and visual content has been integrated with the gamer's real-time surroundings. Here, we are going to discuss pokemon games for PC, and most importantly illustrate how to play pokemon go on PC.
How To Play Pokemon on PC
Part 1: Is it Possible to Play Pokemon Go on PC?
If you asked this question a few months ago, the answer you would get was a bold 'No'. Gamers have been facing challenges when running Pokémon on PC since it fully depends on your Android/iOS phone's GPS. This explains why many gamers have been trying to find pokemon games for PC.
Most pokémon lovers have been unable to play since their phones don't have the features adaptable to this game. However, gamer developers have managed to solve these problems for us.
Currently, it's possible to run and play Pokémon Go on PC either by screen mirroring to Windows/Mac, or using a certain functional pokemon emulator for PC.
Part 2: 3 Best ways to play Pokémon Go on Pc
Way 1: Using Bluestacks Emulator
What is Bluestacks Emulator?
Bluestacks is a popular gaming emulator for developers and gamers who need to access multiple Android applications on their Windows or Mac computers. We have several emulators. Before we look at the sequential steps for using a pokemon emulator for PC, let's check out the required adaptable hardware features.
List of Requirements for Using Bluestacks Emulator
Windows 7 and above Operating system
An Intel or AMD Processor
At least 4GB RAM
5GB HDD Free Disk-space
Using Bluestacks Emulator to Play Pokémon Go on PC-Step by Step
Step 1: First of all, you'll need to download, setup, and install the Bluestacks app on your PC. Visit the official Bluestacks website to download the latest app version by clicking 'Download', then install it to your computer.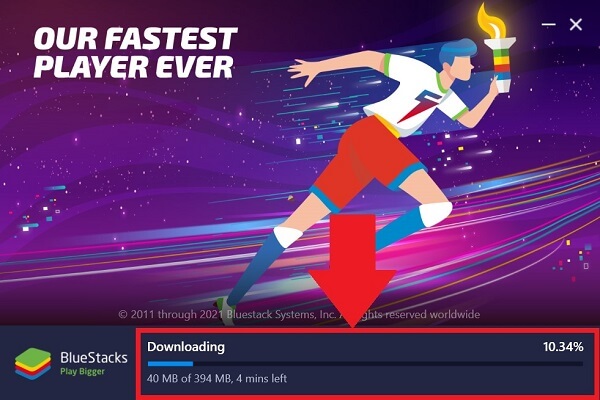 Step 2: After installing, launch the application then complete the Google Account sign-in on your PC to gain access to Google Play store.
Step 3: Click on the search bar on your Google play store to find the Pokémon Go application, then download and install it. You can either download the game using your phone on playstore, or do it via the bluestacks software. You can also fnish the setting based on your preference.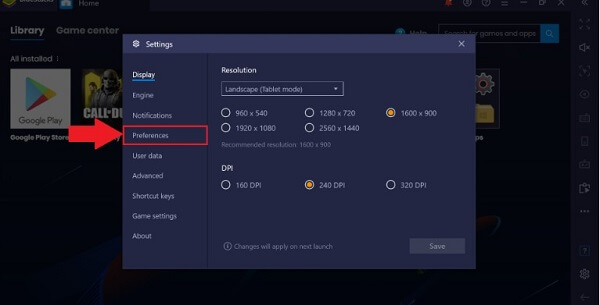 Step 4: Upon downloading the Pokémon Go application on your device successfully, the app icon will appear on your PC's home screen. Click on the icon to launch the application and begin enjoying your Pokémon Go gameplay on your Windows/Mac.
Related Read: Spoof Pokémon Go Location with Bluestacks
Way 2: Using Nox Player Emulator
What is Nox Player?
Nox player is an Android gaming emulator which you can use to virtually experience your android games and apps on your personal computer ie. Windows & Mac.
Nox player is adaptable with Android 9 and above devices for a smooth and stable gaming experience. You can use the multi-instances feature on the app to run more than one emulator at a time to enhance productivity during your tasks.
How to Play Pokémon Go on PC With Nox Player - Step by step
Step 1: Download Nox player
On your computer, search for Nox player download then click on the official 'bignox' website. Download the latest Nox player version from the website then install it. After installing and launching the app, click on the system settings button at the top left to adjust and configure your gaming settings preferences.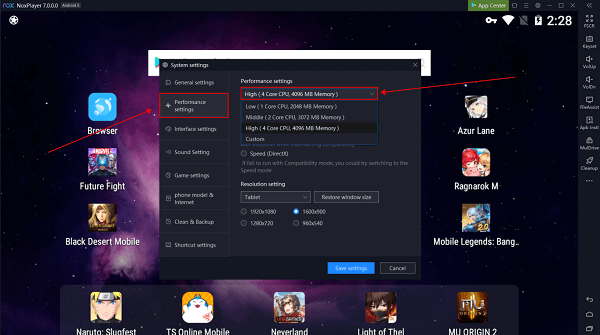 Step 2: Allow "Root access"
To be able to run the Pokémon Go app, you have to allow the 'Root access' permission in your system settings. Go to the settings and click on the 'Root' checkbox to enable root access.
Step 3:download Pokemon Go on Noxplayer
Visit your playstore to download the Pokémon Go application on your computer. As soon as it's successfully installed, you can now launch it and begin to enjoy the game immediately.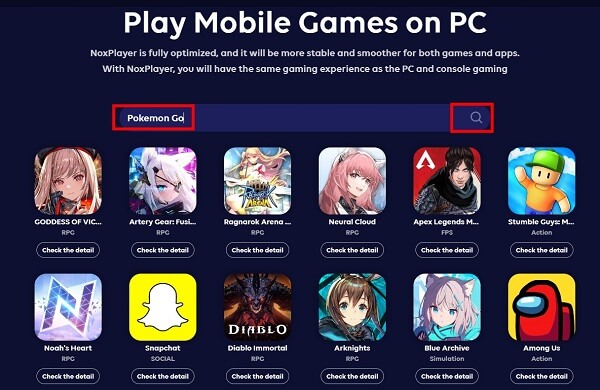 Way 3: How to Play Pokemon Go on PC with Screen Mirroring App
In addition to using the Bluestacks emulator or Nox player to play pokemon on PC, one can also go for a screen mirroring app to screen share your gameplay from your phone to your computer. For example, MirrorTo. This is a great screen mirroring/sharing app for iOS and Android users seeking to screen-share their phone display to their computer when gaming or running certain applications.
Apart from gameplay, you can utilize this application's in-built screen display and audio quality to use, and manage streams on your social apps using your PC.
How to Play Pokemon using screen mirroring app
Step 1: Download the MirrorTo application from their iMyFone MirrorTo website and install it on your desktop.
Step 2: Launch the application on your PC then click connect devices. Go to your phone's developer options and make sure you activate 'USB debugging'.
Step 3: Allow the 'USB debugging' permission for the MirrorTo application to display and gain access to your device using your PC as soon as the USB cable is detected.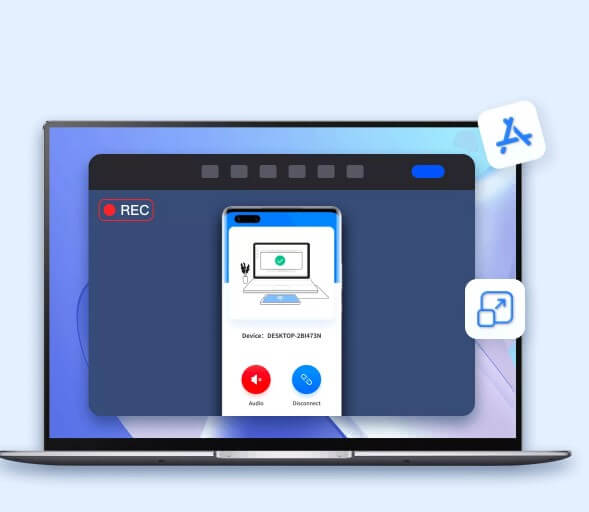 However, in order to use this app efficiently, you need to keep walking in, and around the room which is very inconvenient for a Pokémon lover or any other gamer. To play and enjoy the Pokémon gaming experience without having to move around, you can use some location spoofers like ClevGo.
Extra Tip: How to Play Pokémon Go without moving on your PC
ClevGuard ClevGo is literally a game changer for all Pokemon Go enthusiasts who've been trying to figure out how to play pokemon on PC with a fake GPS location. You don't have to be moving around the room while picking pokemon cards anymore.
You can utilize ClevGo to change your GPS location to anywhere on the global map. It helps gamers simulate GPS locations without having to jailbreak or root their devices. Let's not forget its versatility since this exclusive tool supports both Android and iOS devices. (Upto Android 13 &iOS 16).
The key features of ClevGo
The Circle Route feature in Multi-spot mode.
The Realistic Mode in Multi-spot and Two-spot mode.
Returns & and Loop route movement in Two-spot and Multi-spot modes.
Fluctuation mode to limit warnings from your device concerning multiple location changes.
History Recording which saves all your initially used routes, coordinates, and addresses on the map during gameplay.
Ability to Export or Import GPX files for gamers to save one or more paths on the map to identify the routes they like using thus add them as their favorite.
Compatible with 10+ iOS devices. All you need to do is go to the dashboard and add (+) device or disconnect if you have multiple devices connected initially.
How to use ClevGo to spoof Pokemon Go locations - Step by Step
Step 1:To get started, go to the official ClevGo website and Download the application. Install it to your PC then click Get Started to launch it.
Download for WindowsDownload for Mac
Step 2:As soon as the app is installed on your PC, you'll have to connect your phone to the PC using a USB cable. Open your device and allow access by clicking "TRUST", then enter your password to validate.
Step 3:After connecting your device to the PC using a cable for the first time, you can configure your device to begin connecting using your WI-FI henceforth. Just open your phone and add your computer as a Trusted connection then validate this connection with your password. The USB cable connection is only fundamental when creating the first connection.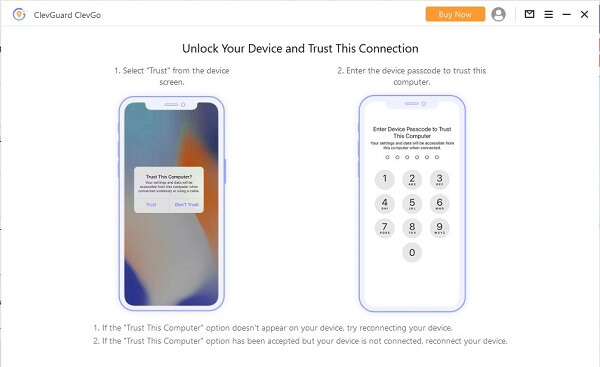 Step 4:Now that everything is set, you can load the map and try to identify your current location. You're good to go! Enjoy spoofing GPS locations naturally as you play Pokemon Go on your personal computer.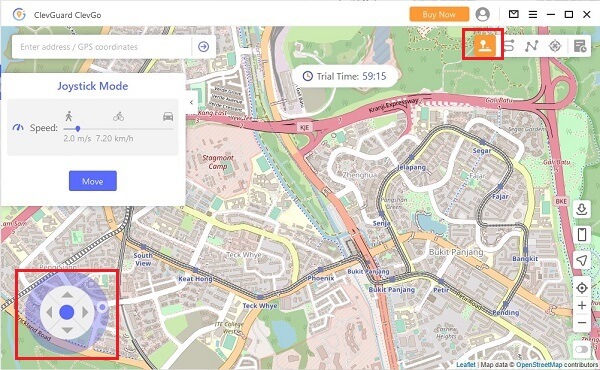 Conclusion
Before we call it a day, we believe you've found multiple solutions to work with that will help you launch and play Niantic's Pokemon Go game on your PC.
Please choose an emulator with features that are best aligned with your device's software capabilities for the best experience. And if you wanna play Pokemon Go without walking, ClevGuard ClevGo is the best app we recommend you use whenever you need to spoof locations and simulate movement on Pokemon Go, whether you're using an Android or iOS device.