"I've been wanting to play Pokemon Go for a while now, but I don't know how. I can't get it in my country." If you still trouble by this, well, you're in luck because we have everything you need right here! In this article, I will show you the best solution to spoof location on Pokemon.
Best solution to Spoof Pokémon Go
Is iSpoofer Really Not Working Now? Why?
The Pokemon Go craze has been sweeping the word, and it has fans completely hooked. However, even with all the fun, this game can offer, there are still some kinks that need to be worked out. For example, how to change your location on Pokemon go to catch more Elves?
There are many ways to spoof your location and play Pokemon Go in other location not near you. A few years ago, the most popular way is using a Virtual Location app named iSpoofer. It allowing you to play the game in different areas than where your GPS says you're located. Unfortunately, this app has been shut down forever because it's ban by Pokemon Company. Also, another reason was that it didn't upgrade to match the rules of Niantic.
It is full of apps that promise to change your location on Pokémon Go. But some of them require jailbreak access, or unable to change location steadily. I tested a lot of Pokemon spoofers to meet my needs to change the location and recently I found that ClevGo is not one of those.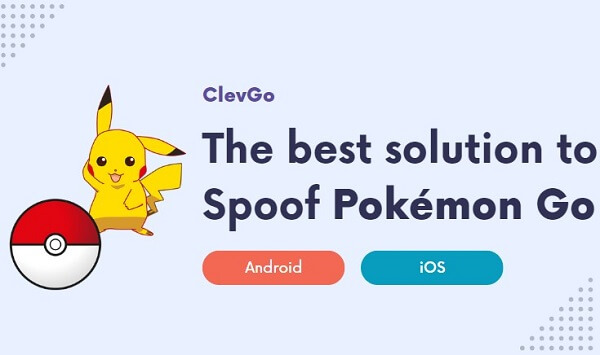 The Best Alternative App for Spoofing Pokémon Go
ClevGo is a Pokemon Go location spoofer that lets you set your location as anywhere you want. You can spoof your location temporarily or permanently with this service. With that, you can even catch Pokemon without working. For those who want an alternative solution for spoofing Pokémon Go without having to jailbreak their phone, it's worth checking out. Below I will show you how to set up ClevGo on Pokemon Go.
How to Use ClevGo in Pokémon? [Detailed Guide]
Get ClevGo within 3 steps
Downloading ClevGo can be very easy, just follow the below steps.
Step 1: Download the ClevGo on your PC. (You can choose Windows and Mac version)
Step 2: In the first time, USB connection is required. In the next connection, you can use WiFi.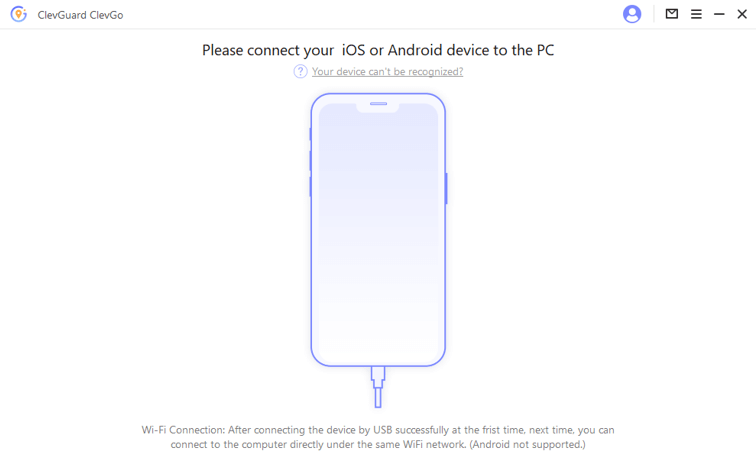 Step 3: Once connected, a map will be loaded. Selected a location to move. Then you'll see that your GPS has changed from where it was before when you started ClevGo!
After that, ClevGo can trick your phone into thinking you are in another location. Then, just start playing as usual and catch some Pokémon!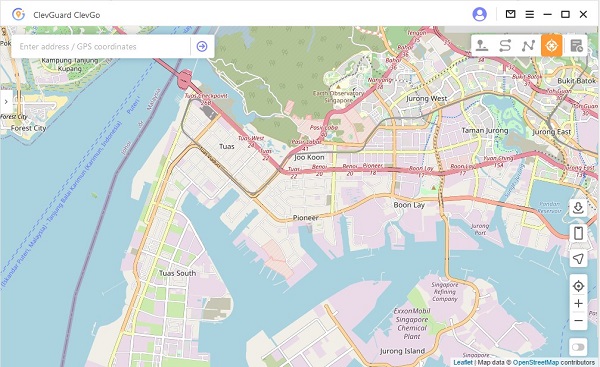 How to Spoof location with favorite modes
For spoofing location in reality, ClevGo provide different modes to choose. After deep test, here I also show you them in detail.
1: Change your location on Pokemon Go using "Teleport Mode"
Simply open the ClevGuard, and select 'Tleport Mode' in the top right corner. Then determine the destination you want to go by entering coordinates or address, or clicking one spot on the map. One-Click of "Move" will automatically spoof your GPS location and change it to wherever you like.
You'll be able to do anything, from catching rare pokemon in new locations or visiting your friends who live far away in a single click. Once you're done spoofing, just switch back into Tleport Mode and it'll return you back to your original location.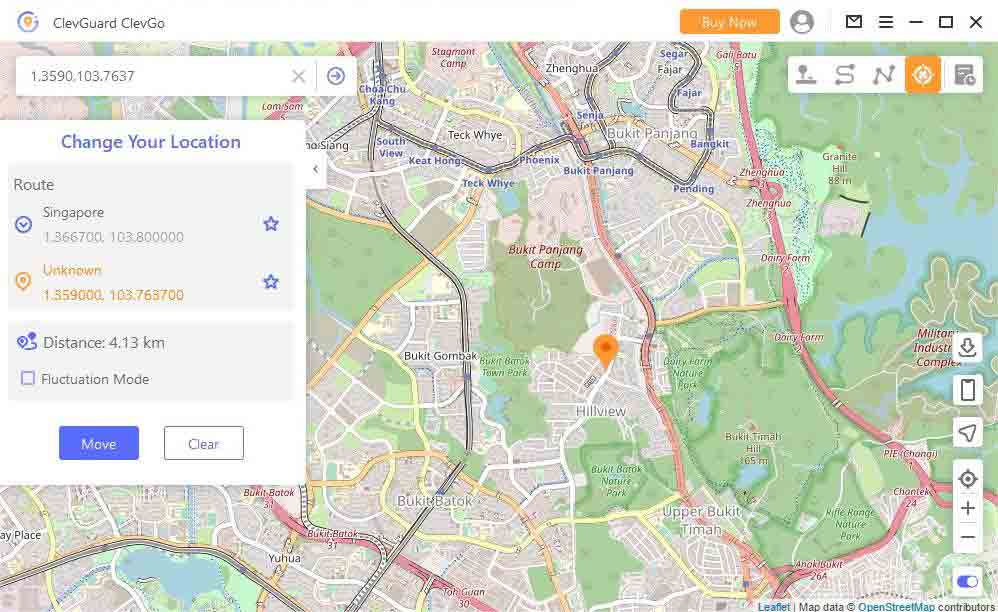 2: Make a Custom route with "Two-Spot Mode"
If you're not satisfied with just selecting a location and saving it, but want more control over where your avatar is moving, then this is for you. Two-Spot Mode uses two distinct locations and will allow you to create a custom route. This can be done by adding in a starting point and destination, then selecting Custom Route from the drop-down menu.
For example, use our current location as our starting point with the same location being our destination. Or, specify two spots: one as our starting point and one as our destination.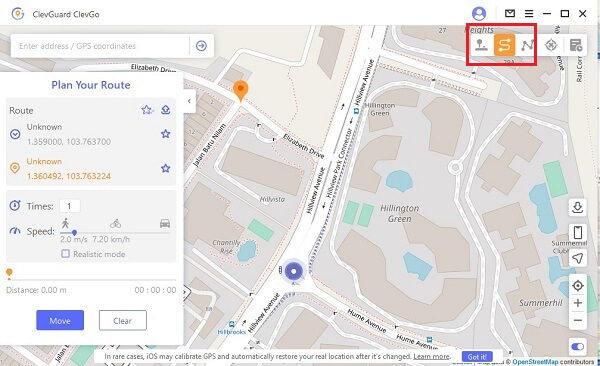 3: Simulate the GPS Movement by 'Multi-Spot Mode"
If you have still question how to spoof Pokémon go totally and if it will be detacted? Well, the "Multi-Spot" mode is come. Choose a different point that you like, then the movement will be processed along with them. Also, you can custom your speed! It means that you are seen as moving in reality.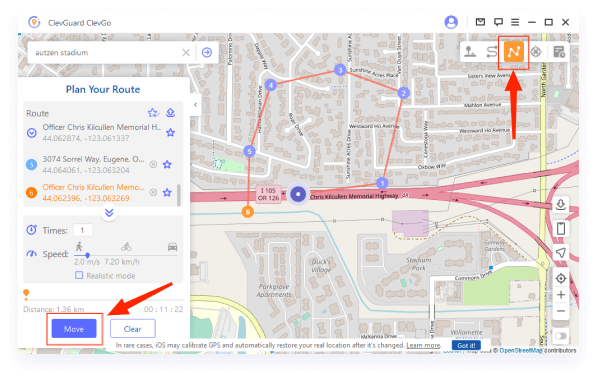 4: Control Movement through 'Joystick Mode"
The another option is Joystick Mode. This mode will allow you to control our movement through a virtual joystick that appears on-screen. There are 4 directions to choose, just make sure what feels most natural for you. To change your location on Pokémon GO while in Joystick Mode, simply touch the screen where you would like to be and it will take your avatar there without having to move your phone around with an uncomfortable arm position.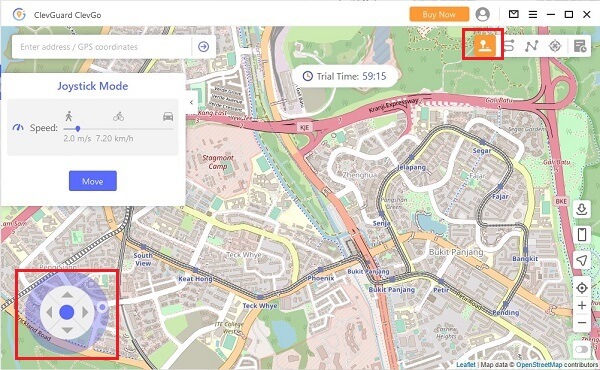 The Pros and cons of ClevGo
ClevGo offers a variety of options for your spoofing needs. Whether you need to change your location for gaming purposes or want to prank your friends, ClevGo can do it all and has user-friendly features that make it fun and easy. However, there are some cons with this app as well.
Pros

Available for Android and iOS.
Not required to jailbreak or root.
With different user-friendly modes to choose.
Customize your favorite root and speed.
Cons

The service is come at a cost.It has a trial option. But there is a fee for for long term use.
How to Avoid to Getting Banned in Pokémon Go?
Some of player worried that spoofer would be a little bit risky. Fortunately, there are still ways to play Pokemon GO without risking a ban or getting caught. As a veteran player for many years, here I also offer some ways to avoid account bans when using Spoofer.
Choose reliable Pokémon Go location spoofer. Always make sure you research potential spoofers before downloading them.
Do not Jailbreak or Root your Phone.
When using Fake GPS App, always make sure your movement and speed are reasonable.
NOTE:
Do not move frequently and widely in high rapid speed.
Final Words
Now, you have successfully learned how to spoof your location on Pokemon Go without ban. It's so easy. All you have to do is follow these few steps that we explained above and soon enough you'll be catching more Pokemons without even having to leave your house. Just have a try and get more rare Pokemon!