Most people wonder how to spoof GPS location without jailbreak and share the fake GPS location with other. Well, both Android and iPhone devices use the same GPS hardware. There are different techniques by using which one can spoof the GPS location of their iOS devices with ease. Changing the location of your iPhone and using the iOS GPS spoofer is quite hard to perform. Most of the applications that we install on our smartphones involve location access. If you face difficulty installing some apps on your iPhone device because of location, don't worry. There are different ways by using which one can fake their location on iPhone. Check the points below for an in-depth understanding.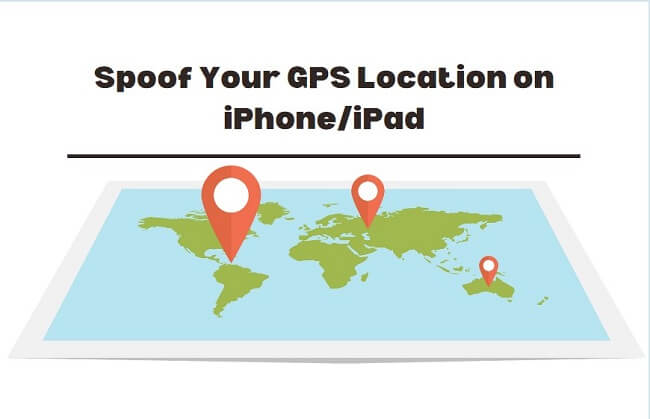 Is it Difficult to Completely Mock Location on iPhone/iPad?
Well, performing this job is not very simple or straightforward. The iOS or Android device does not contain any fake built-in GPS setting. One can perform this job by using some third-party fake GPS app or software. When someone searches for a "fake GPS" app on the play store, there will be different options to pick from. Some apps are not for free, and some require your smartphone to be rooted completely.
However, the software that helps users perform this job well and with ease is ClevGuard ClevGo. This amazing virtual location modification software contains amazing features and is easy to use. One can easily spoof their GPS location on iPhone by using this tool.
How to Spoof GPS Location Without Jailbreak
1.1. An overview of the ClevGo location spoofer
How to change iPhone location? Since most of the spoof GPS location iPhone free tools available on the play store and in the market are unauthentic. The best thing about ClevGuard ClevGo is that it is 100 percent authentic and reliable. It supports multi-devices. This amazing paid tool helps in providing the most satisfying results to its users when it comes to GPS spoofing.
One can easily spoof their authentic GPS location within a fraction of a minute. The user can easily pick the fake location of their choice. This amazing tool is compatible with all iOS and Android versions, including Android 13 and iOS 16.
1.2. What can ClevGo do to fake GPS Location?
In this section, you will learn about some of the popular GPS spoofing features ClevGo offers its users. Have a look at the points below.
Working with Most of Location-based Apps
One can easily fake location anywhere on social platforms, AR games, installing applications, etc., by using the amazing ClevGo software. The best thing about this software is that it is simple and easy to use. It makes the entire process of spoofing your GPS location on your iPhone a lot simpler and easier.
Simulating the Route and Speed
Using the two-spot mode, the users can easily set up two map points without difficulty. This approach will trick people into believing that you are moving on the street with the help of two coordinates you point to on the map. The movement speed looks completely realistic.
The multi-spot mode is an extension of two spot mode. With the help of this feature, one can map more than two points on the map without difficulty. This amazing feature also allows users to set the driving, walking, or running speed according to their choice.
Fake Location to Anywhere
With the use of this amazing feature, one can easily switch their GPS location even to a truly distant location straight away. In the case of a two-spot and multi-spot mode, moving from one location to another requires some time. However, by using Teleport Mode, one can easily reach the desired given location right away.
Enable Joystick Control to Spoof GPS Location
One can easily move their GPS coordinates on the map by using an on-screen joystick. The coordinates keep updating on the map whenever the user changes them with the help of a joystick. The joystick control includes three sub-features. The first one is the 360-degrees remote control feature. This amazing feature enables the joystick to control and manage the user's movement in all eight directions.
The second feature is the Auto Marching feature. This feature will continue your GPS location on the map without any interruption. The third and last one is the keyboard control feature. This amazing feature will display 4-direction mouse controls and WSAD on the screen so that one can easily control their GPS location using the mouse and keyboard on the screen.
Import / Export GPX file
One can also save their favorite routes in a file and import or export it according to their choice. This process is pretty simple and can be performed easily. All you need to do is, perform a few clicks, and you are done.
1.3. How do you set your iPhone location somewhere else?
How to spoof location on iPhone? Well, by following the below-listed steps, one can easily spoof their GPS location on their iPhone without difficulty.
Step 1: Download ClevGo
Click the below bottom and download ClevGo on your PC.
Step 2: Connect Your Device to PC
Click "Get started" and connect your device to PC using USB for the first time. The computer and mobile device can be connected directly under the same WI-FI in the next time.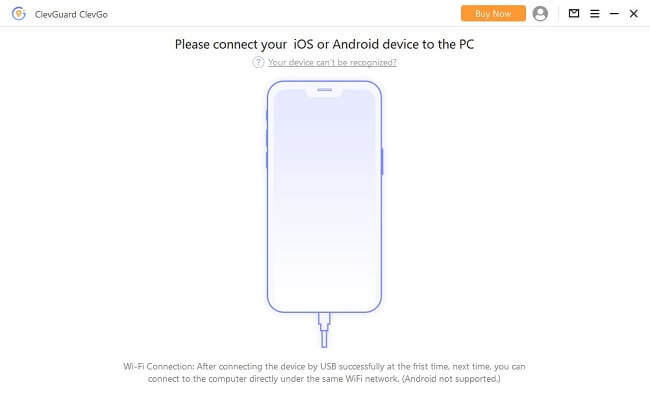 Step 3: Select the Location that you want to change
Once your device is connected, load the map to view your actual location. After this, spoof your GPS location on your iPhone by selecting the feature of your choice, i.e., two-spot mode, teleport mode, or multi-spot mode. For example, choose "Teleport Mode" in the third icon, and select the location where you want to go by dragging the map, or, entering the Address or coordinates.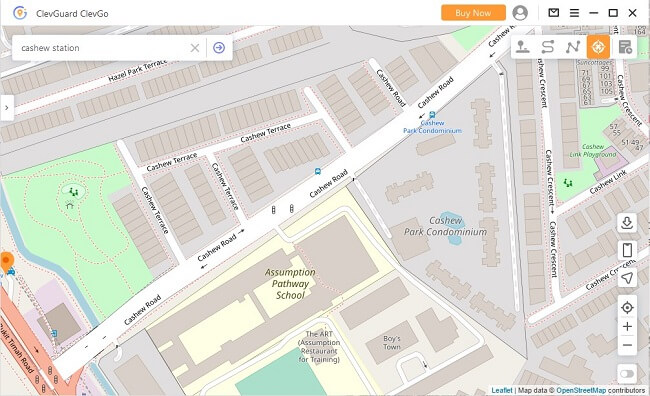 Step 4: Click "Move" to change your location
Once the endpoint is set, a simple click of "Move" in the left sidebar can change your location quickly.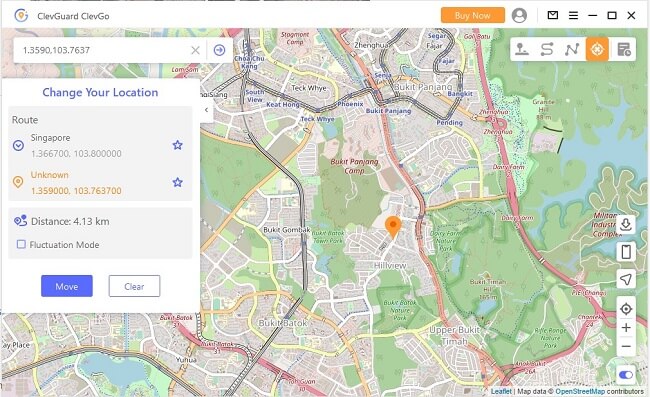 How to test if you change the location successfully?
If you want to test whether the location is changed on your iPhone, here are two ways.
Way 1: Simply open your mobile map to see your current location.
Way 2: See the location history on "setting".
For this, move toward your phone settings and click on privacy. Select "Location Services" and click "System Services." Once you do this, click on "Significant Locations" to check the location history on your smartphone.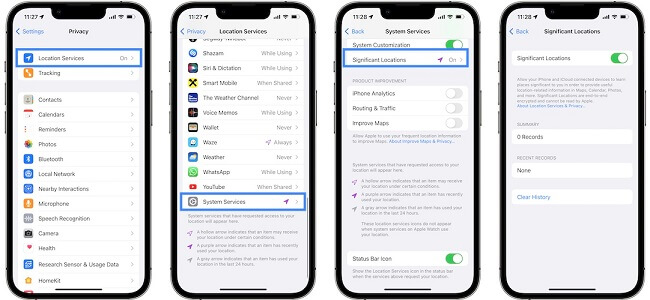 How to share location on iPhone even if it is faked?
One can easily share the changed location with other people without any difficulty. To perform this job, open the Find My app on your iPhone. After this, select people and click on the "share my location" option. The next step is to pick "start sharing location." Enter the number or name of the user with whom you want to share your location. After this, click "ok," and you are done.
Why Shouldn't You Jailbreak Your iPhone?
The reason is that the jailbreaking approach removes Apple's safety which is provided to users to protect them from security threats. All jailbroken iPhones are more vulnerable to malware and viruses. To get maximum safety, one should not jailbreak their iPhone.
Conclusion
There are a large number of people who find it difficult to spoof their GPS location on iPhones. This process is not difficult if you use the right application or software. CleGo is one of the best tools to help people find their GPS location on their iPhones without difficulty. This article contains a complete guide about changing the current location with a fake one using ClevGo. Read the article above for an in-depth understanding.