Life360 is one of the best location-tracking applications. People use this app to track their kids, spouse, or friends. However, there are a large number of people who don't want to be tracked by other people.
If you are concerned about your online data security and privacy, then it's important to learn how to fake or spoof your location on Life360. Keep reading and have an in-depth understanding for the life 360 hack.
The Best 3 Ways to Spoof/Fake Location on Life360
How does Life360 Works?
Life360 Family Locator can be considered as atracking app. Once the application is installed properly on your phone, you can create a group or a circle just like the one you create on WhatsApp or Facebook. The people in this circle can share responsibility and location information. One can also invite other people easily to the group through email addresses or contact numbers. However, the only concern about using this app is privacy and security.
Why Would People Want to Fake Locations on Life360?
Well, there are different reasons why people want to spoof their location on the life 360 apps. Sometimes, people want to show that they are elsewhere to avoid real-time tracking. Another main reason for spoofing the location on the Life360 app is to gain access to certain features on different applications, as some apps contain features available in specific locations.
Moreover, with online apps, there are always chances that malicious people can access your circle, take advantage of people in your circle, and easily trace and find you. All this can result in catastrophes sometimes. Due to all these reasons, people want to fake their location on Life360.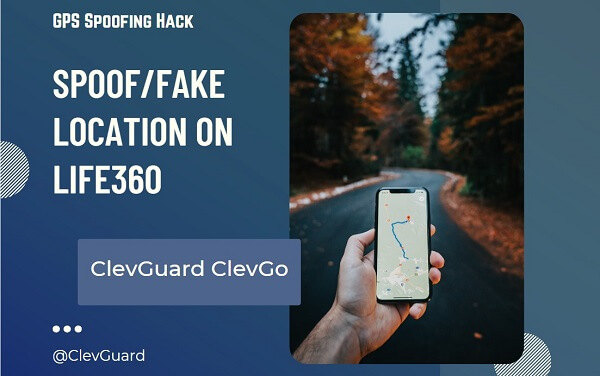 Spoofing Life360, or Turn it off directly?
The simplest way is turning off the location directly but it comes with a list of inconvenience. For example, your phone activity would be affected seriously, and the Life360 users would know it.
In this case, we do not recommend to turn it off directly. Instead, we suggest you to fake a new location. And here you will find the best spoofing apps to change your location to anywhere you want without working and without anyone knowing. Have a look at each of these tools in detail.
The 3 Best Spoof Apps to Spoof/Fake Your Location on Life360
1. For both Android & iOS: ClevGo Location Changer
ClevGuard ClevGo is the best application to help you to spoof your GPS location without difficulty. This amazing application can help you in protecting yourself from being tracked but without turning off your location. It secures your privacy. This amazing application is rich in features and supports Android and iOS devices. It can easily work on all location-based applications without any difficulty.
1.1 Learn the key features of ClevGo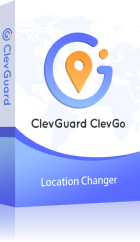 Highlighting features of ClevGo
changing your GPS location on your smartphone to anywhere in the world
Customize their GPS movement and route
Control the location direction using the joystick
Works on every location-based application
Available for both Android and iOS devices
Support GPX Export and Import
1.2 Full guide to trick Life360 by ClevGo
Step 1. Download and Install ClevGo
For this, visit www.clevguard.com or click the below bottom to download for free, and download the software for your device.
Download for WindowsDownload for Mac
Step 2. Connect your Device
Now the next step is to click on "Get Started" and connect your phone to your computer system with the help of a USB cable.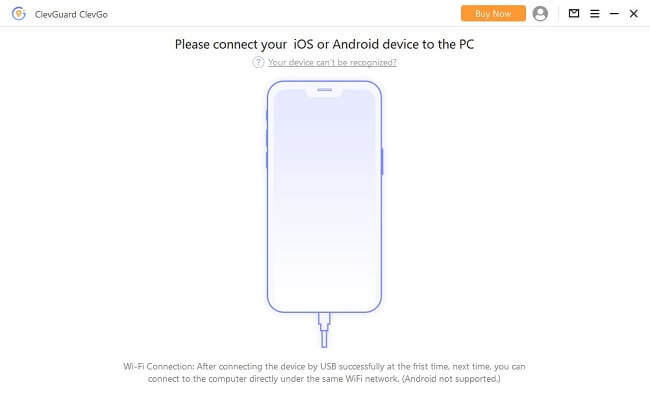 Step 3. Load the Map to Proceed Further
Once you connect your phone successfully, the next step is to load the map on your screen. Now find your current location on the map.
Step 4. Change the Location
Now change the location on the map. There are three ways of doing this. It includes Teleport mode, Two-spot mode, Multi-spot, and more. For simply changing your location, select Teleport mode and enter the address. Then, click "Move". Now, open your location service or system map, your will find you are in a new place.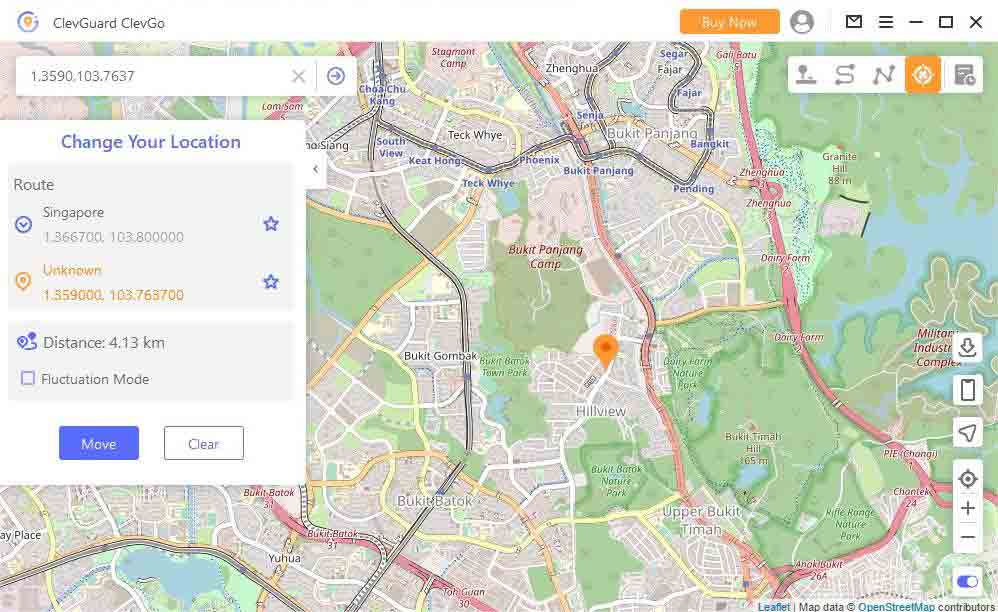 Helpful Tip:
One can also make the movement more natural by simulating human walking in the teleport. All you need to do for this is click "Two-spot mode" (on the second icon) or "Multi-spot" (on the third icon) from the top right corner of your screen. After this, click on the desired destination and press "Move." The movement will proceed according your customized route and speed.
2. For iOS only: iTools Virtual Location
It is one of the most popular tools that help people in faking locations on location-based applications like Life360. The application designed only for iOS, and it is easy for people to use the tool and spoof their location. In this section, you will learn about the basics of faking location on Life360 using iTools.
2.1 Steps to Fake location on iPhone by iTools
Step 1. Sign up and connect your Device
Purchase a plan on iTools website. Then, login your account and attach your iOS device to iTooks. After this, click on the "Toolbox" icon from the main interface.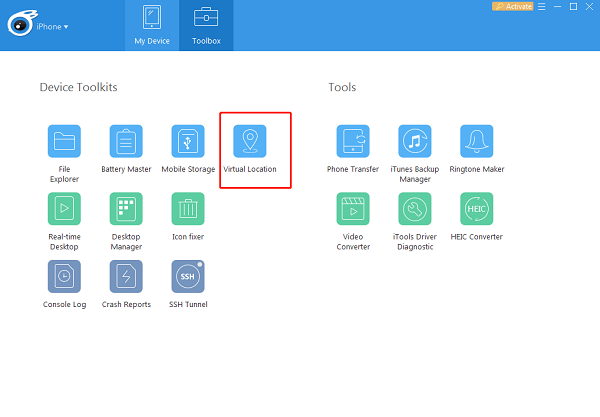 Step 2. Enter the GPS coordinates
Enter the address or GPS coordinates on the next page of the area you want to appear on the map and click "Go."
Step 3. Click on "Move Here"
Once you enter the location and the program finds it, you will see a small pop-up notification window at the center of your map. To start teleport to a location of your choice, click the "Move here" button.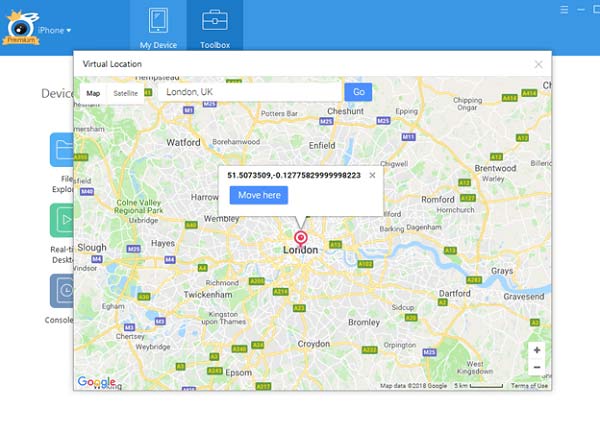 2.2 Limitation
This amazing application is rich in features and provides numerous benefits. However, there are some limitations which are associated with this. Some of them are as follows:
It is a bit expensive compared to other GPS spoofing applications.
It is a bit expensive compared to other GPS spoofing applications.
The application does not work on systems that contain antivirus.
3. For Android Only: Fake GPS
Fake GPS mobile application is one of the simplest and best applications used for faking the live location of a user without any difficulty. All you need to do is, tweak some of a few settings on your Android device to fake your GPS location on Life360 using Fake GPS. This way should use develop option. But don't worry, here we provide the detailed guide to fake GPS.
2.1 Steps to use "Fake GPS"
Step 1. Change Settings
Open your phone's "Settings" and move towards the "About Phone" option. Click on About Device and press Software Info. Then, tap the "Build Number" to unlock the developer options easily.
Step 2. Choose the Developer Option
Navigate toward the "Settings" tab and pick the developer option, then, select the "Allow mock location" checkbox.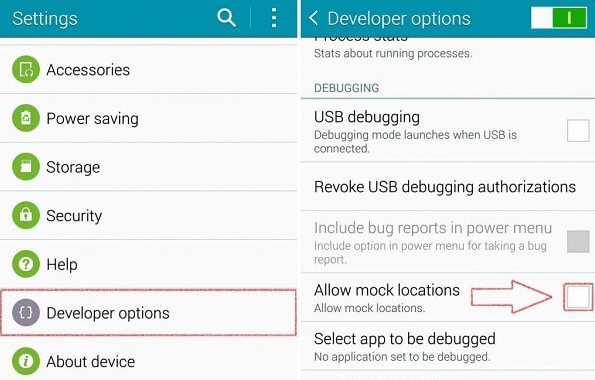 Step 3. Download Fake GPS
Once you allow the mock location, the next step is to move toward the Play Store and download the FakeGPS application on your smartphone.
Step 4. View the App and change the location
Select the Fake GPS app and launch it on your device. Enter the location of your choice and set it on the app.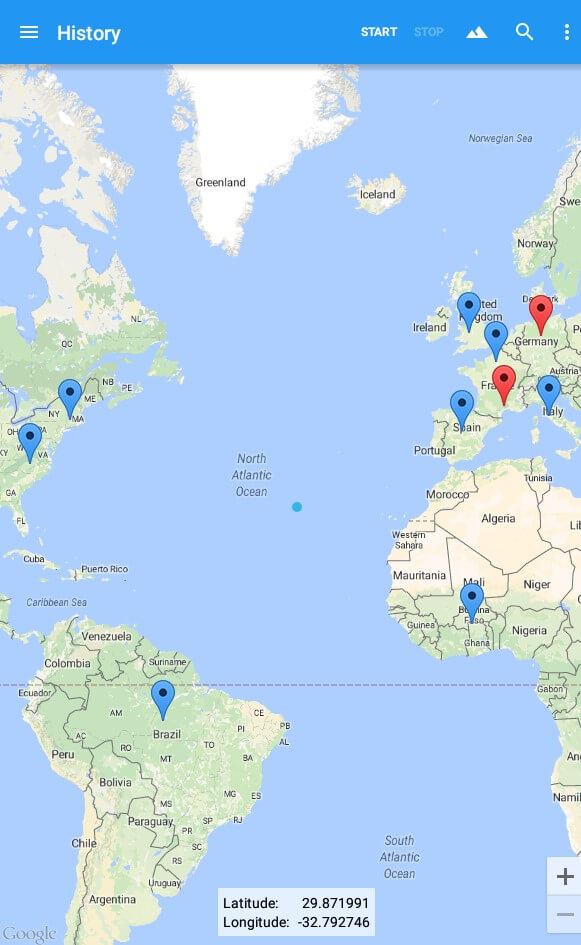 3.2 Limitation
Some of the limitations of using this app are as follows:
Only available for Android devices.
Steps are a bit complex and confusing.
Doesn't compatible to all Android versions.
Excessive open permitions, leading to the risk of data leakage.
5 F&Q Related to Spoof Life 360 Location
1. Can Life360 track you if you turn your phone off?
The GPS function in the phone will turn off easily whenever the phone gets off so that it won't detect your current location; meanwhile, if you have Life360 in your phone, it will show the last location data updated on your account.
2. How to stop sharing your location on iPhone/on Life360?
To stop sharing your location, tap on your phone's settings. To stop location sharing, tap the slider of location sharing to turn off the setting.
3. Why does the Life360 location not update?
This usually occurs when the target phone is not connected to the internet or is off.
4.Does Life360 notify you when you turn off the location?
Yes, the app notifies your circle when you turn the location off. When a user turns the location off manually, the other members in their circle will see a notification saying "Location Sharing Paused" under the beacon.
5.How to delete a circle in Life360?
To delete the circle of your choice, open the app and select the circle which you want to delete. After this, click on the setting option and select circle management. After this, delete circle members and you are done.
Conclusion
The three best spoof applications to fake or spoof your location on Life360 include iTools Virtual Location, Fake GPS, ClevGo Location Changer, and more. All these tools have pros and cons, but the best among them is ClevGo Location Changer. It also provide free trial option. Have a try and using one click to fake your location on Life360.