The family location sharing app Life360 is quite useful in tracking the real-time location of family members. It has free as well as paid versions. When you are purchasing any plan for any app, you would expect the app to protect user data completely, but the Life360 app seems to be an exception.
The news of the Life360 app selling its user data has shattered the trust of its user base. Their users are questioning is Life360 a safe app to use? In this article, we will explain the security concerns with the Life360 app and recommend a tool to find out if the Life360 app is a scam.
What is Life360?
Life360 is a family location sharing and driving safety app. You need to install the app on the phones of your family members, and you can track their real-time location through GPS. You can also check their location history and retrace their steps to reach their destinations.
Besides, you can set places to get alerts as soon as any added family member enters or leaves the places.
Apart from tracking location, the app shows the driving stats of the family members. You can check their top speeds, phone usage while driving, use of hard brake, and much more. Besides, there is a help alert system for emergency situations as well as a battery status monitoring option.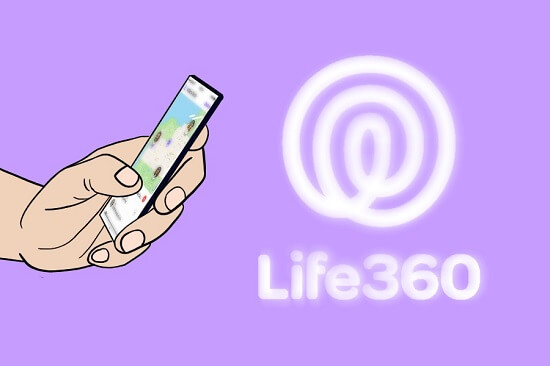 Why Are There Security Concerns with Life360?
Here are the three main reasons why there are security concerns and why users are raising questions is Life360 safe to use.
Sells User Data:
There are loads of user data that Life360 stores on its web servers. They sell those data to third-party companies that use the data for their benefit.
For example, Life360 stores location information, location history, driving stats which they sell to advertisers, insurance companies, and such third parties. Most Life360 users were unaware of this data storing and selling activities until they were exposed online.
Privacy Concerns:
Life360 has your home's exact location, the places you visit frequently, the identity of your family members, and all these are extremely personal information that is not meant for third parties to know.
Besides, they have your personal data when you sign up and when they land in the hand of third parties, they can do anything with them. It is clearly exposing your online privacy in public.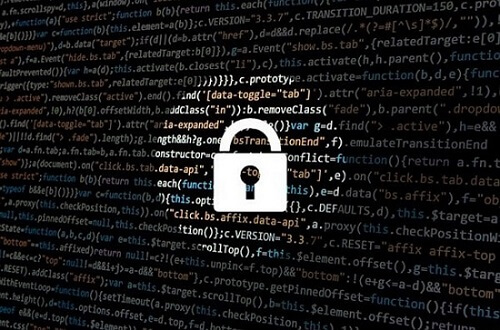 Data Hacking:
There are several repeated technical glitches reported by users, and the company has no technical support team available. Naturally, users are questioning how safe is their data on Life360 servers when the app's technical aspects are under the scanner.
Hackers can easily spot backdoors if the app is not technically sound. There are so many data breach incidents regularly reported for top-class apps and let along the mediocre ones like the Life360 app.
What Are Users Saying about Life360?
If you check the leading review sites, the Life360 app fails to score even an average mark. Most of them are not satisfied with the app especially after subscribing to their plans. Here are some of the genuine reviews coming from premium users of the Life360 app.
1. "App notifies me that a family member has arrived at home, but when I look, there is no one. Tired of false notifications." – Curtis B.
2. "Good but not perfect. Location tracking is not very accurate shows at home but actually 3 blocks away. Driving safety features are not up to the mark." – Kathleen M.
3. "It requires way too many permissions and I get calls from insurance after using the app. It uses more background processes than any other app on my phone." – Jeff M.
Therefore, the answer to the question "Is Life360 safe to use?" is not yes, and we will provide you with a professional tool for verifying.
Is Life360 A Scam? - Verify It with Professional Tool
After getting exposed for selling data of millions of users to third-party companies for money, there are many users who are wondering if Life36 is a scam. You can verify if the Life360 app is malware using ClevGuard Anti-Spyware app. With it, you can remove any spyware on your phone and get real-time protection against malware attack before your data get stolen.
1. What You Can Do with ClevGuard?
Here are all the features of ClevGuard that make it a must-have app on every phone.
Detect Malware in Quick Way

ClevGuard scanner instantly scans your phone thoroughly to find out if there is any malware. It can find out any hidden app as well as suspicious apps that are using fake names and disguised icons.

After the scan is over, you can check the scan result containing all the malware apps and threats on your phone.

Remove Spyware Completely

After reviewing the search result, you can instantly remove all threats and spyware apps on your phone with a single tap. Therefore, if you find out that the app is identifying the Life360 app as a threat to your phone's privacy and security, you should remove it instantly.

Clear Junk Files

There is an inbuilt feature on the ClevGuard Anti Spy Scanner app to analyze and clean junk files instantly. It is important to remove junk files from time to time for cleaning up unnecessarily blocked space by app residuals, cache files, and others. Besides, some junk files may contain sensitive data and information that malware apps can prey on.

Real-Time Protection

ClevGuard app provides real-time protection which means it stays active all the time and detects any threat such as malware getting downloaded or getting active on your phone. It notifies you immediately so that you can review and take the appropriate step before your privacy and security are hampered.

Check Email Breach

One of the most useful features of the ClevGuard app is that it lets you check if your email account has been exposed to any data breach incident.

The app also suggests security steps to ensure better safety and security of your email account. This is important to protect your privacy as your email account is connected with multiple online accounts.

Protect Microphone and Camera

Whenever any app tries to hack your phone's camera or microphone by staying hidden in the background, the ClevGuard app detects such spying activities and notifies you immediately.

You can review and remove the app immediately because it is clearly spyware giving access to your phone camera and microphone to hackers.
2. Verify Life360 in 3 Steps
Here are the simple steps you need to follow in order to verify "Is Life360 safe or is it a threat to your phone's privacy?"
Step 1. Download ClevGuard from Google Play
Click the "Go to Play Store" button, then you can directly download the ClevGuard Anti-Spyware on your phone for scanning the Life360 app.
Step 2. Scan Life360 with ClevGuard
Open the ClevGuard app, tap on the "Scan button" and wait patiently for the app to scan your phone quickly. This will also include the Life360 app if it is installed on your phone.
In fact, if you have time, you should check the App Audio section to find out the apps including Life360 that have different app permissions.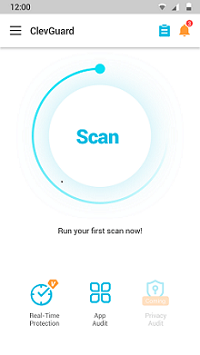 Step 3. Check Result and Protect Your Phone Data
Once the scanning is over, you should check the result minutely to find out if the Life360 app is there. Thereafter, tap on "Fix All" button to delete the malware and threats instantly.
Besides, if you find out the Life360 app is unnecessarily using certain app permissions from the App Audit section and take your decision if you want to protect your privacy and remove the Life 360 app.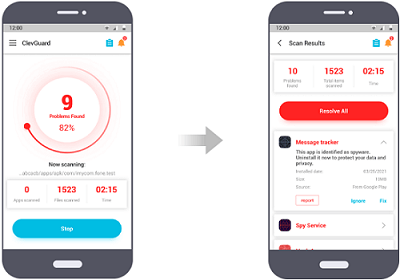 Conclusion
To answer the question "Is Life360 a safe app to use?" is no because it stores personal data and sells them to third parties. Some of these data are extremely sensitive and personal and they should not be shared especially by a premium app like Life360. However, you should scan Life360 or any installed app on your phone with the ClevGuard Anti-Spy Scanner app to find out if they are a threat to your phone and remove them instantly.