Question: Is someone spying on your Android phone?
If yes, you are at risk. Nowadays, there are more and more spy apps for Android available. People use different spyware to monitor the personal activities of other people that is not good at all because this spyware is a type of malware that steals data from your phone without your acknowledgment and permission and shares it with someone behind this spyware.
Therefore, you need to find the best anti-spyware for Android to protect your mobile phone. In this article, we make a full introduction of the best anti spy app for Android as below.
Part 1. Top 6 Anti-Spyware for Android
Although spyware apps keep working on your mobile anonymously without leaving any trace, there are some Android anti-spyware apps that you can use to identify spyware apps quickly. That's why after in-depth research, we've shortlisted some of the 6 best spyware remover for Android.
So let's get into it!
Comparision Between 6 Anti-Spyware
| | Free Version Support | Remove Spyware Infections | Anti-Malware Scanning Support | Real-time Protection |
| --- | --- | --- | --- | --- |
| ClevGuard Anti-Spyware | Yes | Yes | Yes | Yes |
| Incognito Spyware Detector | Yes | Yes | No | No |
| AntiSpy & Spyware Scanner | Yes | Yes | No | Yes |
| Anti Spy Mobile | Yes | Yes | No | No |
| AVG Antivirus | Yes | Yes | Yes | Yes |
| Certo Mobile Security | Yes | Yes | Yes | No |
Top 1. ClevGuard Anti-Spyware
If there was an award for cell phone spyware detection and removal, then this app was the winner! This app is our personal favorite and #1 best anti spyware for Android. ClevGuard anti-spyware application makes sure that no spying or any kind of malicious service runs on your device.
It is hard for people to notice when there is a spyware on Android phones. If any sort of spyware exists or is working on your device, don't worry, ClevGuard will kick it out from your phone. The app is not just limited to installing spyware on your phone.
Features of ClevGuard Anti-spyware
Scan All the Third-party Apps Installed on the Phone:
Sometimes we randomly download third parties apps without thinking about privacy and security. These apps could be spyware apps that why it is important to check all the third-party apps, it is difficult to check manually.
That's why ClevGuard does its great job and automatically scans all third parties apps; after scanning the clevGuard app, add all secured apps in the whitelist and add the suspicious app into the black list, and if it detects any spyware app, ClevGuard block it immediately within few seconds.
Report Each App Access Permission According to the Risk Grade:
Reporting each app access permission according to the risk grade, the plus point of this app. is that it automatically scans all apps deeply and also check their permission of all apps. Detect the apps which are not secure at all and aware the user of these unsaved running apps.
Remove Spyware from Android Radically:
The most effective feature of ClevGuard is to remove spyware from your Android. This app is known for its tracker removal and it will remove all the spyware that hacker installs in your mobile phones.
They use fake commercial apps for tracking. But ClevGuard, with its cutting-edge technology, detects these tracking devices and removed these deceive from your Android without causing any harm.
One Single Click to Eliminate Malicious Files:
ClevGuard is easy to use because its interphase is so simple and user-friendly, whenever you want to clean your phone manually, you can do this with a single touch. Go to ClevGuard app tap on the scene, and it will detect and delete malicious files immediately.
Protect Phone in Real-Time:
The best thing about ClevGuard is that it protects the phone 24/7. The ClevGuard scans the apps multiple times in the day. If ClevGuard finds something suspicious, it sends a notification if the files are dangerous.
Check Email Leakage:
Email plays an important role in people's daily lives, it contains privacy. If an email is leaked, it's a disaster for privacy. Therefore, to give full protection, ClevGuard provides the function of checking email breach, just enter your email address to see if your data is leaked.
Protect Microphone and Camera:
Nowadays, your privacy can be viewed via your phone microphone and camera, however, ClevGuard can protect your microphone and camera. It will notify you when any app is using your microphone and camera.
Clean Junk Files:
If you feel your phone runs slow, it might be caused by your phone's junk files. Here, with ClevGuard, you can check and remove all the junk files and speed up your phone.
How to Use ClevGuard Anti-spyware? - 3 Steps Only
Step 1. Click "Get it on Google Play" button below to download and install ClevGuard.
Step 2. After installation, open ClevGuard, simply tap on the "Scan" button, it will begin to scan and check whether spyware is on your Android phone or not.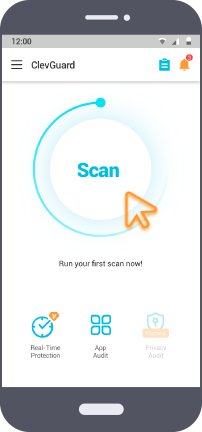 Step 3. After the scan is completed, ClevGuard will display the results. If there are malicious applications on your Android phone, you can easily delete spyware by clicking "Resolve All".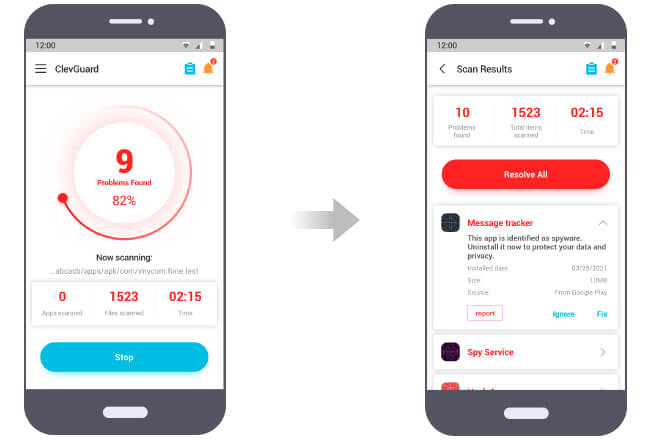 Top 2. Incognito Spyware Detector – Anti Spy Detector
Incognito Spyware Detector is a straightforward app that efficiently detects any kind of spyware and kicks it out from your phone. With over 10 useful spyware detecting tools, this app is great if you are looking for a minimalist anti-spyware app.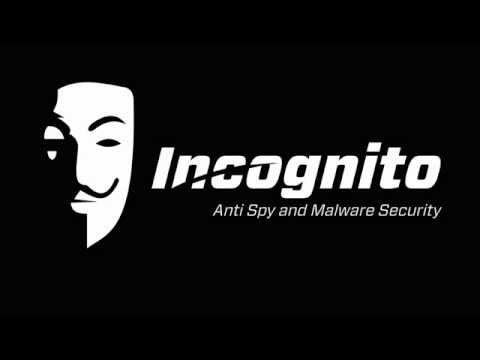 Pros

Real-time application checkers
Keeps a strict eye on each app to detect if they are spying or not
Advanced website analyzer works seamlessly
Cons

Watch up to 3 ads to access pro features in the free version
The deep scan feature works extremely slow if we compare it with the other apps
Top 3. AntiSpy & Spyware Scanner
The app offers more than 20 tools to help you protect your smartphone from any type of spyware. The app is not just the best free anti-spyware detection tool but a complete suite for all your privacy risks. ProtectStar, the backend company behind this AntiSpy app, is already known for creating other productivity apps for its users so you can trust this app.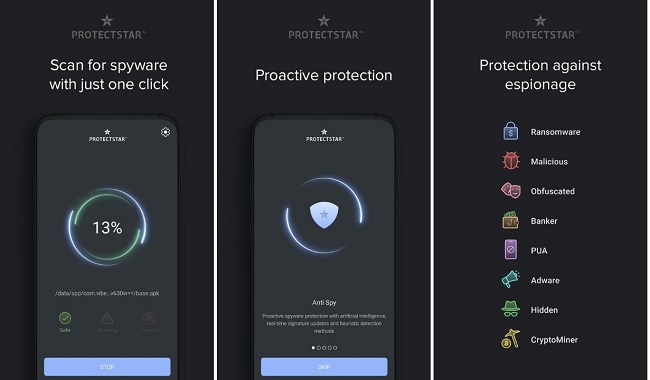 Pros

Advance AI algorithm that analyzes every application in real-time while running in the background
Able to detect hidden and disabled spying apps
Protects from espionage app
Cons

Due to its features, it may take more resources in your background than other anti-spyware apps
Sometimes it detects trusted applications as malicious software
Top 4. Anti Spy Mobile
Anti Spy Mobile is another best Android anti-spyware app that keeps looking on those apps with the characteristics of spying. Anti Spy Mobile focuses only on spyware without offering other tools that make it easy to use and extremely lightweight on your device.
The app works on two different models: first, through recognizes the installed spyware stored in its database. In the second method, the app scans for permission models that look similar to those used by spyware apps. Although, you can mark them safe as well.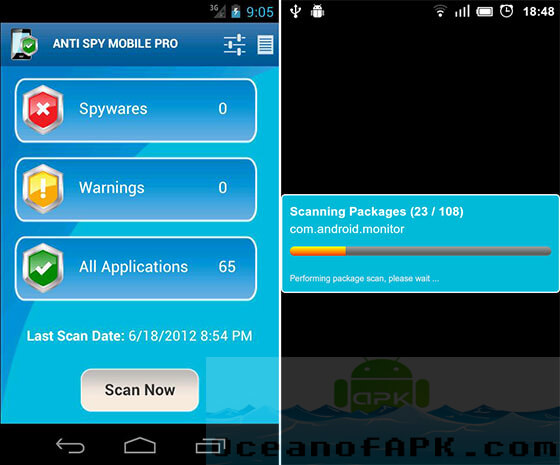 Pros

Most straightforward and minimal UI
Extremely lightweight (only 123 KB)
Secure and no advertisements
Cons

The UI is highly outdated
Fake alerts may annoy you
Top 5. AVG AntiVirus for Android
To prevent any application to spoof on your phone, you need an antidote that can recognize, eliminate and block this malicious activity. For this task, no one can beat AVG. If you're a regular antivirus user, then you may already be aware of AVG. With over 100 million downloads on Play Store, AVG falls in the top 3 most downloaded best spyware detectors.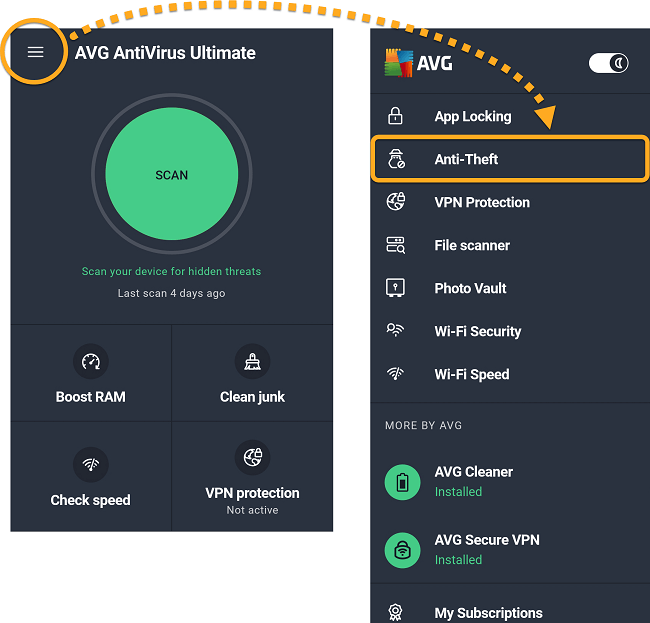 Pros

Not just a spyware app, but a complete suite to prevent any kind of malicious activity
Remote lock feature to lock the phone in case you lose your phone
AI-based algorithms will prevent false alerts
Cons

The app size can reach up to 400 MB that is relatively higher in spyware apps
Some necessary features are locked in the free version
Top 6. Certo Mobile Security: Anti Spyware & Spy Detector
Today, any app with access to your Android phone permissions can easily spy on your phone remotely from anywhere around the world. To prevent this spoofing, you need to make sure that you're using the right anti-spyware. The question that appears here is which is the best anti-spyware for Android?
As there are thousands of applications that claim to be the best anti-spyware for your Android. Certo Mobile Security is one of them that does its job efficiently without creating any mess in your device. So why is this award-winning anti-spyware perfect for your phone? Below is the answer: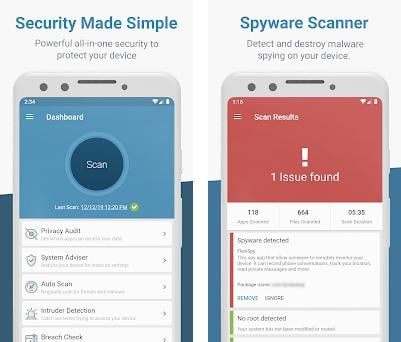 Pros

Smart AI algorithms will not consume many resources and batteries in the background
Dedicated scanner for those apps that are not spying but have the ability to spy on your device
Best for low RAM devices, as it does not use many resources
A lightweight 4.6 MB is making your device secure. What more can you expect?
Cons

No additional VAS
30-second video ads may frustrate you while using the app
Which One Is the Best Anti-Spyware?
There are multiple anti-spyware apps available for Android, But according to our experiments and comparison, ClevGuard is the best anti-spyware app from all of them because it has an advanced feature that scans the Android phone and detects all malicious apps in the phone, and removes these apps within a short time, and also protect the Android from the next attack.
If you want to install any antispyware device, so download ClevGuard because it will protect your phone from any harmful app.
Frequently Asked Questions about Spyware
Below we have listed some commonly asked questions that must appear in your mind whenever you listen to spyware services on Android. Especially, if you're hearing about spyware on Android for the first time. Below we've mentioned and answered them for you:
Q. Can My Phone Be Spied?
Yes, today's Android spyware is not that hacking sci-fi app that you see in movies. Any Android application that has access to all the permissions of your phone and uses it anonymously without telling you, is known as spyware.
Any person can install this spyware on your device and can easily track your phone remotely from anywhere around the world.
Q. How to Tell If I am Being Spied?
Today, spyware is so advanced that they work without getting caught by the victim. However, some hints can tell if your phone has spyware or not. Hints like fast battery drain, slow processing, more RAM consumption are the signs that your phone has active spyware. To be more precise, you must use a trusted anti-spyware app that can precisely tell you if your phone has spyware or not.
Q. How Can I Stop Spyware from My Phone?
Spyware is smart enough that they call themselves a" system application." Therefore, if you uninstall them, it may be possible that you accidentally uninstall the real system application. To prevent this, we recommend using the trusted third-party anti-spyware app that can quickly identify which one is black sheep.
Best Anti Spyware for Android
Spywares are one of the worst enemies of your privacy. In simple language, spyware in your phone works as an agent that collects and sends all your phone activities to the source of instructions. However, if you're not tech-savvy and don't know much about Android OS, then it may not be possible for you to detect whether your phone has spyware or not.
That's why in this article, we've reviewed the 6 best anti-spyware apps for your Android that will immediately kick out all the spyware from your phone. Detetcting spyware on Android is not as hard as you think. If you want full-fledged security, then we highly recommend using ClevGuard. The features that ClevGuard provides, no one is even close to it! So we suggest you must give it a try.